Market Visit: Carnot Market in Lyon, France
The open-air Carnot Market stands out from other markets in Lyon—and from French market tradition—because it's an evening market held once a week, Wednesday evenings between 4-7:30PM, rather than on a morning or weekend. Most of the patrons are locals on their way home from work and this market isn't on the radar of many tourists. It has gained prominence, however, because it is the site of an annual Christmas market held by the city of Lyon each year beginning at the end of November.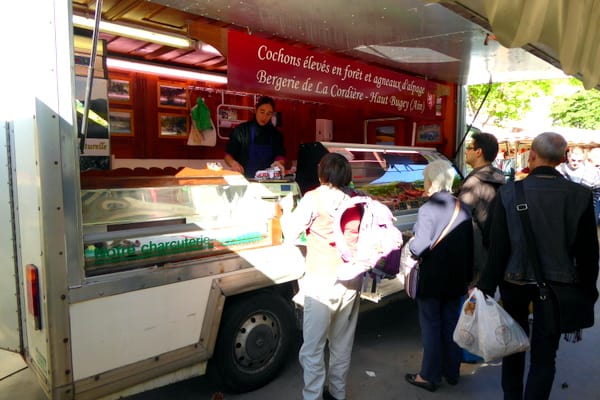 The market gets its name because it resides on the north side of Place Carnot, a lovely square located in the Perrache quarter of the city, not far from the busy Lyon-Perrache railroad station that commuters use to travel between Lyon and Paris. The station is one of two in the city.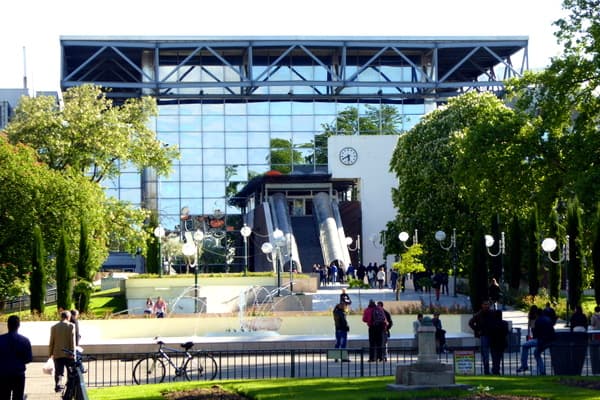 The vibrant square is park-like, filled with blooming flowers, plane trees, cypresses and oaks. There is a fountain, carousel and playground so it's filled with people strolling or walking through it, to and from the station at almost any hour of the day.
At the center of the Park is a statue called the Allegory of the Republic that honors General Lazare Carnot, a French engineer, politician and mathematician. Carnot has been nicknamed the "original multitasker" because he simultaneously used all his talents to help strategize military operations during the French Revolutionary Wars.
There are 27 vendors at the market as well as a few outdoor cafes. The stalls offer a mix of produce, meats, cheeses, breads, flowers, and prepared foods. It was easy to fantasize picking up a few things to bring home for dinner.
One vendor was selling slices of something with a flat round smothered with a sweet white cheese—hard to identify and even harder to resist.
At other stalls, vendors sold diary products and fresh cheese. Especially popular was the Brebis, Pyrenees-style sheep's milk cheese that comes in a small round wheel.
To visit all of the markets of Lyon, we probably would have had to stay in the city for at least a month. Emporion, the association of food markets in Europe, estimates that there are 26 different outdoor markets held each week in different parts of the city.
The number is not surprising in view of Lyon's location in the agriculture-rich Rhone Valley, and the food-centric people and culture of the city.
"We must return and rent an apartment for at least a month ," we both said, as we passed many enticing food products we would have loved to savor. If we did (make that: when we do), I would (will) probably return to this "super market" every Wednesday.
---
Also on MoreTimeToTravel.com
For a peek at what you might find at the Christmas Market at Place Carnot