Market Visit: Saint Antoine Market in Lyon, France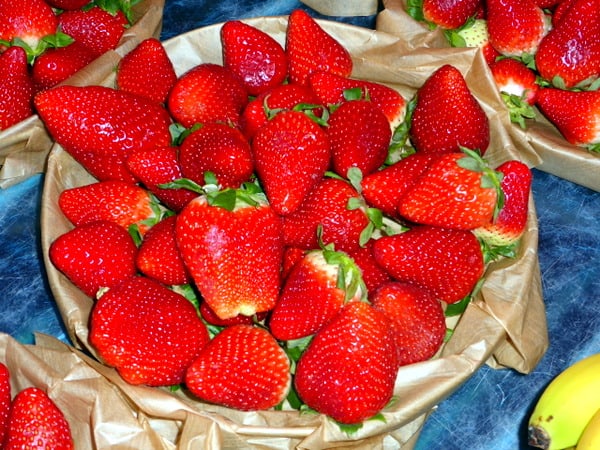 The location of the Saint-Antoine Market is one of the most scenic spots of any outdoor market in the world: It sits beside the bank of the Soane River on the Presqu'île (peninsula) side of Lyon, only a short walk from Place Bellecour (the public square). The views of passing boats, pastel buildings, and the backdrop of Fourvière Hill with its iconic Basilica and La Tour Métallique (Lyon's own replica Eiffel Tower) are spectacular.
But this market isn't just a pretty face; it also has enticing foods. The winding path through the two rows of stalls extends along the river for blocks and blocks—so it offers a wonderful promenade for a walk especially in the early morning when the air is crisp and there is less pedestrian traffic (and less danger of tripping over someone's shopping cart). The market is filled with locals who come with their carts in tow to pick up fresh foods and chat with their favorite producers and vendors. (I've read that Chef Daniel Boulud began dreaming about becoming a chef when, as a kid growing up in Lyon, he shopped at this market with his father.)
Wherever you walk, aromas of fresh flowers, succulent fruits and roasting chickens waft through the air. The market also has an incredible array of pork products, including saucisson brioche, sausage covered in a rich, buttery pastry dough.
Varieties of cheeses are just as plentiful and delicious—making for a perfect pairing with the meats and a bottle of local wine.
Because fruits and vegetables are priced and sold by the plateau (metal or plastic plates), when we wanted to purchase a single banana, we had a hard time until we explained we couldn't possibly eat a plateful during our stay.
Come with an empty stomach because there are ample opportunities to sample some of the mouth-watering foods as well as to feast on an eclectic mix of prepared dishes.
The array of rotisserie chickens is almost irresistible.
On a nice day, you can even sit down at one of picnic tables along the river (behind the stalls) and eat freshly shucked oysters.
For the second year in a row (we had previously visited the market on a river cruise last year) we bumped into jovial Señor Carlos who migrated to Lyon from Chile to sell his popular empanadas from a truck. We also met a young vendor from Brooklyn, New York who was making a business selling donuts in a shop in Lyon and at the Saint Antoine Market.
Of course, no market visit is complete without bread and dessert. Both the fresh fruits and fruit tarts were especially tempting. But I have to admit I made the same mistake twice in a row: I purchased madeleines from the same vendor and each time they were disappointing. I guess I need more experience shopping Saint Antoine market…(SIGH)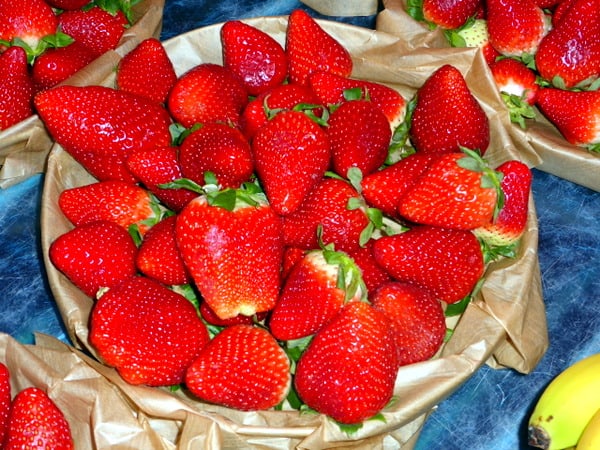 IF YOU GO
Saint Antoine Market (Quai Saint Antoine) is open every day of the week, except Monday
Hours: 6AM to 12:30PM Tuesday, Wednesday and Thursday.
Hours: 6AM to 1:30PM Friday, Saturday and Sunday
Tips:
As with most busy markets, try to get to Market Saint Antoine early in the morning when the crowds are fewer.
Watch where you walk. It's easy to trip over a shopping cart trailing behind the person in front of you.
On Sundays, you can visit the outdoor art market just across the bridge on Quai de Bondy.
For a perfect afternoon excursion, find out about Lyon City boat tours that launch from just behind the market.
Also on MoreTimeToTravel.com