A Taste of Ligurian Food and Wine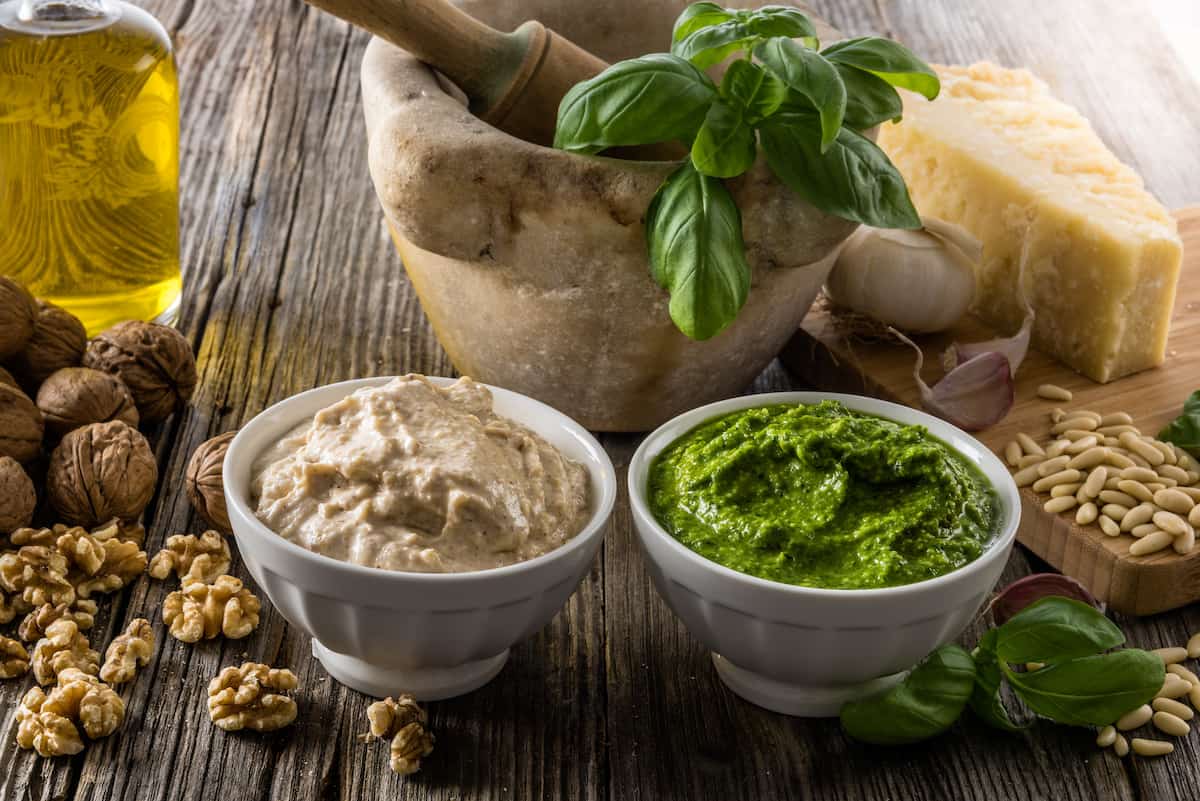 Ligurian food and wine are unique: They derive from a spectacular region's unique geography, history, culture, and traditions.
This post describes the region of Liguria, Italy, its cuisine, and lists a sampling of popular Ligurian foods, dishes and wines.
If this post whets your appetite and you can't wait until your next trip to Italy, several links are included to Ligurian food products that can be purchased online.
---
This post contains affiliate links. This means that I may receive compensation if you click a link, at no additional cost to you. For more information, please read my privacy and disclosure policies at the end of this page.
---
Where is Liguria, Italy?
Liguria is located in the northwest of Italy. After Aosta Valley and Molise, it is the third smallest region, somewhat equivalent in size to the U.S. state of Delaware.
The region is divided into four provinces—Imperia, Savona, Genoa and La Spezia—all touching the arc-shaped, 220-mile coastline that hugs the Mediterranean.
From west to east, Liguria starts at the French border on the west and ends in Tuscany on the east. The Appenines and the Martime Alps frame the region.
Genoa, the region's capital city (also the name of the province) divides the region into two distinct parts that are also the names of their respective winds: Riviera di Levante on the east (meaning where the sun rises) and Riviera di Ponente on the west (where the sun sets). Genoa is also the largest and busiest port in Liguria.
While many travelers are familiar with Portofino and the Cinque Terre on the Levante side, the Ponente side of Liguria tends to be less touristed.
Ligurian food and wine: Shaped by the mountains and sea
"The cuisine of Liguria was shaped to please Ligurian seafarers who returned home after long voyages," says Piero Riva, who was born in the region before embarking on a long career in the food and beverage industry in New York..
Because of its abundance, it's understandable that fresh seafood has traditionally played a prominent role in Ligurian cuisine. "But because seafood was so plentiful during voyages, seafarers yearned for fresh foods from the land when they returned home," says Riva.
"Hence, the Ligurian diet evolved into an interesting combination of seafood, vegetables, and herbs, along with some meat products, which were consumed more sparingly," he says. Land for grazing was at a premium.
Despite the challenges of the terrain, Ligurians have created heroic ways to use the hilly and mountainous inland areas for farming and agriculture. Its location, mild climate and sunshine—and the variety of microclimates in the region—foster the growth of a variety of different vegetables, herbs, and flowers as well as olives and wine grapes.
Riva adds that the generous use of herbs (e.g., basil, rosemary, sage, borage, watercress, etc.) in Liguria (rather than spices) is likely another vestige of the earthy tastes of returning seamen. Pine nuts and walnuts are also used in many Ligurian dishes.
A cuisine characterized by diversity
Because of the region's diversity, Ligurian food and wine varies from city to city and even town to town.
Here is a small "taste" of some not-to-be-missed foods and wines of region.
---
Ligurian Food and Wine
DOP Taggiasca Olives
Many say that these DOP olives are among the best in Italy because of their perfect acidity.
Rich in Vitamin E, these black olives are typically small and firm; their earthy taste hints of almond, artichoke and pine nuts.
The olives pair well with Ligurian seafood dishes and salads, and are also popular on antipasti plates—often with meats, nuts and cheese—as part of an apericena (pre-dinner) course. It's the perfect substitute for a light meal and you won't have to go for dinner.
At the Taggiasca olive festival held in Imperia during the first week in November each year, producers gather to display their oils and products made from them.
---
Riviera Ligure DOP Extra Virgin Olive Oil
Olive oil plays a lead role in much of Ligurian cooking, including the preparation of Genovese pesto.
Riviera Ligure olive oil—made from Taggiasca olives—is considered one of the best DOP olive oil products in Italy.
This precious oil tends to be costly because Taggiasca olives are grown on hilly terraces with steep inclines and stone walls. Thus, all the harvesting has to be done by hand because the land is inaccessible to tractors and other mechanical equipment.
---
Farinata
Traditionally baked in a copper pan, farinata is a large, golden pancake or torte made from chickpea flour, water, extra virgin olive oil and salt.
It is cooked in a very hot oven, leaving the farinata creamy at its center and crisp at its edges. In nearby Nice, the dish is called socca.
Farinata can be eaten plain, with pepper, or seasoned with different toppings like onions or artichokes, usually as a mid-morning or mid-afternoon snack. It is cut into slices like pizza and sold warm in bakeries.
According to Taste Atlas, there is a legend about the origins of farinata: When a storm hit ships at sea, chickpea flour barrels broke and the contents was mixed with salt water. When the sailors realized they were left without food, they put the mixture in the sun to dry and ate it.
---
Ravioli di Boraggine
Borage is one of many herbs that grow wild and also are cultivated in Liguria. The baby borage plant has furry green leaves that convey a sweet and mildly salty taste when used in soups.
The herb is also used as a filling for Ravioli di Boraggine. Made with parmigiano cheese and eggs, the dish is popular all year-round..
---
Trofie Pasta
The origins of this twisted pasta shape are from the town of Sori, located on the Golfo Paradiso, a small but scenic gulf that is east of Genoa. Once exclusively made by hand, most trofie is now made by machine.
The short, corkscrew-shaped pieces of pasta are thick at their center and thinner at the ends. The ridges of the trofie pasta are perfect vehicles for trapping Ligurian pesto.
---
Basil Pesto (also called Genovese or Ligurian Pesto)
Basil is cultivated by just about every person in Liguria because the constant sunshine makes it easy to grow. The plant's leaves are smaller here than elsewhere, sweeter, and taste less minty.
DOP Genovese basil is certified by the Chamber of Commerce of Genoa for its quality and adherence to certain rules of production.
The main ingredients in pesto are basil along with crushed garlic, pine nuts or walnuts, and Parmigiano-Reggiano, Pecorino, or Romano cheese blended with olive oil.
In August each year, a two-day long Sagra delle Trofie (Trofie feast) in Sori is dedicated to this pasta and its history.
---
Focaccia Genovese
Focaccia is popular in many regions of Italy, each of which has their own variety. Even along the Ligurian coast, there are variations in how it is prepared.
The one from Genoa has indentations on its surface and is flavored with salt and olive oil.
The dough is often topped, too, with herbs like rosemary. On the Ponente side of Liguria, it might be topped with onions, sardines, anchovies or tomatoes.
The flatbread is often eaten for breakfast with cappuccino or for a snack.
---
Torte Verde
Torte Verde is a savory vegetable pie filled with spinach, artichoke, Swiss chard and other in-season vegetables that are mixed with eggs and cheese and baked in a pastry crust.
A wedge of Torte Verde is often served as a meal or snack. It is a far more common dish in Liguria than pasta.
During Easter, Ligurians often enjoy torta pasqualina. Made with 33 layers of ingredients, the special torte symbolizes the 33 years of Christ's life.
---
Coniglio alla Ligure
Braised rabbit stew is a popular second course along the Italian Riviera.
The rabbit is chopped into pieces, which are browned and then cooked with olives and pine nuts in white wine. The dish is often served with potatoes or polenta.
---
Pizza ala Andrea (also called Piscialandrea)
This pizza that's popular in Imperia has a history and recipe that's all its own.
It was first made with onions and anchovy paste. Today, it's still made without any cheese but is often topped with tomato sauce and anchovies.
According to La Cucinia Italiana, the name derives from that of Andrea Doria. Not the ocean liner that collided with another ship and sank in the Atlantic in 1956, but rather the name of the pizza eaten by Admiral Andrea Doria in his hometown of Oneglia (now part of Imperia).
---
Condigilone Salad
A specialty of Imperia, this salad typically includes fresh tomatoes, onions, scallions, olives, anchovies and green peppers dressed with olive oil and garlic.
The ingredients vary based on the place and the season but may also include tuna, anchovies and eggs.
A Condigilone salad is very similar to the famous Nicoise salad of nearby Nice (France).
---
Brandacujun
Brandacujun is a dish of boiled dry cod with potatoes.
This cucina povera recipe is rooted in western Liguria, typically enjoyed in Savona and Imperia (two provinces in the Riviera di Ponente).
---
Baccala Stew
This dry salted cod stew is a one-dish meal. It couples slices of the fish with tomatoes, potatoes, olives and onions and sometimes, capers, pine nuts and anchovies.
---
Trombetta
Grown from June to October, Trombetta (also known as tromboncino) are elongated zucchinis in the shape of curvaceous trumpets. A specialty of western Liguria, they can be eaten raw in salads.
Like all summer squash, the plant produces brightly-colored flowers. These zucchini flowers also are often stuffed with a paste of string beans, potatoes, carrots, fresh basil, and nutmeg, then baked with tomatoes or in broth.
---
Wines of Liguria
With 12,000 acres of vineyards, Liguria is the second smallest wine-producing region in Italy (after the Aosta Valley).
Because of its stone walls, and mountains and hills with steep inclines, cultivating vines in Liguria can be challenging and usually needs to be done by hand, which greatly limits production.
According to WineTourism.com, whites, reds, and rosés are produced in Liguria although the largest portion are white wines. Despite the improved quality of these wines over time, most come from small artisan wineries and can be difficult to obtain outside of the borders of Liguria.
The WineTourism website offers a map of the wineries in Liguria.
The most popular Ligurian wines include:
The Wine Bible (a recently published encyclopedia of wine) suggests that the region's most important wines are DOC Cinque Terre (a dry white), Vermentino (also a dry white) and Dolceacqua (a fruity, light-colored red, sometimes called rossese di Dolceacqua).
All of these wines pair perfectly with the seafoods and vegetable-heavy dishes of the region.
Why visit Liguria: Beyond Ligurian food and wine
Wherever they travel, visitors to Liguria will likely enjoy a healthy and interesting cuisine that pairs well with local wines.
"If you like the mountains and the sea, and can't choose between them, Liguria is the place to be," says Riva.
Sadly, tourists who flock to the popular coastal towns of Portofino and the Cinque Terre on the Levante side and San Remo on the Ponente side miss out on the more than 200 small, authentic villages tucked in between the mountains further inland.
Many of these towns look the same as they did during Medieval times and offer many of the same traditional dishes eaten by their forebearers.
Riva notes that the seaside is less than one hour away by car from the little towns perched on cliffs. "On a bicycle ride or hiking expedition, tourists can savor the sight of the colorful flowers that bloom in every season and see the hillsides covered with the shimmering gray color of thousands of olive trees.
Where to find Ligurian food and wine in the U.S.
Many local food specialty stores carry imported products from Liguria. Similarly, you can check local wines stores for Ligurian wines.
Additionally, these are some online sources of Ligurian food and wine:
---
Ligurian Cookbooks
If you are looking for cookbooks that offers recipes and information about the foods of Liguria, check out these books:
---
Save to Pinterest!!
---