What to buy in Huatulco (Mexico)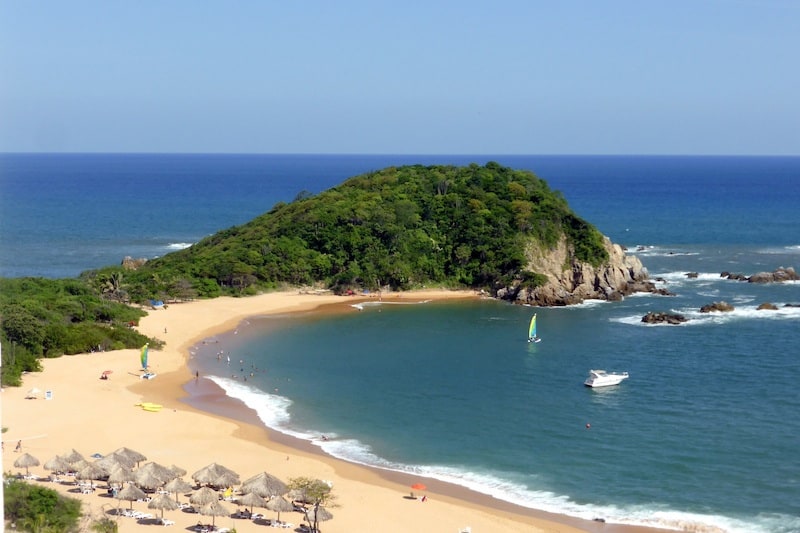 Figuring out what to buy in Huatulco can be challenging but here are some options for inveterate shoppers.
The relaxing, eco-friendly resort town of Huatulco, Mexico has nine aquamarine bays and 36 sandy beaches (One of them, Playa Cacaluta, served as the setting for the blockbuster movie, Y Tu Mama Tambien).
Tourists visit this sleepy part of the Oaxacan coast (in southwestern Mexico) mainly to swim, snorkel, explore and relax in a natural setting that has until now has resisted overdevelopment, unlike many beach resorts in other parts of the country. However, because the area isn't densely populated or saturated with tourists (one of its virtues), shopping can be challenging. Yet, diehard shoppers can find a few small remembrances to take home.
The best place to shop in Huatulco is probably the area called La Crucecita, which has the feel of a town center filled with small shops, restaurants, bars and street vendors (one woman was selling hammocks). You can even pause at a nearby shop for a mezcal or tequila tasting. A charming parish church, La Parroquia de Nuestra Senora de Guadalupe, overlooks the large grassy square (zocalo).
La Crucecita has a crowded public market filled with stalls selling foods, clothing, baskets, hats, wooden carvings and other souvenirs; the patrons seem to be mostly tourists rather than locals. A more authentic alternative is the Pochutla Market, about ten minutes away by taxi.
Here are some of the interesting items shoppers can buy in Huatulco. Many of these "finds" are actually characteristic of the larger state of Oaxaca rather than of Huatulco, per se:
Cotton Blouses
Colorful cotton goods (e.g. bedspreads, blouses, sundresses, scarves and popular men's shirts called guayaberas), which are woven and stitched by hand, are available at many shops. But at the small textile factory, called Telares Oaxaquenos, you can still watch them being made on large looms with pedals.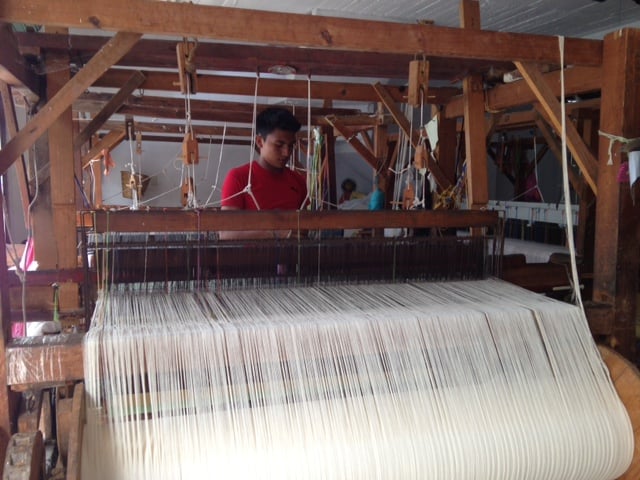 Wood Carvings
Alebrijes are brightly painted pieces of folk art, first made in Oaxaca and now sold across the world. The sculptures from the wood of the copal tree take the forms of various whimsical animal figurines and are supposed to bring good luck. Manuel Jimenez is considered the godfather of this art form although hundreds of artists now use the same traditional methods.
Painted Masks
Playful masks of devils and other fanciful characters are handcrafted from wood and coconut shells, and decorated with paint, primarily for use in traditional dance celebrations. Some of the masks dating date back more than 100 years, and are exhibited in galleries and museums.
Moles
Moles are rich, savory sauces (salsas) that transport many foodies to Oaxaca and that have made Oaxacan cuisine famous throughout the world. Although there are seven varieties of mole, each family has its own recipe. Black mole (which contains bitter chocolate) is the most widely known type. Even if you don't bring some home, you should order dishes with mole during your visit.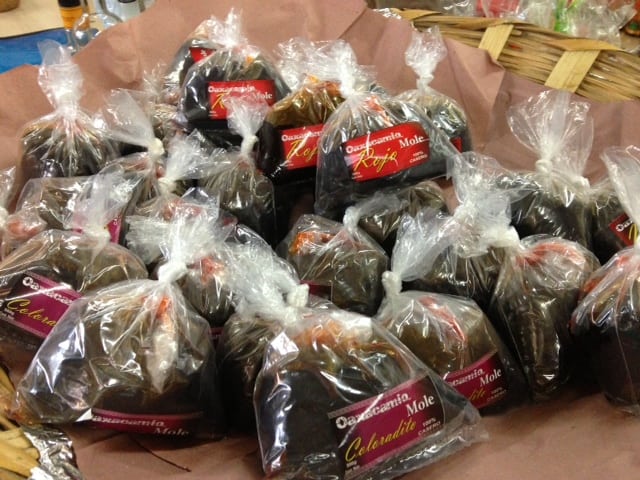 Day of the Dead Figurines
In November, Mexicans honor the dead and celebrate life on the Dia de los Muertos. The painted figures and shadow boxes provide income for many craftsmen in the region.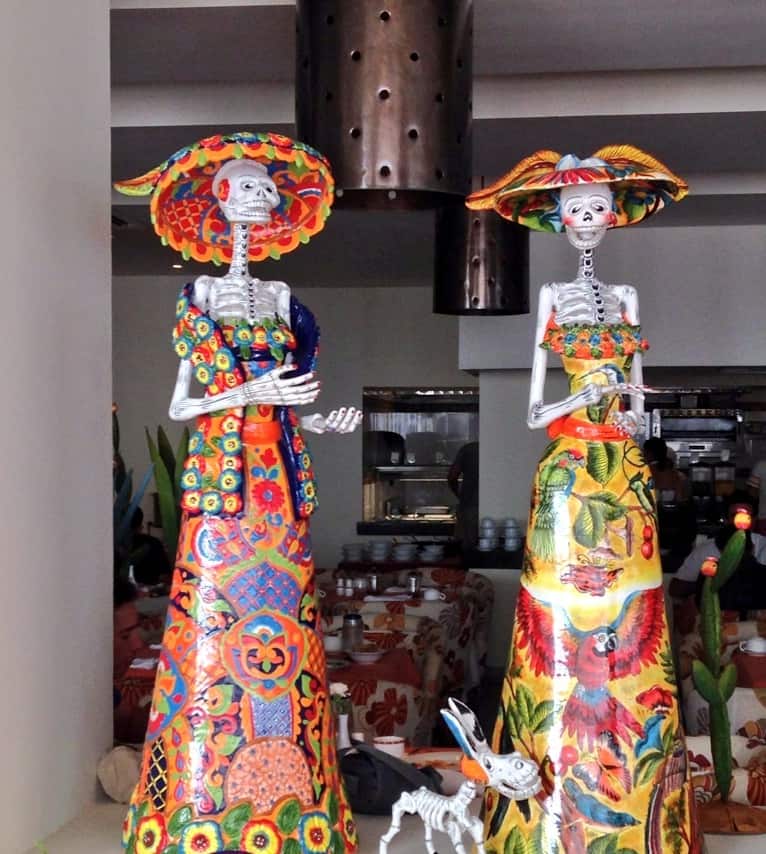 Chocolate
Oaxaca is the center of chocolate production in Mexico. Interestingly, it was impossible to find a locally made candy bar (And I really looked! Snacks tend to be salty instead of sweet) but chunks of the bittersweet chocolate made for cooking are sold in most markets. Oaxacan chocolate is the basic ingredient for a popular hot chocolate drink made with sugar, cinnamon, almonds and milk or water. You can also buy the traditional wooden utensil used to stir the drink, called a molinillo.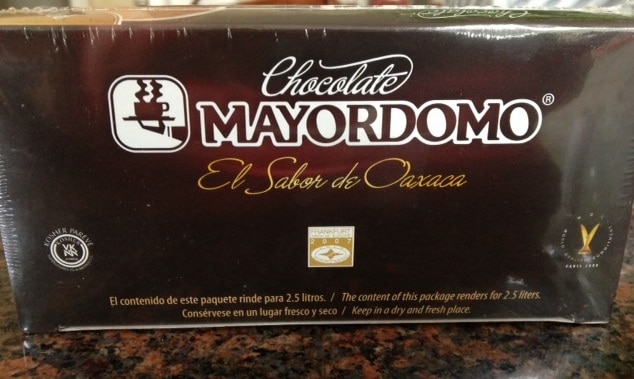 Black Pottery
A bit harder to take home in a suitcase, Oaxaca is known for a type of distinctive black pottery made from local black clay and crafted into beautiful vases, pitchers, bowls and other decorative ornaments.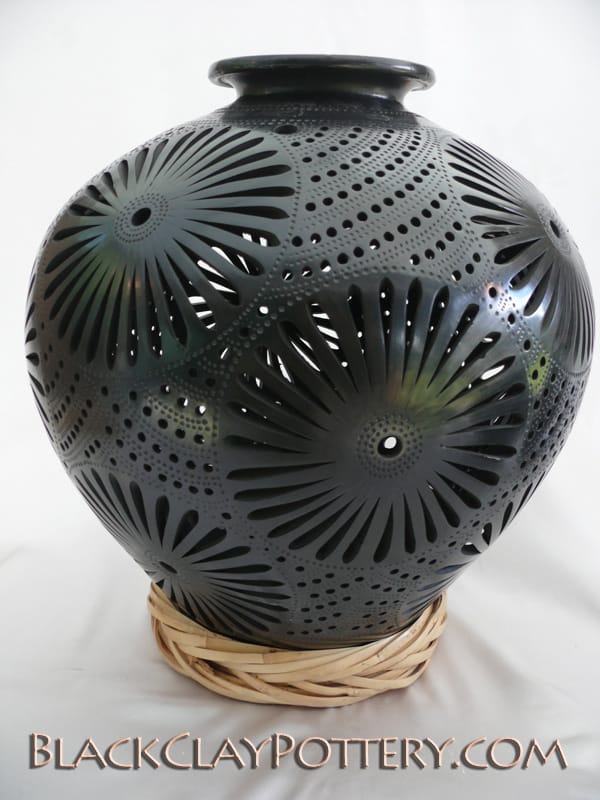 Beaded Bracelets
Beaded bracelets are ubiquitous throughout Mexico. We stayed at Secrets Huatulco Resort and Spa, where I purchased this one, both for myself and several for gifts, at a crafts market held in the hotel's courtyard one evening.
Organic Pluma Coffee
In a village called Pluma Hidalgo within the cloud forest of the Sierra Madre Mountains are small coffee plantations that have existed for more than a century. Some consider this coffee to be the best in Mexico because of its wonderful taste and aroma. Grown and sold locally, it is also available at the market in Huatulco. Read about how to visit nearby Pluma Hidalgo coffee country on A Taste For Travel.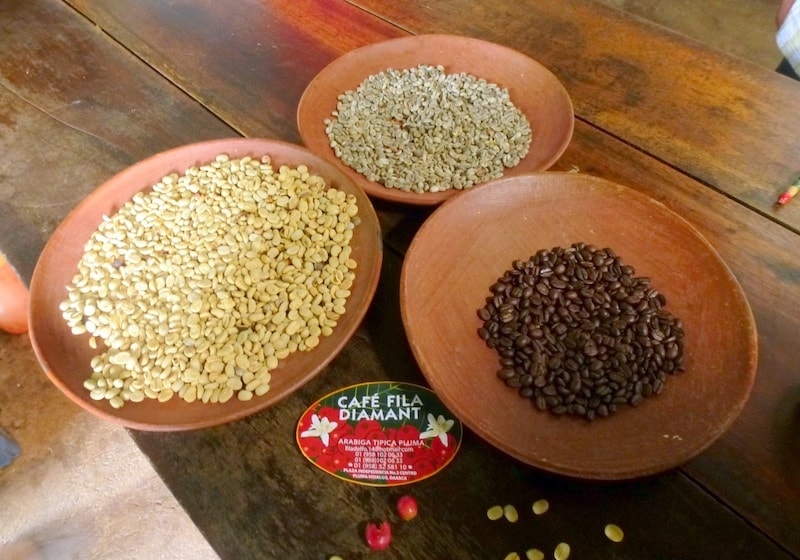 Earrings
Unless desperate for a last-minute gift or frustrated by a long layover, I usually avoid airport gift shops but fell in love with an incredible shop in the Mexico City (Benito Juarez) airport. It's really a Don't Miss! Tienda Map is a small non-profit crafts shop in the Mexico City airport that promotes folk art in an effort to improve the lives of artisans. The clerk explained that they are part of the Museo de Arte Popular (folk art museum) in Mexico City, where they also have their main shop. The short video below provides a glimpse of the textiles, pottery, embroidery, jewelry and other crafts they carry. I couldn't resist these earrings crafted from bottle tops with pictures of Frida Kahlo, a painter known for her self-portraits.
---
Also on MoreTimeToTravel.com
---
*A link to this post is on Travel Photo Mondays
---
A short video about Tienda Map on YouTube: