On route to an international gastronomy conference in Pamplona, Spain, we booked seats on Iberia Premium Economy Flight IB6250, departing from John F. Kennedy International Airport (JFK) through Madrid-Barajas Airport (MAD). (We also flew the same class of service on our return from Spain.) 
Flying Iberia Premium Economy for this long-haul flight was well worth the cost. The first segment of our flight departed from New York at 5 PM and was scheduled to arrive in Madrid, Spain six hours and 13 minutes later. 
About Iberia Airlines
The new-to-us airline is the flag carrier of Spain. In operation since 1927, Iberia has been part of the International Airlines Group (IAG) and a member of the OneWorld Alliance that offers flights to 841 destinations in 157 countries with its codeshare partners—which include American Airlines, Qantas, Avianca and British Airways. 
Iberia is the major carrier for domestic routes within Spain and also operates some 600 flights a day across Europe, Africa, and the Americas. In 2008, the airline merged with British Airways but each carrier maintains its individual brand identity. 
The Iberia feet includes A319, A320 A320Neo and A321 planes used primarily for short hauls, and A330, A340 and A350 for long-haul flights. Each of the planes is named after a destination or person associated with Spain, e.g., Miami, Costa Rica, etc.
One nice thing we learned in flight (too late for us but maybe timely for you): If your itinerary includes a stopover in Madrid, the Stopover program allows passengers to visit the city and stay up to six nights without incurring any additional flight costs.
Living Room (as it's called in the trade)
When we boarded the A350-900 aircraft, we turned right after the door walking past a small section with only three rows arranged in a 2 x 3 x 2 seat configuration. Presuming those 21 seats were a Business Class cabin, we kept walking until we realized that we had just passed our reserved seats, Seats 12 J & L. (Lie-flat Business Class seats were located further forward, towards the nose of the plane).
Our seats were comfortable and spacious. Their approximate dimensions: 19.2" wide with 37" inches of separation between rows and a seat incline of about 7.1". We loved the diminutive size of our cabin and sitting in two seats next to the window, we were blissfully unaware of any other passengers. Since we were flying during the start of the Coronavirus scare, we were glad to be somewhat removed from our neighbors.
However. one annoyance was the large stationary armrest that held the tray tables (instead of being in the seatback in front of us). Because the arm didn't move, it was extremely difficult to get out of the window seat when the passengers in the row in front of us put their seats in the reclining position.
Flight Safety Instructions
In-flight safety instructions were delivered through the seat-back entertainment system with a flight attendant simultaneously demonstrating the steps in the aisle.
Food and Service
After the door closed, we were offered a choice of fresh water or orange juice. We were given real pillows and blankets, and large, noise-canceling headphones, as well as an amenity kit with a toothbrush, toothpaste, socks and eyeshades.
Our 5 PM take-off was on time and before we knew it, we were flying at an altitude of 35,000 feet with tailwinds that promised an early arrival at our destination. Another nice thing about the fight: Our Iberia pilot was informative, in both Spanish and English, alerting us to the plane's speed, possible turbulence and weather conditions at our destination.
Dinner was served shortly after takeoff, a nod to those who opt to sleep on long-haul flights. The meal was one of the tastiest we've had in flight for a long time. We were offered a choice of pasta or chicken. The line promises to showcase the "gastronomic wealth" of Spain in its menus and although good, the meal didn't quite achieve that goal.
I opted for the white meat chicken breast, which came with sauteed mushrooms, broccoli raab, and whipped sweet potato puree. Also on the tray, a small salad, a roll and an absolutely delicious cheesecake dessert topped with a light layer of caramel. My husband opted for the pasta dish as his main course, large raviolis with a meat filling.
During dinner, the bilingual flight attendants carried around a basket offering more rolls (mas pan). Then guests were offered a choice of Spanish wines, beers, juices and soft drinks at no additional charge. Afterward, flight attendants brought coffee, tea and bottled water. I chose an excellent Vina Albali cabernet sauvignon from Felix Solis.
Each passenger was also given a bottle of water that could easily be stowed in a holder between and below the seatbacks in front of us.  
Just before arrival, flight attendants passed out a non-memorable box breakfast with a sandwich, yogurt, granola bar, and small KitKat bar. 
Entertainment and Technology
Both the plane and its touch screen entertainment system appear new and up-to-date. It offers 80 movies, many of them first run, music, onboard shopping and 15 games with a controller in the armrest. It also gives passengers flight information including route maps showing the plane's location, airspeed, weather and information on the remaining time to our destination. It conveniently switched from one language to another by touch. The same system is also accessible on a cell phone.
Wi-Fi with a high-speed connection to the ground (although always nicer when free), was reasonably priced at one hour for 8.99 euros, three hours for 19.99 and 29.99 for the entire flight. Our seats had two USB ports for charging devices, although they were hard to find and access on the bottom of the center console between the two seats.
The airline also publishes Ronda, a decent in-flight magazine and offers passengers access to a digital newsstand.
Lavatory Check
The lavatories were two cabins behind our Iberia Premium Economy cabin. Although it was a bit of a walk to reach them, with lavatories only in the Business Class and Economy cabins, we didn't have any people walking past us during the flight on their way to use them.
Two hours into the flight, the lavatory I used was pretty clean and neat. I'm unsure whether to attribute their condition to the flight crew or the passengers. I was glad to be returning to my seat afterward because things weren't as roomy in the cabins behind us.
Iberia Premium Economy: Bottom Line
Iberia Premium Economy offered us an elevated experience in the air as well as the opportunity to check two free bags per person. (By comparison, Iberia Basic Economy requires an extra fee for each checked bag and also doesn't allow advance seat reservations).
This class of service also offers separate fast-lane access to check-in counters and priority boarding (group 3) and early disembarkation because of the cabin's proximity to the aircraft door.
Bottom line: We would definitely fly Iberia Premium Economy again. The upgrade (which cost us about $300 additional per person, round-trip) is well worth the expense on a long-haul transatlantic flight. 
---
More information about Iberia:
---
COVID-19 UPDATE
Travel restrictions vary based on the origin or destination of a flight, the traveler's nationality, their place of residence, and whether or not they have been fully vaccinated. 
Check out the Iberia website for more detailed COVID-19 information.
---
READ MORE
Nerdwallet has an excellent article on How To Make the Most of Economy Class on Iberia Airlines.
---
This is one of a series of posts about our experiences on new-to-us airlines. Surely, each flight is different but it's always helpful to get general impressions of what to expect before you fly. If you fly Iberia Premium Economy and have a very different experience, please feel free to comment below. 
---
All photo credits: Jerome Levine (except lead photo, Piaxabay)
---
Previously on More Time To Travel:
---
Save to Pinterest!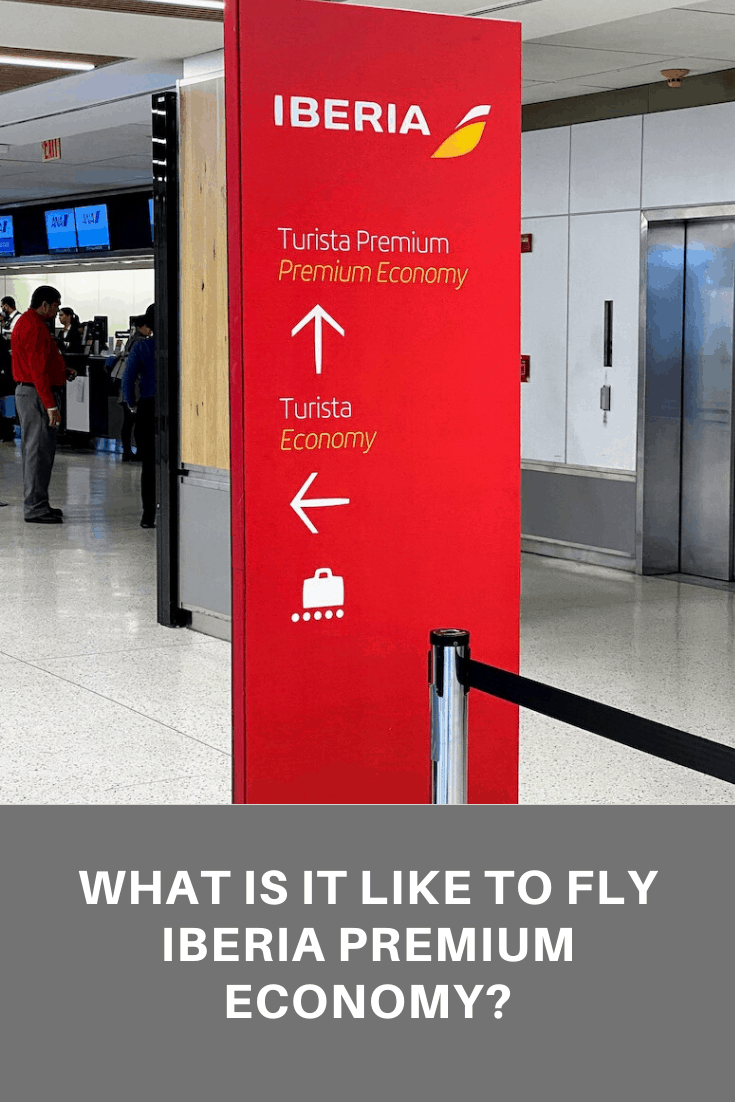 ---