Bayonne Ham (Jambon de Bayonne) is the prized, dry-cured ham from France. 
You might think of this delicacy as a "cousin" of Italian Proscuitto di Parma and Spanish Jamón Ibérico because like its European relatives, this exquisitely French product has a Protected Geographical Indication (PGI) regulating exactly what can and cannot be called Bayonne Ham. 
To be authentic and bear its name, the French ham can only be produced from certain breeds of pigs that are born and bred in a particular geographic locale in the Basque region of South-West (Sud-Ouest,) France, using centuries-old methods and techniques.
Visiting Bayonne
There is nothing better than tasting a gastronomic delicacy at its source.
Our appetite for this French ham was piqued after visiting the picturesque city after which it is named. That trip holds a special affection, too, because our visit to the French Basque region took place during our last pre-pandemic trip to the larger portion of Basque Country, just across the border in Spain. 
Bayonne (the capital of Pays Basque) is located at the confluence of the Nive and Adour rivers. Its narrow, cobblestone streets are lined with shops, cafes, and traditional 18th-century buildings. The city also has a wonderful Gothic Cathedral worth visiting, Cathédrale Sainte-Marie de Bayonne. 
Food lovers will enjoy visiting the stalls of the covered market, Place des Halles.
Also notable, Bayonne has a small ham museum. Aimed at tourists and educational groups, Musee du Jambon de Bayonne explains the rich history and specific production methods entailed in producing the ham. 
Of course, while in Bayonne, the famous ham can be tasted at most restaurants, wine bars and delicatessens. And every spring during Holy Week, local producers gather to celebrate the historic Ham Fair.
What are the 'ingredients' of Bayonne Ham?
Although more than a thousand years told, this ham only received its PGI indication in 1998. Its ingredients are straightforward: Fresh ham and spring salt, which is obtained by evaporation from the small town of Salies-de-Béarn, located between the Pyrenees Mountains and the Atlantic Ocean.
With Baroque architecture and its half-timbered houses, Salies-de-Béarn is a spa resort town that is often called a "city of salt." It even has a salt museum that tells the story of its "white gold" and hosts an annual salt festival each September showcasing cured food products.
Drying the ham also requires fresh air, wind, and tincture of time, averaging 9-12 months of ripening (but requiring a minimum of nine). 
To certify authenticity, the rind of the ham is imprinted with a Basque cross (lauburu), the symbol of unity of the Basque people. Its guarantee of quality is overseen by the Bayonne Ham Consortium, representing some 800 farms and 18 producer groups.
How is Bayonne Ham made?
The Consortium specifies the essential steps involved in producing the ham: salting, resting, drying, pannage, maturing and probe testing.
In brief, the whole fresh hams are rubbed and covered with a thick layer of salt and then put in a salting tub. Then they are hung in a resting chamber (souillarde) to dry at low temperatures that mimic winter weather conditions.
The flavor is sealed in through pannage, a process of applying a mix of lard and flour to the muscle tissue of the ham. Then the ham is allowed time to mature, to achieve a balanced, slightly salty flavor, a delicate aroma and its characteristic red/pinkish color.
Just as vintners test the fragrance and aroma of wines, ham experts use a probe to grade and test the hams.
Enjoying Bayonne Ham: Let me count the ways
Typically sliced very thin like its cousins, the ham is known for its delicate taste with hints of hazelnut. 
What a versatile meat! Of course, it is wonderful on its own but is always a great addition to any cheese board, paired with an aperitif, but is also great on sandwiches, in salads, or as an ingredient in many cooked dishes. At breakfast, it can be used as a substitute for bacon. 
---
Ways to enjoy Bayonne Ham illustrated
Cordon Bleu with Bayonne Ham
Literally translated as "blue ribbon" Cordon Bleu is a traditional dish in Basque Country made with meat wrapped around cheese, which is breaded and fried.
Ingredients
4 turkey cutlets
4 slices of Bayonne ham
25g grated Emmental
25g of grated Ossau Iraty
1 egg
40g flour
100g breadcrumbs
1 tablespoon of dried oregano
Instructions
Put each turkey cutlet flat and cover them with a slice of Bayonne ham. (You can also use chicken or veal, if preferred).
Grate Ossau Iraty and Emmental and mix the two cheeses.
Place a small pile of grated cheese on each cutlet.
Close the cutlet in half by folding up the longer side.
Beat an egg in a deep plate. Put the flour on another plate.
In a third plate, pour the bread crumbs and mix it with dried oregano.
Dip each cutlet in the flour, then in the egg and finally in the breadcrumbs.
 Fry 5 minutes in a pan on each side with a drizzle of olive oil and serve.
---
IF YOU GO
---
Save to Pinterest!!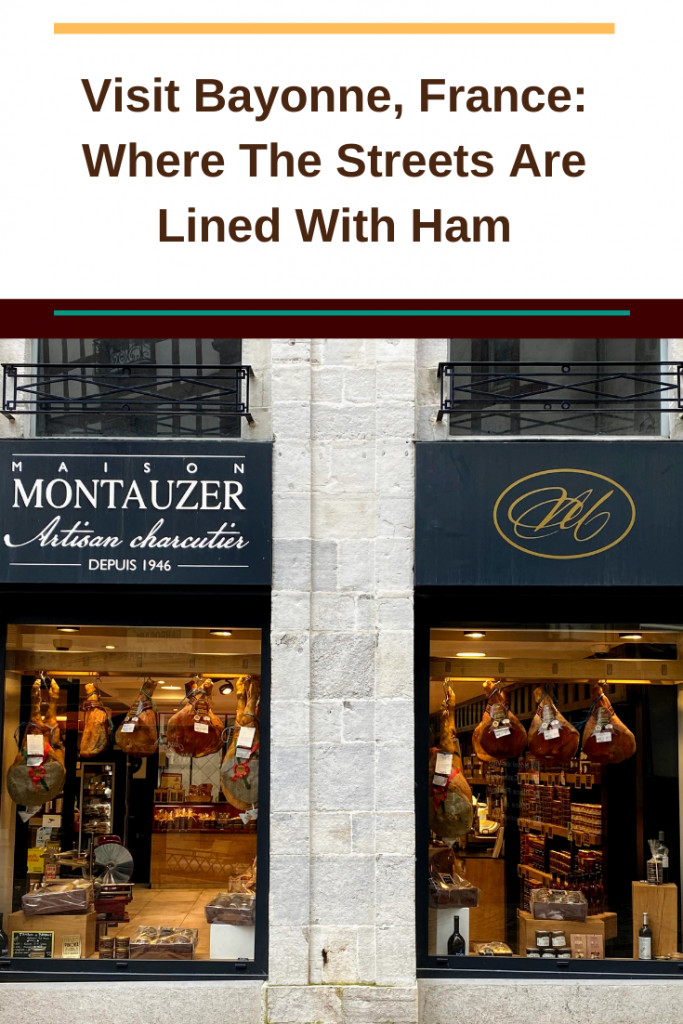 ---