Washcloths in Italy: Do Italians Use Them?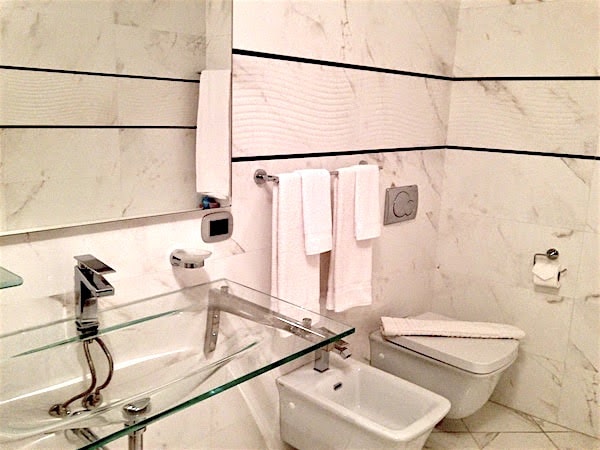 Don't count on finding washcloths in Italy.
And no one I asked is quite sure why…
Don't be surprised if you have a hard time finding a salvietta (washcloth) in Italy. Washcloths are so commonplace in hotels and homes in the U.S. that we've come to expect them everywhere.
But during several of our trips to the regions of Emilia Romagna and Tuscany, we stayed in three different hotels and two vacation rental homes and could count the number of washcloths we found on one finger.
Why aren't there washcloths in Italy?
It depends on whom you ask. I posed the question to some of my Italophile friends and colleagues:
---
I'm not sure I can answer that. It makes no sense.
Most hotels have another kind of towel, the asciugamano ospite (a guest towel), usually the size of a washcloth that they put over the bidet for that specific use. So I strongly suggest you never use these towels as a washcloth!
Flora Pinotti Sano, a Brazilian ex-pat and blogger living in Bologna
---
Are those the very tiny little towels you (British, French and German) use to wash yourself under the shower?
If yes, we do not use them at home and I guess, consequently, they naturally do not provide them at hotels. We use "personal" sea sponges or brushes or loofah gloves at home.
An Italian friend born and living in Rimini
---
This post may contain affiliate links. This means that I may receive compensation if you click a link at no additional cost to you. For more information, please read my privacy and disclosure policies.
---
Well, you can file this under another one of Italians' hygiene obsessions.
They think that something so "personal" shouldn't simply be washed and passed onto another person. They'd rather have their own sponge and throw it away when it's been used up.
Rick Zullo, an American ex-pat and blogger living in Rome. One of his most popular blog posts: Why do Italians use the bidet
---
Washcloths are common in private houses and many BnBs.
Unfortunately, hotels in the past and recent years had many washcloths stolen. I know this sounds weird for a non-Italian person, but it is true. For this reason, many hotels decided not to provide them anymore.
An Italian friend born and living in Pisa
---
Actually, I can't think of any other country (and I've only traveled in Europe) that routinely uses washcloths.
I think the reason is that most people in other nations use liquid soap or a bath gel rather than soap bars so you just squirt some on your hand rather than rubbing the soap into a washcloth. I grew up using a washcloth but lost the habit…a washcloth gets cold quickly and feels soggy.
So I don't think it's an Italian thing, just a learned preference.
Dianne R. Hales, award-winning author of La Bella Lingua. She blogs at Becoming Italian Word by Word. Her latest book is Mona Lisa, A Life Discovered.
---
The bottom line
Yes, you can take them with you!
The use of washcloths seems to be an artifact of culture. If you rely on them, you may or may not find washcloths in Italy unless your hotel caters to Americans.
Some seasoned travelers pack old ones (disposing of them after use) or do the same with an old cut-up towel.
Others pack an inexpensive stack of colorful washcloths. (They don't get mixed up with white hotel towels if they are in bright colors.)
They can be thrown away after use or carried to your next accommodation. (If one is still damp, tuck it in one of those indispensable-when-traveling Ziploc bags.)
Elegant solutions
This set of 24 inexpensive washcloths is perfect for those who are washcloth-addicted!
---
Save to Pinterest!!