Visiting Plimoth (Plymouth) Plantation to Celebrate Thanksgiving
Guest contributor Nancy Monson suggests a visit to Plimoth Plantation on Turkey Day as an alternative to the work and hassle entailed in preparing dinner at home—a perfect escape and indulgence for parents and/or grandparents over the age of 50!
The older we get, the less enthusiastic many of us become about shopping, preparing, cooking and cleaning for a house full of family. Going out for the day and having someone else cook has great appeal, not to mention the benefit of foregoing some of the football that dominates TV on Turkey Day. Sometimes, family dinners are impossible too, with offspring and relatives living across the country or across the globe.
This year, if you're looking for a way to break out of the traditional Thanksgiving dinner celebration, consider a visit to the site of the first Thanksgiving at Plimoth Plantation in Plymouth, Massachusetts. ("Plimoth" was the most commonly used spelling in the writings of Pilgrim Governor William Bradford, who wrote the history of the colony, and the Plantation keeps that spelling to distinguish it from the modern town of Plymouth.)
A Thanksgiving visit to Plimouth Plantation
My family and I visited on the fourth Thursday in November last year and we were pleasantly surprised by how much we enjoyed the experience and how good the food was. And we were far from alone—the place was packed!
The Plimoth Plantation dinner is surprisingly delicious—rivaling and even besting many more expensive restaurants open on Thanksgiving Day. The menu includes roast turkey (of course), traditional stuffing, mashed potatoes, butternut squash, Cape Cod cranberry sauce, hot crusty rolls, apple cider and apple or pumpkin pie. You'll leave filled to the gills.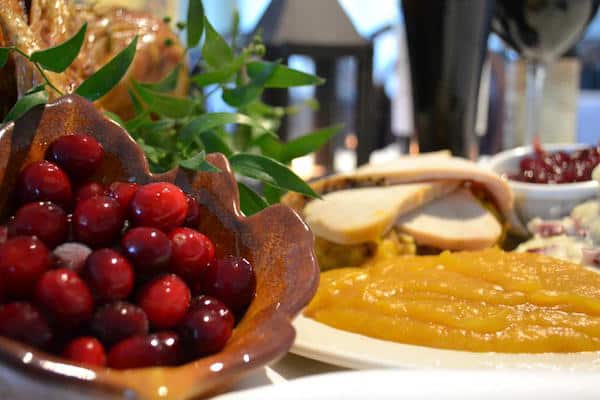 Getting a taste of history
While in Plymouth, you also get a powerful history lesson. You can see Plymouth Rock, of course, now encased in a viewing box, and learn about Pilgrim and Native American experiences in interactive exhibits with live actors playing the Pilgrims and Wampanoag people. You can also board a replica of the Mayflower, which carried 102 passengers across the Atlantic Ocean. (It hardly seems possible given that the boat feels something like a toy ship.)
Preparing for the visit
Before you go, it helps to get some perspective on the experience first—the story we didn't learn about in grade school. It was actually pretty grim for both parties, and the Native Americans look upon Thanksgiving as a day of mourning, as it signaled the end of their way of life. (For one thing, many were wiped out by diseases brought over by European settlers.)
We watched the National Geographic Channel's fictionalized version, Saints & Strangers, a four-hour film that stars "Mad Men's" Vincent Kartheiser as William Bradford. We also viewed the PBS documentary The Pilgrims, featuring the late actor Roger Rees as a deeply pensive Bradford.
These films revealed that half of the passengers on the Mayflower were actually adventurers rather than the devoutly religious Puritans we've heard about, and the Pilgrims encroached on the Native Americans in less than kind ways, actually stealing from them in some cases. They made many mistakes and struggled desperately through their first view months in America, and ultimately owed their survival to Tisquantum, a Wampanoag who taught them how to farm in the new land and acted as interpreter. This perspective gave us a thrill as we walked down the main road of the Plimoth Plantation, where many of the scenes in these films were shot.
The older adults in our group were fascinated by the visit and the interactions with the actors playing the Pilgrims and Wamponoag, while the younger people found it boring (as a 25-year-old, I would have found it boring, too, unless I was a history geek. Another reason aging rocks!)
---
Originally published 11/1/16 and updated on 11/21/19 – The Mayflower set sail from England To America with 103 passengers in 1620. In recognition of what will be the 400th anniversary (in 2020) of the Mayflower voyage, Frommer's recently named both Plymouth, Massachusetts and Plymouth, England to its coveted list of top twenty places to visit. A press release from Frommer's noted an interesting fact about Plymouth, Mass.:
A common myth is that Plymouth, in what was to become Massachusetts, was named after Plymouth, England. Named by a ship captain many years before, 'Plymouth', in the new world, was already on early maps long before the Mayflower Pilgrims arrived."
"Plymouth, MA is one of the world's best places to visit for both leisure activities and heritage tourism," said Lea Filson, Executive Director, See Plymouth. "We thank Frommer's for singling out our town so visitors will head to New England to experience one of America's most authentic and historic destinations – America's Hometown."
See Plymouth operates the Waterfront Visitor Center in the Town of Plymouth and the Massachusetts Visitor Center located at Route 3, Exit 5 in Plymouth.
---
IF YOU GO
Plimoth Plantation, Plymouth, Massachusetts
Plimoth Plantation has both sit-down and buffet options; reservations fill up quickly so plan ahead. If you can't swing a visit this year, make a reservation for next Thanksgiving.
The cost of dinner includes entry to the Plimoth Plantation museum and grounds.
In the mood for a nearby spa visit? While in Plymouth, check out the Mirbeau Spa and Inn. Housed in a lovely French chateau, the spa is often voted one of the best in America.
---
About the author: Nancy Monson is a freelance writer and editor, as well as a health coach. Her articles on lifestyle, health, nutrition, crafts, creativity, pets and entertainment have been published in numerous magazines, such as AARP The Magazine, Family Circle, Glamour, More, Reader's Digest, Redbook, Shape, USA Today, Woman's Day and Women's Health. She is also the author of three books.