Visiting Gubbio with Don Matteo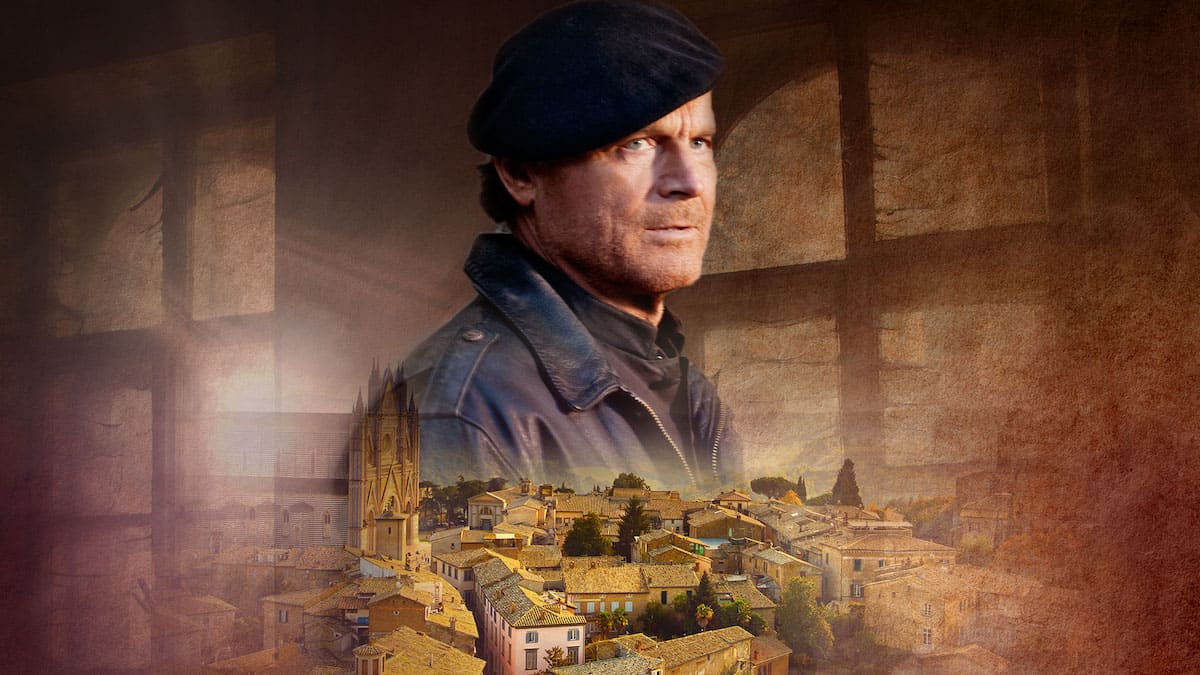 Gubbio is a medieval town at the base of Mount Ingino, a small mountain in the Apennine range in central Italy.
The town achieved international pop culture stardom as the setting for the Italian TV series Don Matteo. We have been binging on this 266-episode series. Having finished 6 of the 12 seasons, we're hoping it will never end.
One can't really separate the town from the storyline and characters because the medieval streets and alleys, historical buildings, breathtaking landscapes, and cultural traditions of Gubbio play such a prominent role in the show.
Where in Italy is Gubbio?
Gubbio is located in the northeast corner of Perugia, the largest province in the region of Umbria.
Although there are no trains to Gubbio, it is less than an hour's drive from the Umbrian cities of Perugia and Assisi, about one hour from Spoleto, and less than two hours from Orvieto.
Gubbio is well worth a visit but is often overlooked by tourists who are more likely to flock to better-known destinations in the province. For example:
Chocoholics may head to the city of

Perugia

, known as the City of Chocolate, which is also the capital of the region.
The religious often want to explore Assisi, the birthplace of St. Francis, with its spectacular frescoes by Giotto.
Wine lovers gravitate to

Orvieto

, a city uniquely perched on a volcanic cliff, best known for its Gothic Cathedral and white wine.
And, every summer, between 70,000 and 80,000 visitors head to Spoleto, known for its annual festival of music and dance.
Why visit Gubbio?
Gubbio has its own wealth of riches to be explored, which include:
A well-preserved historic center surrounded by the original medieval walls and gates;
Ruins of a Roman theater, which still remains in use today;
Monumental museums and civic buildings, including the Bishop's Palace, Palace of the Consuls, and Palazzo Ducale;
The Funivia Colle Eletto, a unique cable car ride offering panoramic views as it climbs to the top of Mount Iguino;
Churches and abbeys that date back as far as the 11th century, filled with art and religious artifacts.
In every province in Umbria, there are historically significant cities and landmarks but two unusual features set Gubbio apart: the Corsa dei Ceri Race and the city's role in the filming of Don Matteo.
The Corsa dei Ceri Race
On May 15th each year, Gubbio hosts the Corsa dei Ceri (candle race), one of the most popular festivals in Italy, which dates back to 1160. On that day, tourists not only from Italy but from around the world come to Gubbio to honor the town's Patron Saint Ubaldo Baldassini.
The race, which is the main festival event, showcases a magnificent blend of Gubbio's history, traditions, religion, and culture.
Three teams of 12 men each carry very large, heavy wooden ceri (candles) through the streets. Throngs of enthusiastic townspeople and visitors cheer them on and celebrate the day, dressed in the colors of the saints of the town: Saint Ubaldo (the patron saint), Saint George (the protector of merchants), or Saint Anthony (the protector of farmers). Above each of the candles is a statue representing one of the saints.
Film tourism: The Don Matteo TV series
Gubbio served as the setting for Don Matteo, one of Italy's most popular TV series of all time. The show aired in Italy for almost two decades, between 2000 to 2019.
Film tourism is a phenomenon that has been growing in popularity. This series, of course, sparked a dramatic increase in tourists coming to the "Town of Don Matteo" to walk in the footsteps of the show's characters. The town website even has a section dedicated to Gubbio in the Places of Don Matteo.
(A similar phenomenon occurred in the hilltop city of Ragusa, in southeast Sicily, which served as the backdrop for the popular Montalbano TV series. Ragusa experienced a 40 percent spike in tourism, with visitors clamoring to see the locations and destinations that appeared in the series.)
One of my Italian friends told me that when she was young, Italian families gathered around the dinner table to watch Don Matteo each evening. Its popularity hasn't waned over two decades, and its moral lessons still seem relevant and timely.
What is Don Matteo about?
Don Matteo (in English, Father Matthew), played by Terence Hill, is a charismatic parish priest with a calling.
He impossibly flies through the winding streets of Gubbio and roads in the surrounding areas on his bicycle, typically dressed in his long cassock and a beret. Watching him speed from place to place is a bit reminiscent of The Flying Nun, the American TV series that starred Sally Fields.
Drawing upon his wisdom, faith, and keen sense of intuition, he helps the local Carabinieri (national police officers) solve complex crimes while simultaneously ministering to his parishioners. He delivers brief sermons and is often seen in the church confessional as they seek forgiveness for their sins.
Many times, he acts as a de facto defense attorney, proving the innocence of a local citizen whom the prosecutorial system has unfairly accused of murder or other crimes.
The stories are a captivating blend of crime fiction and exploration of everyday moral dilemmas coupled with laugh-out-loud good humor.
Each episode can be viewed on its own, but the lives of the protagonists are woven into the story so it's helpful to watch them in sequence.
Main characters of Don Matteo
Don Matteo is played by the talented and handsome Terence Hill. Born Mario Girotti, Hill was already well-known in Italy for his leading roles in spaghetti western movies with fellow actor Bud Spencer (Carlo Peresoli).
Hill starred as Don Matteo for 22 years (13 seasons and 259 episodes of the show until it was announced in 2021 that the role of the new parish priest (Don Massimo) would be played by Italian actor Raul Bova
Marshal Antonino Cecchini, played by comedian Nino Frassica, is Don Matteo's friend, chess companion, and collaborator in solving crimes.
Cecchini works in the military police station. He spills confidential information about investigations to the priest (often over chess) and depends on Don Matteo's help in solving complex crimes, hoping to impress his boss, the police captain.
Frassica's physical humor and dry wit offer an abundance of laughs throughout each episode.
Several other characters live in the rectory with Don Matteo, almost like a family.
Short-tempered Natalina (played by Nathalie Guetta) is the housekeeper. Highly volatile and impulsive, she dutifully cleans, cooks, shops and does laundry. In addition, she helps care for the wayward children that come in and out of the rectory for temporary care and housing—until she explodes with frustration.
Pippo (played by Francesco Scali) is Don Matteo's sacristan. Diminutive and somewhat limited in intellect, he oversees the maintenance of the church. He's loyal and hard-working but sometimes gets into spats with Natalina.
Captain Flavio Anceschi (played by Flavio Insinna), is Cecchini's supervisor and head of the military police station in Gubbio. One of my favorite characters, he is always suspicious of Don Matteo's close relationship with the marshal, a perfect foil for Cecchini's humor.
Hill (Don Matteo), Frassica (Marshall), Guetta (Natalia), and Zerfati (Pippo) appear in every episode of the series, while a cast of talented actors come and go, given the longevity of the series.
Many actors have appeared in more than 40 episodes, hundreds have appeared in single episodes, and the show has had more than 19 different directors and scores of different writers.
Each episode runs under an hour, making them a perfect escapist nightcap.
---
Where to watch Don Matteo
All 12 seasons of Don Matteo with English subtitles can be streamed on MHz Choice and Amazon Prime Video
See the trailer on YouTube:
\
---
IF YOU GO
---
READ MORE
---
Save to Pinterest!!