Trout Point Lodge in Nova Scotia: Totally Remote, Totally Luxurious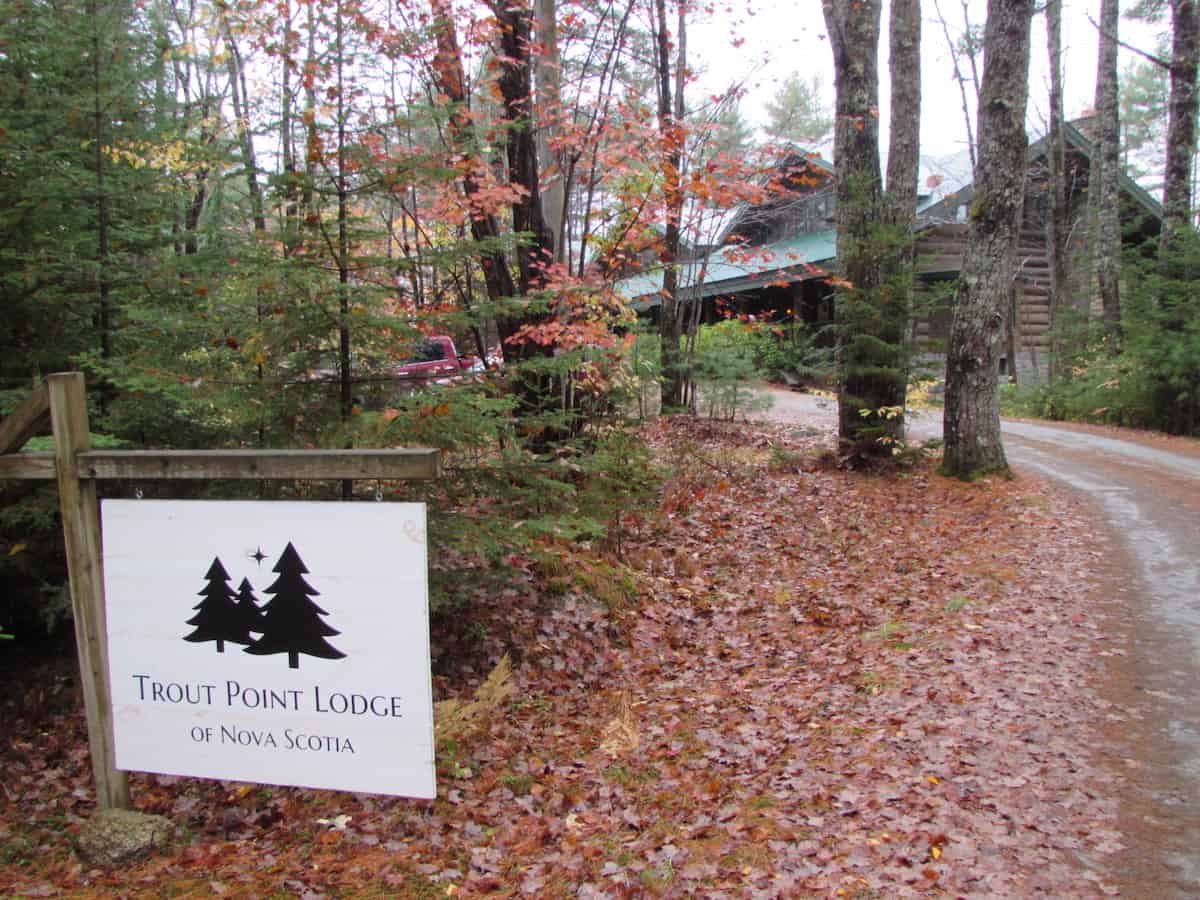 At Trout Point Lodge in Nova Scotia, guest contributors John and Sandra Nowlan find pampered luxury in a remote, wilderness setting perfect for these times.
When safe travel resumes, there's likely to be continued skepticism about boarding a plane, taking a cruise or staying at a crowded resort. But if the idea of driving to a remote, luxurious wilderness lodge has appeal, Nova Scotia may have the answer.
Trout Point Lodge was built in 2000 from giant white spruce logs, chiseled granite and local sandstone. It's located along the Tusket River system in the most remote part of southern Nova Scotia. There's no cell phone service and there are no room TVs for the lodge's 24 pampered guests. But it does have good wi-fi and a fine library.
Authenticity coupled with luxury
A member of the very exclusive "Small Luxury Hotels of the World," Trout Point Lodge gives visitors an authentic Canadian wilderness experience but with luxury touches like riverside saunas and hot tubs, Tiffany lamps, oriental rugs, handmade furniture (no two pieces alike), large comfortable rooms with fireplaces and, best of all, creative cuisine by a great chef and an outstanding wine list.
Upon arriving we were greeted with friendly smiles, a choice of red or white wine and then given a brief tour. We passed the Great Room with its cathedral ceiling, giant fireplace, comfortable but unique furniture, a well-stocked bar (being in New Scotland, the Scotch choices were excellent) and the entertainment area where Acadian and other local musicians perform on many evenings. The large sun porch just off the Great Room (most suites also have a private porch) faces the pristine river, the large fire pit and the boardwalk stretching along the river bank.
Settling in at Trout Point Lodge
Our room was large and very comfortable with custom-made furniture, a safe, bedside reading lights, bathrobes and slippers and a well-equipped, bright bathroom with shower, tub and L'Occitane toiletries The fireplace had already been laid for potential cool evenings and a double door led to our riverside porch with chairs and a lounger. The lodge even provided us with a picnic lunch we could enjoy on our porch. We were told that tap water comes from a spring and was very safe for drinking.
Receiving a top rating from "Best Green Hotels" and "Best Eco Hotels of the World", Trout Point Lodge offers a wide variety of activities, both relaxing and more active. The lodge has canoes, kayaks and paddleboards which can be launched into a tranquil part of the river.
Stargazing, forest bathing and more
Located in a remote area far from city lights, Trout Point is the world's first "Starlight Hotel," certified by UNESCO and home to North America's darkest skies. A resident astronomer guides guests on clear nights to a raised platform where a telescope is placed for observation of the wonders of the Milky Way, moon, constellations and planets.
In the daytime, hikers are right at home and we took one of the well marked trails that meander along the edges of the Tobeatic Game Reserve, the largest remaining wild area in the three Maritime Provinces. Nothing but the sounds of nature.
The most popular and relaxing activity is called "forest bathing." It's an ancient, therapeutic Japanese tradition and was a perfect fit for our wilderness location. Accompanied by a guide, we were invited to go barefoot, walk slowly and quietly over a small bridge, along a river and lakeside trail, listen for bird sounds, look around for unusual flora and fauna and, finally, to stop by the river for tea brewed on a camp stove using fir tips and wintergreen leaves picked along the way. It was delicious and totally in harmony with our surroundings.
Creative cuisine at Trout Point Lodge
Delicious also describes the Trout Point dining experience, with some of the most creative, fresh and tasty cuisine we've ever enjoyed in Eastern Canada. The lodge has its own herb garden and gets supplies from local farmers (beef, pork, lamb and vegetables) and Yarmouth area fishers. In addition to unique cocktails and the superb wine list (having garnered a Wine Spectator Award of Excellence for the past 11 years), diners can take the time to enjoy delicacies like ocean perch, pork belly and monkfish appetizers, foam soup of fall herbs, and entrees like wild halibut, seared duck breast and tender chateaubriand for two.
Looking back and looking forward to springtime
In 2018, the original owners sold the lodge to Pamela and Patrick Wallace. They had stayed at the property and loved its quality, charm and remote location. In previous years the area had been scattered with a few small fishing camps but the Wallaces realized that many North American and European city dwellers would love to stay "in the middle of nowhere" if luxury, pampering and great dining could be a key part of their pleasure.
Until the coronavirus hit, the lodge had been a great investment with solid bookings in 2018 and 2019. The Covid-19 crisis, with restricted travel to Atlantic Canada, closed many hotels in the spring of 2020 but Nova Scotia residents discovered the unique property in the summer so, with proper sanitation, masks and guest spacing in place, the lodge has been full all fall.
Trout Point Lodge will be closed this winter but will emerge in the spring of 2021 with several improvements in facilities and services. The Wallaces have plans to make the lodge a year-round luxury experience, trusting that one or more vaccines will be finally bring tourism levels back to normal. They take guidance from a New York Times review of the property shortly after it opened: "Worth the trip no matter whatever the season."
---
Disclosure: The Nowlans were guests of Trout Point Lodge.
---
*John and Sandra Nowlan are travel and food writers based in Halifax.
---
Also on More Time To Travel:
Liscombe Lodge Resort: A Relaxing Canadian Wilderness Retreat
Muir Hotel Halifax: A Boutique Waterfront Property at Queen's Marque
---
IF YOU GO
---
Save to Pinterest!
---