Advice on How to Keep Traveling with Bad Knees & Other Stuff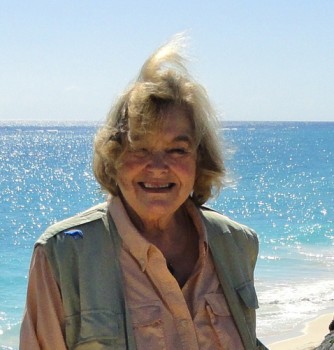 While age isn't necessarily associated with bad knees, flat feet, aching backs or other travel limitations, the odds of one thing or another breaking, weakening, aching, declining or going bad generally increase with age. Travel writer Judy Wells hasn't allowed bad knees or any other physical limitations to slow her down.
I was delighted to speak to this prolific travel writer about how she's adapted and managed to stay on the move despite physical setbacks. One of Judy's very specialized and inspiring blogs is called Travel on the Level, which offers information and advice for anyone who wants to travel with less strenuous walking and fewer stairs.
How did you get involved in travel writing?
Despite being born with the itchy feet of a traveler, I didn't get to be one until my mid-30s when in 1975, I lived in Turkey for a year. Desire turned to addiction and I finally found my career niche, journalism. From then on I traveled and wrote about it anywhere and any time I could.
Still am. Limped through China and Alaska on a cane at the age of 60, had a knee replaced and zip-lined in Patagonia at the age of 66. Replaced another knee and hiked across the hilly city of Guanajuato, Mexico, at 69. Had a hip replaced and climbed up a steep slippery slope to the Waitavala Sliding Rocks (NOT recommended) on Taveuni Island, Fiji, at 70. Alas, had to decline a bungee-jump in New Zealand at 71.
Why did you began your website, Travel on the Level?
While traveling all those years on my bum knees and hip, I learned the hard way what wasn't worth the effort and, whenever possible, how to decrease the effort to see what was worthwhile.
Seemed criminal to waste that knowledge and as long as medical advances can keep me going, I'll continue counting steps and looking for shortcuts. Besides, it's a niche I can't get too old to fill.
Do you tend to travel alone or with a companion?
Both. Alone you are more open to meeting people who live where you travel. Couples are rarely approached but singles often are. Then again, having a pal to share thoughts, opinions and expenses with is a joy.
What injuries have you endured and adapted to as a traveler?
Since replacing my knees and hip, new limitations are mostly back strain and an occasional ankle sprain. I prefer walk-in showers and try to avoid high-sided tubs or very low beds (hard on the hip). I can do stairs but know avoiding them will lengthen the lifespans of those replacements.
Worst accident was falling off the train in Bergen, Norway, and badly injuring a knee (pre replacements). Wound up in the emergency room where I told them to wrap and strap it up, and drug me up because I had 10 more days of travel including a cruise up the coastline to the Russian border. Wasn't all bad: the Iranian doctor was a graduate of the University of Florida med school and the cousin of a friend of mine at home and I learned how most cruise passengers see a port because I was forced to accompany "the bus people".
What ailments/disabilities require adaptations by travelers?
Anything that causes pain and discomfort or limits what you do and how long you can do it. Those can range from being stuck in large crowds or eating irregularly to standing for long periods or climbing hills.
How can travelers make sure trips are not too limiting but not too stressful—how can they achieve balance?
Pace yourself. Decide what's really important to you and compare that list with the time you have. Do the most important first. Alternate strenuous activity with more passive. Give yourself seated refreshment breaks at outdoor cafes where you can savor the ambiance and do some people-watching at the same time. Take advantage of knowledgeable staff at Visitors Centers to help you map out the best routes/timing and find out where those stair-saving elevators are. Use hop-on hop-off buses where you can and for real convenience and ease, hire a car and driver.
I like to start with a city bus tour to get oriented and to get an overview of where I am. After that you won't feel so deprived if you have to eliminate something.
Level with me, what do you always carry with you?
For the plane, muscle relaxers, which I find better than sleeping pills, and everywhere, Aleve for when I'm over-doing it.
On land, Velocity's collapsible walking stick ($29.95 at Hammacher Schlemmer, JD-77776). It collapses to purse-size, snaps out to 50 inches, is sturdy and only weighs 12 ounces, an important consideration when already laden with camera gear and notebooks. Most of us fall because we lose our balance so this is a godsend on uneven terrain, hills and steps without railings. Looks fitter than a cane, too. I also wear a many-pocketed travel vest instead of carrying a purse and as one who likes to sample native cuisine, never leave home without Imodium.
What are your favorite walking shoes?
MBTs. Used to get painful bouts of plantar fascitis from cobblestones but, knock on wood, not a one since wearing MBTs. Expensive but long lasting; finally had to replace the first pair I bought 8 years ago.
Do you think cruises are a good way to travel on the level? Explain.
I do. Even some of the smaller ships come with elevators now and on a one-time to an area survey sort of trip, a cruise vacation is much better than the old bus-and-a-country-a day nightmares. The less luggage-schlepping the better.
Personally, I prefer more time in an area than cruising allows but I love being at sea and the no-brainer break of a crossing or a transitioning cruise. It's probably the closest thing to a relaxing vacation we travel writers ever get.
What are leveler destinations and which are a few of your favorites?
Any locale can be a Leveler destination with the possible exception of places like Machu Picchu and Nepal. Haven't been there yet but I bet there's a way to manage those, too.
I love New Zealand, which is certainly an up and down country, but it's very doable (Just remember when a Kiwi tells you it's nearby, it probably isn't; they're a hardy bunch). In the U. S., Utah's spectacular scenery is relatively easy to get to and see, especially at Kodachrome State Park where every geological formation in the state is within a one-mile long, flat, paved (!) walk. Nice bathrooms, too.
What can the travel industry do to better facilitate life-long travel?
Be honest and more sensitive. Very few tour guides will tell you about elevators or short cuts because they don't want to separate the group. Develop more comfortable and accessible small vans and don't pack in too many people. The U. S. Park Service is doing a good job at this.
Realize that many physical problems don't show. When an otherwise agile person's arthritis flares up, one block can seem more like one mile and that step up into the van can present a problem. We have the time now, so make time for us. Give us seated breaks and more flex time. Map out short cuts and accessible entrances around your town/city. In Long Beach, CA, for example, exit the mezzanine instead of ground level of the Hyatt Regency and you cut out a hill.
We may not be able to dash up three flights of stairs anymore but if we're still traveling our interest and curiosity are as sharp as ever.
---
About Judy Wells:
Judy Wells spent 20 years as humor and society columnist; travel writer/photographer; food, film, visual and theater arts critic and senior feature writer for The Florida Times-Union. Her romance novels were published by New American Library. A member of the Society of American Travel Writers, she now concentrates on travel. She keeps her car, clothes, passport and suitcases in her hometown of Jacksonville, Florida.
To follow Judy's travels, visit some of her websites and blogs including www.travelonthelevel.com and www.travelonthelevel.blogspot.com for those who prefer travel with less strenuous walking and fewer stairs. Her site www.wellsworld.net is filled with tips and deals originally designed for fans of her monthly travel segment on WJCT-FM, an NPR station. Food Afar is a blog that includes her recipes.
---
3/7/20 Sadly, Judy Wells passed away on March 3. You can read about her illustrious career here.
---
Also on More Time To Travel: