A tour of great hotel bathrooms (Part 1)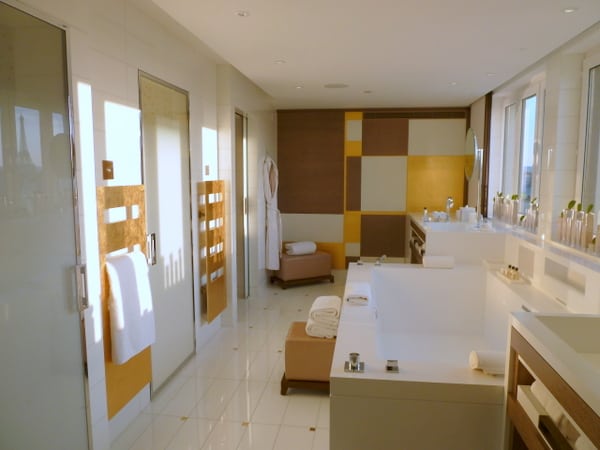 Join us for an inside peek at some of the great hotel bathrooms we've recently visited in Europe and on cruise ships.
Even though we travel extensively, we still remain wowed by great hotel bathrooms. Some have spectacular fixtures or designs, others stand out for their use of interesting materials or their great views.
A couple of caveats: We have come to realize that bathrooms are tough to photograph because of the lights, reflections, and inherent limitations of size. Moreover, we often forget to photograph them before we "move in" but here are some of our favorites:
EUROPE
Rimini, Italy
The porthole (overlooking the bedroom) of this futuristic bathroom was unique as were the egg-shaped toilet and bidet.
Barcelona, Spain
At this hotel in the gothic quarter, the bathroom walls and floors made of quartzite stone sparkled.
Barcelona, Spain
In this two-level, one-bedroom residence, the glass shower in the round could fit at least six people. It connected the oversized bathroom, which was split in half for him and her.
Paris, France
The breathtaking bathroom in this incredible suite offered views of the Eiffel Tower.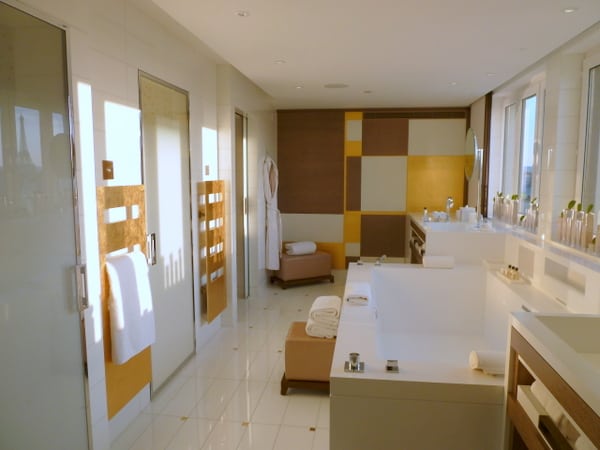 Paris, France
With Hermes toiletries and soaps, this bathroom actually was comprised of two separate marbled rooms. This is the one that housed the toilet and bidet.
Four Seasons Hotel Gresham Palace
Budapest, Hungary
The marbled bathroom in this beautifully restored Art Nouveau building has an art deco feel.
SHIPS
Because of space limitations, it is far more challenging to create a shipshape bathroom on a sea vessel than it is on terra firma but we thought these were special:
Ponant Le Boreal
Art work in the loo? We loved the picture of this bather in the separate lavatory.
The bathroom in our penthouse suite had double sinks, triple mirrors, a separate Jacuzzi and stall shower and lots of light. We especially loved the ample drawers and shelf spaces to stow our toiletries.
Our penthouse cabin had a full-size bath, separate stall shower (with a rainshower head), and his-and-her medicine cabinets stocked with Bulgari toiletries.
---
See Part II with Great hotel bathrooms in Mexico, the Caribbean and Africa.
Do you swoon over great hotel bathrooms as much as I do?
---
*This post was inspired by the Notable Restroom Series by Elizabeth Rose. You can take a peek at some of her unusual finds on her blog, Travel Writer Rants and Raves.