The Children of Selvino: From Book To TV Miniseries
The eight-part Italian miniseries, The War Is Over, airing on MHz Choice is so moving that it compelled me to dig deeper.
The closing credits note that the narrative was adapted from a book, The Children of Selvino: Journey to the Promised Land, by Aharon Megged. Was the TV series faithful to the book? I wanted to find out.
The fictional characters and storylines of the TV adaptation are based on real-life stories which, although credible, are almost unimaginable. (You can read my previously posted review of this engaging TV series.) They were recounted to the author of the book many years later through interviews and conversations with surviving "children" and their families.
I learned that this docudrama bears a close resemblance to the vignettes of people, places, and events described by author Megged, who passed away in 2016, having made remarkable contributions to the literature on the Holocaust.
The true story of the children of Selvino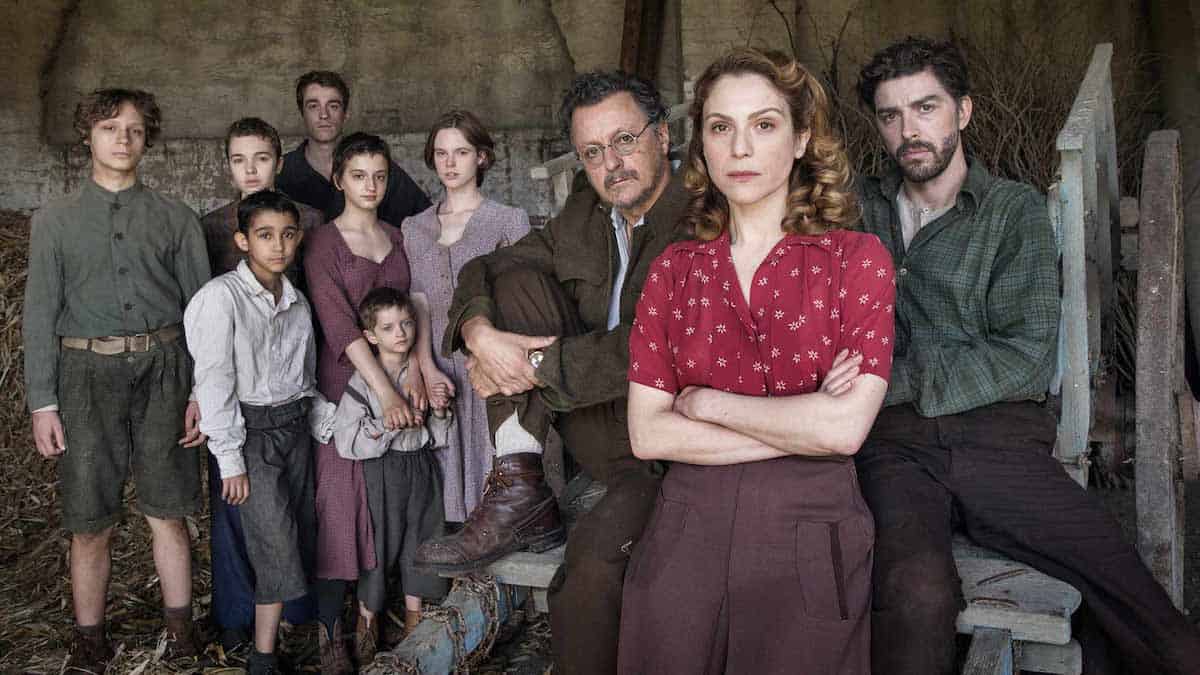 After World War II, between 1945 and 1948, some 800 Jewish children who were victims of the Holocaust were brought to an abandoned estate, called Sciesopoli. It was located in Selvino, a small, isolated Alpine village in northern Italy's Lombardy region.
The Selvino children were rescued by partisans who gained use of a property that once served as a rest home and an elite boarding school for wealthy families from nearby Milan.
Megged painstakingly documented the saga of the children who escaped the brutality of concentration camps across Europe. The children of Selvino had not only lost their homes and possessions but parents, siblings, and often, entire families. Almost every one of these children, toddlers through teenagers, bore the physical, emotional and social scars of malnutrition, exhaustion and horrific abuse.
Each had a different story in terms of how they were captured, the camps to which they were sent, the types of abuse they endured, and their narrow escapes from death. Some hid from their captors in ditches and forests; others found safe harbor at Christian monasteries and convents. They recounted living on stale bread, food scraps, and even salt and snow.
The common thread across all these survivors is one of resilience, courage, and determination.
Life at Sciesopoli
Jewish soldiers and sympathizers reimagined Sciesopoli as a halfway house to prepare these orphans for aliyah, future immigration to Palestine. The author characterizes it as a "way-station from Hell" because the children were rescued from such hellish conditions.
Although resources in Selvino were meager after the war, the children were given clean beds, safe shelter and sustenance, and emotional support, and human caring from committed volunteers.
Many residents arrived not knowing how to read or write; they were taught the Hebrew language and culture as well as math, history and geography. They were exposed to music and dance that lifted their spirits, and taught trades that could serve them well in the future: cooking, cobbling, sewing, carpentry and agriculture. Discipline was strict to help residents adapt to a world with infinitely more freedom. Many were unable to speak about their suffering for decades.
As I read the book, I recognized the young boy with selective mutism that I had watched on The War Is Over; the teenager portrayed on the series, who was raped and shamed by Nazi officers; and the character named Davide, one of the volunteers compelled to travel to concentration camps after the war in search of his missing wife and young son who had been rounded up in a pogrom. Black and white archival photos in the book help bring the rich story to life and remind you that these atrocities happened to real people.
While the well-acted TV series begins and ends in Selvino, with chilling flashbacks to wartime and the concentration camps, the book extends the timeline; it follows these children as they wait to immigrate to Palestine. With few opportunities to immigrate legally, many had to illegally board ships in hopes of reaching the promised land. Some wound up waiting in camps on the shores of Italy; others were detained in camps in Cyprus after their ships were attacked by British soldiers.
The "obligation to remember"
Some of the children stayed at Sciesopoli for up to three years. Megged notes how the shared trauma of war and the Nazi pogroms, as well as the opportunity for "rebirth" at the school, created an incredibly strong bond among these children that often lasted a lifetime. They kept in touch with each other, feeling much like a big family. (At the time of Megged's interviews, the "children" were already adults, many with children of their own.)
The group formed an Organization of Selvino Children and organized several reunions. One, which was held in Selvino, was attended by 70 survivors and supported by the town, which is now best known as a popular ski and summer resort. Only a small number of the children survive today but during the coronavirus pandemic, a grateful third-generation of their family members made a financial contribution to the local hospital in Selvino.
Megged reminds readers of the "obligation to remember." He goes on to write: "What happened there in Europe, could happen any place, at any time…" In 2019, the town opened a museum to remember the children's stories.
It was sad to read a recent story in The Times of Israel reporting that a child Holocaust survivor and supporter of the Selvino project, Liliana Segre, now age 90, was victimized once again. She was the target of hateful, anti-semitic attacks on social media when she advocated for senior citizens in Milan to get vaccinated to mitigate the spread of COVID-19. (Segra had previously been recognized as a senator-for-life by the President of Italy in recognition of her contributions to Italian schoolchildren throughout the nation, to whom she passionately speaks about the Holocaust.)
With the recent massacre of Asian-Americans in Atlanta; an alarming increase in hate crimes across the U.S.; and growing fascism and antisemitism across Europe, the book is especially worth reading. The Italian TV series has made the story more accessible for those who can't track down this important book.
---
NOTE: Unfortunately, The Children of Selvino: Journey to the Promised Land, which was published in 2002, is no longer in print. It wasn't even available for loan from our regional library system (Westchester County, New York). My local library was able to arrange an interlibrary loan from an academic institution. Securing a copy to read, if you can, is definitely worth the effort. The book by Aharon Megged was translated from Hebrew by Vivian Eden.
---
The War is Over is currently streaming on MHz Choice in Italian with English subtitles.
---
Save to Pinterest!!