The Best Italian Chocolates Online: How To Find And Buy Them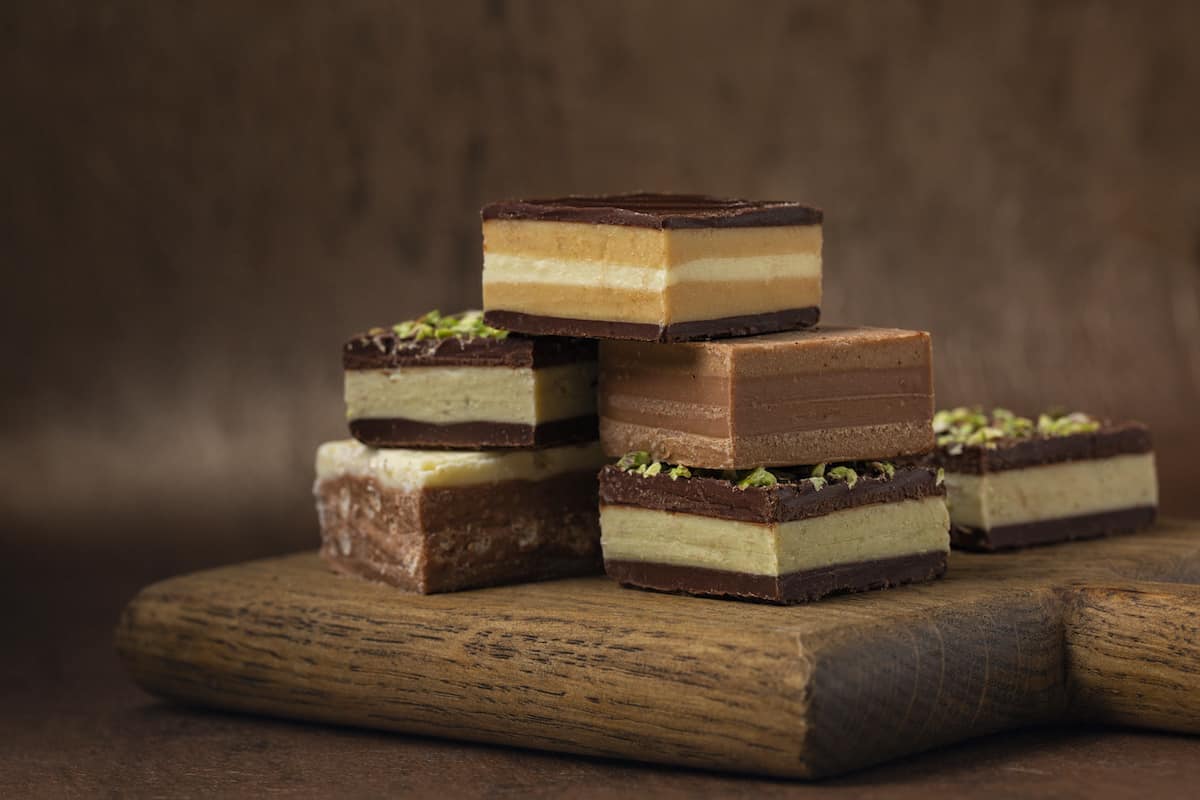 If you are passionate about Italian chocolates (chocolate Italiano), the ones you purchased on your last trip to Italy probably didn't last very long after you got home. If you are really a chocoholic, your stash may have even dwindled before you checked out of your hotel room.
Fortunately, you can find some of the best Italian chocolates online at home, either for yourself or as gifts for family, friends, or co-workers. Gourmet Italian chocolates are the perfect way to say:
That's because the taste of fine Italian chocolates is always rich, complex, and emotionally satisfying.
---
This post may contain affiliate links. This means that I may receive compensation if you click a link, at no additional cost to you. For more information, please read my privacy and disclosure policies at the end of this page.
---
Why Italian Chocolates?
Both Switzerland and Belgium have long traditions as chocolate makers but count me among those who prefer Italian chocolates.
"Italians are renowned for using only the best ingredients to create their recipes," says food historian Francine Segan. The same could be said about Italian chocolates which rely on the finest regional ingredients.
"Italy was one of the first countries to get cocoa beans from the New World and has been creating fine chocolate for centuries," says Segan.
"The Italians were also the first to create the sublime combination of hazelnut and chocolate into gianduia, which led to so many of our favorites like Ferrero-Rocher and Perugina Baci," she adds.
Italy is also known and admired for its style and design.
When you purchase a box of Italian chocolates or even a bar of chocolate as a gift, your recipient is likely to admire the artwork, color, and beautiful packaging even before it's opened. Recently, two chocolate makers developed partnerships with designers, Baci with Dolce & Gabbana and Guido Gobino with Armani.
Segan adds a technical reason why Italian chocolates taste so good:
"The European Union mandates that to be called 'chocolate' a food product must contain no more than 5% tropical vegetable fats (which are often substituted for more expensive cocoa butter). However, Italian chocolate makers generally use 100% cocoa butter. Unlike oils, cocoa butter is solid at room temperature, greatly enhancing the creamy smoothness and texture," she says. The cocoa butter is the secret ingredient that allows the chocolate to slowly and magically melt in your mouth, she adds.
And if you don't believe me, venerable chocolate maker Baratti & Milano recently posted an article outlining "Five Reasons Why Italian Chocolates Taste So Good."
Ready for a taste?
This post outlines some tips for finding and purchasing the best Italian chocolates online. It also identifies some of the most respected Italian chocolate brands and lists online stores that carry these delectable treats.
---
How to Find and Buy The Best Italian Chocolates Online
Although Italian chocolates are truly mouth-watering, it can be challenging to find them in the States, especially at reasonable prices. Here are some tips to help you find what you want and to save money whenever possible:
BEFORE YOU GO ONLINE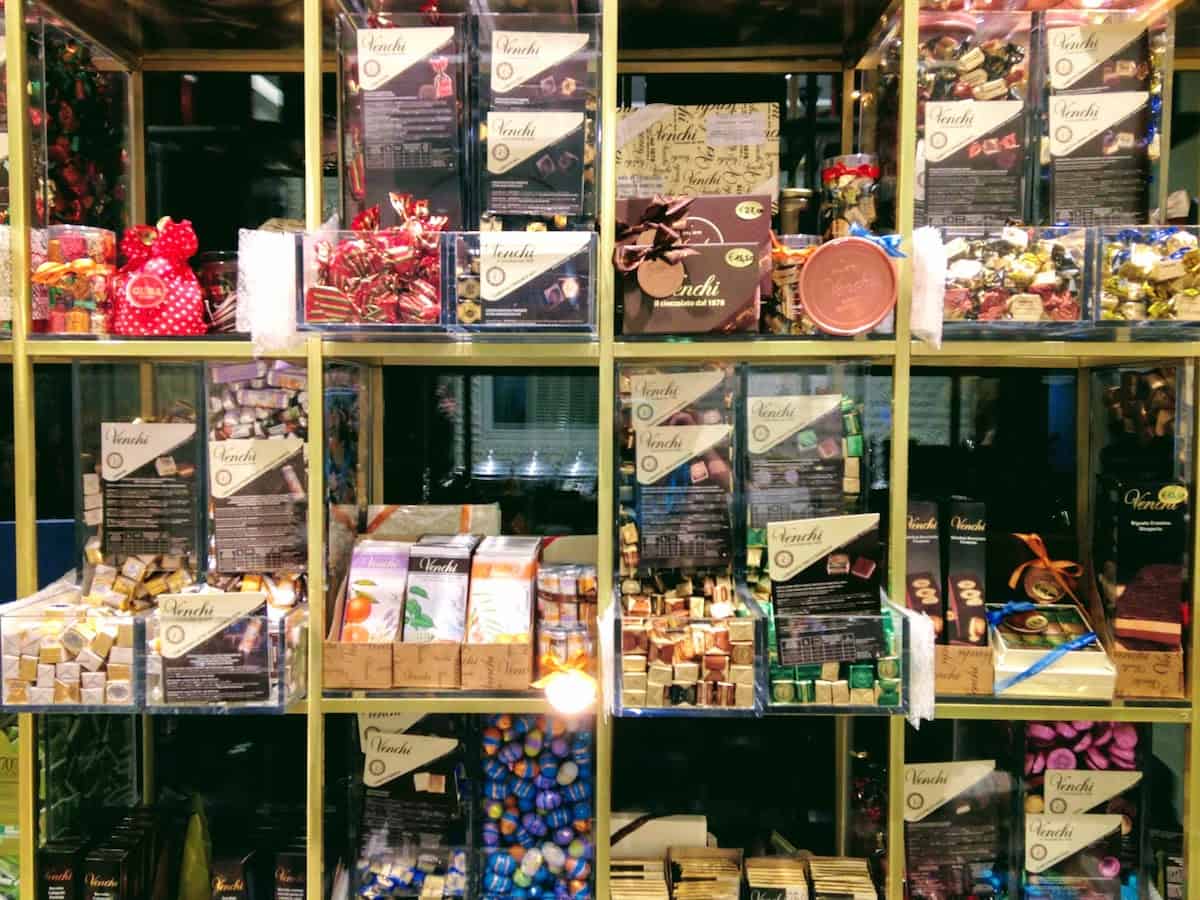 If you can, shop at the source
For a number of reasons, it's always best to purchase Italian chocolates at their source: In Italy. The chocolates will be at their freshest; you'll have a larger variety of brands to choose from; you won't have to incur punishing shipping charges—-and as a bonus, you may even have the opportunity to taste several products, either in-store or on a factory tour.
Moreover, all things considered, wouldn't you rather be eating chocolate in Italy?
Admittedly, it can sometimes be challenging to find exactly what you want online. Even large importers of Italian food products often have limited offerings in stock from time to time. In warmer months, production facilities may be closed and items may be out of stock.
Next best, shop local
If you are fortunate enough to live near Italian specialty shops or chocolate boutiques, these can be wonderful sources for gourmet Italian chocolates.
You'll be able to see the varieties on display, usually curated by store owners who are familiar with products that are most appealing to American palates.
If you are flexible and/or an impulsive shopper, look for high-quality Italian chocolate imports at TJX stores—like HomeGoods and TJ Maxx. In terms of volume, these retailers are one of the largest purveyors of specialty foods, in general. Some of the goods they sell are overstock from high-end retailers; other products are especially made for them. If you are lucky, you can find some wonderful buys on your treasure hunt.
Since many shoppers are unfamiliar with these quality brands, it may pave the way for your purchase! I've found Perugina Baci, a large box of assorted, filled Majani chocolates, and bags of La Suissa (a subsidiary of Illy) at Home Goods.
READY, SET, GO: TIPS FOR BUYING ITALIAN GOURMET CHOCOLATES ONLINE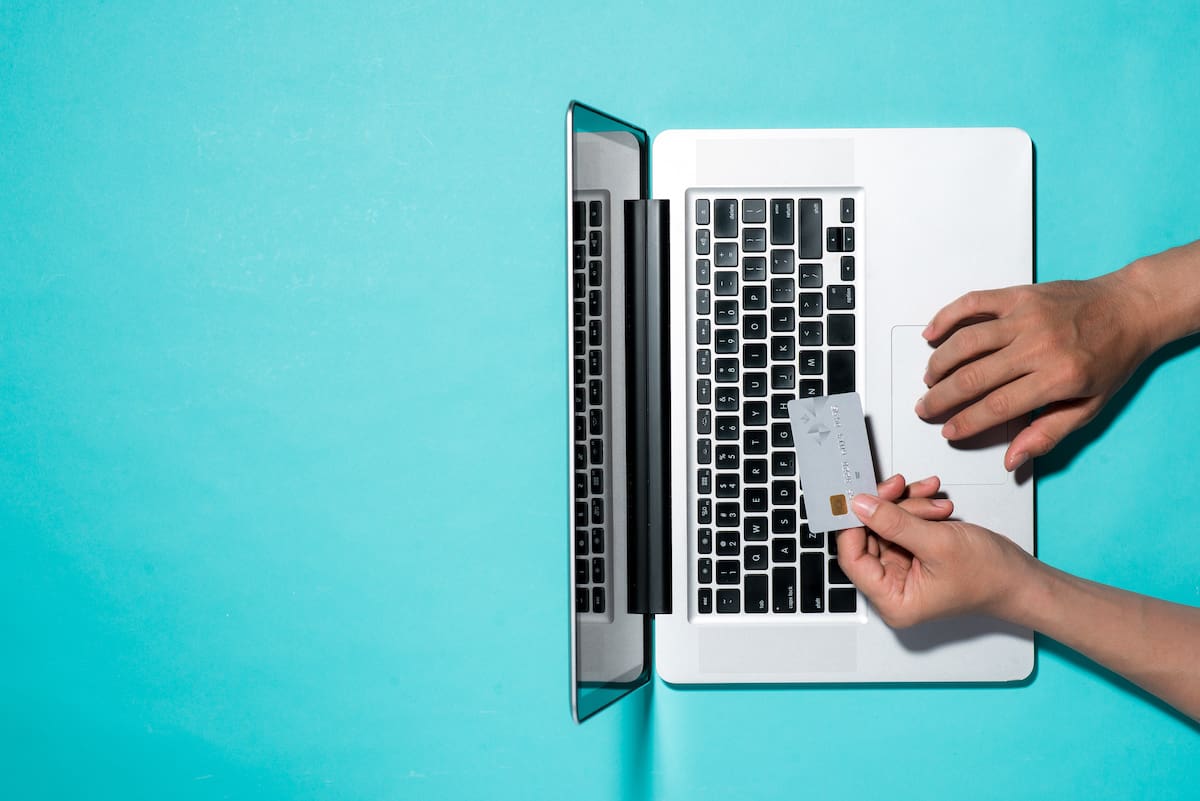 Compare price
Google Shopping allows you to compare the prices of chocolate products from different online retailers. It also provides information on shipping costs so you can compare the bottom line.
Try to minimize shipping costs
Sometimes, you can minimize costs by ordering a larger quantity of chocolates that qualify for free shipping, or if you are ordering from a specialty grocer or importer, you can qualify for free shipping by adding other Italian products that you use all the time (olive oil, vinegar, sauces, cookies, pasta, etc.) to your order.
Since they import in bulk, purchasing from U.S. specialty Italian food importers may help defray some of the cost of shipping (as opposed to buying directly from retailers in Italy).
Beware of summer
Unless you want to revert to M&Ms that melt in your mouth, don't forget that chocolates can melt in transit.
Be cautious about ordering fine chocolate in warm weather. As mentioned above, some vendors have black-out periods because chocolate production stops or slows down in warm weather months.
Think seasonal
Italian chocolates are especially popular gifts for Christmas, Valentine's Day, and Mother's Day. Vendors ramp up their inventories and offer special packaging for holiday shopping. Shop early so you get what you want before it's too late.
Try to be flexible
Supply chain issues have exacerbated the problem of obtaining specialty foods from abroad. Like toilet paper, not every brand or variety may be available online. You may have to pivot and choose another brand or purchase a bar instead of a box, or vice versa. The products sold also vary among different vendors.
Chocolate isn't only for snacking
Don't forget that gourmet Italian chocolates are wonderful additions to recipes for cookies, cakes, cupcakes, ice cream, and other desserts. High-quality chocolate can transform a hum-hum dessert into something memorable.
---
Iconic Italian Chocolate Brands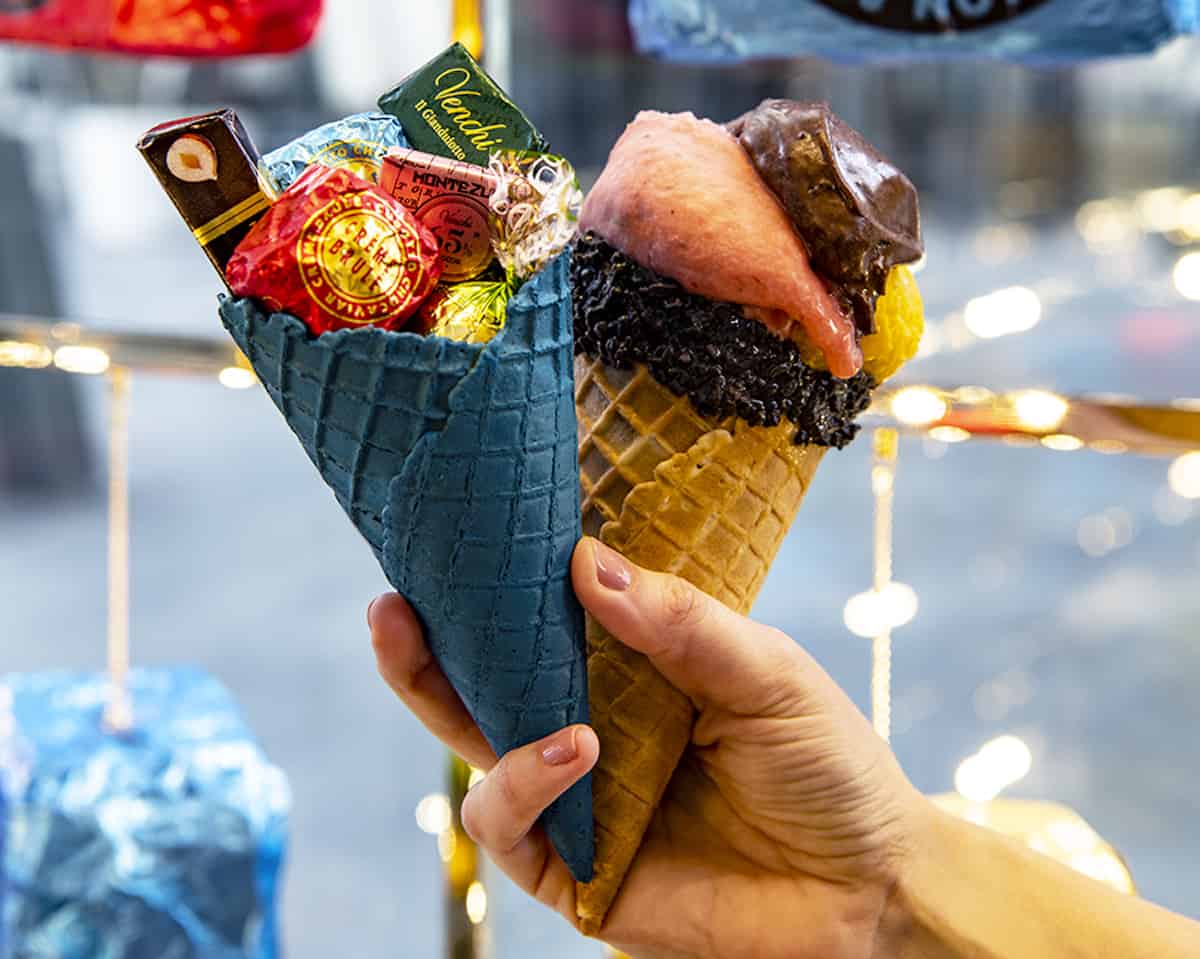 With roots in Turin (Piemonte), one of Italy's chocolate capitals, Venchi dates back more than 140 years. According to legend, it was here that a 20-year-old chocolate lover, Silviano Venchi, spent his savings to buy two bronze cauldrons.
From that inauspicious beginning, Venchi Chocolates grew into a global powerhouse with 49 shops in Italy and chocolate boutiques in more than 70 countries, including the U.S.
All the company's delectable gourmet chocolates are made with high-quality, natural ingredients; many featuring hazelnuts and pistachios sourced from the region. Having tasted a large number of them, my personal favorite hands-down is the creamy Venchi Cremino Gold Venezuela chocolates, made with alternating layers of Gianduja cacao blends of different intensities from Venezuela.
---
Antica Dolceria Bonajuto Gift Box (credit: Bonajuto)Modica is a Baroque city in southeast Sicily known for its fine chocolates, which are said to be among the oldest in Italy.
The fair trade, bean-to-bar chocolates made by Bonajuto reflect the company's long history that spans six generations of the same family. The production relies on techniques learned from the Spanish nearly 150 years ago, predating the Industrial Revolution and the birth of smooth chocolates.
Bonajuto chocolates are made with only three ingredients: cocoa, sugar, and spices (including hot red pepper, first used by Aztec chocolate makers in Mexico). Packaged in an antique tin, the textured red pepper chocolate truffles shown above are dense, crystalline, and a little spicy.
---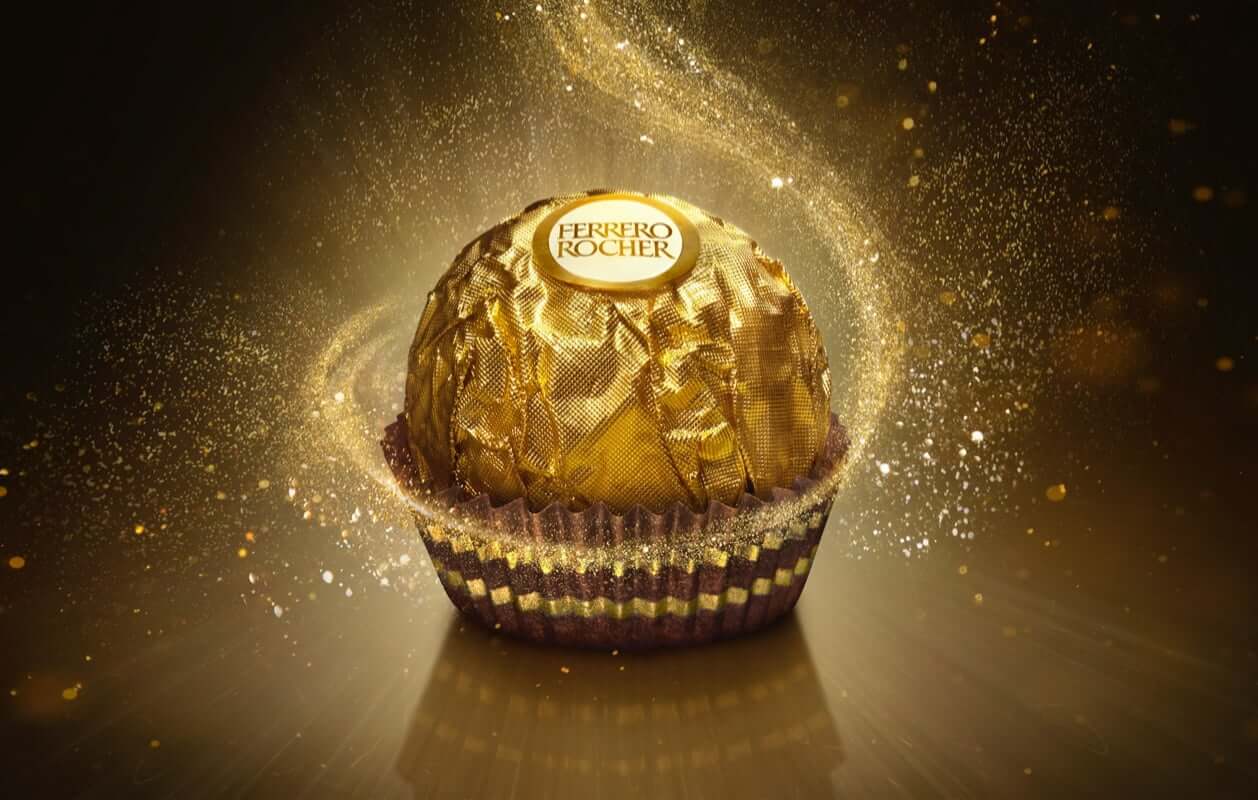 The second-largest confectionery company in the world, Ferrero Rocher began as a small bakery in the town of Alba (in the province of Cuneo in Piemonte) some 70 years ago. The company introduced its signature chocolates, invented by Michele Ferrero, in 1979.
To make the delicacy, a whole hazelnut is dipped in velvety chocolate, encased in a thin wafer shell with hazelnut chocolate, and then coated in rich milk chocolate with chopped hazelnut pieces.
Shaped into balls, these sweets are easily recognizable because each piece is wrapped in elegant gold foil before they are packaged in a transparent box.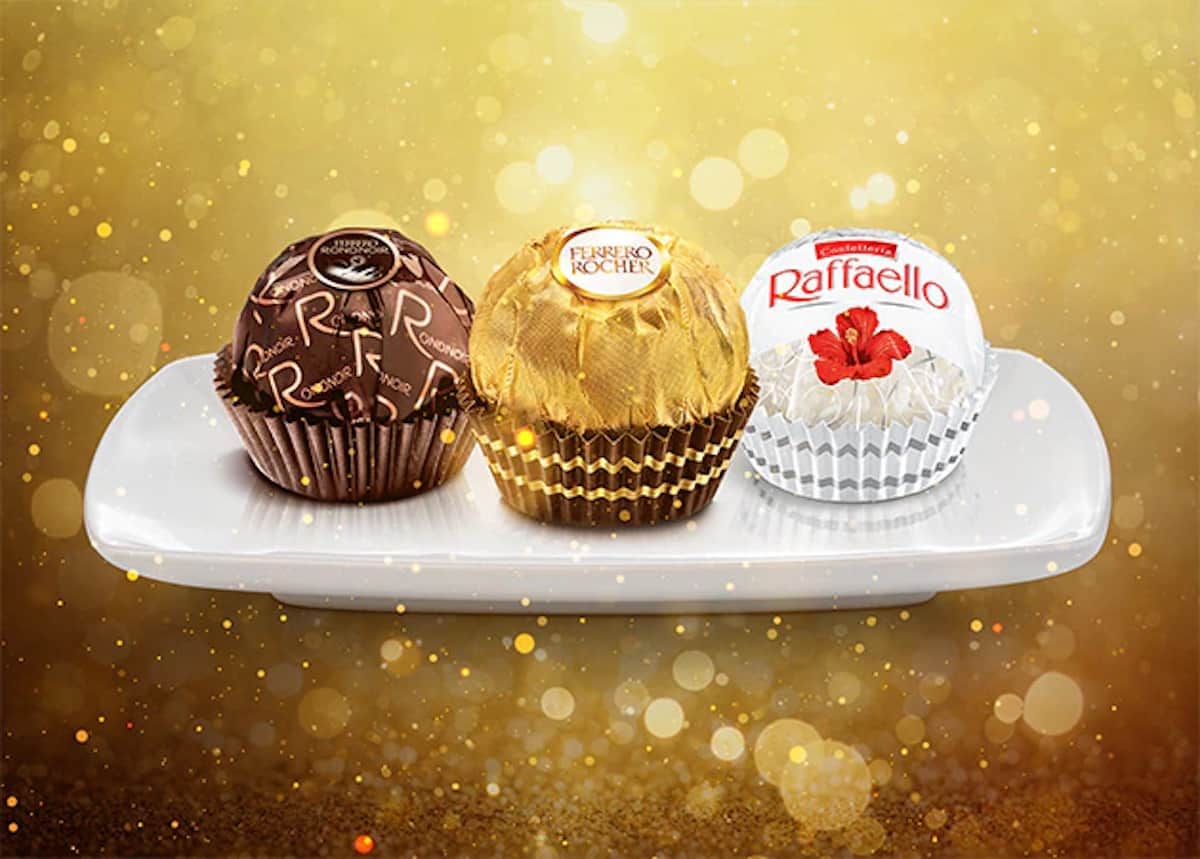 The company has expanded exponentially since its inception, now producing a staggering 3.6 billion Ferrero Rochers each year. Acquired by Nestle in 2018, its portfolio includes other beloved Italian products, such as Nutella hazelnut spread, Kinder, and Tic Tacs, which have become global favorites.
---
This family business was first set up in a small workshop by Teresa Majani in 1796, producing high-quality chocolates in the shadow of the Basilica San Petronio, the main church of Bologna. Originally called The Laboratory of Sweet Things (il Laboratorio delle Cose Dolci), the business was so successful that in 1830, the family purchased a larger space, now known to locals as Palazzo Majani. The family lived above the first-floor workshop, store, and tearoom.
Until the end of the 1700s, the aristocracy and clergy only consumed chocolate in a liquid form. But in 1832, the Majani workshop became the birthing place for the first piece of solid chocolate in Italy. It was called Scorza (bark, in English) because it looked like the bark of a tree.
However, in 1911, the company experienced another important milestone. It won a competition to create a chocolate to celebrate the launch of the first FIAT car, the Fiat Tipo 4. To create it, Aldo Majani added a fourth layer of chocolate to the popular cremino chocolate cube, a favorite of many chocolate lovers: Majani's signature Cremino Fiat is still sold today.
The winning Cremino Fiat chocolate—made of layers of hazelnut and almond paste alternating with sweet gianduja chocolate—was wrapped in foil and then covered with white paper imprinted with the gold and black FIAT logo. It is sold in the original store in Bologna today and all over Italy along with many other artisan chocolates.
The chocolate maker is also famous for its chocolates shaped like tortellini.
---
Ferdinando Baratti and Edoardo Milano opened a confectionery in Turin (Piedmonte) in 1858 with dowries they received by marrying wealthy wives.
The company is credited with the creation of the very popular, multi-layered cremino (now sold by Caffarel, Feletti, Majani, Pernigotti and Venchi.) The team garnered such a reputation for the quality of their products that they became the "Chocolate of the Royal Household of Savoy."
The company changed hands and now is part of the Novi group but still maintains the names of its founders. The cacao used in the confections is sourced from farmers in Ecuador and Ghana. They produce their own cocoa mass and butter and use other ingredients from local farmers.
Baratti & Milano also perfected another iconic Italian classic, the gianduiotto, prism-shaped chocolate with a flat base usually wrapped in foil paper. It is made with cocoa, sugar, and hazelnuts from the region. Wine writer Ian D'Agata famously called Baratti e Milano gianduiotti "the 'Grand Cru' of gianduiotti."
---
These sustainable "Made in Italy" chocolates have been produced in Turin since 1964 but it wasn't until 2007 that Guido Gobino opened his first bottega (retail shop) in a historic building in that city. The latest opening in Milan makes a total of six retail shops.
The makers use high-quality cocoa beans from Venezuela, Ecuador, Sao Tome, and Mexico; PGI hazelnuts from Piedmont Langhe; and milk from the Piedmontese chain. In a collaboration with ItaliaZuccheri, the sugar used in making the confections are obtained from 100% Italian beetroot.
The company produces chocolate in many artistic forms including pralines, dragees, cremini, ganaches, bars, creams and powders.
Guido Gobino at Bar & Cocoa
Guido Gobino at Amazon
---
The 100-year-old recipe for the iconic Perugina Baci Kiss is deliciously simple: fine cocoa and finely chopped hazelnuts blended to obtain a soft gianduia center, topped with a whole hazelnut, and covered with dark chocolate.
Each candy is wrapped in silver and blue foil with a romantic message imprinted inside.
In what became a romantic marketing marvel, the creation was sparked by the love affair between the company's founders, Luisa Spagnoli and Giovanni Buitoni, who passed secret notes to each other at the Perugina plant. The chocolates are made in a hilltop town near the birthplace of San Valentino, just outside of Perugia (the capital of Umbria).
Perugina at Yummy Bazaar
Perugina at Amazon
---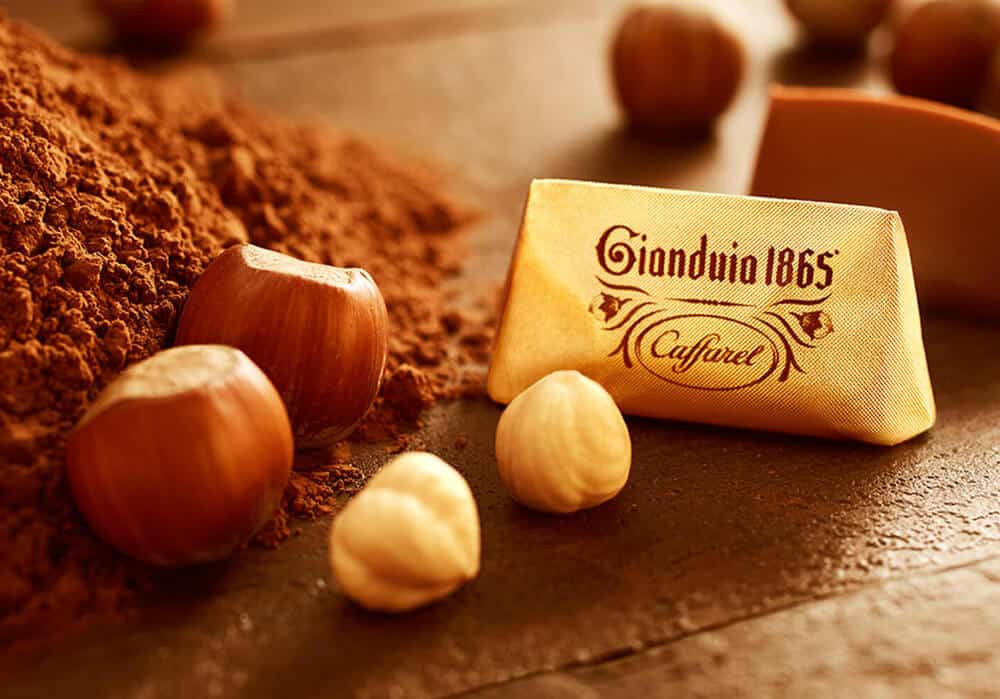 Caffarel was founded in Tuin in 1826 by Pier Paul Caffarel and his son who converted a tannery into a chocolate factory. Changing hands over the years, it is now a subsidiary of Swiss chocolatier, Lindt.
The company uses high-quality cocoa from Ecuador and Ghana, and Piemontese hazelnuts that are grown near the factory.
Caffarel claims to have invented gianduiotto (the mix of chocolate and hazelnuts) in 1865, which is now made by chocolatiers across Italy. These were the first Italian chocolates to be individually wrapped. Caffarel has also been credited with industrializing the production of solid chocolate—although both these claims are hotly debated.
In addition to its gianduiotto, the most popular confections include Piemonte (cubes of creamy chocolate with chunks of hazelnuts), fondente dark chocolate, cooking chocolate and bars.
Caffarel at Yummy Bazaar
Caffarel at Amazon
---
In 1993, Gianluca Franzoni, the founder of Domori, arrived in Venezuela and fell in love with cocoa. Blending his business acumen with his passion for nature and gastronomy, he aimed to create premium chocolate using the finest cacao and to save it from extinction.
Thus, he became the first Italian chocolate producer to work with one of the world's rarest, low-yield aromatic cacao plants: Fine cacao makes up just 10% of the global cacao harvest, whereas Criollo cacao, the rarest variety of cacao in the world, makes up 0.01%.
Headquartered in None (outside Turin), the company was also the first to create a chocolate "tasting code." To assure the quality of the products, the code involves all five senses.
The chocolates have won Gold Medals in the single-origin dark chocolate category multiple times. In addition to six varieties of Criollo, the company offers different bars, chocolate-coated fruits, creminos, and Napolitains squares in dark and milk.
Domori at Bar & Cocoa
Domori at Eataly
Domori at Amazon
---
Located in Pontedera in the province of Pisa), Amedei is a Tuscan artisanal chocolate producer that seeks out the most precious cacao beans to make fine chocolates. Like fine wines, the idea was to enhance quality by making chocolates from single-source cocoa bean varieties. Not for the tight-fisted, its Amedei Porcelana has been called the world's most expensive chocolate.
Founded in 1990 by the brother-sister team of Alessio and Cecilia Tessieria, the company's first product was Toscano Black 70. A 70% dark chocolate blend, it won the highest number of "golden bean" awards from the prestigious London Academy of Chocolate. Amadei also produces Blanco de Criollo, Acero 95, and Toscano Brown, an award-winning milk chocolate.
---
Where to Buy Italian Chocolates Online
Check the websites of the Italian chocolate producers above to get an overview of their offerings and to see what's available online. Then head to one or more of these online retailers to compare prices.
This Italian import that was born in Turin (the city of chocolate) is truly a superstore of high-quality Italian products, including chocolates. They offer a wide variety of brands in-store and online and have periodic sales. Can't decide on one brand of chocolate? Check out their gift assortments.
This online store, known for its olive oil and other products, carries a line of Perugina chocolates.
Zingerman's calls itself an online store for food lovers—and lives up to the title. The retailer sells homemade products and a number of international products, including Bonajuto chocolates.
This specialty retailer of international food products carries chocolates from many countries, including Perugina and Baci chocolates.
This online Italian food store has a variety of Italian food products and gifts, including Perugina chocolates.
Another online Italian food store with many imported products including Perugina chocolates.
This Salt Lake City Italian food emporium offers Guido Gobino and Amedei chocolates.
This online chocolatier allows you to select chocolates by country of origin. Guido Gobino, Domori and Amedei chocolates are featured on the site.
Shop for chocolate by nationality on the site. Italian brands featured include Domori, Amedei, Venchi, and Guido Gobino
This online chocolate retailer focuses on sustainable, ethical, exceptional chocolate offering Venchi, Guido Gobino, Amedei, and Domori.
This specialty food retailer carries Venchi chocolates.
Lastly, giant retailer Amazon sells some Italian chocolates online. Know what you're buying and be sure the seller is trustworthy.
---
READ MORE:
---
Save to Pinterest!!
---