31 Stocking Stuffers For Travelers: Fun and Functional
If you're looking for creative stocking stuffers for travelers (that will be appreciated by their recipients), this is our advice:
On Choosing Stocking Stuffers for Travelers
THINK SMALL
Travelers prefer items that are small enough and light enough to take with them. No one wants to take the more extra-large size of any item with them, even if it's more economical.
Most importantly, you want to be able to stuff it in a stocking (or offer it as a small gift).
THINK INTERESTING
Even if it's small, stocking stuffers for travelers should have a WOW-factor, perhaps something they never thought of buying themself or something that just looks like fun.
THINK USEFUL
Travelers really prefer items that are functional, ones that they'll be able to use.
With these criteria in mind, we have curated a list of stocking stuffers for travelers—also keeping price and value in mind.
Some of these items may be more appealing to men than to women and vice versa but most are unisex.
---
This post may contain affiliate links. This means that I may receive compensation if you click a link, at no additional cost to you. For more information, please read my privacy and disclosure policies at the end of this page.
---
THE BEST STOCKING STUFFERS FOR TRAVELERS
---
Easy-To-Spot Luggage Tags
You don't necessarily have to be a pickleball fanatic. These sturdy but lightweight luggage tags come in a wide variety of delightful designs and colors.
They will not only tag your bag with your name and phone # (discretely hidden inside) but will also help you identify your luggage when coming off a plane, train or bus.
We love that they attach with a secure steel loop, which is less likely to break off than conventional materials.
**If you know a pickleball fanatic, check out my friend Laura Kelly's online shop with Pickleball Gifts & Gear.
---
C.O. Bigelow Shaving Cream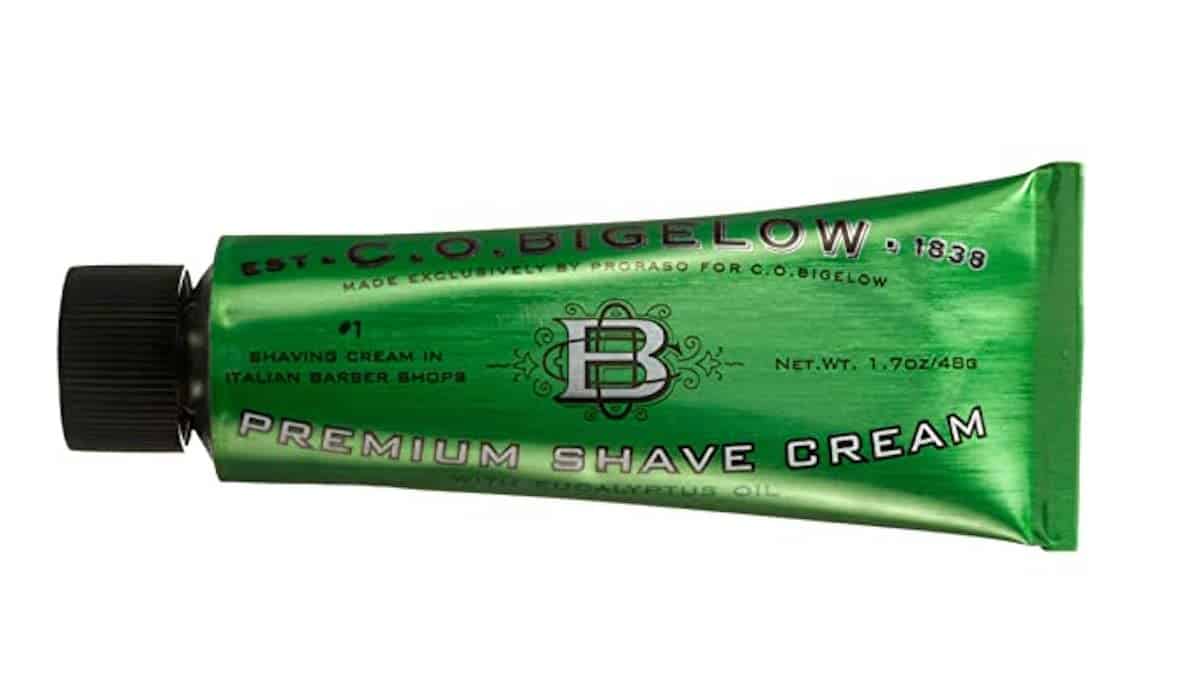 A little bit of luxury goes a long way in preventing razor burn, on your face or your legs.
You don't need to bother packing a can of aerosol shaving cream when you have this little, 1.7 ounce tube of C.O. Bigelow packed in your suitcase. It's TSA-friendly, too, for carry-ons.
---
A Lightweight Key Fob for House Keys
We've fallen in love with Graf Lantz felt products that are made of magnificent Bavarian wool felt. Disclosure: We've purchased coasters, trivets, chair pads, placemats and desk pads. One product is a gateway to another..
This colorful Graf Lantz key fob made of layered pieces of felt—a gift of good cheer—is feather-weight. With its bright colors and about 7" inches in length, it's easy to find in your bag or purse. It's perfect for taking your house key on your trip without a heavy keychain weighing you down.
---
European Travel Plug Adapter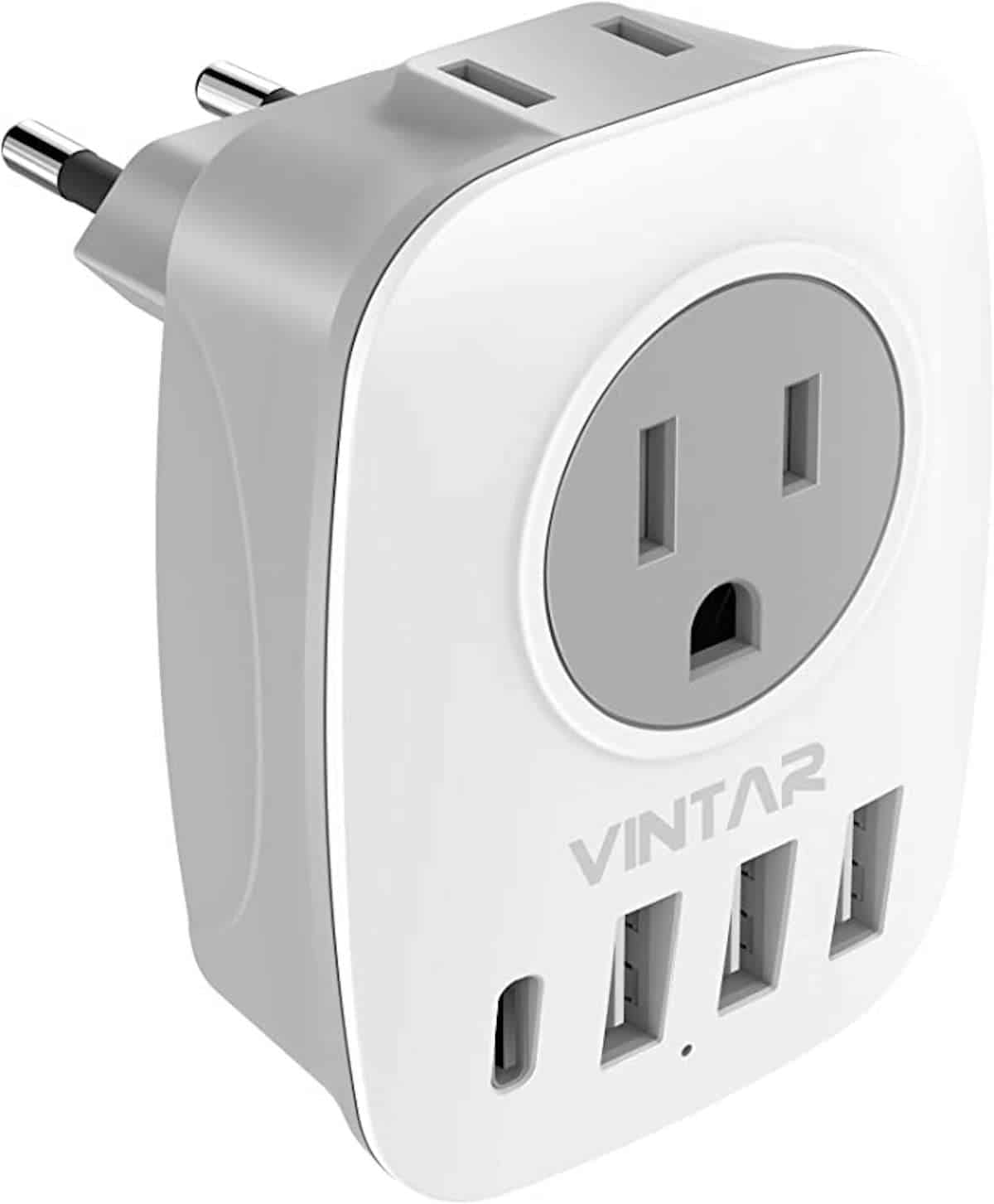 If your travels take you abroad, this handy travel plug adapter turns the European socket in your room into two standard American outlets (one grounded), three USB-A ports, and one USB-C charging port.
It's a lightweight, compact travel necessity for international travelers.
---
World Map Travel Laundry Bag
We love the bright color and world design of this drawstring laundry bag. It's made of lightweight polyester and folds into its own compact pouch (about 6×5 inches).
When opened full-size it's 22×16 inches.
It's perfect to separate the dirty from clean clothes in your suitcase (We use it primarily for underwear). And it's handy to have if you are planning on doing laundry during your trip and need to carry it to a machine or laundromat.
---
Compact Travel Power Strip
You can't be certain you'll have enough outlets for all your devices in your hotel room or cruise ship cabin. Both compact and lightweight, this round power strip is small enough to fit in the palm of your hand.
It comes with with a 5-foot extension cord and provides 3 AC outlets and 3 USB charging ports (Max output is 3A/15W) that can power and charge up to 6 devices from a single wall outlet.
---
A Handy Multi-Function Key Chain
We fell in love with this handy key chain the minute we saw it. It is lightweight and has a minimalist design—but is so much more than a conventional keychain.
Yes, it is an attractive key chain. The carabiner hook opening is secure but allows you to easily take keys on and off. But it's also a bottle opener and it has a short lightening cable for when you need one in a pinch (it's concealed inside).
If you don't want to use it as a keychain, per se, you can easily hook it on to a bag. It comes in black or white.
---
The Softest Eye Mask Ever
We are big fans of Cozy Earth products (including travel wear, bedding, and more). The company's products are made from bamboo fiber that is not only eco-friendly but also breathable.
This Cozy Earth eye mask is so soft, luxurious and comfortable that you won't "dream" of taking it off. Perfect for long-haul flights or hotel rooms with too much light. It's machine-washable, non-pilling, and comes in a variety of colors.
---
Grooming Tool Kit (for men)
Tweezerman products (a company has been in business for 40 years) are reliably good. This little kit includes everything a guy will want to take on a trip.
This five-piece set is perfect for on-the-go grooming, it includes a mini-tweezer for unwanted hairs, a blackhead remover, a mini mustache comb, and a precision folding razor.
---
Apple Watch Power Bank
How handy it is to have backup power for your Apple Watch—without any cables—when you're away from home. It is small enough to slip in a pocket or purse.
The size of a keychain and weighing only 3 ounces, it can fully charge an Apple watch in 2 hours; that's one half hour faster than the magnetic charging cable that comes with the Apple watch.
---
Pretty in Pink Petite Tweezer Set (for women)
This Tweezerman tweezer set comes in a lovely pink leather case. It includes a stainless steel slant tweezer and stainless steel point tweezer. The size is perfect to slip in a purse or travel case so it's with you when you need it.
It comes with a lifetime warranty in case the implements ever need sharpening.
---
Apple AirTag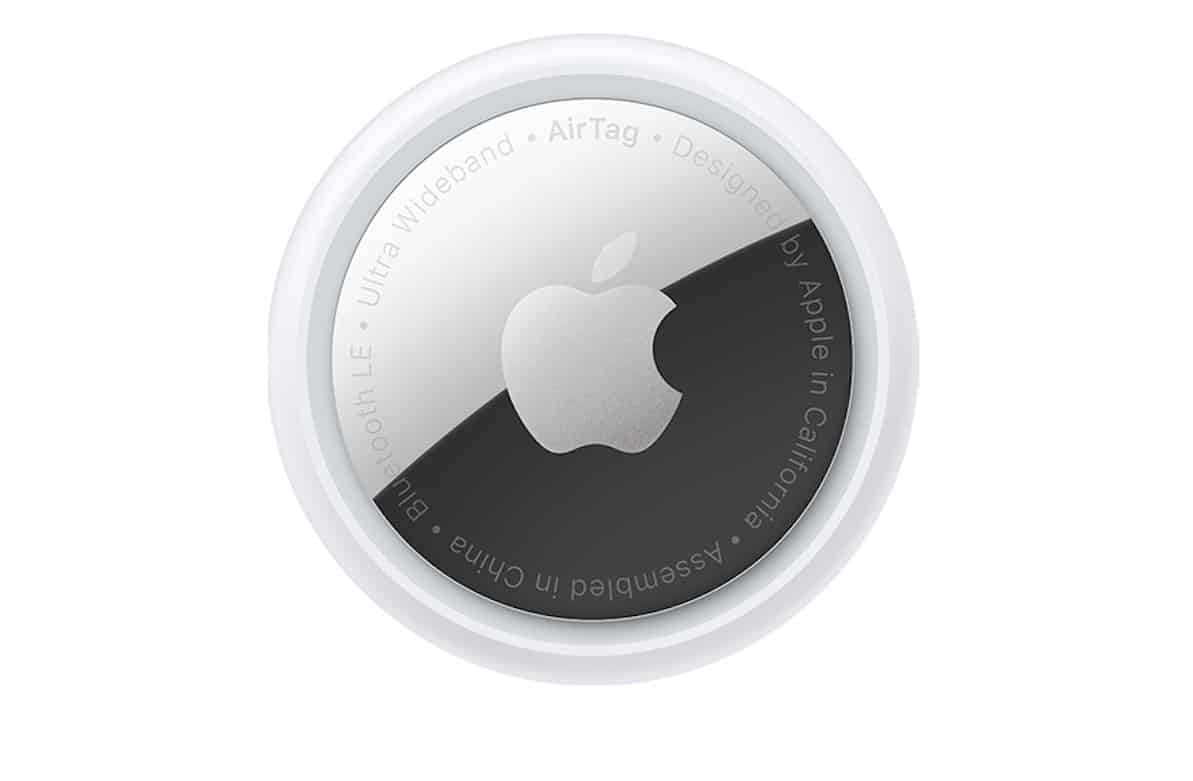 The Apple AirTag sends out a secure Bluetooth signal to iCloud that allows you to trace the location of your luggage or other items (e.g., an attache)on your phone.
The battery is long-lasting. Each AirTag weighs only .39 ounces and they offer peace of mind because you'll know the location of your luggage (and whether it made it on the next segment of your flight during a layover).
You can purchase the AirTags singly or in multiples as gifts for couples or families.
---
A Travel Medication Organizer
By the time you reach a certain age, you're likely to be taking multiple medications and vitamins.
This lightweight, slimline polyester pouch from Lewis & Clark allows you to organize your pills (both day and night). And the 16 clear, slide-locking pill pockets make it easy to see your next dose.
The organizer also includes a medical reference card with spaces for your name, emergency contact information, physician contact information, medical conditions, allergies, and current medications, which can be very important when you're away from home.
---
Silicon Toe Spacers
Most trips require a lot of walking, whether on group excursions or on your own. I've tried many toe spacers and found that these Pedifix Gel Smart Visco-GEL Toe Spacers are the best.
If you develop irritation between two toes or have a nasty bunion, these two spacers (recommended by my podiatrist) will make a huge difference. They're tiny enough to tuck in a pocket and come in small and medium sizes. The former is for little toes; the latter is right-sized to put between you big toe and the one next to it.
This is definitely a functional gift!
---
Travel Surge Protector
If you are traveling domestically, this Anker USB compact surge protector will help make sure your devices (laptop, phone, etc) are protected against sudden power surges.
It offers 6 outlets and 3 USB-A ports. It's especially handy for someone who works remotely and the device comes with an 18-month warranty.
---
Wine Protector Sleeve for Travel
If you're heading to a wine region, you'll want to slip one of these bags in your suitcase so you can carry home that special bottle of wine without it breaking and spilling in your suitcase.
We've used them on transatlantic flights and they really work. They're lightweight, leak-resistant, reusable, and come in a package of six. Roll two in a stocking and save the other four for yourself.
---
Pack of Face Masks
With COVID still lurking around us, if you travel, you can never have enough face masks. These high-fashion face masks also can protect you from colds, the flu, and other viruses that are often a consequence of long-haul flying.
These attractive MASKC masks hold up well with multiple uses, are lightweight, and extremely comfortable to wear when you're on a long flight.
---
TSA-Approved Luggage Locks
These TSA-approved 3-digit combination locks allow your luggage to be inspected by authorities without damage to your lock or bag. An alert indicator lets you know that your bag has been opened and inspected.
They come in a colorful 4-pack. They're easy to use and you don't have to worry about whether you've lost your keys!
---
Folding Beard Comb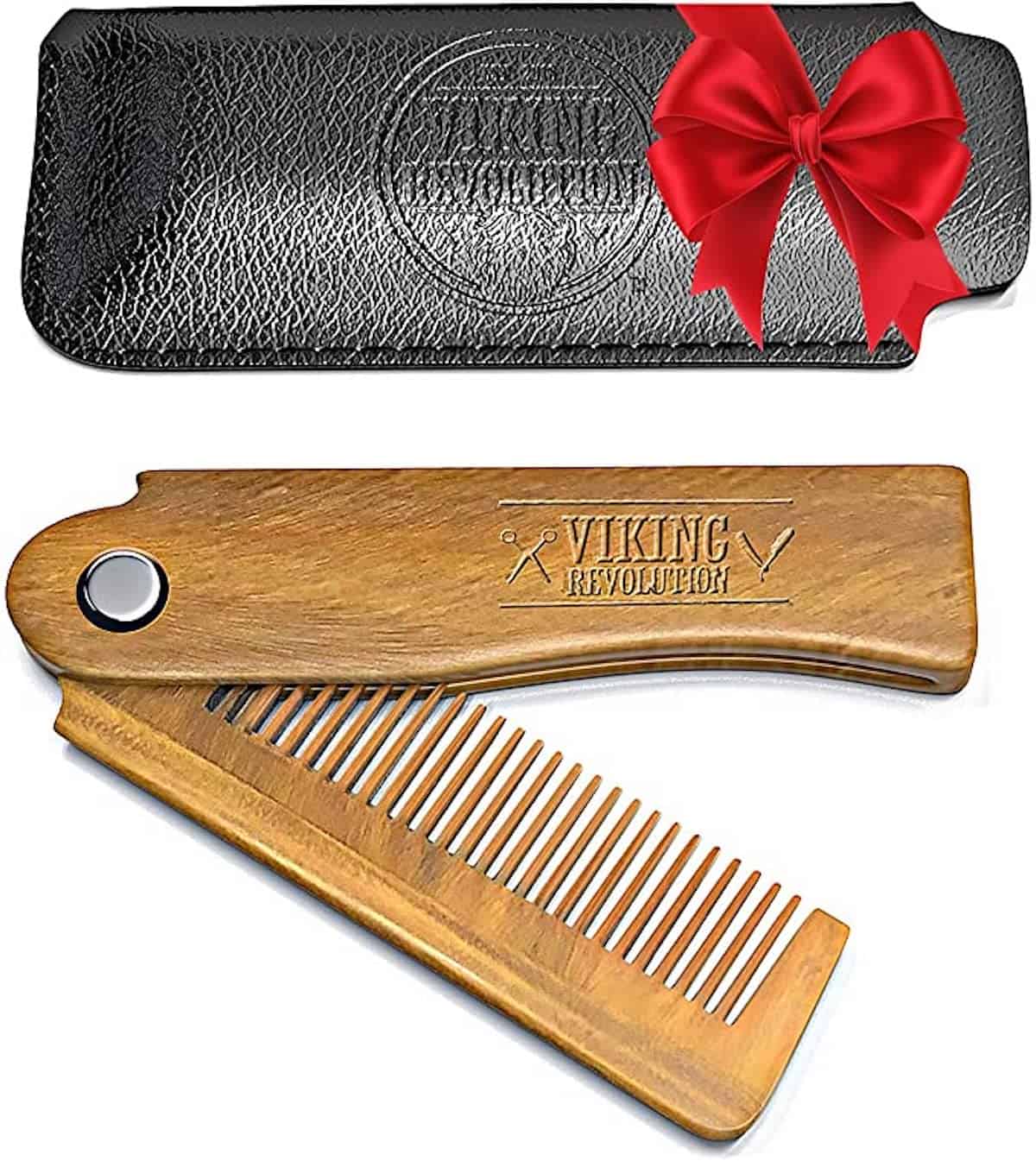 This attractive sandalwood comb with its own case sure ranks high on the cuteness scale. Perfect for the bearded traveler who wants to be well groomed without knots or food from his last meal stuck in the crosshairs.
It's also easy to stash because it's only 4" when folded.
---
Folding Travel Hair Brush
I can't count all the times I've left my hair brush at home or on the shelf of a hotel. If you've had the same problem, these folding hairbrushes are perfect to keep in your purse. You'll want one to fix "bed head" after falling asleep on a flight, or to fill-in if you can't find your hairbrush at your destination.
It comes in a set of two (you can use the extra one at the gym). When folded, the brush is only 4 inches long. Inside the handle is a handy 2.5" mirror.
---
A Magic Hair Potion
Whether you're male or female, this is the one hair product you'll want to be sure you have on your trip. Many travelers don't want to pack heavy (and possible leaky) bottles of shampoo and conditioner because most accommodations provide them, although the quality may differ from whatever you use at home.
Olaplex #6 is an almost-magic, texture-enhancing potion (recommended by my hairdresser) that will smooth out all the wrinkles caused by harsh hair products. When used before blow drying, it hydrates, moisturizes and speeds up blow dry times while eliminating frizz and flyaway hair until the next wash.
---
A Reusable Travel Tote in a Zippered Pouch
These Loqi totes are made of an ultra-light, water-resistant polyester fabric. And they come with a convenient, matching zippered pouch.
The pouch is small and light enough to stuff in a pocket, or tuck in a purse or backpack. Thrown in a purse, they're always available for use when you least expect to be shopping.
Remarkably, the bag can hold up to 44 pounds, so I've used mine to carry water bottles back to my rental property when traveling.
This one has an airport motif but the bags come in a number of different colors and designs. I never leave home without one of these.
---
A Lightweight Luggage Scale
Having a luggage scale before you board a plane can save you from overweight baggage fees.
Hooked on to your suitcase, this one can give an instant LCD easy-to-read display, on any baggage up to 110 pounds. It requires a lithium battery (which is included). This scale is lightweight and pocket-size.
---
Handy Phone Lanyard
When you're traveling, having a cellphone lanyard means that your phone is always conveniently located around your neck. No more searching in a pocket or purse to retrieve your phone when you want to take a photo on the spot.
These lanyards don't block the charging port and can fit most fully covered phone cases. Made of a nylon material, they hold the phone tightly and come packaged in a pack of four in a variety of colors.
---
Pretty Compression Socks
Wearing compression socks on a long haul flight can be a lifesaver, literally.
Some of the benefits of compression socks: They reduce pain, swelling and inflammation; help prevent fluids from pooling in the feet and ankles, promote increased flow toward the heart, and most importantly help prevent blood clots and embolisms.
These socks come in a variety of styles and sizes, for men and women.
---
Travel Electric Toothbrush
Before a trip, travelers often wonder whether or not to bring their electric toothbrush, which can be heavy.
This sleek set of Samseel electric toothbrushes lasts for up to 90 days. The size and packaging is no larger than an ordinary toothbrush but they are three times more effective.
The two-pack comes in two different colors so they can be shared by two traveling companions. If you haven't used an electric toothbrush before, these will convince you of what you are missing.
---
Moisturizing Hand Cream
Whether you're headed to a ski resort or the beach, you'll want to have hand cream with you, maybe even as close as your purse.
Made in France, the one-ounce travel-size tube of L'Occitane Shea Butter Hand Cream will protect and nourish your hands. It's easily absorbed and leaves no oily residue.
---
Pack of Disinfectant Wipes
With winter viruses at their peak, travelers will want to be armed with disinfectant wipes to clean the high-touch areas of their hotel room or cruise ship cabin. Some of the most risky items in the room, include the TV remote. You'll also want to wipe down the bathroom counter.
These Clorox Disinfectant Wipes are easy to pack and easy to dispense. They are proven to kill COVID-19 virus and 99% of other viruses and bacteria. Better safe than sorry!
---
Flavored Lip Balms
Dry lips happen…at the beach, while skiing, on a windy ship. Burt's Bee products use natural ingredients and are produced sustainably.
This four-pack has subtle scents and taste great. They also add a sheen to your lips when worn over lipstick.
---
Mobile Travel Shaver
This silver-toned Braun travel shaver is lightweight (about 5.5 ounces), compact, and offers a close shave on your face or beard.
It allows you to travel without a cord or bulky charge and you don't have to worry about whether or not the shaver fits in the outlet when you're abroad. The shaver conveniently works on two AA batteries that will last as long as most trips.
---
READ MORE
---
Save to Pinterest!!
---