Sparkling Rosé Wines: Pink Passion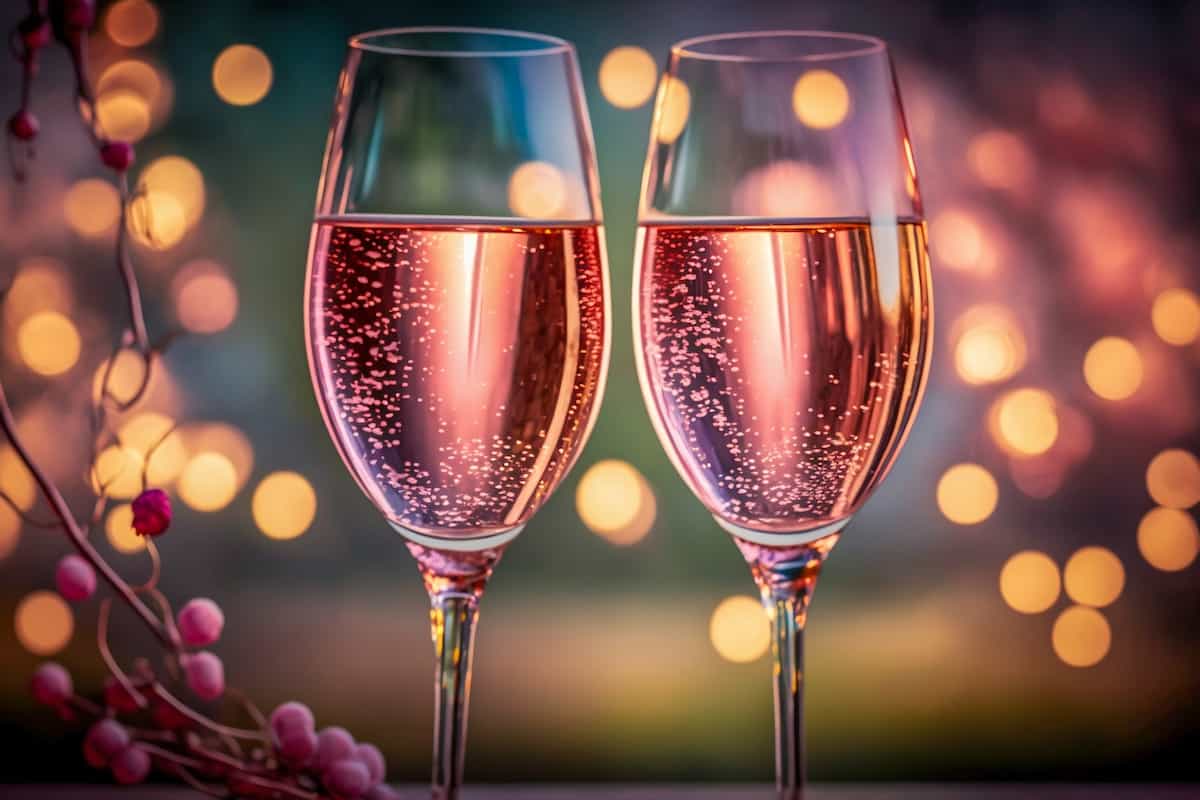 Sparkling rosé wine was once a fleeting summer infatuation. But for an increasing number of wine lovers, it's become a lingering four-season passion.
Why? The wine is light, fresh, fruity, and eminently drinkable. Beloved for its versatility, it's a delightful aperitif, perhaps paired with charcuterie or oysters, but it can also be enjoyed throughout a meal.
It's popular at barbecues and brunches, can accompany pasta, fowl, or heavier dishes at lunch or dinner, and works great with chocolate after a meal.
Like other sparkling wines, the bubbles of sparkling rosé wine convey an air of celebration. So the wines are a festive choice for toasts at birthday parties, engagements, weddings, and other get-togethers.
Even in the bottle, their lusty color is sensual—suggestive of love and romance—making them a favorite gifting choice for Valentine's Day, Mother's Day, anniversaries, and date nights.
Sparkling rosés are elegant wines but also tend to be joyful and playful, never taking themselves too seriously: They can also serve as everyday wines to be savored on a whim.
---
This post may contain affiliate links. This means that I may receive compensation if you click a link, at no additional cost to you. For more information, please read my privacy and disclosure policies at the end of this page.
---
An up-and-coming wine
As sparkling rosés have become better known, their sales have steadily grown among U.S. consumers. In fact, forecasts are nothing short of "rosy."
According to e-commerce wine retailer Drizly, both still and sparkling rosés have been showing year-after-year gains. But sparkling rosé's growth rate has been particularly impressive, usurping a 47 percent share of rosé wines sales in 2022.
Drizly also noted a trend toward "premiumization" across the entire rosé category, including sparkling ones. "The average cost of sparkling rosé sold on Drizly increased from $22.60 in 2020 to $27.30 in 2021."
What is sparkling rosé wine?
By definition, sparkling rosé wine is simply a pink wine with bubbles, made with one or more varieties of red grapes. (The bubbles come from carbon dioxide after yeast ferments the sugars in the wine.)
Both still and sparkling pink wines come in a wide variety of styles in different shades of pink. In addition, the wines vary based on where they're made, the types of grapes used, and winemaking techniques.
The countries where sparkling rosé wines are produced include but are not limited to Italy, France (known for rosé Champagne, Cremant rosé, and rosé sparkling wines that aren't from Champagne), Spain (Cava rosado), Germany (Sekt), Argentina (rosé of Malbec) and the U.S. (rosé sparkling wine).
Italian sparkling rosé: A virtual baby boom
When it comes to sparkling pink wines, you might say that Italy is the leader of the pack.
First, a few words about Prosecco, the forebearer of its pink cousin: Italian Prosécco is a sparkling white wine made from at least 85% Glera grapes (produced using the Charmat method). Its production is focused in the Veneto and Friuli Venezia Giulia regions of northeastern Italy.
Most Proséccos tend to be dry—either Brut, Extra Dry, or Dry—depending on the amount of residual sugar. The Italian DOC (Denominazione di Origine Controllata) designation assures standards of quality as well as methods of production (consumers will find DOC noted on the bottle label).
Even more coveted, the Prosécco DOCG designation is the highest stamp of approval given to Prosécco. The DOCG comes from smaller production zones in the Conegliano-Valdobbiadene and Asolo areas of Veneto.
The approval of DOC Prosécco Rosé was announced by the Prosécco DOC Consortium and the Italian Ministry of Agricultural, Food and Forestry Policies' National Wine Committee in January 2021. In addition to the white Glera grapes used in sparkling white Proséccos, Prosécco rosés obtain their unique pink color with the blend of red Pinot Nero grapes.
According to the industry publication, The Drinks Business, the pandemic heralded a dramatic surge in the import of sparkling wine to the U.S. Moreover, research by Nomisa identified "Prosécco rosé as a key driver of the wider DOC's growth in 2021, with 71.5 million bottles produced."
Other famous Italian pink sparkling wines include Franciacorta (from Lombardy), Chiaretto Spumante (produced around Lake Garda), Rosé Trentodoc (from the Trentino region), and Sparkling Rosato (produced in many Italian wine zones from north to south).
What does sparkling rosé taste like?
Like any other wine, red, white—still, or sparkling—wines are appreciated for their unique tastes and flavor profiles.
Many different factors influence the taste of wines, such as the grapes used to make them, the terroir where they are grown (soil, climate, and topography), and methods of harvesting and production. The same holds for sparkling rosés.
Some sparkling rosés are produced using the Charmat method (also called the Marinotti or tank method), while others are made according to the same traditional method used for Champagne (with secondary fermentation in the bottle).
People generally describe sparkling rosés as dry, light, fruity, and somewhat acidic. They offer the fragrance of red berries, like raspberries and strawberries, flowers, and cherries with notes of melon, green apple, and citrus.
Another reason why people opt for sparkling rosé wines is that they are relatively low in calories, about 100 calories per 5-ounce serving.
Buying sparkling rosé wines
Sparkling rosés are available in full bottles, magnums (the equivalent of two bottles), splits (half-bottles), and miniatures (one-quarter bottles). More recently, they've become available in cans as well.
Price points also vary widely, with rosé Champagne usually being more expensive than other sparkling wines. (Rosé Champagne also tends to be more expensive than golden Champagne.)
If you are just diving into sparkling rosés, you'll want to find your own sweet spot through wine tastings. You can also garner advice from sparkling rosé aficionados and local wine merchants. Of course, if you can manage to visit producers where the grapes are harvested and wine is made, you'll develop a rich appreciation for the complexity of these exceptional wines.
---
Some sparkling rosé wines to try:
Prosecco Rosés from Italy
Villa Sandi Prosecco DOC Rose Millesimato
---
Bisol Jeio Prosecco Rose 2021
---
Valdo Marca Oro Prosecco Rose Brut
---
Giusti Rosalia Prosecco Rosé Extra Dry 2020
---
Ros

é

Champagnes From France
Veuve Clicquot Brut Rose
---
Perrier-Jouet Blason Rose
---
Moet & Chandon Rose Imperial (in half bottle)
---
Also on MoreTimeToTravel:
---
Save to Pinterest!!