So Sweet: Visiting a Sugar Shack in Quebec
When we signed up to visit a "sugar shack" in Quebec (also called sap houses and sap cabins), we knew precious little about the production of maple syrup. We only knew we liked the taste of it drizzled on our French toast and pancakes.
Recently cruising on Regent Seven Seas Navigator from Montreal to Miami, we chose a four-hour "Countryside of Quebec" motorcoach tour that included a stop at a Quebecois sugar shack (one of six shore excursions offered at the Port of Quebec).
As "hockey parents" in an earlier life, we had visited Quebec City many times—including its well-preserved historic district that is designated a UNESCO World Heritage site. So we welcomed this opportunity to see another part of this province and learn more about its cultural heritage.
On the way to the sugar shack
The ride to Ile d'Orléans, an island east of Quebec City took about 20 minutes. Although about the same size as Manhattan, the island is a rich agricultural area with only about 6000 residents. We passed a number of vineyards along the way, which produce white, rosé and ice wines (made from frozen grapes), but the vines were bare at this time of year (late October). We also saw many characteristic homes of the area with Mansard roofs and small-paned windows.
Jules, our local guide, explained that Quebec produces about 85% of the world's production of maple syrup. Along with New England, eastern Canada is home to a number of sugar shacks (in French, these are called cabanes à sucre), log cabins where maple syrup is produced. While most production is now done in large commercial plants, some of these sugar shacks still exist. They also open their doors as rustic gathering places, where traditional foods are served and often, music and folk dancing are also on the menu.
Learning about maple syrup production
Once we reached our destination, we walked through a long pedestrian passageway that resembled a longhouse. Inside l'En-Tailleur Sugar Shack, our group of about 20 people was met by an eighth-generation member of the family operating the sap house who gave us a brief primer on the production of maple syrup.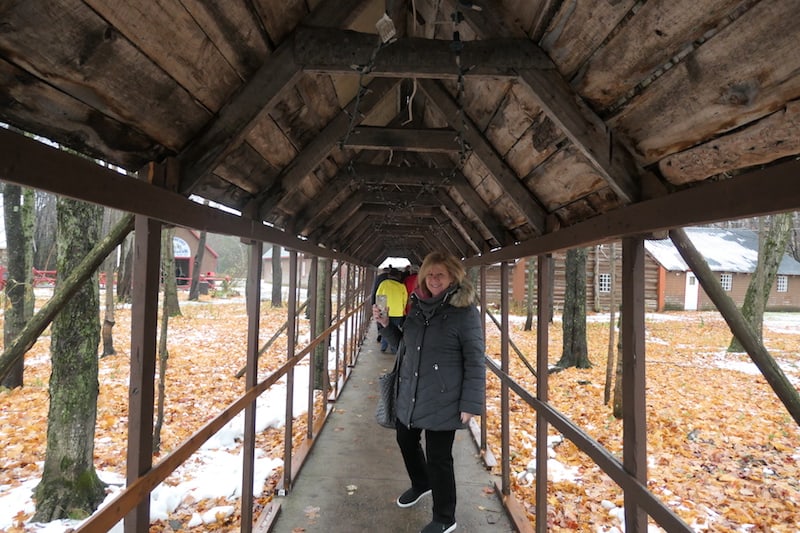 Maple syrup only comes from three types of maple trees: sugar, red and black maples. The art of extracting the sap from these trees was taught to the French from the First Nations who inhabited this area.
It can take 40-50 years before an enormous Maple tree can be tapped for its syrup. A different hole (about 2cm deep) is made each year and a small tool is used for the extraction. A large tree is only able to produce about 1 liter of maple syrup per year.
Tapping season in this region is relatively short, usually beginning in mid-March. Depending on the weather it can be as short as two weeks or as long as two months. In Ile d'Orléans, there is a good amount of freezing rain because of the island's location between hills. During the winter after the freeze thaws, the sap in the roots of the tree moves up and produces water. Producers collect the maple water and place it in a large metal bin where it is boiled and evaporates. When the maple water reaches a temperature of 104° Celsius, it becomes maple syrup.
The syrup is actually part of an entire family of sweet maple products. When the temperature goes above 104°, it becomes maple taffy and higher than that, it becomes maple butter (called butter, although it isn't a dairy product). If it's boiled any longer, it becomes maple sugar, often used for cooking like brown sugar.
After the lesson
The buildings were decorated with art and antiques that told the history of maple syrup production. After the brief lesson, we got to taste some maple taffy, kept frozen on a trough filled with snow, that we each rolled onto our own stick. It was a delicious treat!
We often wonder why owners of farms (and sometimes even castles) open their family properties to the public. Usually, the motivation is a mix of pride and economics.
Right after this tasting, which would appeal to anyone with a sweet tooth, our entire group made a beeline to the adjacent souvenir shop to purchase a wide variety of maple products—from maple tea to maple cookies and candies to maple jams and syrups—sold there. (l'En-Tailleur Sugar Shack also has a small museum.)
A new appreciation
Shore excursions always offer opportunities to learn something new. In fact, one of the things we love about cruising (whether on rivers or on ocean-going vessels) is that we're happy to return to places we've been before because there are always different things to see and experience.
Our visit to l'En-Tailleur Sugar Shack on Ile d'Orléans certainly fit this bill. We will forever look at maple syrup in a different way having visited it in its terroir.
---
All photo credits (except lede artwork): Jerome Levine
---
IF YOU GO
Open May-October
---
Disclosure: The author was a guest of Regent Cruises but any opinions expressed in this post are her own. This shore excursion was at no extra charge, included in the price of the cruise for all guests.
---