Snow Flower and the Secret Fan: A novel set in China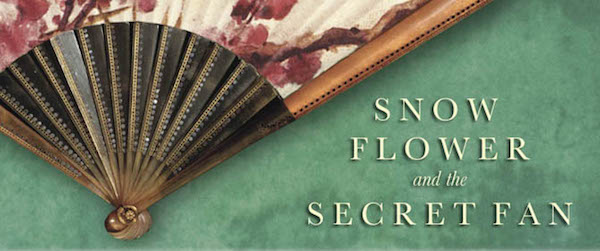 Whenever I prepare for a long flight, I often download a novel or two that's set in the destination that I'm visiting. In preparation for our trip to China, I selected Snow Flower and the Secret Fan (Random House, 2005) by Lisa See.
This fast-moving, beautifully written story revolves around the friendship between two peasant girls in South China—as told by one of them, now an 80-year-old widow, as she looks back upon her life.
In addition to weaving a story about women's friendships in China in the mid-1800s, the e-book version includes in-depth annotations that provide historical background and describe customs of that period, some of which remain part of contemporary Chinese culture.
Some traditions described in the novel:
Women leaving their natal family to join their husband's family after marriage;
Female infanticide and women's worth being determined by her ability to breed sons;
Inferior treatment of women on many levels as compared to men;
Keeping of concubines in the household;
Footbinding of young girls, which resulted in limited mobility, infection and the deaths of one in ten;
Association between footbinding and sexuality;
Association of the color red with good luck and happiness;
Use of calligraphy both as an art form and means of communication
Devastating effects of opium usage; and
Ancestor worship and reverence for the aged;
Whether or not you are headed to China, Snow Flower and the Secret Fan makes for a fascinating read. (I've already downloaded another one of Lisa See's novels.)
---