Rita Rudner Off-Broadway Performance in "Two's A Crowd"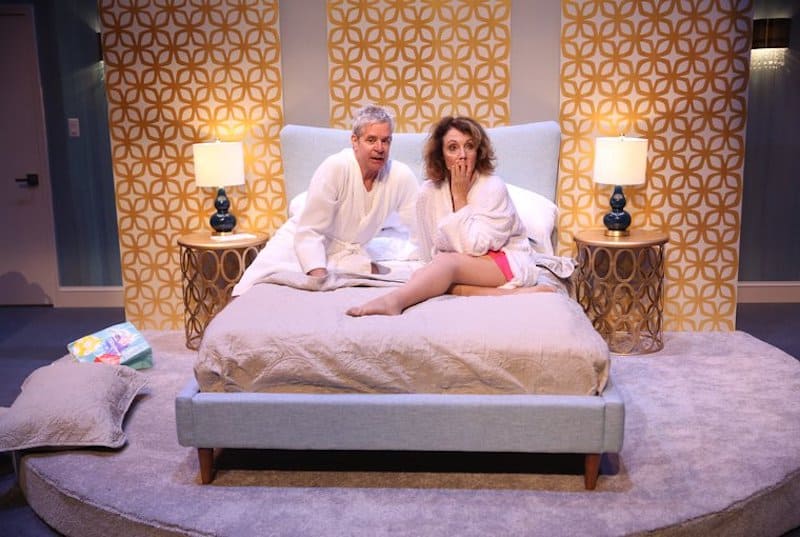 Now you can catch comedian Rita Rudner off-Broadway in a new musical comedy, "Two's A Crowd," performed at the 59E59 Theaters in New York City. If you're a boomer, you may remember her stand-up performances on both the Johnny Carson and David Letterman shows in the 70s and 80s.
Two's a Crowd
The multi-talented comedian stars in this Las Vegas-themed play, that was co-written with her husband/director/producer, Martin Bergman. It's not surprising that Sin City provided much of its comedic fodder; if you are wondering where Rudner has been, she spent 14 years on The Strip, headlining at MGM Grand, Las Vegas Hotel & Casino, Harrah's and The Venetian.
The play's premise is about two strangers (Wendy and Tom) who come from different worlds. By virtue of some computer glitch, the odd couple gets assigned to the same guest room in an overbooked Vegas hotel and has to stick it out. In the process of getting to know each other and adapt to each other's idiosyncrasies, they learn a little bit about themselves and the pursuit of happiness.
Some critics have compared the bantering, jokes and songs to that of a sit-com set to music. However, in this case, that's really not a bad thing: Many of the lines are pretty funny; they'll especially resonate with women of a certain age who have come to feel invisible. You'll also be pleasantly surprised by Rudner's ability as a songstress and the ingenuity of the musical score.
In addition to Rudner, the small but very talented ensemble cast includes Robert Yacko (who plays Tom); Kelly Holden Bashar, who portrays both a housekeeper and guest relations person; and Brian Lohmann, who pops in for a number of smaller roles. The very talented and engaging Jason Freddy (who apparently has a real-life day job as a cantor in a Newport Beach temple) lends his music and lyrical talents to the very original score.
The show runs 1 hour and 50 minutes (with a 10-minute intermission). We laughed throughout, finding this company and Rita Rudner off-Broadway were pure escapist fun. Rudner has certainly honed the skill of perfect comedic timing and delivery.
About the 59E59 theater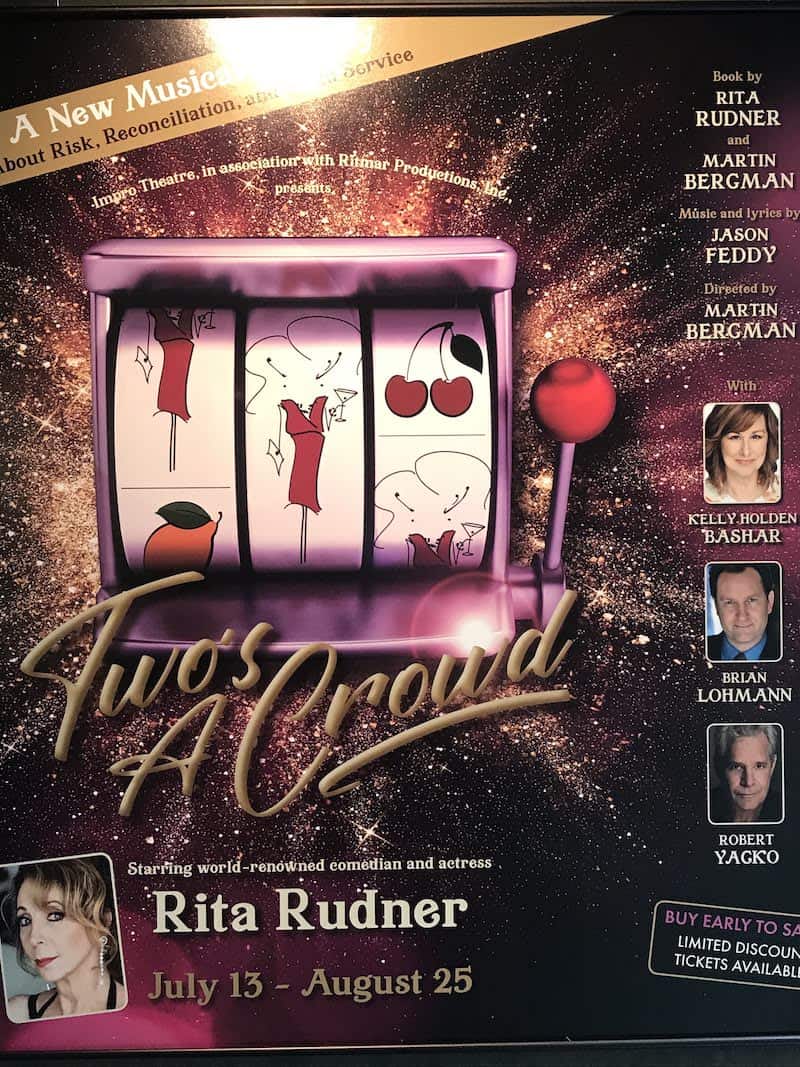 Even as a native New Yorkers, it seems like we're always discovering new-to-us off-Broadway theaters that are delightful. What all off-Broadway theaters have in common, of course, is their small size, which always ups the ante in terms of the intimacy of the performance. Wherever you sit, you can see faces without magnifiers and you feel like you're almost part of the set. Just as important, it's often easy to snag good tickets at the last minute and they are never nearly as costly as seats on Broadway.
"Two's Company" is performed in Theater A, one of the three off-Broadway 59E59 non-profit theaters (named after their building address on E. 59th Street in Manhattan). The theater seats less than 200 people.
Ordering tickets by phone was easy and there were no extra booking fees. The theater also has a flexible and free ticket exchange policy if plans change at the last minute, and offers membership and other discounts for tickets, parking and dining.
The show is produced by Impro Theatre (based in Los Angeles), which has enjoyed a 20-year relationship with Martin Bergman and Rudner.
---
See more about Two's A Crowd— the show, theater and ticket information—here.
***This time-limited performance runs through August 25th, 2019 so there's still time to get tickets!
---
Watch the teaser on YouTube:
---
Lead photo credit: (Credit: Carol Rosegg)
---
Save to Pinterest!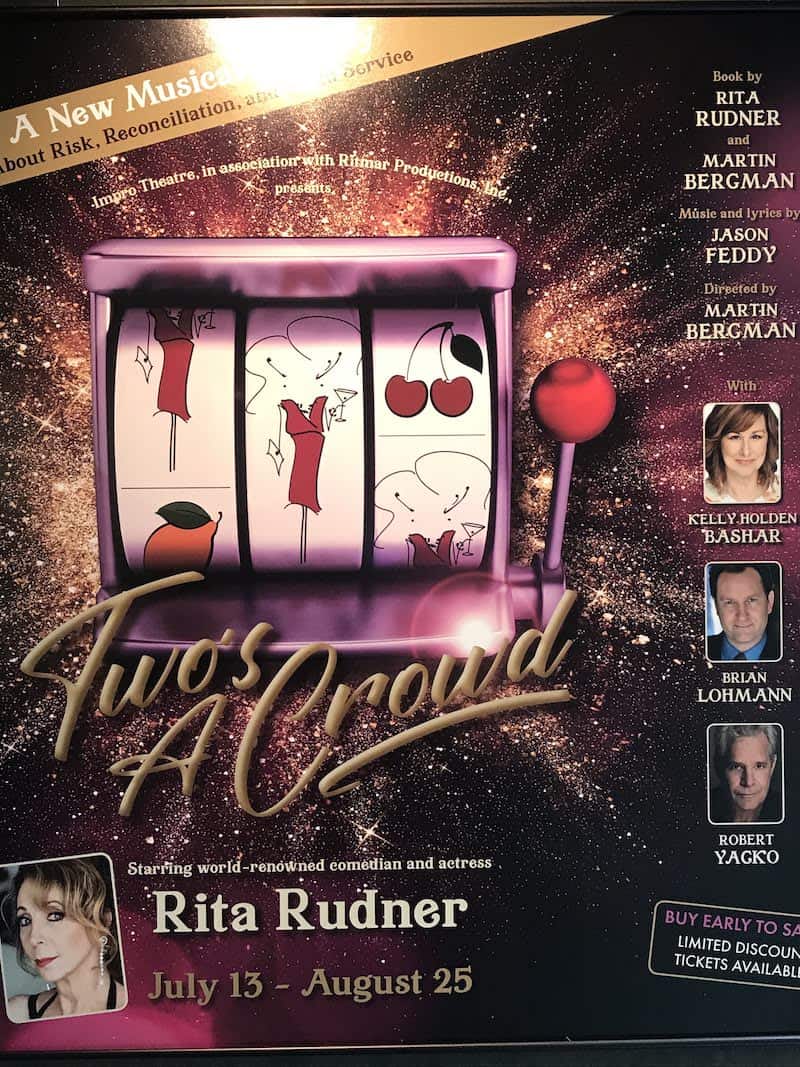 ---