Prince Edward Island: A Small Canadian Province with Big Cuisine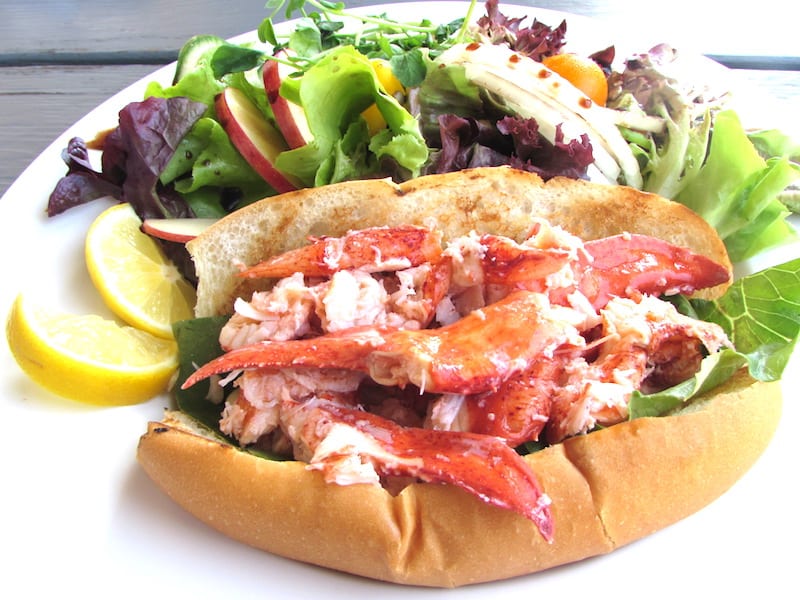 Even visiting chefs now call Prince Edward Island (PEI) "Canada's Food Island". That is the term that was also used by Montreal celebrity chef and "Chopped Canada" judge Antonio Park at one of PEI's exciting events at the Fall Flavours Culinary Festival.
About Fall Flavours
Now in its 11th year, Fall Flavours has evolved into one of the world's premier, month-long culinary festivals. Surrounded by the sea, PEI and its cuisine naturally emphasize seafood – lobsters, scallops, oysters, mussels, crabs and halibut. But PEI potatoes are among the best on the planet and, in recent years, Island beef and pork have developed an enviable reputation. With a population of just over 150,000, Prince Edward Island punches well above its weight for tourist attractions (think Anne of Green Gables) and now for world-class cuisine.
We were among those seafood enthusiasts who spent several adventure-filled days in central and eastern PEI sampling and savouring.
Getting to Canada's Food Island
Getting to the island is also an adventure. Many arrive and leave by the eight-mile-long toll bridge from New Brunswick (you only pay when leaving). We chose a more leisurely route by taking the car ferry from Nova Scotia and leaving by the bridge.
Arriving by ferry towards the eastern end of PEI is a visual delight. The red soil, rolling hills, luscious green fields and well-kept homes are a gentle reminder that this is a different place with a more tranquil way of life. The sandstone cliffs and well-preserved lighthouses just add to the relaxing atmosphere.
Let the seafood feast begin!
It was close to the nearby Point Prim Lighthouse that our seafood feast began. The Point Prim Chowder House is an old-fashioned eatery with signs made from license plate letters. The seaside restaurant offers both hot and cold lobster rolls. Their Steamer Pot–featuring clams, mussels, fresh fish and snow crab legs–is a popular choice. Everything was delicious, an excellent beginning to four days of seafood indulgence.
Like most visitors, we stayed in Charlottetown, the laid-back capital city with a population less than 45,000. In recent years, it has evolved into a sophisticated culinary scene with many ethnic restaurants, a wonderful twice-a-week farmers' market and even a great downtown coffee house (Receiver Coffee).
We stayed at the convenient, modern Hotel on Pownal, recently completely renovated. It's owned by the Murphy clan, a PEI family that's had a major impact on regional cuisine and accommodation. We particularly enjoyed the evening happy hour with complimentary snacks, wine and excellent Gahan craft beer, made on PEI (the Blueberry Ale was especially tasty).
Our dinner choice that evening was the nearby Sim's Corner Steakhouse and Oyster Bar (another Murphy property). We enjoyed a succulent New York striploin (with roasted baby red potatoes and chanterelles) and the freshest, tastiest halibut we've ever had. Very impressive.
The following morning, after a fine complimentary breakfast at the Hotel on Pownal, we felt energetic and headed back to the eastern end of the island and a long walk in Greenwich PEI National Park. A serpentine trail takes visitors over a pond with its extensive floating boardwalk and on to spectacular sand dunes by the beach.
For lunch, we chose Rick's Fish 'n Chips in the village of St. Peter's Bay. This compact main street eatery features an unusual curried seafood chowder and exquisite fish, with thin, tempura type batter and hand cut chips, some of best we've ever enjoyed.
We were very full but wanted to check out a new, ethnic restaurant in Souris, the town with daily ferry service to Quebec's Magdalen Islands. Poké Shack has Hawaiian/Japanese cuisine, mainly seafood (local raw tuna is a feature) or chicken, served in a bowl with rice and greens.
Fall Flavours: A Prince Edward Island food event
That evening was the time for celebrity chef Antonio Park to shine. The new Fall Flavours event was called "An Exclusive Evening at Red Shores". Red Shores is Charlottetown's harness racing track overlooking the harbour, which has a fine, three-tiered "Top of the Park" restaurant where Chef Park and Red Shores' Executive Chef Andrew Smith produced a five-course, gourmet feast with wine pairings.
Chef Park likes to use abundant but little-known PEI kelp in his dishes and it did add a wonderful flavour component to the mushroom soup, the spicy braised pork belly in a steamed bun, the tuna carpaccio and the steamed fresh halibut. For dessert, the chefs offered an excellent Grand Marnier cheesecake with sorbet.
Another day of culinary adventures
The next day we continued our culinary tour with a stop at Glasgow Glen Farm, a major producer of Gouda cheese. They have several tasty varieties for sampling and we had a chance to view their cool aging room filled with rounds of cheese.
For lunch, we headed towards the Blue Mussel Café, right on the harbourfront in North Rustico. No deep fried seafood here, just excellent mussels steamed in Gahan Blueberry Ale, a tasty lobster bubbly bake and lobster rolls crammed with meat.
On the way back to Charlottetown we stopped for an overview of French River, one of the most picturesque fishing villages on the island.
Feast and Frolic: The Big Kahuna
In the capital city that evening, the highlight of our PEI culinary visit was the annual Feast and Frolic, a major event of Fall Flavours and the International Shellfish Festival. Hosted this year by "Restaurant Makeover" and "Chopped" celebrity chef Lynn Crawford, it attracts several hundred Islanders and visitors for a lively evening of entertainment (bagpipes, fiddles and highland dancing) and limitless amounts of fresh seafood.
Most dramatic is the World's Largest Oyster Bar, where twenty Island producers form a circle to shuck and display thousands of succulent mollusks. One guest boasted that he devoured eighty of them! There were also three competing seafood chowder chefs, each offering thick, savory chowder bursting with lobster, whitefish and scallops.
The sit-down portion of the dinner was almost anticlimactic as the efficient wait staff gave everyone a bowl of mussels, a plate with a slice of tender Island beef and a whole, cracked lobster with clarified Island butter. A truly amazing banquet!
It was hard to leave Prince Edward Island the next day but before we headed towards the billion dollar bridge to New Brunswick, we stopped at the famous Cows Creamery factory just to the west of Charlottetown. Cows was rated as the best ice cream in North America by Tauck Tours and, with its rich formula, it's easy to see why. We enjoyed a cone and had a self-guided tour of the factory where, on this day, mango sherbet was being made.
We couldn't depart PEI without a final lobster roll and we found the best ones yet at the Lobster Barn Pub & Eatery on the wharf in the artist's haven of Victoria by the Sea. Full claw and tail chunks atop a homemade sweet mayonnaise on a fresh roll. The Lobster Barn also served an extraordinary scallop roll with bacon. Filled with scallops for just $16. A great value and a perfect ending to our short but very satisfying visit to Canada's Food Island.
---
IF YOU GO
---
John and Sandra Nowlan are travel and food writers based in Halifax. Nova Scotia.
All photo credits: John and Sandra Nowlan.
---
Disclosure: The Nowlan's visit was hosted by PEI Tourism but any opinions expressed in this post are their own.
---
Share on Pinterest!