Palm Beach: Michelin star dining and other treats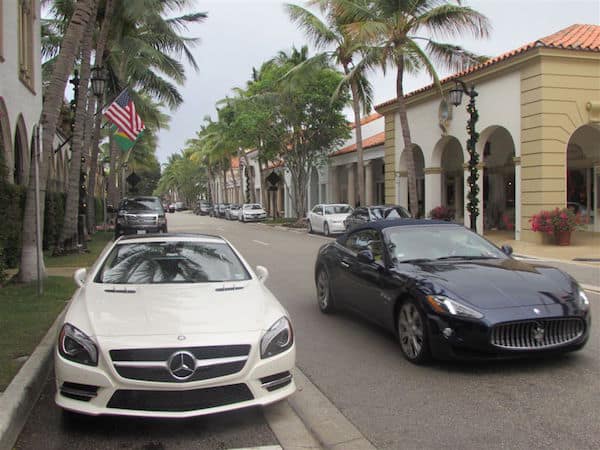 Guest bloggers John and Sandra Nowlan report on their recent visit to Palm Beach, Florida.
It's called Billionaires Row and it's easy to see why.
Along South Ocean Boulevard in Palm Beach County, mansions the size of the White House are tucked behind impossibly high hedges. Gaps in the greenery reveal gothic columns, stone fountains, statues, swimming pools and tennis courts. This area of South Florida, just north of the better known communities of Miami and Fort Lauderdale, has been the tropical hide-away of the rich and famous ever since Henry Flagler extended his railway to Florida's east coast and built the famed Breakers Hotel in the 1890s.
Real estate prices soared and the area attracted families like the Rockefellers, Vanderbilts, Kelloggs, Kennedys and Trumps. Along with the massive homes, that Gilded Age opulence is still evident at the Breakers (rebuilt after a 1925 fire) with its 200 foot long lobby, soaring arched ceilings (painted by several dozen Italian artists) and magnificent chandeliers. It's worth the high price of a drink to relax at the beautiful bar.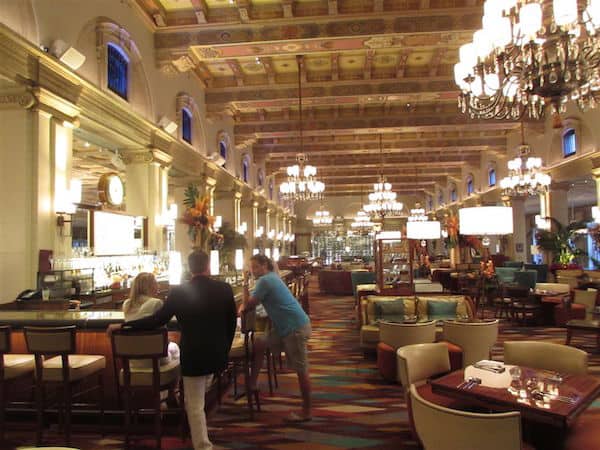 But you don't need a billionaire's stock portfolio to enjoy The Palm Beaches. In fact, in the words of some locals, "It's the best way to experience Florida."
Along 47 miles of pristine beachfront from Boca Raton in the south to Jupiter in the north, Palm Beach County consists of 38 distinct cities and towns, most built along a sandy, barrier island. It's an area filled with cultural attractions, scores of golf courses, accommodation of all types and wonderful restaurants. We soon discovered it also has the warmest salt water in Florida as the region juts slightly into the Atlantic Ocean, putting it closest to the Gulf Stream.
Excellent resorts line the soft sand of the Atlantic coast and we stayed at the 134 room Tideline, a comfortable property just acquired by the Kimpton Hotel Group. The location is fabulous (on the beach, a short walk from a large fishing pier) and its sushi bar is world-class although the rooms need some renovations.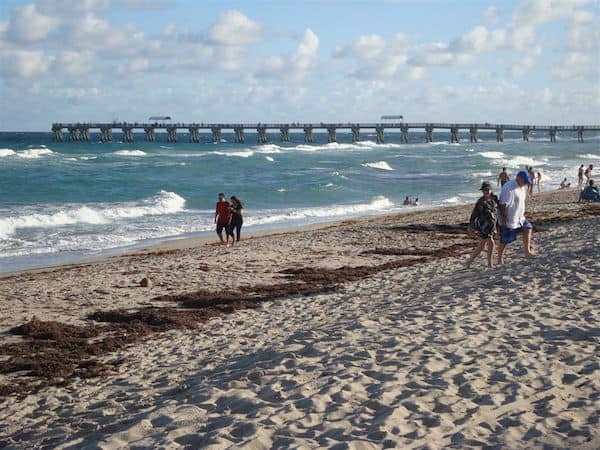 We enjoyed lunch our first day at a nearby hotel, the top rated Eau Palm Beach Resort and Spa. The generous margaritas and fish tacos at the new Breeze Open Kitchen were the best we've ever tasted.
After a relaxing afternoon and a dip in the warm Atlantic water we headed to Salt 7 in Delray Beach (according to USA Today, it's "The most fun small town in America"), an excellent steakhouse with a freezer-less concept. As expected, everything was fresh and tasty, especially our cranberry spinach salad, made with gorgonzola, red onions and applewood smoked bacon. The well-aged beef comes from a single source in Nebraska and was very tender.
Food was also our focus the next day with a visit to the Saturday Green Market. A West Palm Beach tradition for decades, it runs from October through May and features fresh fruits and vegetables, tropical plants and exotic baked goods like fresh cider donuts and 25 varieties of biscotti.
We kept our Green Market sampling to a minimum because we then joined the West Palm Beach Food Tour, led by its knowledgeable owner, Kristl Story. We've done city food tours before but this was one of the best. We began at the Blind Monk with delectable tuna tostados and a prosecco mojito Also excellent were the New York style pizzas from the Pizza Girls, the fresh coconut milk and the delicious key lime pie (a Florida specialty) at Longboards.
On our final day in Palm Beach County we ate lunch in a jungle setting at Guanabanas, a restaurant adjacent to the Inland Waterway. Surrounded by banyan trees, tiki huts and a lush landscape we savoured blackened shrimp and grits with collard greens and local craft beers.
We saved the best culinary experience for last with a dinner at Café Boulud in Palm Beach. Run by Daniel Boulud, the Michelin-starred chef best known for Daniel in New York City, Café Boulud opened in Palm Beach in 2003 and has been wowing visitors ever since. We enjoyed Chef Rick Mace's wonderful tasting menu with perfect wine pairings. Dinner included Pumpkin Veloute with ginger crumbs and marshmallow bits, a beet and red endive salad, fois gras charred baklava, assorted home cured meats with two kinds of paté , local swordfish with chanterelles and, for dessert, a caramel soufflé, passion fruit panna cotta and fondant chocolate. As a surprise at the end of this exquisite meal, Chef Boulud himself showed up to say hello and pose for photos.
Café Boulud was the perfect ending for a visit to this upscale but very appealing part of Florida. Shops on Worth Avenue in Palm Beach are as glamorous as any on Rodeo Drive in Beverly Hills or Park Avenue in New York. But modestly priced or free cultural attractions (like the Henry Flagler Museum, the Norton Museum of Art, the Polo Museum the South Florida Science Museum or the Mounts Botanical Garden) are appealing for all family members. There's even a cageless zoo, the Lion Country Safari, where you drive your own car among 900 free-roaming animals. Kids and grandkids love it…but first you have to tear them away from the wonderful beaches and warm water.
---
Disclosure: The Nowlans were guests of Discover the Palm Beaches but any opinions expressed in this post are their own.