Our Very Best Meals This Year: Take A Seat At Our Table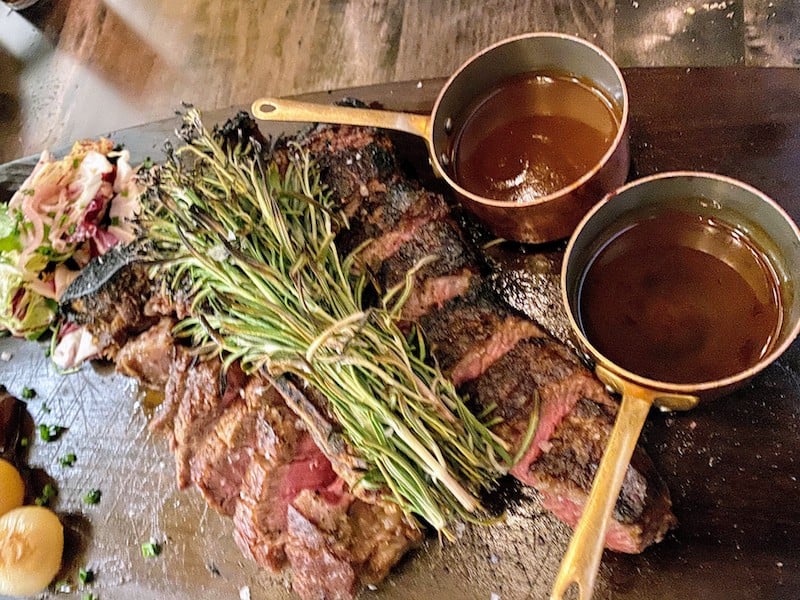 It is difficult to pare down a list of our very best meals from among so many good ones that we've enjoyed this year.
We learned long ago that the "joy of eating" isn't just about the food alone: Food provides a window into different cultures and culinary traditions. And, of course, restaurant dining offers unique opportunities to meet and mingle with locals, whether it's the couple at the next table or a server, sommelier or chef who has added to the pleasure of your plate.
Jerry's hip surgery greatly curtailed our foreign travels this year but looking back, we certainly managed to "make do." Of course, we are fortunate to live close to New York City, a place with a wide variety of cuisines (representative of those found almost anywhere around the globe) as well as an abundance of world-class restaurants.
Looking at the list of our best meals, you'll notice that although we are ecumenical eaters although we tend to be partial to Italian cuisine. We love to seek out new restaurants and return to old favorites.
Our very best meals of 2019 (in no particular order) are described below. Each one stands out for different reasons but all were enjoyed at eateries to which we would return in a heartbeat!
Best Meals of 2019: The List
Portale (Chelsea neighborhood of Manhattan, New York City)
We were long-time fans of Michelin-starred Gotham Bar and Grill, a restaurant in many ways synonymous with its chef of 34 years, Alfred Portale. It was the go-to place where we celebrated many special occasions—birthdays, anniversaries and graduations. To our dismay, it was announced that Chef Portale would be leaving Gotham at the end of summer. It felt like the end of an era.
The good news was that the chef would be opening a new namesake restaurant, Portale, in the Chelsea neighborhood of Manhattan. Eater New York heralded the opening as one of the most exciting of the year and we were lucky to snag hard-to-get dinner reservations there with friends in November, only a few weeks after it opened.
We loved the pasta-centric menu that includes many classic Italian recipes that creatively reflect the chef's French culinary training. The menu is divided into cicchetti (snacks), antipasti (appetizers), primi (pasta and risotto), entrees and contorni (sides). The small plates are perfect for sharing and pairing with cocktails.
Risotto with Seasonal White Truffles
Unlike the 80s elegance of Gotham, the dining room at Portale is young, light and furnished with a mid-century modern flair. It's divided into two dining areas and a bar. Some traditions remain the same: For example, the Chef still sources many of his high-quality, seasonal ingredients from the nearby Union Square Green Market.
Don't be surprised if the chef leaves the open kitchen to stop at your table and chat.
IF YOU GO
---
Rezdora (Flatiron District of Manhattan, New York City)
Even those from other regions of Italy admit that Emilia-Romagna offers some of the best recipes and ingredients found anywhere in the country—coupled with time-honed techniques passed from generation to generation. In a partnership with David Switzer, Chef Stefano Secchi, who previously worked in the three-Michelin-star Osteria Francescana in Modena (ER), presides over the kitchen at Rezdora.
The restaurant, which opened in May 2019, specializes in homemade pasta. The portions are right-sized so you can try two or three without feeling stuffed, and they're so delicious that everyone in your party will want a taste of the plate next to them. If you have wandering eyes, the best bet might be to opt for the five-course tasting menu called, "A Journey Through the Pastas of Emilia-Romagna."
Rezdora's characteristic dishes rely upon the iconic Italian DOP products that hail from the region, including Parmigiano Reggiano cheese, balsamic vinegar and prosciutto. Of note, Rezdora made the list of Food and Wine's Biggest Restaurant Openings of 2019.
The sommelier recommended a bottle of Becco Rosso Lambrusco for our table. Also from Emilia Romagna, the dry red wine with light bubbles was attractively priced and a perfect complement to our dinner.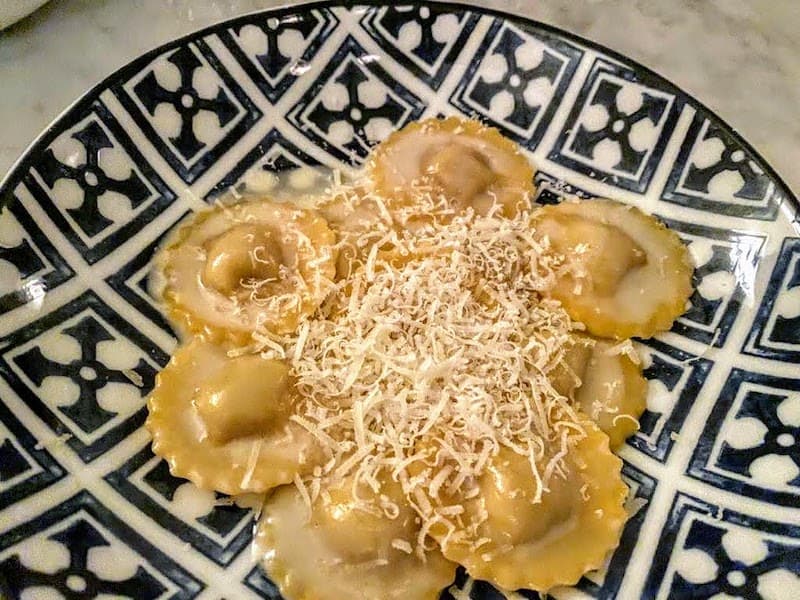 With exposed brick walls, the attractive dining space is relatively small, long and narrow only seating 48 people. The area opposite the bar is lined with long, convivial tables that are placed pretty closely together; the mezzanine level provides additional tables above. Table 27, a round table between the two levels is the best one in the house if you covet privacy or romance. The ambiance at Rezdora is lively and informal.
Esquire recently named Rezdora one of the Best New Restaurants in America. With so much fanfare, reservations are tough to come by. You may be lucky enough to snag a last-minute seat at the bar if you arrive close to the time when the doors open.
What a great accomplishment for the team at @rezdoranyc!

Congrats on making @JeffGordinier and @esquire's Best New Restaurants in America list. You continue to impress just six months in! Tanti Auguri! 🥂 🍝 https://t.co/g3S6rWuALC

— baltz & company (@baltzco) November 13, 2019
IF YOU GO
---
Cellaio at Resorts World Catskills (Monticello, New York)
We came to Cellaio with modest expectations thinking, "How good can a restaurant be if it's located in a casino in the Catskill Mountains?" Gosh, were we mistaken!
Cellaio (translated as butcher's pantry, in Italian) one of two fine dining restaurants at Resorts World Catskills, is billed as an Italian steakhouse. It is helmed by celebrity chef Scott Conant, whom we got to meet while there. More than a decade ago, Conant was recognized as one of America's Best New Chefs by Food & Wine magazine and was responsible for a string of successful restaurant openings across the country, including L'Impero and Scarpetta in Manhattan.
The chef's signature dish, a simple pasta al pomodora, is not to be missed. (It is so popular that it's been replicated in numerous recipes appearing on the internet.) It will have you searching for some of the chef's delicious bread to mop whatever morsels of sauce are left on your plate, an Italian custom called scarpetta.
"Fare la

scarpetta

is a phrase in the Italian language that's close to the heart of everyone who has enjoyed a delicious plate of pasta with sauce. Meaning 'make the little shoe,' it refers to the small piece of bread used to mop up the last of the sauce on your plate."
Another favorite at Cellaio is the aged porterhouse steak for two (with rosemary), Bistecca Fiorentina (see photo at top of this post).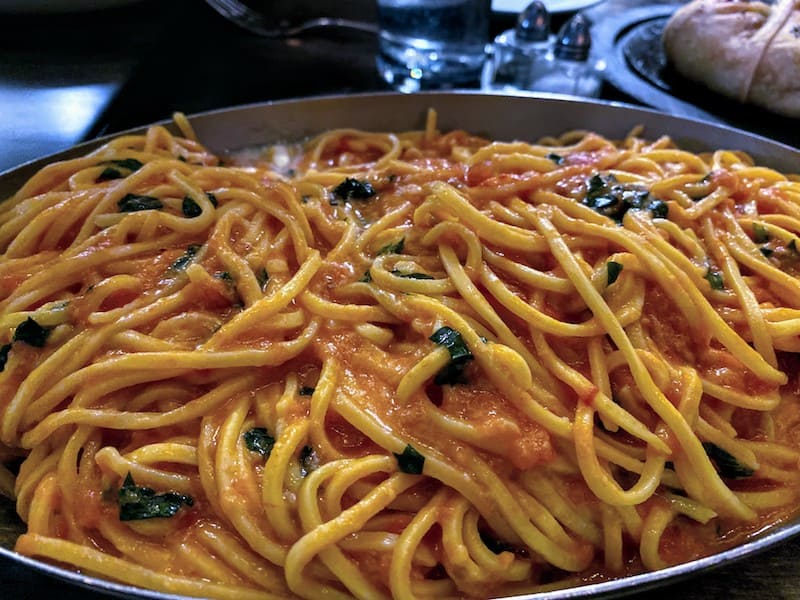 The house wines, both white and red, are named after the chef's daughters, Ayla and Karya. A beautifully presented budino (pudding) made for a very sweet ending to our meal!
IF YOU GO
---
Goosefeather at Tarrytown House Estate on the Hudson (Tarrytown, New York)
Rethink whatever notions you had of growing up with staid Chinese-American cuisine. Chef Dale Talde, who has appeared on many TV food shows (including Top Chef) has reinvented Hong Kong cuisine and given it a modern flair and whimsy at his recently opened restaurant, Goosefeather.
The menu features a choice of small dishes and large ones. The chef's dim sum, dumplings, Peking duck and barbecued meat dishes are all made with uber-fresh ingredients, beautifully plated, many of them sourced from the nearby Hudson Valley.
The setting of Goosefeather is rather unique because it's inside a historic, recently renovated mansion, the King Mansion, at Tarrytown House Estate on the Hudson, in Westchester County, New York. The dining space is divided into four intimate rooms; be sure to look up at the ceilings, decorated with arty Joan Miro wallpapers.
Chef Talde is at the forefront of what the New York Times pointed to as one of the hot food trends for 2020, "generational cooking."
What is generational cooking?
"…part of a growing interest among chefs with mixed cultural backgrounds to create new dishes based on techniques and ingredients from both sides of the family." –Kim Serverson
IF YOU GO
---
Ristorante Danilo e Patrizia (Bologna, Italy)
There's never a shortage of wonderful restaurant choices in Bologna, Italy. But a local told us that having lunch at Ristorante Danilo e Patrizia, located at the Hotel Savoia Country House (about 20 minutes outside the historic center of Bologna) would be worth the taxi ride. If you arrive at lunchtime during the week, the place will be packed with local businessmen. On Sundays, it's all about Italian families getting together for a hearty meal.
In this family-owned restaurant, frequented primarily by locals, all the pastas are homemade by pasta ladies, prepared fresh daily using the same storied techniques associated with the Emilia Romagna for centuries. The extensive menu offers various pasta tastings so you can try more than one.
If you are lucky enough to come in season, you'll be dazzled by the dishes with locally-sourced white truffles and fresh porcini mushrooms.
IF YOU GO
---
La Baita (Bologna, Italy)
Each time we visit Bologna, La Baita Vecchia Malga is our first stop after checking into our hotel and it never disappoints. It's a small, informal restaurant, owned by the Chiarri family, with several tables on a balcony that overlooks the salumeria (delicatessen) on the main floor. Located just off Piazza Maggiore (the main square), hordes of young diners overflow onto the tables and chairs set up in the alley outside the store (even in winter) on Via Pescherie (the old fisherman's street in the ancient Quadrilateral).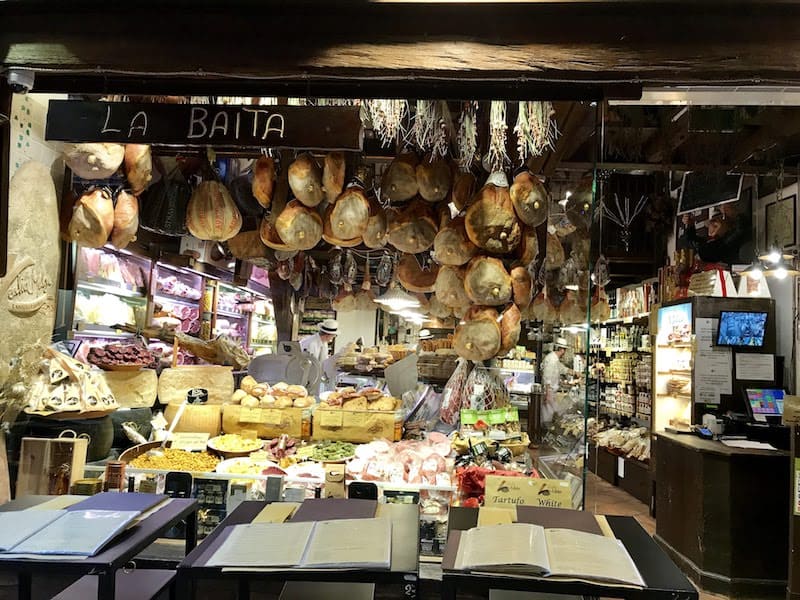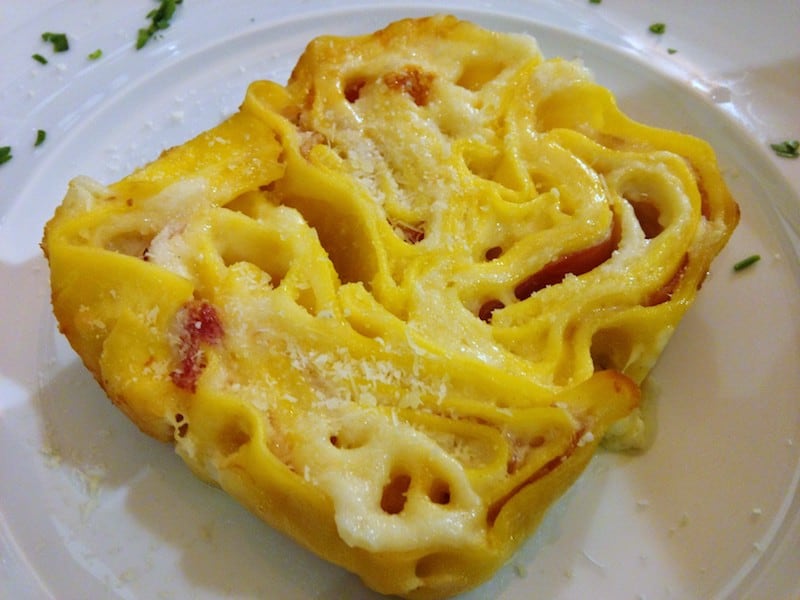 Upon entering, you'll be enticed by the aromas of the wonderful cheeses and meats. The menu is perfect for lunch, dinner or in-between. The most popular choice seems to be the platters with cured meats and local cheeses, for which Emilia-Romagna is known. Served on wooden boards, they're accompanied by fresh-baked local breads, such as piadina or tigelle. They are perfect for pairing with the very reasonably priced house wines. Our very favorite dish is the warm rosette.
IF YOU GO
---
Wishing all our readers wonderful meals and bountiful travels in 2020! We hope this photoessay has whet your appetite for culinary travel.
---
All photo credits: Jerome Levine
---
SAVE TO PINTEREST!
---