Open House: A new public art installation in NYC
If you are visiting the Big Apple, don't miss Open House, a thought-provoking public art exhibit.
As part of the Hampton by Hilton #Seekender team, Jerry and I love to make the most of our weekends, broadening our world—at home and when traveling—by enjoying the arts!
It often pops up in unexpected places, art accessible to all. There are no tickets, membership requirements, queues or admission fees. And wherever you are fortunate enough to encounter it, public art is likely to make you pause and think.
Tourists visiting New York City have an especially good shot at happing upon public art. That's because the Public Art Fund, with a history spanning more than four decades, has set up more than 400 changing public art exhibits here over the years. The mission of the group is to showcase the work of talented artists by bringing their works to the city streets (across all five boroughs) in an urban setting where it can be enjoyed by all.
If you are visiting NYC between now and September 24th, you'll want to take a peek at one of the latest Public Art Fund exhibitions: Open House by Liz Glynn.
Where:
Open House is installed at the corner of Fifth Avenue and 60th Street, across the street from Grand Army Plaza (called the Gateway to Central Park). Two iconic hotels, The Pierre and The Plaza Hotel are within view. And even in a crowded city like New York, the intersection at the southeast corner of Central Park is particularly well trafficked by pedestrians. Close by are hotdog vendors, souvenir stands and horse-drawn carriages.
This scenic corner is named Doris C. Freedman Plaza (in honor of the founder of the Public Art Fund) and is often the site of numerous rotating public art exhibits.
What:
Boston-born artist Liz Glynn has created a virtual living room in the Park. The area is set up with sculpted sofas, chairs and footstools, all cast in concrete, monumental in size. (They are complemented by oversized arched doorways drawing you into the scene.)
The Louis XIV-style décor, reminiscent of the interiors of Fifth Avenue apartments during the Gilded Age, is now placed in a location that can be visited and enjoyed by people of all social and economic classes.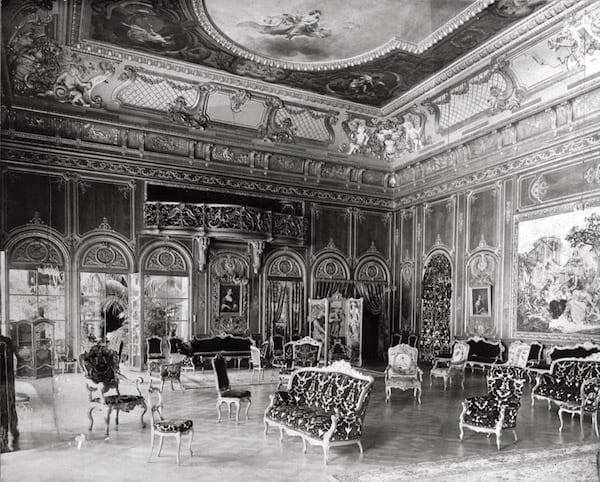 Some visitors stop and take a seat for a moment's rest, pose for a selfie with their kids, or seem to quizzically ponder the meaning of what they are seeing.
In an era when income disparity has arisen to the forefront, the installation makes a timely social statement.
---
Learn more about Open House from Liz Glynn
---
IF YOU GO

---
Previously on More Time To Travel:
Also on the Web: