Novotel Paris Tour Eiffel: A Good Night's Sleep Without Frills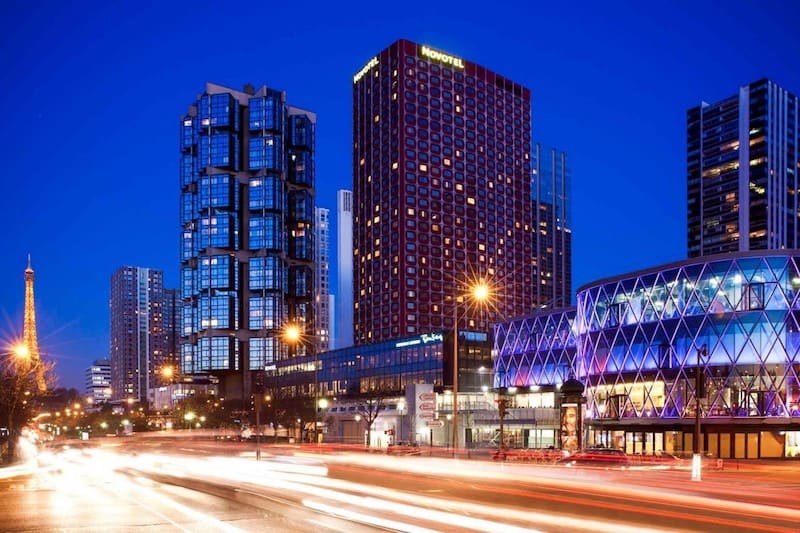 Originally built in 1976, the four-star Novotel Paris Tour Eiffel has 764 renovated rooms spread over 31 floors, many with views of the Seine River and some even offering a peek at the Eiffel Tower. Contemporary in décor and design, the hotel has a relaxed feel, with a lobby that always seems to be bustling.
The Hood
Located in a rather nondescript residential neighborhood in Paris' 15th arrondissement, the building stands out among high-rises apartments because of its towering size and vibrant brick red color. It is convenient to pubic transportation and neighborhood shops, including laundromats, dry cleaners, pharmacies, grocery stores, bakeries, and cafes. A branch of the inexpensive Monoprix department store is just steps away, with a large supermarket tucked inside.
The area around the hotel, dominated by social (subsidized) housing, now appears to be in transition, undergoing extensive construction. Wealthy Russians have purchased many of the buildings, with the intent of converting them into luxury condos.
The Room
The rooms at Novotel Paris Tour Eiffel are immaculately clean although fairly minimalist and basic. They provide comfortable beds, Ikea-like furnishings and some basic amenities, like hairdryers, cable TV, and a hot water pot. It was refreshing to find a small refrigerator tucked in the closet although the room didn't have a minibar. (Increasingly, many hotels are doing away with minibars because of the service costs they entail.)
The bed linens were a bit muslin-like, the quality lesser than most mainstream American hotels chains. As in many European hotels, there was no top sheet. The pillows were small and square; and the duvet just about made it from one side of the bed to the other.
We were originally assigned a standard room with two twin beds—which can accommodate up to two adults and one child. That room had the closed-in feel of a dorm, with virtually no drawer or counter space.
When we went back to the reception desk, we were able to upgrade to a superior room (Room 2712) for an additional 25 euros (about $32) per night, which was well worth the additional cost. It was airy and light with three large windows. Theoretically, the room was large enough for two adults and two children; it certainly was comfortable for two.
The Bathroom
The combined tub/shower was awkward to enter because of the tub's high ledge. A half glass shower door, while attractive, did a poor job of keeping water in without the floor getting wet. There was ample hot water and a dual-head shower. Bathroom amenities were non-branded and very basic, only a small bar of soap and miniature bottles of combined shampoo/conditioner and shower gel.
The towels (a match for the bed linens) were threadbare and rough. A hairdryer was wired into the wall but there was no electrical outlet nearby for heating my flat iron. I wound up unplugging the refrigerator and using its outlet in the closet.
Technology
One of the taxi drivers we met confirmed our impression. "It's a nice hotel but it has terrible Internet," she remarked spontaneously. The free, internet connection in the room was slow and unreliable. Adding to the frustration, it turned off every two hours forcing you to create a new sign-on. A higher speed connection, also wired, was available in the room for 10 euros per day. For wireless, you had to bring your device to the lobby.
Food & Service
The hotel offers a choice of restaurants: a Japanese restaurant and a self-service cafeteria-type restaurant. Breakfast, included in the price of the room, was a decent buffet of breads and pastries; fruits, juices and cereals; eggs, bacon and potatoes; and yogurt and cheese. Room service was also available.
Service was friendly but minimalist as well. There were lines at the check-in and concierge desks. An ironing board and iron sat in the hall outside our room for more than two days. When we tried to call reception to place a wakeup call for the morning of our departure, there was no response for over an hour.
The hotel had a fitness center, sauna, and pool that we didn't have time to use. Paris has too many temptations to stay indoors.
Novotel Paris Tour Eiffel: The Bottom Line
The online promotions on the hotel website can be very attractive price-wise. During our stay, hotel guests were primarily a mix of airline crew, business people attending meetings at the hotel or elsewhere in the city, tour groups, and families with children. Although the hotel is close to public transportation, you always feel like you are on the fringe of monumental Paris.
Lessons Learned
If you are disappointed in your room, find out if upgrades are available.
In a walkable city like Paris, stay close to the city center if you can afford it.
Like the pains of childbirth, mediocre hotels soon fade from your memory.:-)
---
For more information, see Novotel Paris Tour Eiffel. (The hotel is part of the French Accor group, the sixth-largest hotel group in the world.)
---
IF YOU GO