Muir Hotel Halifax: A Boutique Waterfront Property at Queen's Marque
Nova Scotia natives John & Sandra Nowlan report on their recent visit to the Muir Hotel Halifax.
---
The Muir Hotel Halifax, the first ultra-luxury boutique hotel in Nova Scotia, Canada, on the new Halifax Waterfront Boardwalk is the crown jewel of the Queen's Marque District.
Waterfront setting with history and hammocks
The recently completed Halifax Boardwalk creates a wide pedestrian harbourside path between Pier 21—with its Cruise Port and Museum of Immigration—past the statue of Halifax native Samuel Cunard, all the way along the downtown core, and ending at the city's casino. It hugs the historic waterfront for almost 3 kilometres (two miles).
Always crowded with happy Haligonians and visitors, especially on sunny days, the wide, heavy timber footpath passes restaurants, bars, entertainers, craft shops, bike rental shops, the Maritime Museum of the Atlantic (with its famous Titanic exhibit), the Harbour Ferry Terminal and two hotels.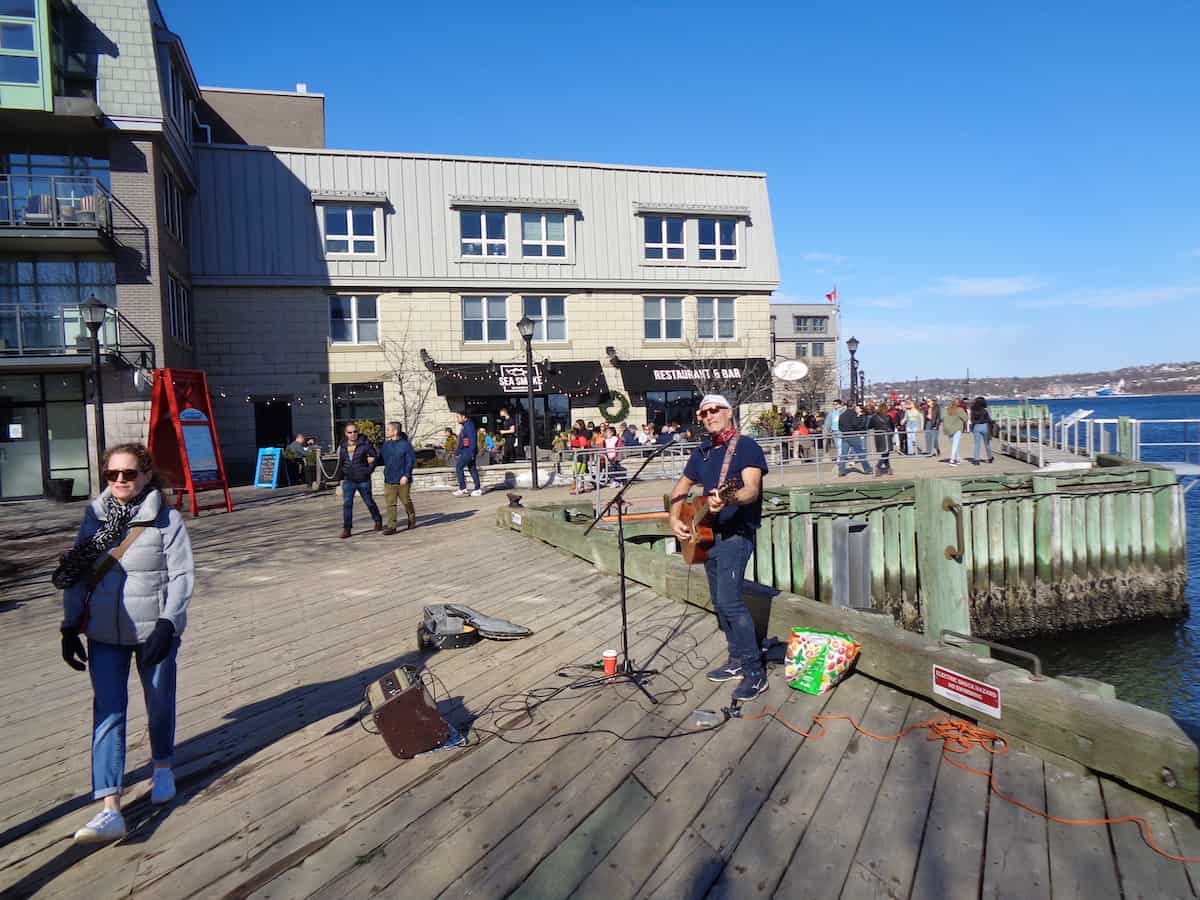 The Boardwalk is a significant addition to Nova Scotia's capital with 450,000 residents that has an enviable reputation for liveability and hospitality. The city has even added hammocks and colourful lawn chairs to better enjoy the sights along the world's second-largest natural harbour.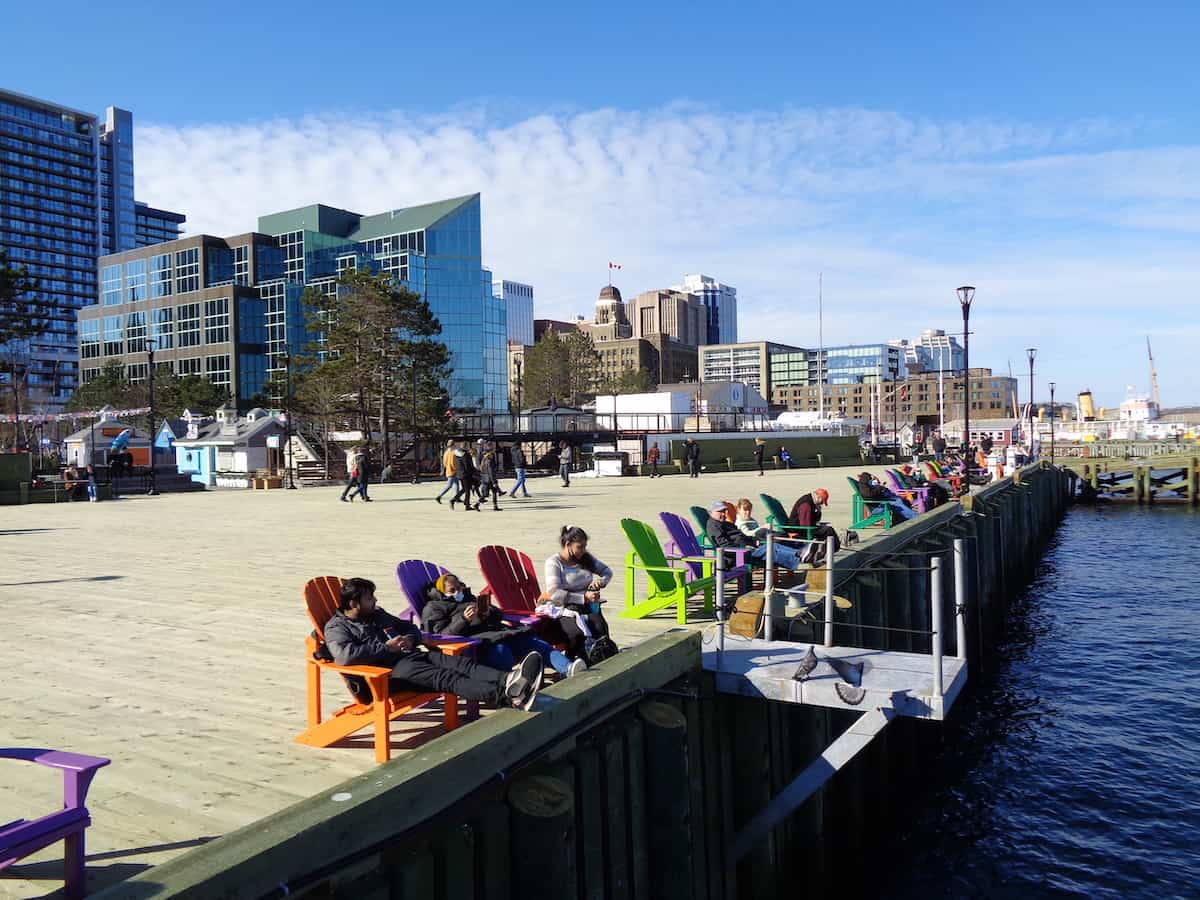 Queen's Marque on the Boardwalk
Queen's Marque is a new $200 million office, residential, shopping and restaurant development located at the prime, midway point of the Boardwalk. The whole project was planned and built by Halifax's Armour Group along with the celebrated local architectural firm, MacKay-Lyons Sweetapple.
Artist's rendering of the Queen's Marque steps (The Armour Group)
Muir Hotel Halifax: Born of This Place
The Muir Hotel Halifax is the first in Nova Scotia to be part of the Autograph Collection, a global collection of independent hotels that capture the spirit of their location. The tagline for this five-star, 109-room property, which opened its doors in December 2021, is "Born of This Place." The developers emphatically mean Halifax and all of Nova Scotia.
The primary building material used, Nova Scotia sandstone, complements the heritage buildings in the neighbourhood. Muir means "Sea" in Gaelic and that spirit is evident by the wide steps leading into the harbour from the Queen's Marque central plaza.
Guests can take an ocean dip, fish, or rent kayaks and paddleboards. On the street side, visitors are welcomed by a glass wall, a representation of Fresnel lenses, used to focus the beam in lighthouses. Liberal use is also made of Muntz metal (an alloy of zinc and copper), commonly used in shipbuilding. Valet parking is encouraged (the lower, self-park floors lack clear signage) but that's just another service perk that makes this hotel so special.
The lobby, like most areas of the hotel, is decorated in muted coastal colours of sand, stone and driftwood. After checking in with the very efficient staff we met the General Manager, Eugenie Jason. She's a veteran of Four Seasons Hotels and that emphasis on service and quality is immediately evident.
"We want Muir to be the landmark hotel in the region," Jason told us. "And one of the very best in Canada."
High design and tasteful decor with harbour views
The public rooms and suites at Muir, almost all of which have harbour views, were designed by Toronto's award-winning Studio Munge. The solidly built furniture, handcrafted in Canada, reflects an East Coast esthetic and complements the thoughtful Nova Scotia touches like original landscape paintings in every room plus photographs and ceramics, all produced by more than 30 local artists.
Each room includes a well-known classic Nova Scotia book like "Warden of the North" or "The Horses of Sable Island". The floors are covered by old-fashioned braided rugs, another reflection of Nova Scotia's heritage. Studio Munge even designed an original Muir tartan in muted shades, which is used on the cozy wool throw blanket on every bed.
Luxury guest room amenities
The spacious rooms are designed for comfort and practicality with separate work and seating areas plus touchpad controls for lighting and room-darkening drapes. There's even a small flashlight in the bedside table. Each room has a coffee and tea maker, and a well-stocked bar in a lighted, porthole-shaped display case. It includes full bottles of liquor and wine for sale at a reasonable markup.
Our elegant granite and marble bathroom had twin sinks and a heated floor (a wonderful touch). There's a deep bathtub plus a luxurious rain shower with locally made, pine-scented bath salts. The toilet is in a separate room.
Art, wellness and dining at Muir Hotel Halifax
Nova Scotia paintings and crafts in each room add to the nautical theme but Muir also has a separate Art Gallery, part of a $7 million art collection throughout Queen's Marque. This open space with a wonderful water vista can also be used for meetings.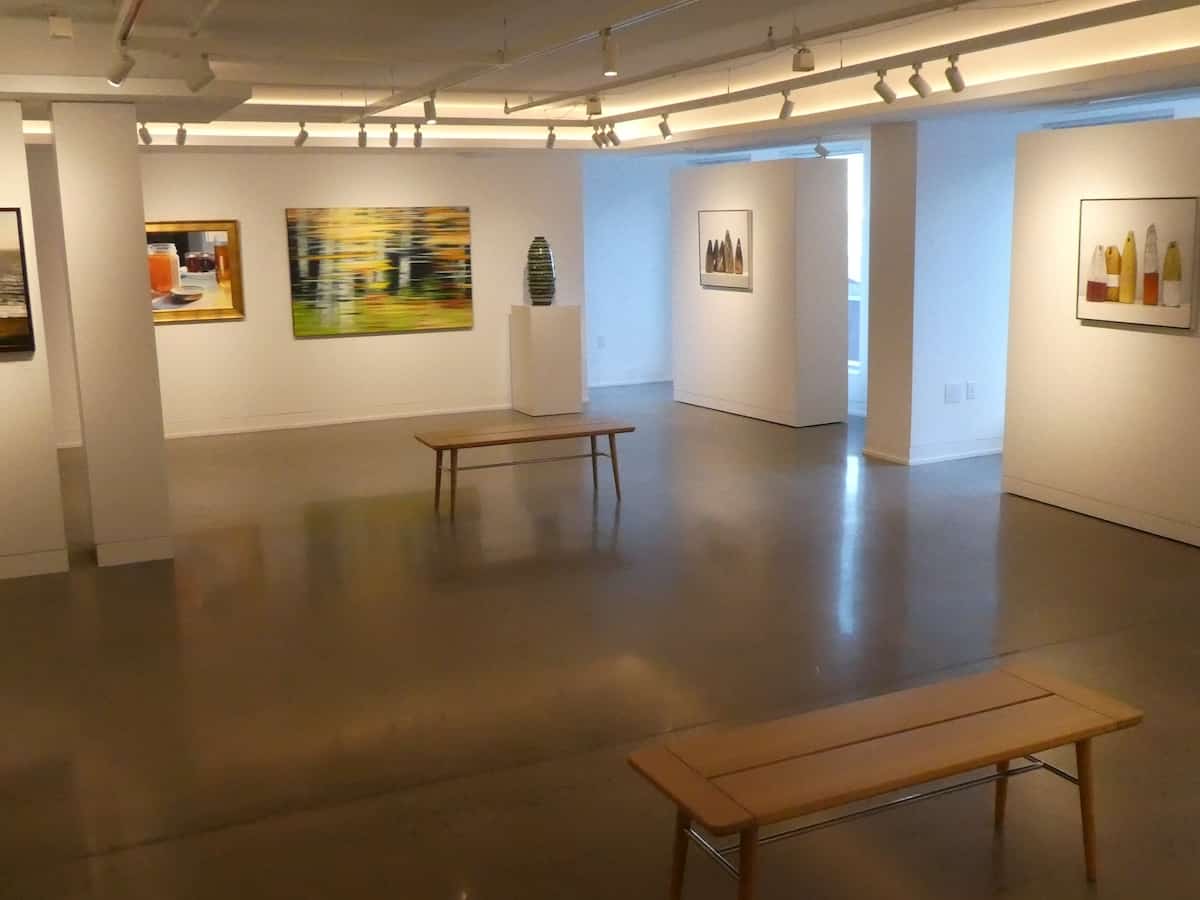 Windward Wellness is the spa section of Muir and it's one of the most complete in Canada. It includes a large fitness centre with state-of-the-art equipment, a swimming pool and special touches like an infrared sauna, a eucalyptus steam room and a halotherapy salt room.
Queen's Marque includes twelve distinctive restaurants. Muir houses two of them. BKS is a "secret" speakeasy available only for Muir guests. It specializes in small plates and creative cocktails.
The hotel's main, fine dining restaurant is Drift.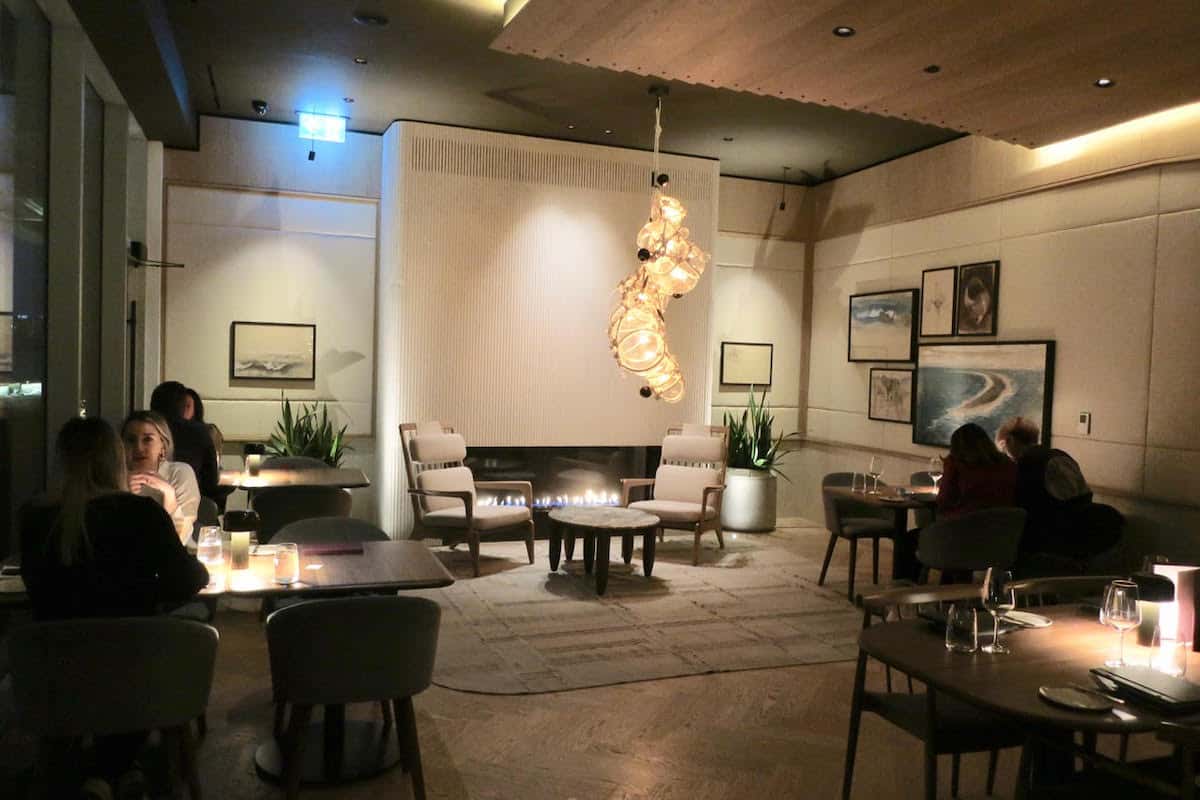 Armour Group was able to lure one of Canada's top chefs, Anthony Walsh, of Toronto's Canoe fame, to oversee Drift's modern take on classic Atlantic Canada cuisine. The menu features dishes like Hodge Podge (a tasty mix of mussels, scallops, haddock, lobster and vegetables), Butter Roasted Halibut and Maritime Lobster Pot Pie. Fresh and local is a key theme with salad greens coming from Nova Scotia's Abundant Acres Farm.
Halifax: A reputation for hospitality
In spite of the pandemic, Halifax now has the second-fastest growth rate of any city in Canada. Its relatively mild climate, easy access to ocean beaches and below-average housing prices make it extremely attractive. But to many, the city's main appeal is its friendliness. According to a survey by Condé Nast Traveler, Halifax is ranked as one of the fifteen friendliest cities in the world and the only Canadian city to make the list. The attractions along the newly completed Halifax Waterfront Boardwalk and its crown jewel, Queen's Marque and Muir Hotel, should only enhance that reputation.
---
*John and Sandra Nowlan are travel and food writers based in Halifax.
---
Disclosure: The Nowlans were guests of the property but any opinions expressed in this post are their own.
---
All photo credits: Sandra and John Nowlan (unless otherwise noted). Lead photo courtesy Armour Group/Jive Photography.
---
IF YOU GO
For information and reservations; Muir, Autograph Collection
---
READ MORE ABOUT NOVA SCOTIA
Trout Point Lodge in Nova Scotia: Totally Remote, Totally Luxurious
Liscombe Lodge Resort: A Relaxing Canadian Wilderness Retreat
---
Save to Pinterest!!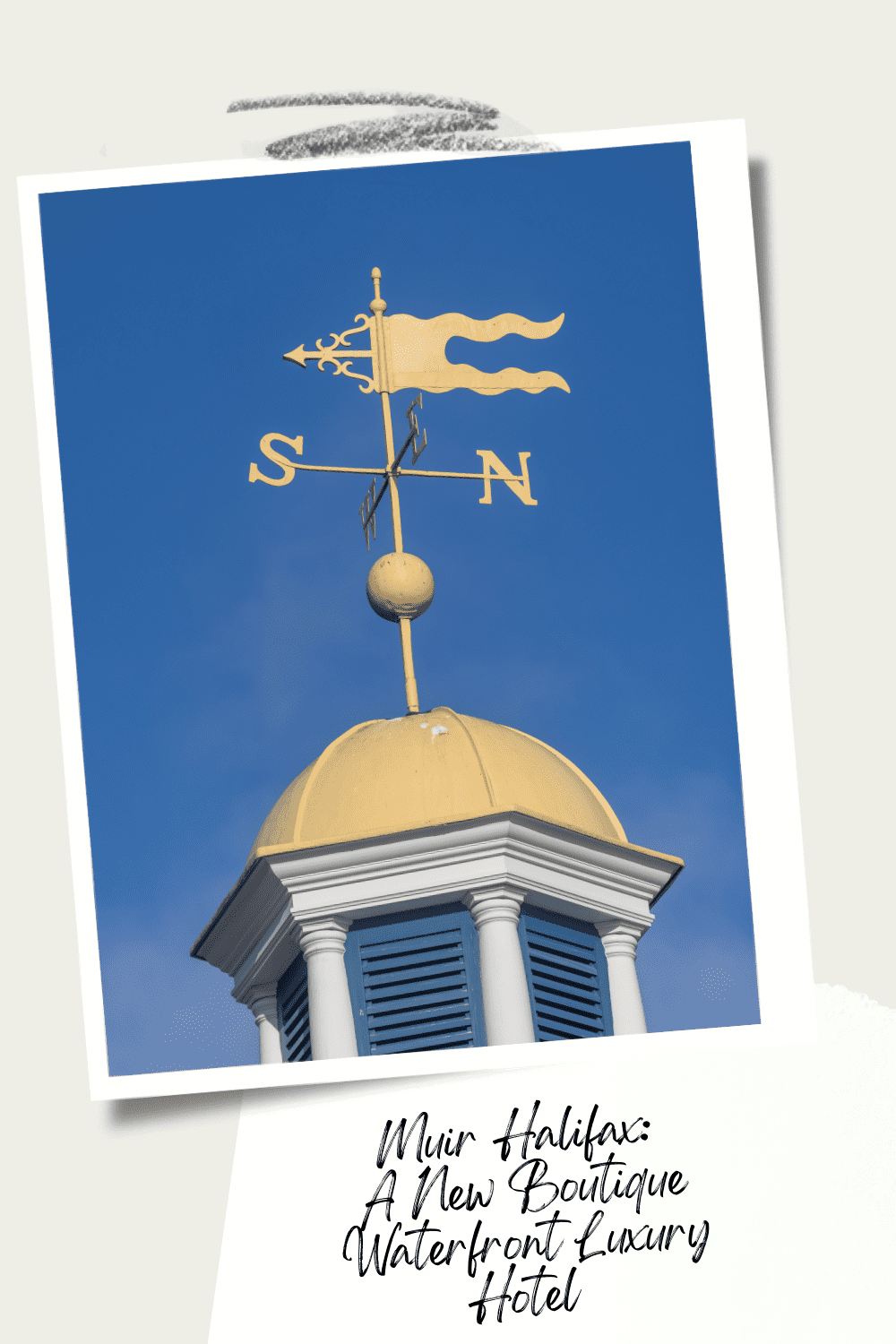 ---