The Mexican Riviera: Where Small Is Beautiful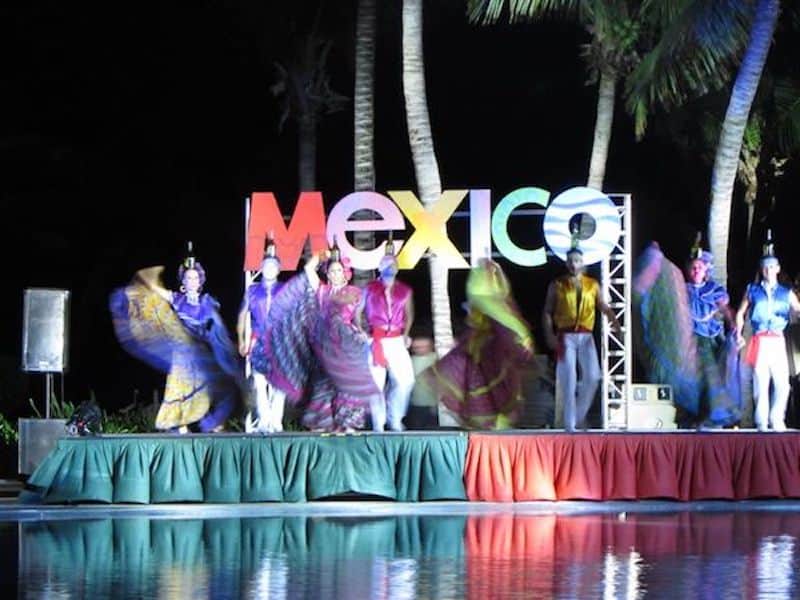 Guest bloggers John and Sandra Nowlan visit the Mexican Riviera and sample the good life at two relaxing resorts, Zoetry Paraiso de la Bonita and Secrets Capri Riviera Cancun.
Maybe it's our age, but our ideal all-inclusive Mexican get-away now involves a relatively small resort, a natural and eco-friendly tropical setting, wonderful food, a great beach and a quiet swimming pool area with no loud, thumping music.
Zoetry Paraiso de la Bonita
We found that ideal resort on the Mayan Riviera near Cancun. Zoetry Paraiso de la Bonita is a 90-unit AAA Five Diamond boutique hotel with every two-room suite facing the ocean and sandy beach. All guests are given a private return transfer from the efficient Cancun International Airport, just 20 minutes away.
Zoetry is the high-end brand for AM Resorts (18 properties in the Cancun area including Secrets, Dreams, Breathless, Now and Sunscape Resorts) and it brings an unmatched level of luxury and service to an area of the Caribbean very popular with Americans and Canadians. That luxury is evident in the imaginative Mexican/Middle East decor in each spacious suite, the welcoming bottles of champagne and tequila, the sophisticated lighting and entertainments systems (three TVs!) and the huge bathroom with Bulgari toiletries, twin sinks, a great shower and a tile bathtub big enough to hold a family.
The spacious grounds are obviously well-tended with great respect for flora and wildlife. Iguanas soaked up the sun, peacocks roamed freely and a dozen colorful macaws squawked loudly for attention.
We were told the goal of Zoetry is to keep the guests, "well-rested and well-fed." The latter was clearly evident in the creativity of our meals. Unlike most all-inclusive resorts, there's no buffet restaurant and everything was made from scratch. Menus included nutritional information and calorie count. Breakfast offered an amazing selection of traditional dishes plus an array of superb Mexican specialties. A harpist offered soothing melodies. Some guests complained about the slow service (we agree that coffee should have been offered as soon as guests were seated) but it was in keeping with the laid-back atmosphere.
Dinner was especially elegant in La Canoa, an AAA Four Diamond restaurant. We enjoyed wonderfully presented grilled shrimp with lobster sauce and an imaginative watermelon salad that was almost too pretty to eat. Fish entrees were remarkably good; obviously very fresh. A guitar and piano entertained on the lawn in front of the restaurant during dinner. The resort also offers tequila tastings with food pairings.
"Wellness" is another key goal at Zoetry and we enjoyed a Thalasso Spa treatment (steam, dry sauna, hot and cold immersion) followed by a swim in the warm salt water pool. In addition the resort offers a traditional Mayan healing ceremony where we and seven other guests entered a darkened stone chamber to take part in an ancient ritual with meditation, steam, heat, drumming and chanting. A remarkable ceremony with great respect for Mayan culture.
Secrets Capri Riviera Cancun
Sadly, we had just two days at Zoetry because we switched to Secrets Capri, another AM Resort along the beach near Playa del Carmen. It was the first property in the all-adult Secrets chain and like all resorts in this part of Mexico has tight security at the gate and throughout the grounds. We have never felt unsafe in Mexico.
Secrets Capri was a slight shock after Zoetry because it's bigger (but not too big – just 291 rooms) with smaller suites in a U-shaped complex of three-story buildings facing the pool and ocean.
And yes, it's livelier with energetic games, a swim-up pool bar, occasional loud music and a great evening entertainment program. Guests range from newlyweds to seriously old geezers. But the room, although average in size for Mexico, was clean, elegantly decorated with a comfortable king-size four poster bed and a marble bathroom with both a jetted tub and a shower. The mini-fridge had a plentiful supply of bottled water, pop and beer. Complimentary wi-fi connections were especially good in the rooms and, like Zoetry, there were free phone calls to anywhere in Canada or the U.S. An outstanding service!
We arrived on a Friday, just in time for the weekly "Mexico Night" with tables set up around the huge swimming pool and a variety of food stations featuring authentic Mexican dishes. A mariachi band, a singer and colorful dancers entertained on a stage set up in front of a giant Mexico sign. It was indeed a magical night and reinforced everything we like about Mexico.
Secrets Capri has a large buffet restaurant (breakfast, lunch and dinner) with tasty offerings and the five a la carte restaurants are uniformly excellent. We love fresh seafood and were delighted to learn that fresh fish is delivered to the resort every day. The fish taco and octopus ceviche at the informal Cactus Club were excellent and our snapper, grouper and shrimp dinner at the seafood specialty house, Oceana, was remarkable good and beautifully presented. We also enjoyed the Italian fare at Portofino and thought the entertaining chef at the popular teppanyaki table at the Asian restaurant (the only place where reservations were required) was the best we've seen (lots of flames and drama). There's also a 24-hour café with the best iced coffee we've ever enjoyed.
There has been erosion at the beach but the staff has been remarkable in keeping it free of seaweed and inviting for guests like us who love swimming in the ocean. There are lots of beach loungers but comfortable Bali beds with thatched roofs are also available for rent on a daily basis. Servers roam the beach offering cold drinks and menu items.
Several guests told us they were at first reluctant to travel to this part of Mexico because of the recent gang violence issue. But as one senior told us, "We were very pleasantly surprised. The service here is phenomenal. It's safe and secure. I'd recommend it to anyone."
---
IF YOU GO
---
*John and Sandra Nowlan are travel and food writers based in Halifax., Nova Scotia
Disclosure: The Nowlans were guests of both properties but any opinions expressed in this post are their own.
---
Previously on More Time To Travel: