Need A Hip or Knee Replacement? Stay at The Kimberly Hotel
With advances in medicine and technology, "medical tourism" is thriving. People are seeking medical, surgical and dental care in places that are geographically remote from where they live. The reasons for medical tourism vary widely—people seeking either specialized care, a higher quality of care, more affordable care, or better access to care.
When my husband recently had to have hip replacement surgery, we decided to have the procedure done at the Hospital for Special Surgery (HHS) in Manhattan, which has been nationally ranked as #1 in orthopedics for the last nine years. The hospital performs more than 10,000 hip replacements annually and has one of the lowest infection rates in the nation. Perhaps, not as close to home as our local hospital, but this track record made the procedure seem less risky.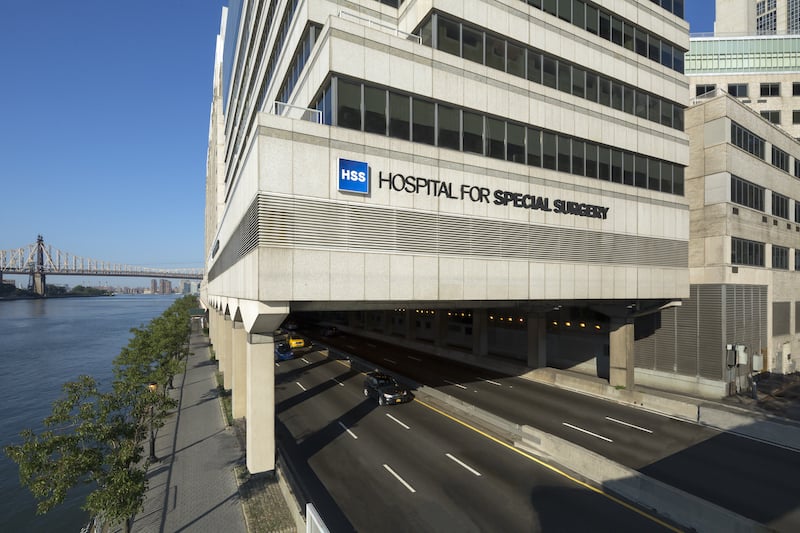 Hospital for Special Surgery on the East Side of Manhattan, NYC (Credit: HHS)
Medical Tourism: Connecting hospitals and hotels
Once we decided on the hospital, we booked a room for my adult son and myself at The Kimberly Hotel & Suites, located at 145 East 50th Street in Manhattan, anticipating a two-night stay.
Like many major medical centers in New York and other cities across the country that draw medical tourists, HHS has arrangements with a number of "partner hotels" that offer discounted rates. These hotels serve tourists seeking specialized care as well as the families who accompany them for surgery or other treatments. The Kimberly Hotel is one of them.
Because we live about an hour north (without traffic) of the city in Westchester County, conceivably, I could have gone home. But I wanted maximum flexibility to visit my husband early in the day, stay late at night, and have a comfortable place to collapse when the angst of surgery was over.
Having previously visited a number of hotels on the HHS preferred list for work or pleasure, my decision to book a room at The Kimberly was an informed one—that was confirmed to be a good choice during my most recent stay.
Reasons to choose The Kimberly
Admittedly, it's far more pleasurable to stay at The Kimberly to enjoy the theater, restaurants, sightseeing tours and everything else that New York City has to offer but if you do have to accompany someone for surgery or treatment, The Kimberly is a great option.
Here are some reasons why:
Location – The Kimberly is conveniently located in the Turtle Bay neighborhood, towards the east side of midtown Manhattan, which extends between 43rd and 53 Street (south to north) and between Lexington Avenue and the East River (from west to east). It was a healthy walk to and from the hospital or a short taxi ride. Under better circumstances, it's close to Grand Central Station, the theater district, Central Park, Radio City Music Hall, the U.N, St. Patrick's Cathedral, and many restaurants and coffee shops.
Personality – This privately-owned, European-style, boutique hotel is one-of-a-kind. Originally designed as a residential property and converted to a hotel prior to opening, it feels more like an apartment building rather than a commercial property. Once you get past the doorman and reception area, and take the elevator to your room, you feel like you've come home.
Room Comforts – Forget everything you've heard about the diminutive size of NYC hotel rooms. The one- and two-bedroom guest rooms at The Kimberly are spacious (ranging from 350- to over 900-square feet) many with kitchenettes. Those above the 10th floor have balconies.
Most rooms have been recently upgraded—although the antique and vintage furnishings might remind you of an apartment once lived in by your wealthy old aunt. The creature comforts (great beds, goose down pillows, Frette linens,, L'Occitane toiletries, high-speed internet) make it apparent that the owner has kept pace with the times.
Dining – At the charming restaurant on the Penthouse (30th) floor, aptly called Upstairs, guests can order breakfast off the menu or choose from the delicious buffet with yummy French toast, an omelet bar, fresh fruit and wonderful breads and pastries.
At night, Upstairs turns into a lovely bar/cocktail area with a retractable roof (weather permitting). Although we didn't have the time or appetite to eat dinner at The Kimberly, the hotel has both on-site Italian restaurant (Bistango) off the lobby and a steakhouse at street level (Empire Steakhouse).
Parking – Because we drove my husband to the hospital, we had a car on our hands. Parking in Manhattan is always tough; parking anywhere near a hospital nearly impossible. It was convenient to be able to pull up to the hotel and have the car valet parked (at a reasonable price) for our stay in the city.
Cost – The Kimberly is "right-priced" for its location and all the amenities the hotel provides to guests. (To read a fuller review of my previous stay, see my post on Forbes.) In addition, since we were medical tourists, we were able to take advantage of a reduced HHS rate.
Ambiance – As I had found during my previous stay, the staff of the hotel was exceedingly warm, experienced and professional. Whether we were chatting with the amiable doorman or the solicitous waiter in the dining room, we found that many had worked together for more than a decade. Everything functioned smoothly like a well-oiled machine.
Happy endings in medical tourism
In case you're wondering, the operation was a success. Our venture in medical tourism also was successful. The Kimberly turned out to be a perfect base for housing the support team.
The day after surgery, we were surprised to learn that the patient was well enough to return home after an overnight hospital stay. My son and I raced back to the hotel to gather up our belongings, pay our bill, and pick my husband up at the hospital. We fully anticipated paying for the second night of our hotel bill since we checked out mid-day and had previously made a two-night reservation for our room.
The kind (and very compassionate) reception clerk discreetly told her General Manager about our situation and, quite unexpectedly. waived the room fee for the second night without us even asking.
Will we return to The Kimberly again? You bet. Hopefully, not for another hip or knee replacement.
---
IF YOU GO
Medical tourism guests visiting the Hospital for Special Surgery, should call 212 702-1643 and use the Code: Hospital for Special Surgery or email: [email protected]
---
Read my earlier review of The Kimberly on Forbes.
---
Save to Pinterest!
---