Lunch at Barbetta on Restaurant Row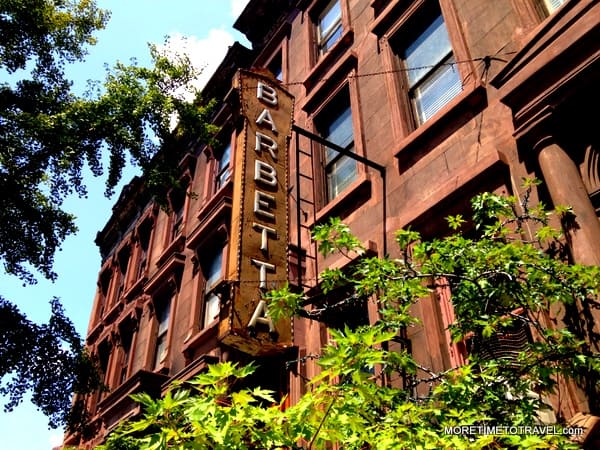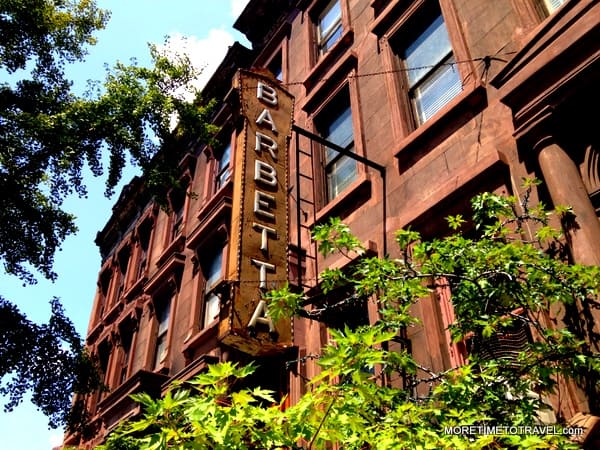 Barbetta on Restaurant Row is a classic Italian restaurant steeped in history.
Imagine relaxing in a quiet courtyard surrounded by fragrant trees without any street noise. Not too unusual a setting unless it also happens to be mid-day in the bustling Broadway theater district in Manhattan.
This past Wednesday, we found ourselves sitting on heavy white wrought iron garden furniture enjoying a leisurely lunch beside a fountain circled with stone cherubs. The weather couldn't have been more perfect for al fresco dining and we were filled with anticipation, looking forward to seeing the Carole King musical, Beautiful, after our meal.
"Would you like to sit in the sun or shade?" asked the maitre d' as we arrived. We opted for one of the tables covered with large white umbrellas.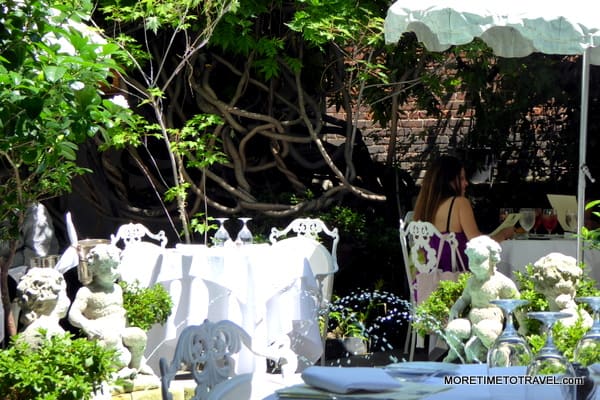 Every time we go to Manhattan we discover something new—amazed to find places we later learn have been there forever. We hadn't known much about Barbetta except that it was offering a NYC Restaurant week three-course fixed-price lunch for $25 per person; the food was Italian; and its was located only a few blocks away from the Stephen Sondheim theater.
Backstory
Barbetta sits on Restaurant Row (46th St) along with a host of other restaurants but it is truly one-of-a-kind. Now 108 years old, it holds the distinction of being the oldest restaurant in the theater district, the oldest Italian restaurant in New York, and the oldest restaurant in the city owned by the same family that founded it. Sebastiano Maioglio opened the restaurant in 1906 and it is still owned by his daughter, Laura (who happens to be married to a man who won the Nobel Prize for Medicine in 1999.)
It is housed in four fading but historic brownstones dating from 1874 and 1881 that once belonged to the Astor family. Glancing at the entryway from the street, you would never guess that an elegant dining room, garden and private function rooms were behind the doors.
The restaurant website notes:
"Barbetta was the first Italian restaurant to turn away from the rustic, red-and-white checkered tablecloth, Chianti fiasco stereotype and to embrace grand elegance in decor, menu, wine list and price structure. Truly a revolutionary concept in 1962."
Among a long list of other firsts, it claims to be the first restaurant with a garden outside of Central Park (1963), the first to serve risotto (1906) and polenta (also 1906), the first to have an espresso machine in a restaurant (1911), the first to serve white truffles (1962), and the first to serve decaffeinated espresso (1962).
Entertainment buffs will find it interesting that many movies were filmed here, including The FBI Story and Woody Allen's Alice, as well as TV series like Mad Men (Season 4) and Sex & the City.
The lunch
What once was avant-garde no doubt now seems to be classic Northern Italian fare—although imbued with the DNA of Piedmont, in terms of both the food and family history. The foodie website Eater quotes Ruth Reichl from the New Yorker in 1994:
"The menu in this restaurant, open since 1906, is so old it seems new."
After we ordered a glass of regional Villa Jolanda prosecco, the simple menu offered three choices for each of three courses. For our first, we ordered a bowl of minestrone semifreddo (served at room temperature) and paccheri, handmade flat-tubed noodles in a fresh tomato and basil sauce.
For our main course, we ordered vegetarian crespelle "alla savoiarda" (cannelloni-like crepes filled with vegetables, smothered in a Béchamel sauce) and broiled Atlantic salmon with an herbed sauce with sliced cucumbers.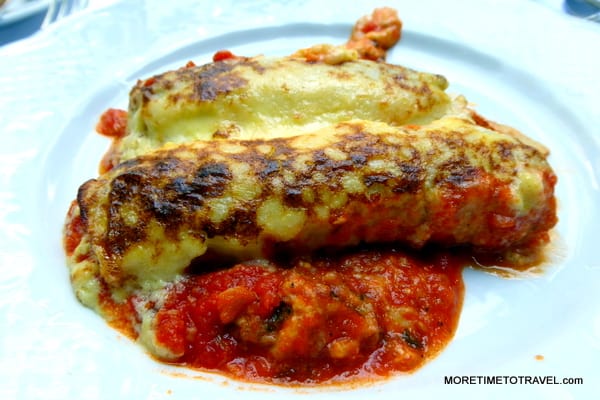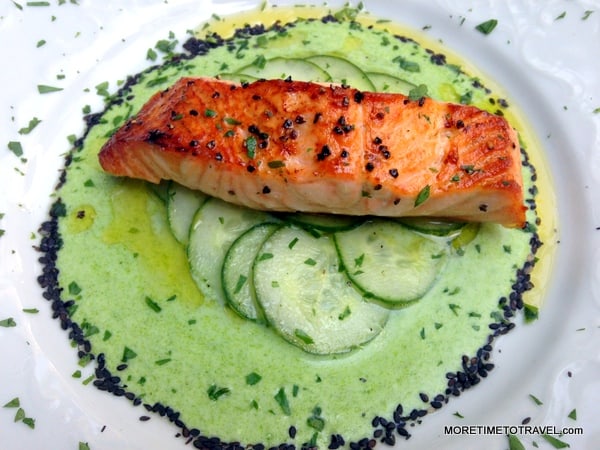 For dessert, we shared a mousse of orange bittersweet chocolate and a sliced pear baked in red wine and cinammon "alla Piemontese."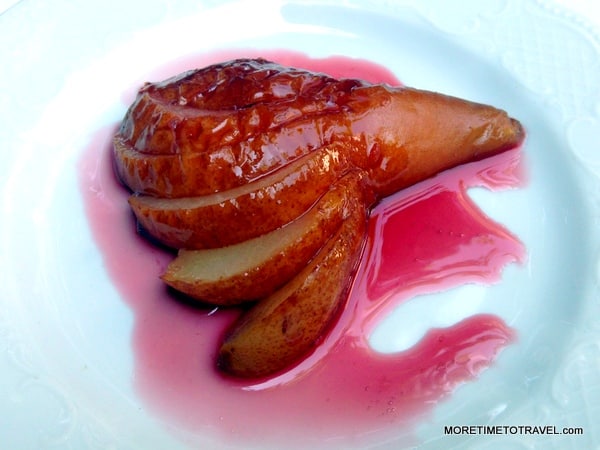 The food was authentic, fresh, simple and well prepared. Our waiter asked if we had theater tickets when we sat down and after that, he never missed a beat. But we never felt rushed. On a street like this one, any rough spots in service can kill a business but Barbetta was flawless. It is hard to believe that his place has been around since even before the heyday of Broadway theater (which apparently began booming in the 20s and 30s.)
Although history, setting and ambience trumped the cooking, we weren't disappointed. It was truly a unique New York experience, up there with visiting the Empire State Building and Rockefeller Center. We would have been equally happy dining in the elegant high-ceilinged, chandeliered dining room where Don Draper was filmed awkwardly running into his ex-wife Betty. The romantic setting is filled with exquisite period furniture, sconces, antiques, rich drapery, greenery and fresh flowers.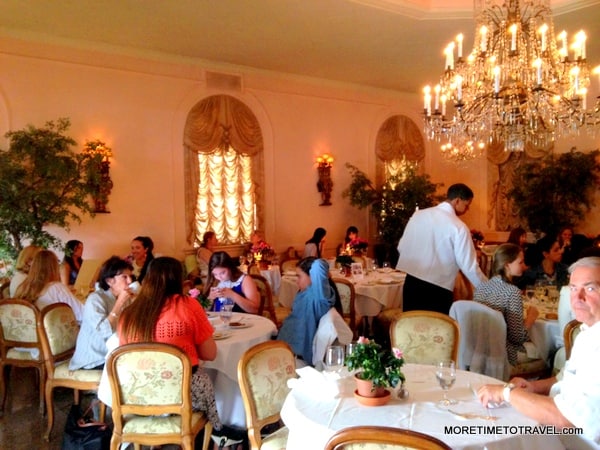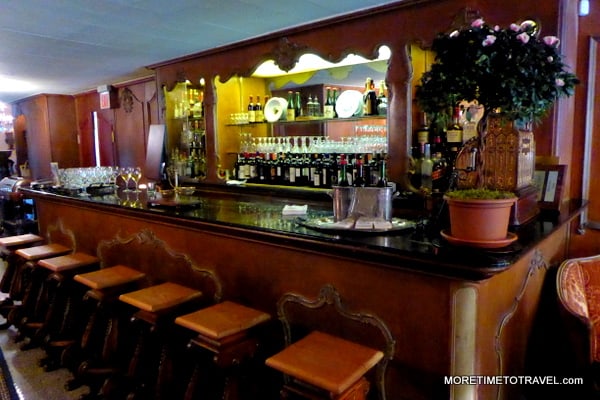 Given this brief introduction we hope to return for a drink at the ornate bar followed by dinner so we can sample the full menu with many more choices.
---
IF YOU GO:
321 West 46th Street, New York, NY 10036, 1-212-246-9171
Lunch: Noon to 2:30pm; PreTheatre and Dinner: 4:00pm to Midnight
---
READ MORE:
Fascinating article in the NY Times explores the history of Barbetta: