Inspector Vivaldi Mysteries: TV Series Transports Viewers To Trieste
The eight-part Inspector Vivaldi Mysteries miniseries proves that a good mystery never loses its intrigue or goes out of style.
Seeing the characters talking on flip phones and dumb phones, and watching them research crimes on antiquated computers is a minor distraction but it is a dead giveaway that this isn't a brand new production. In fact, now streaming on MHz Choice, the Inspector Vivaldi Mysteries first aired on Rai Uno (Italian TV) in January-February 2010, a sequel to My Son (mio figlio), a successful 2005 movie with the same characters.
The dramatic storyline of the Inspector Vivaldi Mysteries, blending romance and intrigue in northeastern Italy, makes each episode feel gripping and timeless.
A trip to Trieste
The story revolves around the personal and professional life of Inspector Vivaldi, an aging police commissioner in Trieste (in the Friuli-Venezia Giulia region) who appears to be in his 70s.
This seaport of Trieste, which is the capital and largest city in the region, sits on the Gulf of Trieste, a bay on the Adriatic Sea.
Much of the action takes place at the port area that dominates the center of the city, in and around Piazza Unita d'Italia (the city's majestic square), the Canal Grande, and on the city streets. Three sides of the picturesque square are lined with ornate palaces, built during the Habsburg empire, forming a U-shape that fronts the sea.
The Vivaldi family
As Inspector Federico Vivaldi (played by Lando Buzzanca) grapples with crimes, he is simultaneously dealing with personal and family angst. He is separated from his beautiful wife, Laura (Caterina Vertova), whom he still loves deeply. There is a sense that he has allowed his family to take a backseat to his work leading, at least in part, to his present woes. Although Federico is making every effort to win Laura back, she seems to be harboring a deep hurt that created a schism between them.
Adding to the interpersonal angst between the couple, Giulio Maria Zorzi (Alberto Molinari), a bon vivant owner of a local art gallery comes on to Laura, making her feel vibrant, alive, and attractive once again, causing the hairs on Federico's back to bristle.
Their 25-year-old son Stefano (Giovanni Scifoni), a policeman studying for a law degree, works on the same team as his father. He is constantly striving to prove himself and gain his father-boss' approval. With a strong personality, experience, and well-honed sense of intuition, the larger-than-life, elder Vivaldi seems to have a decided edge on solving every crime and making everyone else feel less capable.
In the first episode, Stefano comes out as a gay officer in a homophobic police department (immersed in a homophobic Italian culture at that time) and begins living with a male physician, Damian Crescenzi (Giuseppe Schisano). His old-fashioned, conservative father has trouble accepting this relationship, hanging on to hope that his son will have a change of heart and marry Valentina (Morgana Forcella), a former sweetheart. Neither father nor son is fully open or totally trusts the other.
The Vivaldi workplace
Police work is always a team effort and Vivaldi, with a controlling personality, always feels pulled by his profession, having to race to a crime each time his cell phone rings.
At work, Saverio Stucchi (Sergio Sivori), Vivaldi's ambitious younger colleague, is eyeing his boss' job and makes every effort to undercut him.
Stucchi is also hostile towards Stefano. Monica Rovati (Alessandra Celi) and agent Mazzola are integral players on the team, helping Vivaldi track down leads on investigations that involve murder, robbery, kidnapping, human trafficking, gun sales, and prostitution.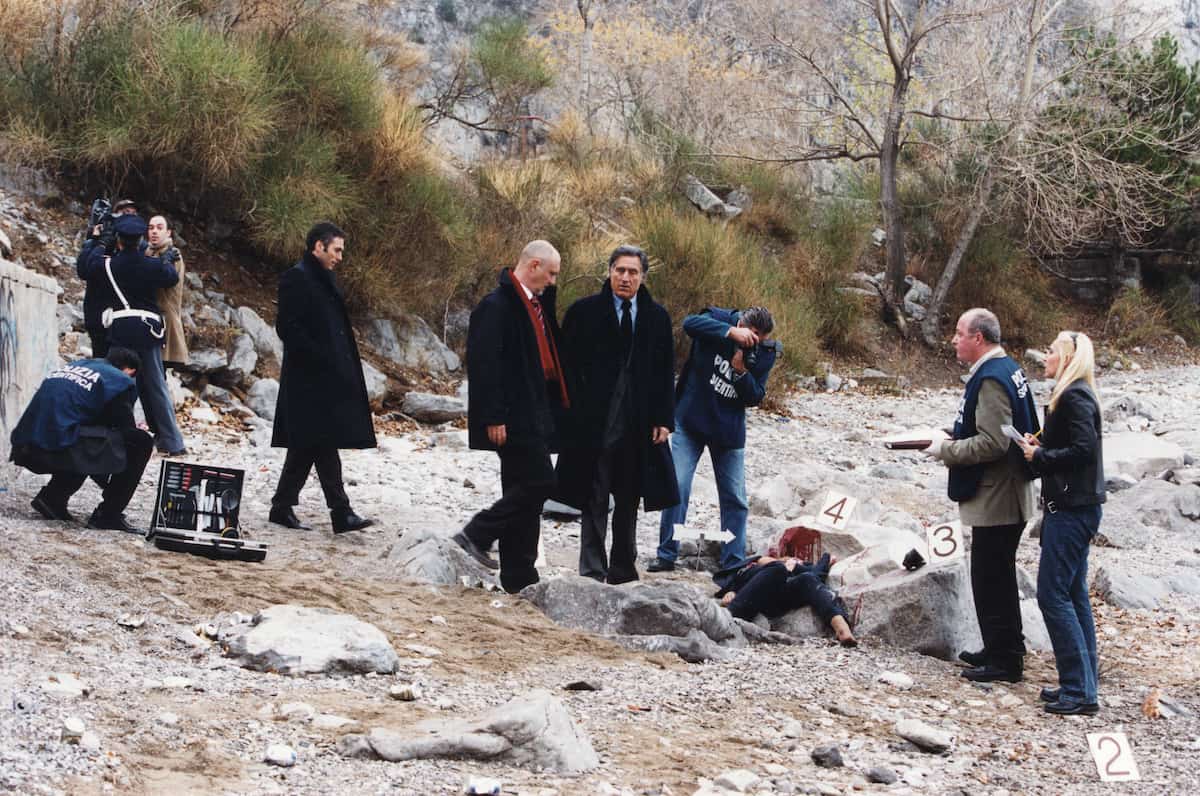 In most Italian mysteries, like this one, detectives are under great pressure from prosecutors and magistrates who want cases solved immediately and worry about public and media perceptions of unsolved crimes. Flavia Conti plays the role of the no-nonsense magistrate Daniela Poggi.
Salvatore Girlando (Luigi Maria Burruano) is Vivaldi's closest friend. Retired from the police department, he spends much of his days on his boat docked in the harbor in Trieste, drinking too much alcohol, which eventually leads to serious troubles for both men.
A binge-worthy series
If you have enjoyed other Italian language detective stories like Detective Montalbano, Imma Tataranni, The Bastards of Pizzofalcone (showcasing Sicily, Matera, and Naples, respectively), you'll love following this ensemble cast in Trieste.
Each of the eight episodes is about 90 minutes long and one flows into the other, solving some crimes and leaving the underlying mystery open so it is hard not to binge.
While solving the disappearance of an 18-year-old woman and the death of a professor at the University of Trieste are at the center of this series (both for Inspector Vivaldi and the viewer), foreign films, this one included, always offer opportunities to pick up some language and tidbits about regional food and culture. The Vivaldi Mysteries is subtitled, with very large captions, that make them easy to read and follow.
With all the suspense and twists of a well-nuanced mystery, the series offers the feel of a good soap opera, in the best sense of the term. It grabs the viewer into the interpersonal lives and intricate dynamics of the characters. An occasional dose of good humor lightens the mood when things seem to get heavy.
A sleeper in the U.S.?
With no reviews or ratings on IMDB or Rotten Tomatoes, one might suspect that this series, which did snag award nominations in Europe, landed as a bit of a sleeper in the U.S.
Don't let that dissuade you from tuning in. The Inspector Vivaldi Mysteries is a well-acted series with an engaging story and scenic cinematography that will grab your attention and make you want to add Trieste, Italy to your bucket list if you haven't already been there.
---
Where to Watch The Inspector Vivaldi Mysteries:
The Inspector Vivaldi Mysteries is now airing on MHz Choice and Amazon Prime.​​
---
Save to Pinterest!!
---