Hutton Hotel: Stylish luxury with a youthful vibe in Nashville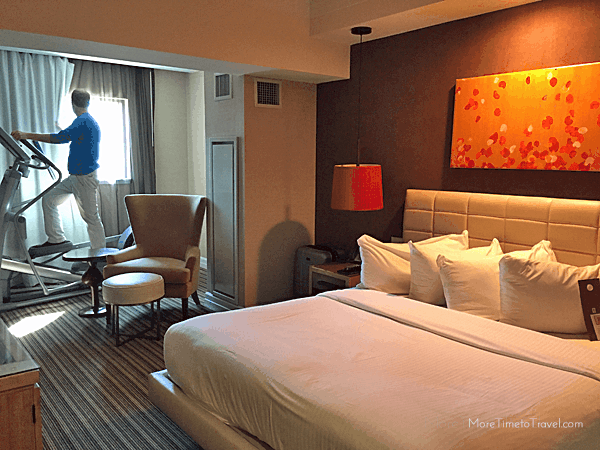 At the Hutton Hotel, guest contributor Laura Kelly experiences
"elegance at ease" in "Music City."
So what's it like for an over-50 traveler to hang out at a hipster hotel?
Fun!
My husband, Warren, and I recently had the pleasure of staying at the Hutton Hotel during a whirlwind June visit to Nashville, Tennessee.
Located a walkable mile up the hill west of downtown Nashville near the storied Music Row neighborhood (filled with songwriters' studios), the 247-room Hutton is a modern city hotel—meaning located off a main avenue with no grounds to speak of. While some hotels profess to be "your home away from home," this upscale, urban boutique hotel is nothing like your home—unless you live in a really great city loft with full-service amenities.
First impressions
The Hutton, one of 75 Leading Hotels of the World (follow the link to see what that's all about), uses the tagline "elegance at ease," and makes a direct appeal to eco-conscious patrons with its front-and-center claims as being environmentally-friendly (bamboo flooring; no incandescent bulbs; recycling programs for paper, plastics, and laundry water; 100% non-smoking facility).
After one of the doormen in his sharp dark Hutton Hotel uniform snagged our bags from the taxi, he deposited the baggage by a large tufted leather bench in the lobby, and we looked around, unsure where the check-in desk was. As with many newer hotels going for a casual look, they were using standalone desks that at first look like concierge counters.
We soon figured it out, and as my husband checked in, I gazed around the buzzing lobby, trying to put my finger on what the hotel's decor was and came up with "Euro chic crossed with country-western luxury with a dab of eco-consciousness." This means that the hotel's Euro vibe is softened in the lobby by a number of nice wood touches, soft lighting, and nailhead leather sofa-and-chair chat areas. Diverse artwork by local artists lines the walls and staircases.
In fact, if you stay at the hopping Hutton during the city's frequent big music events, like the CMA or the CMT Awards, you have a good chance of seeing music royalty at this place. While we saw quite a few people carrying guitars and a woman with a Great Dane sashaying through the lobby we didn't spot any celebs during our stay.
Maybe you're wondering if a hotel aimed at the young and hip knows how to do service right. From the doormen jumping to assist us out of our taxi to the valet who fixed up one of my husband's leather shoes, badly scuffed in airplane transit (delivering the polished pair quickly back to our room), this seemed to be a very well run hotel. All the front desk people were on the youthful side (the recently promoted head concierge—very perky and knowledgeable—was 21) and eager to help.
I ran into some of the hard-working cleaning crew in the elevators the next morning, who seemed a bit put upon with all the new rooms they had to make up for the Friday check-ins, but even they were friendly, if a bit tired.
Stepping inside the room
Our room on the 4th floor was small but we didn't even notice that when we walked in: Our eyes went directly to the elliptical machine over by the window. We'd never seen that in a hotel room before. I imagined some young turk holding an energetic speakerphone meeting in his hotel room while stepping up a storm. Warren checked the view out the window from the stepping machine, and it was nothing special, but we probably should have checked the view again later after Nashville's city lights came on.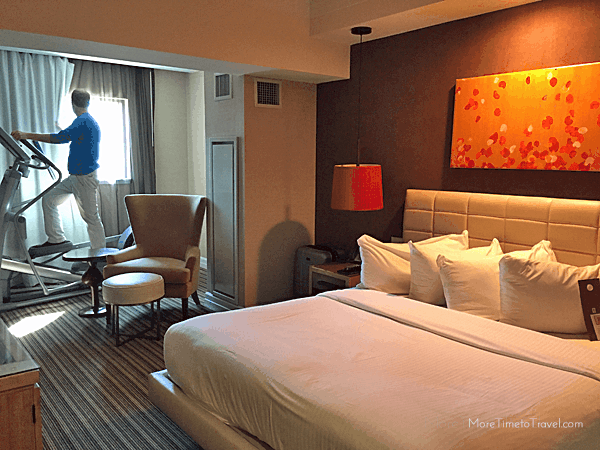 A baggage guy later told me that there are seven "Cardio King" rooms that come with an elliptical machine. This is in addition to the 52 luxury suites (where people like Ringo Starr and Pharrell sometimes stay) and 80 or so regular rooms (which run about $230 per night). If you're traveling with a pet the hotel has specially designed pet-friendly floors.
Yes, our room was cozy (about 400 sq. ft.) but well designed, packing a lot of amenities into its compact area. Coffee-making supplies, a two-shelf fridge, and a display of goodies and sundries were all tucked away in the bureau that the LG flat-screen TV sat upon.
This slideshow requires JavaScript.
The upholstered curved desk chair and easy chair and ottoman were comfortable and the king bed had a good fluffy to firm ratio, with smooth white linens and a nice assortment of pillows. The one piece of wall art on the dark chocolate–brown walls was a bit generic, but bright. Best of all, the air conditioning worked like a dream, key on a 99 degree afternoon.
The tidy granite bathroom had some cool features, like a rainshower and glass bowl sink, along with Moulton Brown toiletries.
There was one flaw to the cool design of the room, a flaw we didn't learn about until the middle of the night. See the green frosted panel of glass next to the bed in the photo below?
That frosted panel is a shared wall with the bathroom shower. A neat modern touch, I guess, but not if you're trying to sleep and someone else needs to use the bathroom: If they turn on the bathroom light, the wall panel becomes a giant nightlight! We forgot to check the next morning whether the panel allowed you to see a form moving around in the shower from the bedroom—like a piece of performance art—but it's an interesting concept.
Happy hour and dinner in the hotel
While we noticed that the room had plenty of drinks and goodies on hand, we had arrived just in time for the hotel's complimentary wine happy hour in the lobby, so we headed back down there.
That evening they were offering guests a full line from one European winery, from its rosés to full-bodied cabernets. The wine steward told us that they were considering adding a tasteful keg of a popular locally brewed beer to the happy hours, upon popular demand.
People-watching in the lobby was fun: A lot of mixing and mingling between young couples and singles, with a few chic little kids toddling around. Everyone was a bit dressed up, anticipating a night out on the town.
As alluring as nighttime Nashville was, we decided to stay in and try the Hutton's highly rated restaurant, 1808 Grille, right off the hotel lobby. It was a beautiful, romantic space, but for some reason we were virtually alone there that night. Too many other events and places were competing with 1808 that evening, I guess.
The menu was a carefully curated, eclectic New American mix of small and large plates and salads, mostly using locally sourced produce, with dishes discreetly marked (GF) Gluten Free or (V) Vegetarian, where applicable. My husband and I love sharing small plates, and ordered some of their special ones that night. The flash-fired Brussels sprouts with pork bacon (supposedly no fat) and balsamic-pickled grapes is worth remarking on, because while we expected our lobster mac 'n' cheese or pesto orecchiette with asparagus and roasted carrots to be delicious, who knew Brussels sprouts could be so tasty? The no-fat pork bacon had to be the secret.
The best part of the meal (besides the first-class food and service, of course) was the fact that all we had to do was roll across the lobby to the elevators and soon we were back in our very comfy, air conditioned king room settling in for a night's sleep.
Breakfast bar and workout room
The next morning the little lobby wine bar had transformed itself into a coffee and breakfast bar (both of these are run by 1808 Grille, which also does room service). This time, those gathered around the bar were dressed in fitness and casual clothing, getting in their java jolt before heading off to tour steamy Music City.
The barista tempted me with a made-to-order cheesy egg sandwich on a croissant and an iced mocha ($11), and I grabbed a free New York Times to read while chowing down in one of the comfortable lobby chat areas.
After my husband peeled off to a work meeting a few blocks away, I went back up to the room, stopping to take a peek at the beautiful and well equipped workout space located on our floor (without using it, of course), and then finished packing up our stuff. It was so nice and cool in that little cocoon of a room that I wanted to never leave, but finally I called down for a bellboy to help me bring down and store all our bags for the day while I took a city tour.
A brief moment of feeling like a celebrity
The perky concierge the night before had given me several choices for touring the city, including a private tour. I picked the hop on/hop off Music City Trolley Tour ($28 for two-day access pass).
I wanted to be downtown around 11 am to pick up the tour, and the front desk told me that a circulating shuttle would be coming by in about 20 minutes to take me and some other guests down to the riverfront ticketing site.
I had no sooner sat down on a lobby sofa than someone called my name. The shuttle was here already?
I and two other ladies ventured out the front door, where to my confusion a sporty cherry-red sedan sat idling. Yes, the Hutton shuttle, driven by a smiling man named Anthony in a hotel uniform, was a sleek, environmentally-friendly Tesla.
I grabbed the shotgun seat and sat in front ooohing and aaahing over the excellent Tesla sound system as Anthony put it through its paces playing Blake Shelton (my request. When in Nashville….) As we drove down Broadway towards the Cumberland River, honky-tonk Nashville rose up on either side of us. Tourists stopped and pointed at our car, and a rowdy group pedaling mid-avenue on a Nashville Pedal Tavern (the first of many I saw) waved excitedly at us while screaming "Tesla!"
Best shuttle ride ever, but since the riverfront, where the trolley tour starts, is less than a 7-minute drive from the hotel, it was over too soon.
Playing tourist
The 2-hour hop on/hop off trolley bus was a hoot with an excellent young driver/narrator—"Hi, y'all. I'm your tour guide, Zack!" My trolley was filled with a dozen 60-year-old schoolteachers celebrating their retirement. Not quite as noisy as all the bachelorette groups we passed on other tours, but they were having a good time.
The drive took us around to all the city's highlights (most of them music related, even though we learned that health-care is by far the city's biggest industry). Nashville is the capital of Tennessee so we stopped for a photo op at the beautiful Capitol Mall stretching out from the Capitol building and then drove past Bicentennial Park's huge indoor farmer's market ("Great place for lunch," Zack told us) and an impressive full-size replica of the Parthenon (yes, really). Each of these sights were only minutes from the last one; downtown Nashville is very compact.
I stayed on for the full two-hour tour, making note of all the places I wanted to go back to later on foot. Zack did a great job of selling his city to me—I could barely keep up with all his interesting factoids, including the fact that Minnie Pearl was a driving force behind the international Sarah Cannon (Minnie's real name) Cancer Research Institute, whose headquarters we drove by.
Later, walking up and down Broadway and 2nd Avenue, hearing all the live music pouring out the doors (along with the air conditioning) at 3 pm on a sleepy afternoon gave me some sense of what the city must be like after sunset (wild!).
This slideshow requires JavaScript.
Food choices ranged from the deliciously fun Biscuit Love and Hattie B's Hot Chicken to George Jones's Choices riverfront eatery and upscale offerings like Husk. My husband and I had to leave that evening but I made a note to come back to Nashville again soon, with an appetite.
Meandering walk home
At the end of my day, I could have called Anthony and the Hutton's Tesla to pick me up, but decided to walk the mile back up the hill to the midtown/west end area where the hotel was in order to see more of the city. I soon passed a huge stone building, which turned out to be Nashville's first public school, complete with a commemorative plaque for U.S. Poet Laureate and Nashville native Randall Jarrell, a reminder that Nashville is more than Music City.
Just beyond that impressive building was another one across the street—Nashville's original train station. As I drew closer, I realized that this former Union Station was now a hotel. I poked my head inside, taking in what had to be one of the more monumental hotel lobbies I've seen. While Union Station Hotel might not have the cool factor of the Hutton, I imagine that many an amazing wedding and family reunion has taken place at this well situated landmark hotel.
Must-stop shopping
I won't do a full sightseeing review here since there is so much other info online that covers all the great Nashville sights to see, but I just wanted to mention one other place I wandered into on my walk home to the Hutton: Two Old Hippies, a unique large boutique with the tagline Peace, Love & Rock 'n Roll. Zack had pointed out the store on the trolley tour, and said it was a must-visit, and now I could see why.
Located in the upscale Gulch shopping district only a 10-minute walk from the Hutton, Two Old Hippies, new as of 2011, has wonderful apparel, jewelry and gifts, and a musical instruments section with a studio, where you can try your hand at their electric guitars and other instruments for sale. This funky, upscale emporium (have you heard? hippies have gotten rich) was filled with shoppers of all ages and with its friendly staff it had a great vibe.
As usual I ended up browsing through the sales racks looking for hidden treasures, and spied there a dark paisley shirt in my husband's size that sported a John Lennon label. Not sure what Lennon would think of his sketches being used to sell shirts, but this seemed like a good souvenir and I snapped it up.
As I was leaving the store, an acoustic band with a female singer was beginning to play on a stage in a corner of the store. Nashville is Music City, indeed!
Time to leave
There was a lot more to explore in Nashville, but alas we had to catch a plane, missing a Friday night downtown parade and bunch of outdoor concerts that were turning the streets into pedestrian-only. It sounded pretty special, but I gathered that nearly every weekend Nashville has something going on like that.
So at 4:30, my husband and I met up again in the cool (in both senses of the word) Hutton Lobby, gathered our baggage from the valet, and headed out to our waiting airport taxi. It was a short stay at the Hutton, but a memorable one.
Bottom Line
The Hutton Hotel's tagline "elegance at ease," is a fitting one. If you're headed to Nashville and looking for a sleek, boutique experience with a whiff of country flair slightly removed from the downtown revelry, this is a great option.
---
Additional Notes:
The hotel elevators were artsy, eco-friendly little things that I heard some guests saying were too slow, but we didn't experience long waits ourselves.
The Hutton is only a few blocks away from Vanderbilt University, a prestigious private college with a beautiful campus, well worth a walk-through.
Taking a tour through nearby Music Row is a must for music lovers. You can check out the historic RCA recording studio, where Roy Orbison, Dolly Parton, and Elvis did their thing.
During our winding trolley bus tour of Nashville, Zack the tour guide pointed out the famed Hattie B's Hot Chicken and its line out the door. I had no idea we were only a block away from the Hutton. As I walked by the restaurant, a knowledgeable local told me the trick is to call ahead your order for the delicious spicy chicken and then bring it back to the hotel to eat, in order to skip the lengthy lines and crowds.
---
IF YOU GO
Taxi: For two people, it's a set-price $27 ride from the airport to the hotel via a city taxi.
---
On Google Maps