Hotel Walloon: A Sparkling New Michigan Lakeside Boutique Hotel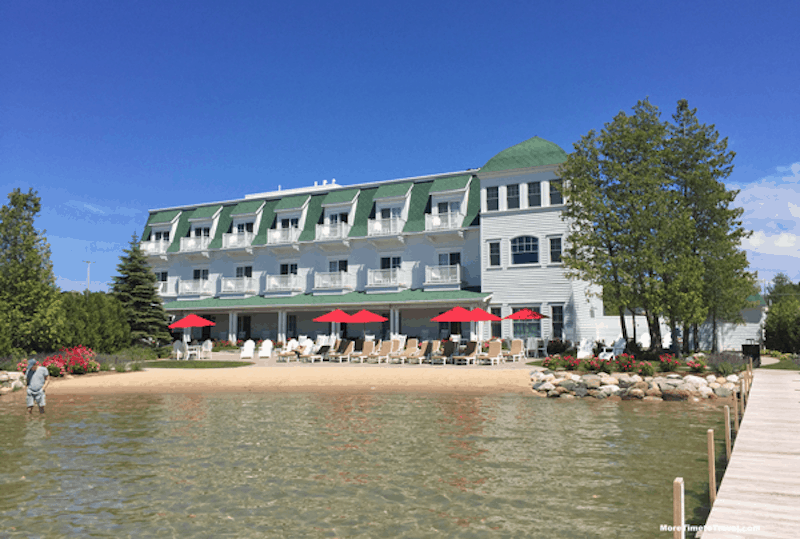 Guest contributor Laura Kelly describes her visit to Hotel Walloon near Petoskey, Michigan, where she discovered the restorative peace of lake life. This post, originally published in the summer of 2016, has been updated (see added COVID-19 Update section below) to offer readers more current information.
Also since her visit, this AAA Four Diamond Hotel has been recognized by USA TODAY with a 2019 10Best Readers' Choice Award for Best Wine Country Hotel.
Hotel Walloon, a luxury hotel in a part of northern Michigan long known for its classic resorts, is situated on the most beautiful inland lake in the state.
Before howls erupt from the lovers of all the other 97,000 beautiful lakes in Michigan, let me explain this claim of Walloon Lake as the "most beautiful."
My father grew up in Michigan and for two years in the early 1950s, his summer job was to go around every lake in Michigan in a little motorboat to check up on the cottage dwellers' boating licenses. Since few wanted to pay the state for permits, my father wasn't exactly a popular guy, and he remembered with a wince that as the people on their docks would see him coming, the sunbathing women would yank up their bathing-suit tops and the men would shout at him to get the heck off their lake. Then those folks would dash back up the paths to their cottages, icy gin and tonics rattling in hand, so he couldn't ask his questions.
"That job took me to every lake in Michigan those two summers," my father claimed, exaggerating just a bit. "And after seeing them all, it was obvious to me that Walloon Lake was the best one—it's not too big and not too small, it has various unexpected arms and inlets and just the right amount of wooded hills to make the shoreline interesting. The lake has parts that are 100-feet deep so it's great for fishing and boating, and because it's spring-fed, its water is completely clear. Plus, the cottages were really something to look at."
He would often mention that Ernest Hemingway's family had a cottage named Windemere (the family still owns it) on Walloon Lake. Hemingway's rugged Nick Adams stories were based on the writer's own youthful adventures in the area.
When my husband, Warren, and I arrived at Hotel Walloon on a sunny, windy mid-June afternoon, we had to agree that pristine nine-mile-long Walloon Lake was a beauty, with its hilly shoreline ranging over three "arms." As you can see from the below map, the lake looks a bit like a paint splatter; the west arm of the lake ends less than a mile from Lake Michigan.
We couldn't wait to see what adventures awaited us at Walloon.
Anticipation is half the fun
Knowing that anticipation and preparing are two of the best parts of pleasure travel, soon after we made our reservation, Hotel Walloon smartly mailed us a welcome kit with a personalized thank-you letter from general manager Marc Jacobs (a dapper gentleman we later saw eagerly greeting every guest in the lounge areas) and an array of glossy cards about the property, its two restaurants, and a spa. This looked nice, and we started getting excited.
Then exactly a week before our arrival there I received a phone call from the hotel's concierge asking what time I might be checking in and if we needed anything, like restaurant or spa reservations. This is their standard procedure for all visitors, and it certainly made me feel like a valued guest.
Finally, it was time to fly from New York to Michigan. We arrived into Traverse City's Cherry Capital Airport and picked up a rental car for our 90-minute highly scenic drive north along Lake Michigan.
The setting: A four-season resort region
A key thing to know about this region of the country is that it is a primo four-season resort area. Northern Michigan has been a playground for the rich and restless of the Midwest since the 1880s, so the leisure activities are well developed and plentiful. Within minutes of the hotel, you can find numerous vineyards, microbreweries, famed golf resorts, ski resorts, hot springs, horse farms, art galleries, a casino (with name entertainment), fruit orchards, rivers, lakes of all shapes and sizes, lavender farms, farmer's markets, giant sand dunes, marinas, and some of the cutest lake towns you'll ever see.
The hotel left such a tempting "50 Things to Do Up North" list by our bed that we wished we were staying for two weeks, not just two days.
Checking in
Hotel Walloon, which opened its doors in May 2015, is located directly on an eastern sandy shore overlooking the south arm of the lake, putting the hotel's beach and many of its 32 rooms in a perfect position for sunset viewing.
The hotel is adjacent to a small but top-notch marina (offering boat rentals) and watersports center called Tommy's Michigan (you'll find two other Tommy's in Orlando and Denver). Small motorboats and kayaks pull up to get their barbecue take-out from the hotel's open-air Barrel Back restaurant, located in a huge former boat-building hangar there. (More about the Barrel Back later.) Hotel Walloon is also down the road from historic Walloon Lake Inn, a former boarding house that is now a well regarded, upscale restaurant.
As we pulled up to the hotel at the 3 PM check-in time, three young valets leaped into action, whisking our bags out of the trunk and our car away to a hidden parking lot (no charge).
We walked into the quiet and welcoming lobby of the hotel and immediately understood their brochure description of "northern atmosphere cottage-style elegance." I'll let these photos tell the story.
This slideshow requires JavaScript.
Our favorite rooms in the public spaces were the cozy, sun-filled Library/Drawing Room, with its comfy colorful sofas, striking ruby-red Murano glass chandelier and abundant shelves of vintage books; and the handsome Hearth Room, whose comfy chairs call out for people to linger for a while. Especially intriguing in that room was the deluxe Franke coffee machine (which blends more than 20 different coffee, tea and cocoa concoctions at the touch of a button) and the self-serve Enomatic wine-by-the-glass dispenser (with most glasses costing around $20 each via a prepaid card, I guess these were very expensive bottles).
Thirsty from our drive, we pounced on the fresh-squeezed lemonade and warm cookies by the concierge area. Two hours later, in the nearby Hearth Room they had laid out five kinds of cheese, fruit, deluxe nuts, and other hors d'oeuvres with (paid) drinks on offer from the lobby bar.
Later that night we found hot cocoa and gourmet mini-cupcakes laid out. (Turns out they offer six different rounds of sweet and savory treats every day, starting with fresh-baked breakfast items at 7 am.) Between the snacks, the friendly staff, and ease of socializing with other guests in the Hearth Room, at times I felt like I was in a really nice bed-and-breakfast and had to remind myself this was a full-service hotel and conference center that could accommodate 80 people.
A casual young bellman led us to our King Lakeside room on the main floor down the hall from the billiards and fitness rooms. The thing that struck me on that short walk was how solid and beautiful the decor was—from the rich dark patterned carpeting and textured wallpapers to the snazzy mock-tin hallway ceilings and maritime artifacts on the walls, someone had done a fine job of integrating retro cottage/lodge charm with some very current 21st-century design.
Later, while on a tour of some of the other guest rooms, a concierge informed me that the family owners of Hotel Walloon had been inspired by the historic Grand Hotel on Mackinac Island, with its huge front porch (the world's largest) lined with dozens of white rocking chairs and its various drawing rooms decorated with cottagey fabrics and patterns. Unique Mackinac Island (no cars allowed!) is only an hour's drive (followed by a gorgeous 40-minute ferry ride) from Hotel Walloon. If you go, make sure to visit the Grand Hotel, a much more bustling, touristic place with 390 rooms, to see if you can spot the similarities.
Comfortable, well-appointed rooms
The 30 or so guest rooms in the three-story Hotel Walloon range from a two-bedroom multi-room suite with high-end full kitchen that sleeps 8 (and costs around $900 a night during the high summer season, which begins at the end of June; lower in the off-seasons) to the Walloon Lake Village-facing Cottage View rooms (10 of these) with balconies ($300-$400 depending on time of week and season). In between those are the 15 Lakeside rooms and 3 Corner Kings, plus 3 more suites.
Our Lakeside King, #14b, was in a private hallway located across from a similar room (these two rooms could easily form a connecting suite). The special thing about our room was that it was a ground-floor room, so it had a walk-out rocking chair patio that led directly to the lake and beach. Loved this!
All the public rooms on the ground floor have very high ceilings, and that was true of our guest room as well, with its white-wood paneled ceiling from which a star-brass chandelier hung. The doors in our room were close to 10 feet tall and, being solid wood, were a bit heavy (i.e., difficult to pull open while you're trying to balance a cocoa mug and cookies brought back from the Hearth Room—I've had worse problems!). Of course, heavy doors and thick walls mean "quiet," a key attribute of any good hotel. The room wasn't especially wide but felt spacious enough due to the 12-foot ceilings and the floor-to-ceiling glass wall of doors leading to our veranda with two rocking chairs.
This comfortable and yet elegant king room had all the deluxe, state-of-the-art amenities you could ask for, starting with its leather-upholstered bed with smooth white linens and incredibly comfortable mattress. A 55-inch Samsung HDTV hung on the wall above the dresser, a corner desk by the windows had easy-to-access wifi, and a hospitality area in the other corner featured a coffee maker and a small but high-tech fridge filled with bottled water. While the wood tones of the room's furniture differed (much like that of a lake cottage), it was all new, well designed, and comfortable.
The marble-clad white bathroom with heated floor included a large Kohler stall shower, a touch screen mirror (you touch it, it lights up) with a separate makeup mirror, and a private toilet area behind a frosted glass door. Beekman Bros. creamy goat milk soap and toiletries were on hand, too.
This slideshow requires JavaScript.
The real draw for us was our room's patio, with its beach view. It was part of a long covered porch, Grand Hotel–style, with the individual verandas of the five lake-front, ground-floor rooms separated only by overflowing flower boxes.
We didn't see anyone else on the patios while we were there, but you could imagine striking up an easy conversation with your neighbor, if you wanted to. I noticed that the blue-green textured wallpaper of our bedroom was echoed in the bright turquoise water of Walloon Lake right off our patio.
The hotel had obviously put a lot of thought into how to handle any nippy northern Michigan evenings. Our first evening was warm but a bit blustery so they had rolled down transparent plastic screens over the verandas, which didn't let a wisp of wind in (but also prevented you from walking off the patio). You could see perfectly the beautiful sunset from your rocking chair and didn't have to wear a sweater. But just in case, they had a powerful electric heater in the ceiling above you to take off any chill at the push of a button. The heater cast a rosy red glow over everything while keeping you toasty. There was also a woven cotton "Hotel Walloon" throw at the foot of the bed to pull over your shoulders if you decided to do a twilight meander down to the nearby lakeshore with its gently lapping waves.
Evening turndown was nice, with pillows plumped up and reading lamps and radio music turned low awaiting us after we returned from dinner. Also, a cute box of Kilwins chocolates (a national confection brand that started in nearby Petoskey in 1947; you can tour the Kilwin Kitchen where it all started) was placed by a welcome note predicting sunny, 77-degree weather the next day.
As I mentioned, I toured some of the other rooms on the higher floors (accessible by both elevator and a really interesting stairway lined by small vintage mirrors).
The rooms in the upstairs suites were similarly appointed to our King room, with some differing bed sizes and some rooms bigger, some rooms smaller. The superbly kitted-out compact kitchen in the big corner family suites had me taking notes for my own fantasy kitchen remodel someday.
I just have to share this mini-video of the gorgeous lake view from the Corner King room on the third floor:
I could suddenly see why some people might pick rooms on the higher floors over a walk-out patio!
Fine dining at the Inn down the road
While the hotel had tons of snacks, the time came when we had to leave the premises and go to dinner. Luckily there are two award-winning restaurants just steps away. (If we had been staying longer we could have found another two dozen top restaurants in the nearby towns, especially Petoskey, Harbor Springs, Boyne City, and Charlevoix.)
Via the concierge the week before, we had made reservations at the upscale Walloon Lake Inn (due to COVID-19, currently open for takeout only at the time of this update), a century-old landmark long known for its foodie sensibilities. It was only a five-minute walk down a private road.
The restaurant has both patio and inside seating. We chose to eat inside and were quickly seated at a window-side table with a gorgeous view of the shimmering lake.
The interior of the restaurant was dark paneled with small chandeliers hanging over each well-spaced table. A pianist tickled the keys in the clubby bar area in the foyer as the waitstaff stood at attention, but this Tuesday night in mid-June the place was nearly empty. Our waitress informed us that the restaurant would be full come Friday night, with many weekenders driving their boats down the lake to dock in front of the restaurant.
As we ordered our drinks and dinner, the chef (brought in recently for the beginning of the summer season, we found out) sent out an amuse-bouche of grilled shrimp and brown rice in a ginger marinade for both of us. The entrée prices were rather eye-popping at an average of $40 but promised fresh ingredients and inventive recipes. I dined on braised walleye (a freshwater whitefish caught in the Great Lakes) over a chorizo succotash with salsa verde and Warren dug into his pan-seared Scottish salmon with lobster fried rice and other Asian touches.
This slideshow requires JavaScript.
The latest chapter in a long history
I had brought along a brochure about the area and as we sipped our drinks, we read about some of its history. The first heyday of Walloon Lake was during the late 1800s when the railroad brought up summer visitors from large cities all over the midwest. I realized that Walloon, Mackinac and the other northern Michigan resort towns had once served the purpose that Newport, Lake George and Otsego Lake served out east: breezy, beautiful pre-air conditioning places to ship off the family for the summer.
While the summer cottage culture remains strong around Walloon, towards the end of the 20th-century fortunes had changed for the bustling boat-building Walloon Lake Village, with businesses dwindling down to just a general store.
Luckily for Walloon Lake Village, it was "saved" in 2011. Jon Borisch, a 62-year-old Grand Rapids mogul/developer had grown up spending summers at Walloon Lake, and returned about five years ago with his wife and son to start buying up the Village's then-derelict waterfront buildings and boat warehouses to redevelop them into the kind of quiet-but-luxe place we over-50 travelers really cherish.
Apparently, some longtime Wallooners had been a bit leery of the Borisch family's buying spree, but five years later everyone seems thrilled with the tasteful rejuvenation of this storied resort area. One longtime lake dweller told me with pride, "So now we know it can happen—someone with interest and money and direction can bring back a small town to be a real destination place."
The Village improvements keep coming: opening this summer are a new wellness center with yoga and pilates classes, and the 3,000-square-foot Talcott Event Center, a state-of-the-art wedding and conference venue in a former boat showroom across the street from the hotel (and decorated very similarly).
As we finished our delicious dinner (ending with another little freebie from the restaurant's chef—chocolate truffles) we realized it was still quite sunny outside. Michigan is at the far western edge of the Eastern Standard Time zone and around the summer solstice, the sun doesn't set until 10 pm.
After chatting with the restaurant's young piano virtuoso and admiring Walloon Lake Inn's early summer vegetable garden near its entrance, Warren and I ambled back to the hotel, just a few hundred feet away. Finally, the sun was beginning to go down behind Walloon's hills, and we walked out on one of the inn's docks to watch the beginning of a beautiful orange-and-purple sunset over the lake.
Once back at the hotel we stopped to play a round of pool in the game room located across the hall from our room, and then we headed in for the night. (The next night we spied three couples sitting at the round table by the window in that room, playing cards and laughing.)
Out and about
While we could have lolled around the hotel all day eating their snacks and reading on the quiet beach, we had heard that the local farmer's markets were worth checking out. Before we left that morning, Warren was virtuous and did a 45-minute workout, while I made my way to the Hearth Room to check out Round 1 of their endless goodies—a berry smoothie, sweet scone, and fruit parfait. And read more brochures, of course.
Then we headed out to explore the area. (Read more about our fun day trip in my accompanying post "Northwest Michigan Lake Country: Day-tripping around Walloon Lake.")
After our day out, as we pulled up again to sparkling-white Hotel Walloon, I mused that it had the look of a place that had always been there but without an ounce of wear-and-tear, a kind of "Back to the Future" effect which I'm sure they had strived for.
We walked into the quiet lobby and made a beeline to the Hearth Room to see what treats awaited, and were not disappointed by the array.
After dropping off our souvenirs of the day in the room, we then stepped off our patio onto the beach to wade in the warm, clear lake water. We stood above minnows nibbling our toes while we nibbled our sour-cream mini-cupcakes—a perfect up north moment.
One last food blast
On this second night, we had dinner at Barrel Back Restaurant, next door to the resort. This hangar remnant from the marina's long-ago heyday of building high-end runabouts and cruising boats (the restaurant name refers to an iconic Chris-Craft wooden speedboat) is another successful rescue-and-reinvent project of the Borisch family.
The ground level of the building is Tommy's large resort-wear and water sports emporium, with a high-end display of vacation items (and some good back-of-the-store sales racks). Adjacent to this store was little Tulips on Walloon, a summertime pop-up dress shop that I urge every female guest at the hotel to visit; I wanted to buy everything in that well-curated boutique.
The restaurant (and its stellar lake views) is located on the second floor. With people pouring into Barrel Back, you could see the potential for the restaurant to book up quickly, but it was able to accommodate us that night without reservations. The atmosphere in the restaurant, which has 118 indoor seats, 60 patio seats, and 25 bar seats, was lively, with various large groups of friends and families. There was a constant stream of boating groups docking at the marina down below us and then climbing the stairs up to the restaurant.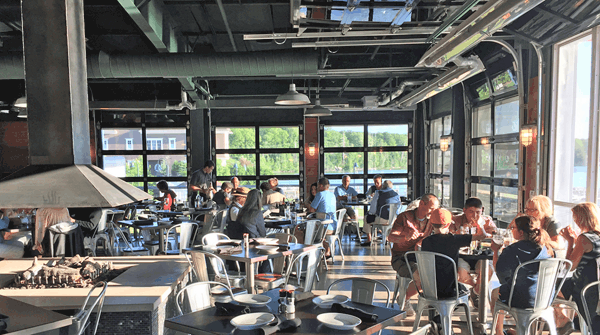 Barrel Back is famed for its wood-fired pizza oven, a wood-fired grill, and a wood fired rotisserie smoker. I didn't know about all the amazing wood-fired dishes and ordered that night's special immediately upon hearing it: four lake perch on top of a tangy summer squash compote. But Warren opted for the smoked brisket tacos and declared their wood-fired taste "the best." Along with 23 kinds of beer, the restaurant also offered a fun batch of custom mixed drinks, too, like the Stormy Walloon (I couldn't resist that one) and The Michigan Mule, a bourbon-and-ginger-beer concoction. Our server was very attentive and cheerful, even as she juggled various big tables.
Again prices weren't cheap here, but they matched the high-toned beachy atmosphere. The restaurant also serves breakfast and lunch, with many of the Hotel Walloon guests being their best patrons.
An unexpected lagniappe
Often a lagniappe is a small gift of something tasty to eat, but on this particular night, our lagniappe was a pop-up movie screening of the wonderful animated film Up, hosted by the hotel on the grassy village green next to the Barrel Back (yes, this lakeside town park is also brand new and created by the Borisches).
While leaving the restaurant, we stumbled upon workers setting up the screen (later we found a page in our hotel welcome folder that had listed this event). Various people were setting up chairs on the lawn at that point, but the movie couldn't start until the sun set (yes, 10 pm), so we went back to the hotel for a bit and then came back out to the park as it got dark. (I had proactively spritzed a little "Eau de Deep Woods Off" on any exposed skin.)
It was a magical experience watching the movie as the stars came out above us and the Barrel Back nighttime lights turned on. Various Hotel Walloon staffers were also enjoying the film and circulating around the small crowd, and one brought us a hotel-branded cotton throw to put over our shoulders and another offered to get me a hot drink as the night cooled off.
My favorite moment was hearing people in the marina boats behind us laughing at the talking dogs in the movie along with all of us parked on the lawn. What a unique way to enjoy the lake life with your family!
Since we were leaving early the next morning, before the movie ended we wrapped up our second and last night by heading back to the quiet hotel, getting mugs of cocoa from my favorite machine, and reading by the lobby fireplace for a few minutes before turning in for the night after our long day of walking and eating. (Yes, tough times.)
It was hard to say goodbye to Hotel Walloon the next morning—we had barely scratched the surface of their "Unlimited Adventure: 50 Things to Do in Summer" list—and as we waved good-bye to Marc Jacobs and his staff and said the words "We'll be back!," I hoped they would prove true.
Bottom Line:
A modern take on traditional lifestyle, Hotel Walloon is a spare-no-expense boutique hotel by a family that obviously cherishes what makes their favorite northern Michigan lake area special. For those looking for a peaceful lakeside retreat with proximity to all this resort region offers, this new little hotel is among the best in the midwest.
Additional Notes
The hotel has an outdoor hot-tub spa that looked wonderful, especially at night. But we didn't have time to try it. (There is no swimming pool.)
Walloon Lake Village, across the street from the hotel, consists of just a handful of stores (antiques, art gallery, general store, kayak rental, realtor) at this point in the redevelopment, but during the summer months a dozen "pop-up shops" sell all sorts of artisanal toys, clothing, and gifts.
There is a wooded park with walking trails next to the shops.
The hotel's wading beach, while picturesque and pristine, is quite small, and could prove unexciting for older children (although the nearby Tommy's Marina with all its water toys could prove fascinating).
Book lovers should check out the light-filled and cozy Crooked Tree public library a block away from the Walloon Lake Inn. It has a great collection of adult and children's books and they host authors and food gatherings there every once in a while.
We were there mid-week early in the season, so we never saw the hotel (or its abundant staff) working anywhere near full capacity. We learned, however, that a wedding party of 80 was taking over the hotel for the next weekend, the type of thing which could make the hotel difficult to book as it gets more well known. But don't let that stop you from trying to book it!
---
A COVID-19 update: What you need to know
Some health and safety precautions:
While the property still offers food service, they now place a menu in the Hearth Room describing the food options and guests can choose what they like. Meals are plated, served on a tray, to be enjoyed anywhere in the hotel, as long as social distancing is observed.
Mask wearing is mandatory in all public areas except when eating and drinking.
All staff members are required to wear face coverings
The bar, Billiards Room, Fitness Room and Outdoor Whirlpool Spa are all open, limited to one family group at a time at this point
The restaurants are currently closed to indoor dining, but Barrel Back offers outdoor seating as well as curbside pick-up and to-go orders. Walloon Lake Inn is also offering To-Go orders Thursday/Friday and Saturday nights. Hopefully starting in February, indoor dining will reopen, but that remains to be determined.
Daily Stay Over service is still available as an option for guests who request it.
The property continues to improve its already high standards of cleanliness, sanitizing all surfaces regularly, offering hand sanitizer in different areas of the hotel, use of gloves, etc.
For updated COVID information:
---
IF YOU GO
Getting There:
There are multiple flights from Detroit and Chicago to Traverse City (TVC), but of note is that during the summer weekends there are nonstop flights from NYC's Laguardia to Traverse City on United, making it easy for any east coasters to enjoy the Up North experience.
It's a ~90-minute scenic drive north from Traverse City airport to Hotel Walloon.
If you fly in to Detroit, it's a four-hour drive up north to Walloon Lake, on interstate highway I-75 nearly the whole way.
---
All photos courtesy of Laura Kelly
Disclosure: Laura Kelly's stay at the resort was hosted by the property but any views expressed in this post are her own.
---
Related on More Time To Travel:
Northwest Michigan Lake Country: Day-tripping around Walloon Lake (ideas for what to see and do around Hotel Walloon)