Hotel Review: China World Hotel, a Shangri-La Hotel
Since opening in August 1990, China World Hotel, Beijing has welcomed many international dignitaries and celebrities. During our recent stay in Beijing, the Princess of Thailand and her entourage swept through the lobby.
Part of the Shangri-La Hotels and Resorts group, the China World Hotel (which received a major facelift in 2008) is located in the downtown central business district (CBD) of Beijing, China, adjacent to the World Trade Center and China World Mall (a high-end luxury shopping mall).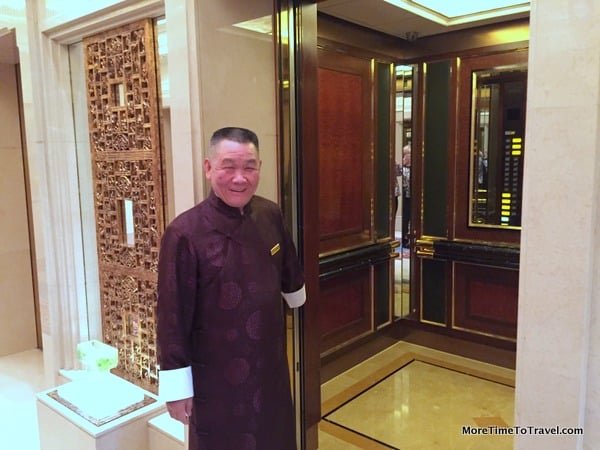 Public Spaces
Upon entering, you know you are at a Shangri-La because the air is infused with the delightful white tea fragrance, laced with ginger and bergamot, Essence of Shangri-La. The high ceilings and elegant crystal chandeliers make the lobby look almost palatial. It's tastefully decorated in royal colors of gold, red and black with Ming and Qing-era style artwork.
Two over-sized bamboo birdcages filled with live orchids were sitting in middle of the floor on the day we arrived. Before we left, they were replaced with an equally dramatic floral display. To overcome its mammoth size, the lobby is subdivided into welcoming spaces where guests can conduct business over a cup of tea or enjoy a drink while enjoying live music. Reception desks are tucked discreetly on one side.
Massive in size, the hotel has 716 rooms and suites with extensive conference and banquet facilities, which can accommodate as many as 1500 people in one space.
Our Room
Our room (1101 on the eleventh floor) offered views of the landscaped circular driveway, upscale shops across the street, and the skyscrapers of dizzying heights surrounding us. With all the city lights, the view was especially nice after dark.
The room was nicely sized and tastefully furnished in shades of taupe with walnut woods. There was adequate storage space and all the amenities one would expect to find in a luxury hotel. Shangri-La does an especially nice job in providing fully equipped desks for business travelers.
The marble bathroom was attractive and functional with a single sink, tub and over-sized circular shower.
Restaurants
The hotel has three restaurants, all conveniently located off the lobby: Aria (which serves modern European cuisine), Summer Palace (which serves Cantonese and Huaiyang Cuisine) and the informal Scene a Café (which has an international buffet throughout the day). We dined at two of them.
Ordering at the Summer Palace was a bit challenging because we had trouble deciphering the mostly-in-Chinese menu, and our waiter's command of English was limited.
We enjoyed both a breakfast and dinner at The Scene a Café. The extensive buffet meals included traditional Chinese and contemporary international dishes of good quality. The offerings were so vast that someone online compared it to Beijing's version of a Las Vegas casino buffet. The pastry bar featured a variety of sweets as well as homemade ice creams.
Bottom Line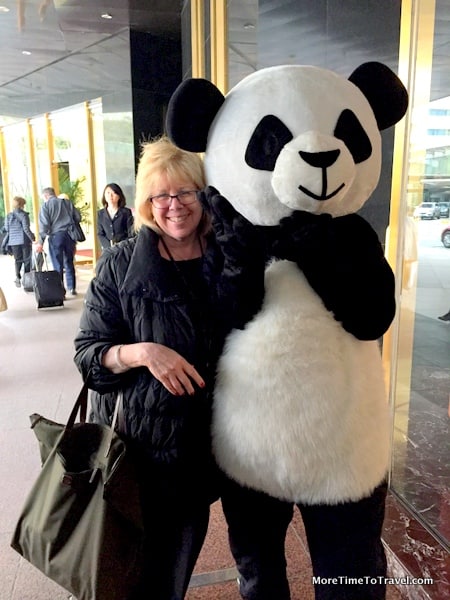 The Shangri-La brand derives its name from James Hilton's novel Lost Horizon, in which the term is used to describe a setting with mythical perfection. Founded in 1971, the Hong-Kong-based company now operates five-star luxury properties in Asia, the Middle East, North America, Oceania and Europe, and is known for its outstanding service.
We had previously stayed at the over-the-top Shangri-La Paris, a much smaller property with only 110 rooms. While our stay at China World Beijing was comfortable in every way, we couldn't help but compare it (perhaps, unfairly) to the more intimate experience of staying in the "other" Shangri-La.
---
IF YOU GO
China World Hotel, Beijing No.1 Jianguomenwai Avenue, Beijing 100004, China
Disclosure: Our visit to China World Hotel was hosted by Crystal Cruises as part of a post-cruise land package.
---
Previously on More Time To Travel:
Hotel Review: Shangri-La Paris, C'est magnifique
---
On YouTube:
Musicians in the lobby of the China World Hotel

This post is part of a LinkUp with Noel Morata's Travel Photo Discovery.