High tea at the Lambs Club in NYC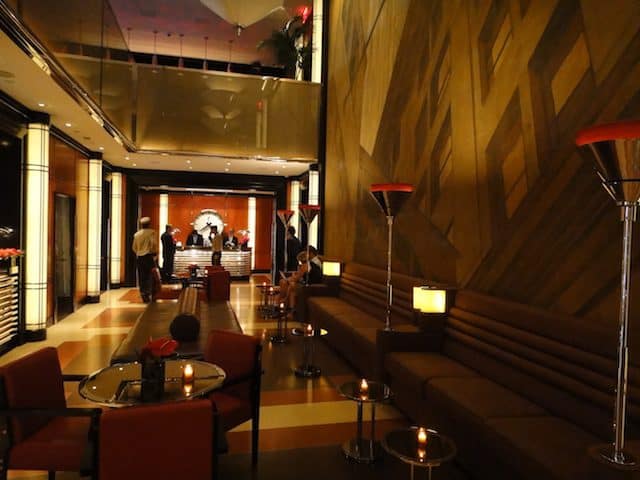 Entering the art deco lobby of the Lambs Club at the Chatwal for high tea makes you feel like you've walked back in time.
Although my blossoming midlife
 friendship with my friend Sheryl is wonderful in every other respect, it's geographically inconvenient: She lives in Connecticut and I live in Westchester County — with about 50 miles and no direct highways between us. Then Sheryl came up with an idea. "Let's meet for high tea in Manhattan," she said. "It'll be fun."
"Someone told me about The Lambs Club at the Chatwal Hotel on 44th Street," she said, and offered to make reservations. Happy to have someone else responsible for planning, I immediately agreed.
I'm really not a tea-drinker (unless I'm sick) and the only other time I had "high tea" was some years ago on a transatlantic crossing on the Queen Mary 2 — but face-time with friends is important to me. So even after taking an advance peek online at the menu (and noting the exorbitant price) for "a cup of tea," I soon found myself entering an elegant art deco hotel lobby in New York's theater district on a busy Wednesday matinee afternoon in search of a place inside whose name sounded like a private men's club.
Designed by Stanford White and tastefully restored by architect Thierry Despont, The Chatwal has an interesting history. It opened in 1905 as a clubhouse for the Lambs, the first professional theatrical club in America, who borrowed their name from a similar group in London named after drama critic and essayist Charles Lamb. The opulent lobby is decorated in red, black and white, and looks straight out of the 1920s. In 1974, the property was designated a landmark by the city's Landmarks and Preservation Committee.
A hotel concierge directed me to a wide staircase leading to the Lambs Club, which is tucked away on the second floor. Many legends of the stage and screen, such as John Barrymore, John Wayne and Douglas Fairbanks, had walked up these same stairs and slept in the rooms on floors above. My friend was already seated at one of the plush leather, U-shaped banquettes lining one side of the room, and we immediately began chatting as soon as I sat down. The tables were nicely spaced so we felt like we had found a private oasis in the midst of midtown.
We opted for the 3-course tea service, and ordered a glass of sparkling Barcino Brut cava. Without the distraction of having to order from a conventional lunch menu, we had a relaxed time catching up with each other's lives. Our server, Allie, soon arrived with two three-tier platters created by Chef Geoffrey Zakarian, each layered (from bottom to top) with fresh scones (and clotted cream and house-made strawberry jam), tea sandwiches and savories, and mini-pastries.
The goodies are supposed to be eaten in that order, ending with the sweetest course last — followed by a choice of 13 teas. Throwing caution to the wind, we opted for another glass of cava in lieu of tea, and two hours passed quickly as we nibbled our way through each tier.
Ironically, I later learned that what I thought was "high tea" (a term often used erroneously because of its social cache) was actually "afternoon tea" or "low tea." (High tea is generally a heavier tea meal served at dinnertime in the UK, often including meats, fish, cheeses, and maybe even shepherd's pie or steak and kidney pie; it got its name because it was generally eaten at high dining tables rather than low tea ones.)
Fred Astaire is quoted as having said, "When I was made a Lamb, I felt I had been knighted." After experiencing afternoon tea at The Lambs Club, I can't help but agree. This mid-afternoon indulgence was such a sybaritic experience that I'm sure that Sheryl and I will do it again soon. And I've come up with a list of alternative tearooms to try out with all my other geographically undesirable friends from New Jersey and Long Island, too.
Have you ever done afternoon tea in grand style?
---
Other suggestions for afternoon tea in NYC:
This post is part of the Foodie Tuesday blog carnival sponsored by my pal, Marcia Maynes at Inside Journeys.