Frau Gerolds Brau Garten: An urban oasis in Zurich
We discovered Frau Gerolds Brau Garten (Mrs. Gerold's Beer Garden), a favorite with locals, though a Yelp search. After exploring the neighborhood around the Markthalle im Viadukt (a covered food market in Zurich set under the stone arches in what once was an old viaduct), we wanted a light supper. The pitch-perfect weather propelled us to search for a place with outdoor seating.
German export updated for the times
Beer gardens are a popular German export to Switzerland: informal places to eat local foods, drink beer and commune with friends. We hit Frau Gerolds Brau Garten on a Friday night when it was packed with people letting loose after the workweek, along with some families with kids.
The place is so large that the huge yurt (Turkish-type tent) within it only takes up a tiny space.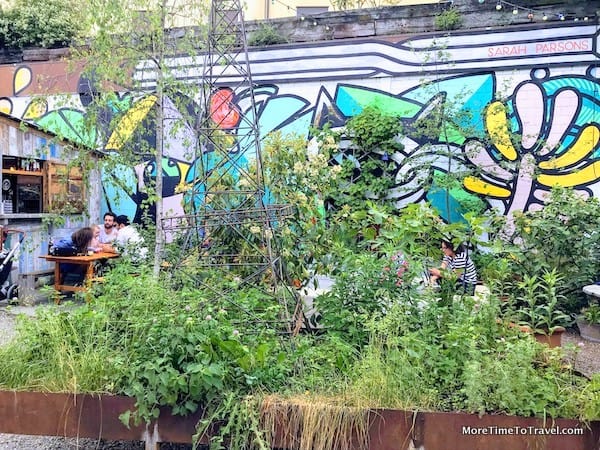 The garden holds many hundreds of drinkers/diners who either sit on benches at long wooden tables on the sprawling gravel floor, eat on the large sundeck/patio above, or are coupled and cozying up on the huge shipping containers (boxcars) that form an elevated seating platform.
In a vibrant neighborhood, once industrial and now reclaimed and filled with arty, alternative stores, all the décor on the walls of the beer garden look like street art. Greenery was everywhere, often complemented by large, colorful garden umbrellas faded from the sun. The beer garden sits under the shadow of the Prime Tower, a 413-foot edifice (one of the tallest skyscrapers in Zurich) that didn't appear all that tall to New Yorkers.
Small walk-up bars line the perimeter with what looks like a couple of food stands with lines on one side.
Figuring out what and how to order at Gerolds Brau Garten
Because the crowded garden was massive, operated on a totally self-serve basis and we had little command of the German language or menu, we felt lost in translation.
Fortunately, most people in Zurich speak English so we asked a friendly looking, random person nearby. She explained that you place your order for both food and drinks at one of the stands, pay for it there, and then pick it up at another with your ticket.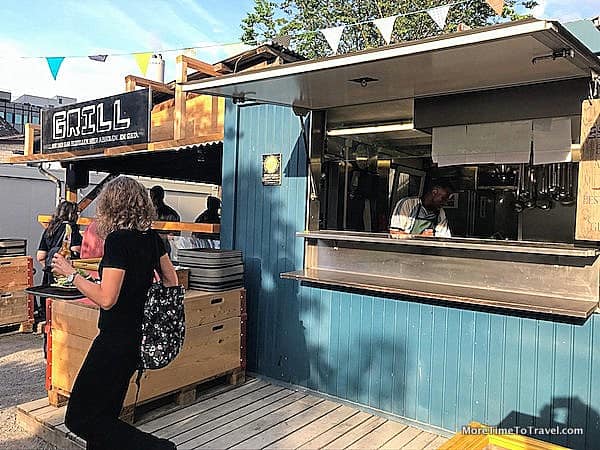 Menus (in German only) were both on a chalkboard overhead and on placards sitting on the counter but they were impossible for us to decipher. Again, we prevailed upon our new-found friend (who, oddly, happened to be an expat from Tulum, Mexico). She explained that everyone orders the barbecued wurst (sausages), which we ordered and enjoyed with hot mustard and ketchup. (We realized later that most people order the wurst or barbecued chicken with sides of German potato salad.)
Going local
With a bottle of deep brown pale ale and an Aperol Spritz (an Italian important that has gone universal) at hand, it wasn't long before we, too, succumbed to the relaxed, playful atmosphere.
Afterward, we meandered through a few of the small shops that complete this "mini-theme" park of sorts, very happy with our choice of venue for one of the two nights we would be here before embarking on our Viking River Cruise from Zurich to Paris on the Viking Hild.
---
IF YOU GO
Viking Swiss Alps to Paris River Cruise
Geroldstrasse 23/23a, 8005 Zürich

WHAT TO KNOW
The beer garden is located outside the city center near the Technopark, reachable on the #4 Tram.
The food menu is somewhat limited but the beer/cocktail menu is plentiful.
The tents are heated in winter but primarily outdoors; the place is closed in extreme weather.
Open on Sundays when many other restaurants are closed.
Like all other food in Zurich, not inexpensive (our two orders of sausages and drinks cost about $36 USD).
---