What is it like to fly Air Dolomiti?
Flying Air Dolomiti between Munich and Bari is pretty hassle-free.
If you're flying from New York to Puglia, you won't be able to fly directly. More than likely, you'll be booking a connecting flight to southern Italy through Rome. Another option that may be just as convenient (and less expensive) is flying into Germany and taking Air Dolomiti, a regional carrier that flies either to Brindisi or Bari.
Our first destination in Italy was Locorotondo, a small town located in the Bari area of the Puglia region. We booked our ticket to Europe with Lufthansa, which has a codeshare agreement with Air Dolomiti for flights to a number of Italian cities. We had never flown Air Dolomiti before and are always a bit skeptical about foreign carriers that are new-to-us.
Backstory
Air Dolomiti is a subsidiary of Lufthansa, based in both Munich and Verona. The airline's fleet of 11 Embraer 195 twin-engine jets flies to Bari, Bologna, Brindisi, Turin, Venice and Verona, Italy. The carrier has codeshare agreements with Air China, All Nippon Airways, and United Airlines (all Star Alliance)—in addition to the one with Lufthansa.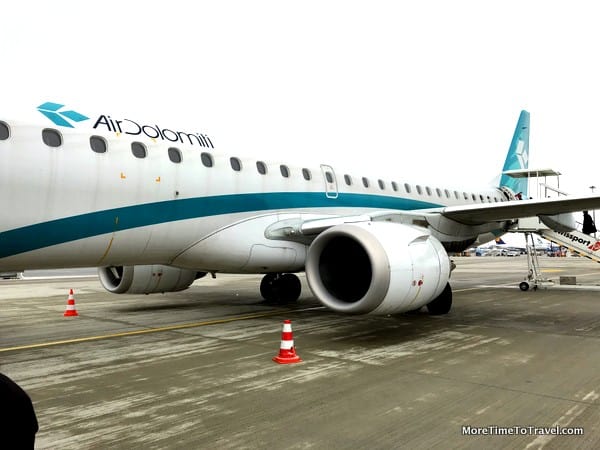 Air Dolomiti prides itself on coupling "German efficiency with Italian style."
Living room (as it's called in the trade)
On first impression, the aircraft looks a bit dated but we found the one we were on to be quite clean and functional.
We were assigned to Seats 8A and 8C; Embraer 195s are configured with two seats on each side of the aisle (thus, without any dreaded middle seats).
Our flight (like others operated by Air Dolimiti) was relatively short, only 1 hour and 20 minutes. Our plane was able to hold up to 116 passengers with seats that were comfortable enough; the 32" pitch provided sufficient legroom.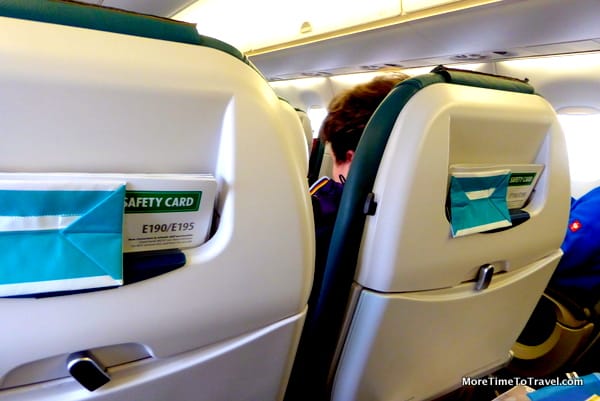 Grub and service
Our flight was outstanding, both in terms of the hospitality of the multi-lingual crew (speaking English, German and Italian) and the food and beverage service available on this short-haul flight.
Before eating, perhaps because it was flu season, each passenger received a sanitizing hand wipe.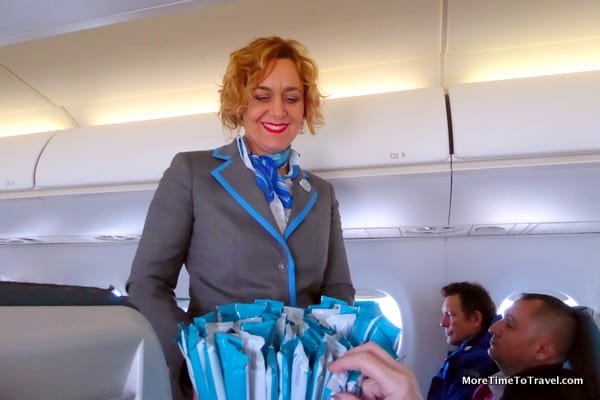 Given that our flight departed mid-morning, we were surprised to get a substantial mid-morning snack: a stuffed ½ sandwich that our son described as an "egg sandwich on steroids) and a full-size chocolate bar. The tasty egg salad was made with pancetta and chicken.
After that, the beverage service included free beers, wines and liquors, as well as juices and soft drinks served with mini packages of Italian biscuits and crostini. I chose a bubbly Prosecco. Then, once again, the gracious flight crew walked through the aisle with a large silver dish of Italian chocolate cubes. The packaging of the food is all branded "settimocielo" (translated in English to "seventh heaven," an apt name for the service).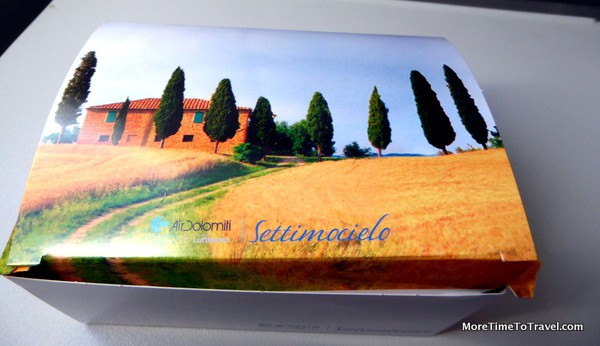 Entertainment
There was no entertainment on board except for the two magazines, Lufthansa magazine and Spazio Italia but the extended food and beverage service left little time for anything else.
Bottom Line
The one major downside of flying Air Dolomiti: When boarding Gate 15 at Munich Airport, we were told that we would be bussed to a remote runway, about 5-10 minutes away. This entailed walking outside the airport twice in winter weather, once to get on the bus and a second time to ascend stairs to the plane (there was no jet bridge).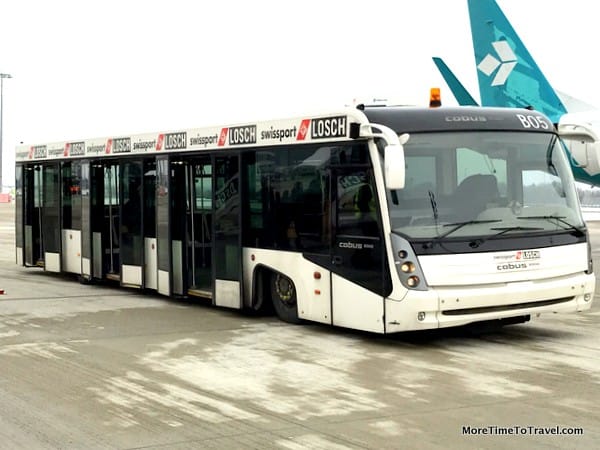 The plane arrived safely and on time with a smooth landing. Any inconvenience boarding was soon forgotten after biting into the chocolate.
---
IF YOU GO
---
This is one of a series of posts about my experiences on new-to-me airlines. Surely, each flight is different but it's always helpful to get general impressions of what to expect before you fly. If you fly Air Dolomiti and have a very different experience, please feel free to comment below.
Also on More Time To Travel:
---