Fellini Forward: First Film Short to Use AI, now on Amazon Prime
The new documentary short, Fellini Forward, premiered at the 59th New York Film Festival in September 2021, shortly after its release in Venice, Italy earlier the same month.
This unique and thought-provoking "film within a film" tells the backstory of the making of the first short film to use AI (Artificial Intelligence). Fellini Forward is now available on Amazon Prime Video.
The impressive legacy of Federico Fellini
Italian film director and screenwriter Federico Fellini was a visionary known for his ability to artfully weave dreams, fantasy, memory, and sexuality into film. His films were so unique that they inspired a genre that is now simply called "Felliniesque."
Considered one of the greatest directors of all time, some of Fellini's most memorable films include La Strada (1954), Nights of Cabiria (1957), La Dolce Vita (1960), Juliet of the Spirits (1967), Fellini Satyricon (1969), Roma (1972), and Amarcord (1973).
Born and raised in the city of Rimini on the Adriatic coast of Emilia Romagna, it was here where Fellini watched his first film on his father's lap at the Fulgor Cinema. It was also the place where the great director lived for 19 years before his death in 1993. Earlier this year, the city created a unique museum paying homage to Fellini's contributions not only to the city but to art and culture around the globe. (Read my story about the Fellini museum, published on Forbes.)
The Art of Campari and The Campari Red Diaries
Fellini Forward was produced through the generosity of the multinational Campari Group, probably best known for their two classic aperitivi, Campari (invented in 1860) and Aperol (introduced in 1919). So it shouldn't be surprising that at the pre-film reception in New York, Campari and soda cocktails garnished with a slice of orange were poured freely.
Probably less known is the company's long involvement with and commitment to the arts including its avant-garde, museum-quality posters. Notably, Campari also collaborated with Fellini on a 1984 advertisement for the brand.
Since 2017, its Campari Red Diaries project called on award-winning directors, like Paolo Sorrentino, Stefano Sollima and Matteo Garrone to produce iconic commercials and short movies.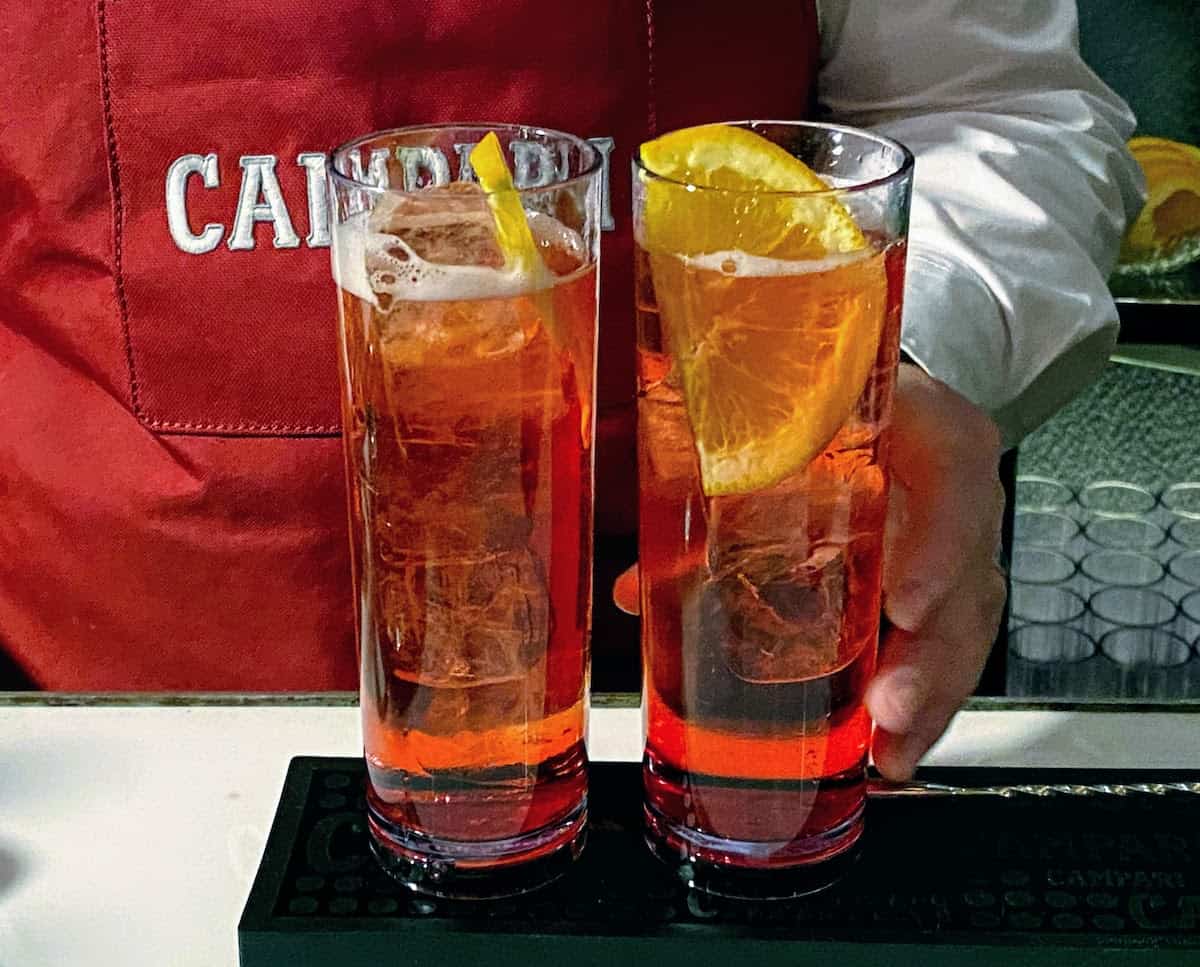 The making of Fellini Forward
Fellini Forward is the latest experimental art project supported by Campari. This 45-minute documentary tells how a one-of-a-kind new short narrative film was developed using AI to recreate the genius of Fellini. Following the New York premiere, held at the Elinor Bunin Munroe Film Center at Lincoln Center, a lively panel discussion followed with two of the film's three directors, Drea Cooper and Zackary Canepari.
The filmmakers explained how the aim of the documentary was to show how, in concert with humans, AI can be used as a tool to expand creativity. Attempting to dispel fears that AI is a threat, they emphasized that it is a complement rather than a substitute for human imagination.
To create the "film within a film" (the recreated Fellini short), the technical crew developed an algorithm based on Fellini's scribbled scripts (which he often later discarded as the film was being shot) and transcriptions of his finished films as "data" to help generate new ideas for characters and dialogues.
You might say that through AI, Fellini became "the muse" for this new creation.
The documentary filmmakers hope that Fellini Forward will serve as "proof of concept" for the future use of AI in storytelling and other creative endeavors.
Particularly important to the filmmakers was the blessing and involvement of the director's niece, Francesca Fabbri Fellini.
"My Uncle Federico was original in his ways of representing life using dream-like elements as his means of communication," she said in a press release issued by Campari. "I think a project like this is a perfect way to honour his legacy. Though he took much inspiration from his past, he was always looking ahead. A similar approach was taken for this project with Campari; it is rooted in heritage yet is futuristic with the use of Artificial Intelligence."
---
All photo credits: Jerome Levine, unless otherwise noted.
---
See a sneak peek of
Fellini Forward
on YouTube
---
Save to Pinterest!!