A Culinary Tour Leader Dishes: What Travelers Need to Know about Cooking Tours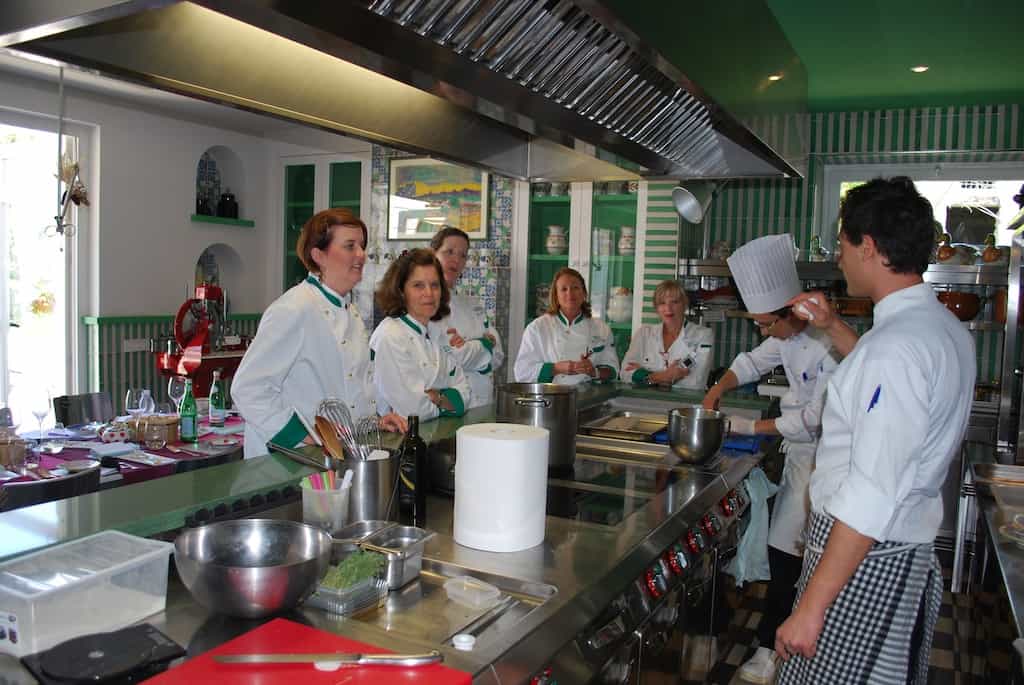 Cooking tours are becoming increasingly popular among travelers. So I was delighted when Elinor Griffith, who leads culinary tours, agreed to share her knowledge and experience with the readers of More Time To Travel in this guest post.
---
Wearing white chef jackets with the words "Don Alfonso" embroidered in green lettering on the front, eight of us hovered around a young Italian chef.
"Only use the freshest of local organic ingredients," said chef Andrea, as he put the plump, right-off-the-vine tomatoes we'd just chopped into an oversized pot.
And thus we—who'd gathered from Virginia, New York and Connecticut—were spending a divine week last May, cooking and eating at the world-famed, two-starred Michelin restaurant Don Alfonso 1890, in the village of Sant'Agata, near Sorrento.
To attend a cooking school is easy—and, at the same time, dauntingly difficult. You know it will be fun, but then how do you decide what suits you best? For seven years now I've organized niche culinary excursions to Europe and have navigated this, at times, confusing terrain.
Here are some practical tips to help get you started. Or, if you're already an Alain Ducasse wanna-be and recently flung 390 euros ($510) at his Paris cooking school for an all-day market tour and class IN FRENCH, you still might find something to chew on…
Prix Fixe or A la Carte?
No question, week-long culinary programs are full of appeal. What's not to like about seven days attending Giuliano Hazan's cooking school in the elegant Villa Giona near Verona, Italy? (More on such "prix-fixe" programs later.) But for those stuck on business in New York, London or elsewhere, there is often an alternative: short "a la carte" classes. "Essentials of Tuscan Cooking," for instance, is one of many lessons offered in Manhattan at the Institute of Culinary Education; it costs $120, occurs monthly and dinner is an added bonus!
Search for Stars
One way to narrow possibilities for longer "prix-fixe" programs is to find programs revolving around gastronomic superstars. Hence, for Julia Child, I discovered "Cooking with Friends in France," at her former home in Provence. Her friend Kathie Alex holds lively classes in Julia's kitchen, where "THE French Chef" once tested recipes for Mastering the Art of French Cooking, Vol. II. Or look for another type of star, Michelin stars… This tip could lead you to truly incomparable cuisine taught at places like Don Alfonso 1890.
Pedigrees
Or nose around for culinary programs with long, impeccable records. The International Kitchen run by Karen Herbst, for example, had its start in 1994 and is now a leading provider of cooking school vacations in Italy, France and Spain. Even an institution like the non-profit Road Scholars, around since 1975 when it began as Elder Hostel, offers domestic and international cooking programs among its educational tours in 150 countries.
Hands On, Hands Off
Once you have a soup pot of ideas, check out the specifics. Some programs only provide chef-demos that you watch … no stirring. Others are very hands-on. You want a chef's jacket or a green apron to wear back home? Written recipes? Those types of schools are for you. Now you'll have the right look (all chef-y) and the right ingredients, in the correct amounts (!), to roll out the new recipes back home.
Bottoms Up
If wine is a passion, think of cooking + wine. "In the Napa Valley a very popular program is the wine lovers 'Boot Camp,' our name for some of the CIA's enthusiast programs," says Virginia Mure, communication manager at the Culinary Institute of America, headquartered in Hyde Park, N.Y. "This two- or five-day course is a great venue for family reunions, girlfriend gatherings or solo getaways."
Cookery Plus
What else would you like: spa treatments, afternoon walking tours, excursions to food producers? A museum perhaps? Yoga was an important part of a trip I led to Paris, but equally so was the gourmet food. Charlotte Puckette, the innovative author of The Ethnic Paris Cookbook, taught us how to make a five-mushroom soufflé. At L'Ami Jean, a Basque restaurant I'd chosen as part of the tour experience, acclaimed chef Stéphane Jego selected each course. During dessert, he popped up tableside to see how we liked his signature rice pudding, with confiture de lait, creme anglaise, dried fruit and praline—a recipe so scrumptious The New York Times reprinted it several years ago. The next day it was yoga's "up dogs" and "down dogs" that helped us get us back in shape.
Second Helpings, Please!
A Texas couple cooking with me at Julia's in France had already twice attended CIA programs—the "Italian Cuisine Boot Camp" class in San Antonio and, for their eighteenth wedding anniversary, "Basic Training" in Hyde Park, N.Y. "We're serious about cooking," said the wife, a retired tax consultant. "At each class, we learn new skills and meet such interesting people who share our passion for cooking." No wonder then, that cooking tours can quickly become so deliciously addictive.
And as Julia would say, "Bon appétit!
---
About the author and some of her upcoming culinary trips
Elinor Griffith reinvented herself when she left her job as a magazine editor and ended up stirring things up in, of all places, Julia Child's former home in the South of France—but that's another story!
If your mouth is watering, a few spots remain for Elinor Griffith's May 12 – 18 excursion to the Don Alfonso 1890. (An article in The New York Times lists it among ten restaurants worldwide worth the price of a plane ticket.) She is also currently taking reservations for fall cooking tours to Julia Child's and to a new destination, historic Istanbul.
---
For further information, see www.ElinorGriffith.com or email Elinor at [email protected]/