Discovering The Charms of Elkhart Lake, Wisconsin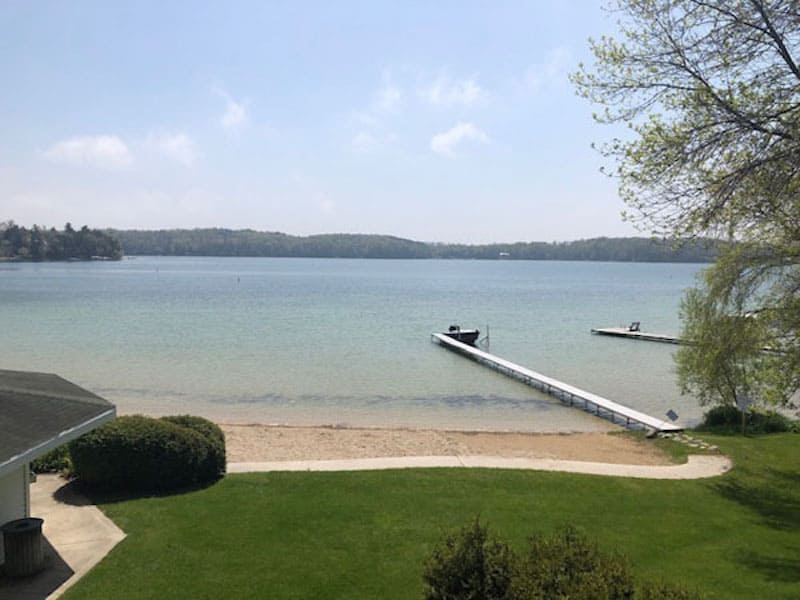 As someone who has been firmly planted on both coasts (I've lived in New York, Connecticut, Massachusetts, Vermont and California), I've never had the opportunity to spend much time in the Midwest. So I was pleasantly surprised to discover Elkhart Lake, a beautiful vacation destination in Wisconsin that offers a mix of traditional charm and modern, even sophisticated, comforts.
Located just one hour from Milwaukee and two and a half hours from Chicago, this two-street town has just 957 residents. There are no Lyfts, Ubers or taxis, but the town is eminently walkable with a golf course; world-class road racing track, called Road America; a gas station; a museum housed in a train station; fine restaurants; a pottery store/gallery and a wine shop.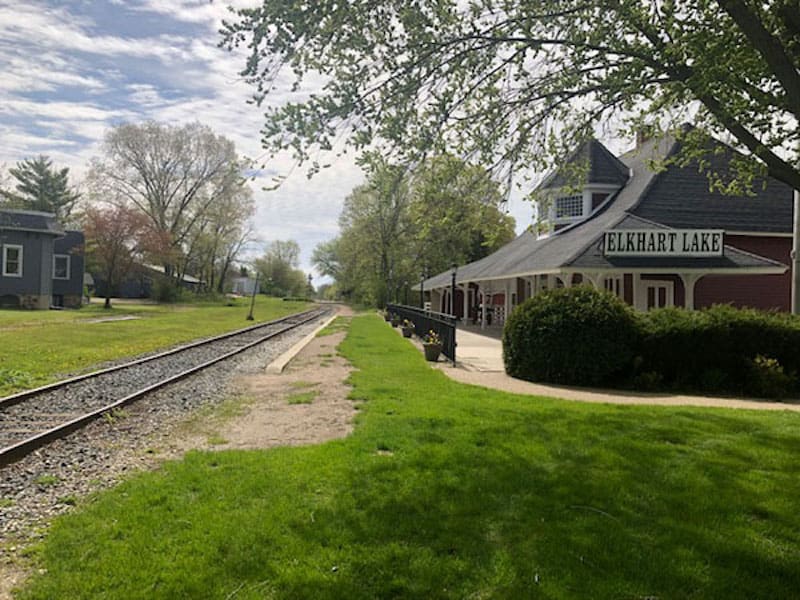 The majority of the action is on the lakefront. This is where three distinct resorts dot the landscape: The Victorian-style Osthoff Resort, the rustic Siebkens Resort and the hip and contemporary The Shore Club. Native Americans called the lake, which is shaped like an elk's heart, "the chosen spot," and it's not hard to see why: Spring-fed and 120-feet deep, the water is clear and pristine.
The air was crisp when I arrived in mid-May; it had been rainy and spring was taking its time. But magically, during my visit, the weather improved revealing the lake in all its glory. There is a lovely stillness to the town, even with some cars driving by. I found myself getting lost in thought or just listening to the birds chirp, feeling the breeze gently tease my skin and hair as I walked around the quiet streets and kayaked on the lake.
A summer resort matures for all seasons
Once strictly a summer resort town, Elkhart Lake is now a frequent site for weddings, and business and family gatherings. The town is also creating events and activities to make itself into a year-round destination. In warm weather, the lake is the main attraction for swimming, boating, paddling and fishing, as well as hiking and biking.
The area boasts some great hiking trails, including one called The Ice Age Trail, which features some of the best examples of landforms created by glaciers. Winter activities include ice skating, sledding, snowshoeing, ice fishing and snowmobiling—or snuggling by a fireplace with a cup of hot chocolate spiked with Bailey's Irish Cream.
So if you live in the Midwest, are driving cross-country, or you're simply looking for a new vacation spot, consider putting Elkhart Lake on your itinerary. Here's a rundown of some of its highlights:
Places to Stay at Elkhart Lake
The Osthoff Resort
The Osthoff Resort is the largest hotel on the lake with three wings and Victorian-style charm. The property was voted one of the Top Resorts in Texas and the Midwest by Conde Nast 2018 Readers' Choice Awards. It has an AAA Four-Diamond rating as well, and will be celebrating its 25th anniversary in its current incarnation in 2020.
The hotel consists of 245 spacious all-suite condos with fireplaces, kitchens and balconies that are available for rent. The resort boasts the usual amenities: indoor and outdoor pools, saunas, a fitness center, a game room. Visitors can also rent bikes, kayaks, canoes, hydrobikes and paddle boats. During the summer, the resort runs live entertainment by the lake.
General Manager Lola Roeh has created an umbrella of wellness over the entire resort, which features three restaurants that are sourced from an organic garden located right on the property, which produced 14,000 pounds of fruits and vegetables in 2018!
"Our goal is to deliver truly fresh food, free of herbicides and pesticides, and grown from seeds true to their DNA since the beginning of time," Roeh says.
For those who wish to create their own culinary sensations, Director of Culinary Patrick O'Toole offers cooking classes at L'ecole de la Maison, the resort's onsite cooking school.
Wisconsin cheese is a big draw for the area—Sargento and other cheesemakers are headquartered nearby. Quite naturally, my favorite dining experience at The Osthoff Resort involved cheese: The cheese and charcuterie plates at Lola's on the Lake were accompanied by a trio of soups, including their signature butternut squash soup.
The resort has hosted The Big Cheese event for the past two years over Memorial Day weekend, which puts the spotlight on local Wisconsin cheeses and pairings with wine, beer, cocktails, tea and honey. Participants can take cheese-making and cooking classes, shop a cheese market and sit down for a nine-course artisan cheese dinner.
There's also an Old World Christmas Market that takes place in early December featuring holiday shows, workshops and horse-drawn wagon rides, with opportunities for visitors to purchase unique gifts.
The Osthoff Resort is home to the Aspira Spa, one of the country's finest that ranks up there with Miravals and Canyon Ranches of this world. (It was recently ranked #2 of 100 Spas of 2018 by Spas of America.)
Aspira means "infused with spirit" and the long narrow hallways, meditation sanctuary, treatment rooms and spa café put you into a mellow mood and take you on a journey "to move forward in nature and peace." Spa treatments incorporate the healing wisdom of Native American and other indigenous cultures from around the world with the goal of offering a holistic, organic approach to the spa experience.
I received the 80-minute signature Sacred Waters treatment, a light-touch massage that includes energy work through the use of pouches filled with herbs and healing water from Elkhart Lake that are placed like hot stones on various chakra points on the body. The effect: A melting-into-the-floor kind of sensation!
*Note to avid spa-goers: The Kohler Waters Spa, which specializes in water treatments in line with its history as Kohler, a manufacturer of fine plumbing fixtures, is not far from Elkhart Lake.
The Shore Club
The newest resort on the lake is The Shore Club. Newly renovated, the property was previously called Lakeview House, which had been in operation for more than a century. The resort was built in 1872 but destroyed by a fire in 1890 and rebuilt in 1891.
Recently taken over by Tom Shortt and Kristin Pagel, it has been revamped into a luxury boutique resort with a contemporary lake vibe that pays homage to the past—gray vinyl planking on the floors, gray and white bedding, modern decor bathrooms—with 60 rooms, apartments and even houses. In the past, Shortt had worked for the Ritz Carlton and Four Seasons hotel chains, so he knows how to do luxury well.
The Shore Club features a fun and funky Tiki Bar & Lounge lakeside that twinkles and rocks at night with live music; during the day, it is filled with locals. The resort also offers a Mexican restaurant, called El Teatro Cantina, that hosts live bands, improv comedy shows and karaoke nights; a private beach; outdoor pools; and a state-of-the-art health and wellness center.
The resort's gourmet farm-to-table restaurant is called The Cottonwood Social. The food was exceptional and Shortt is hoping the restaurant will become a culinary destination in winter.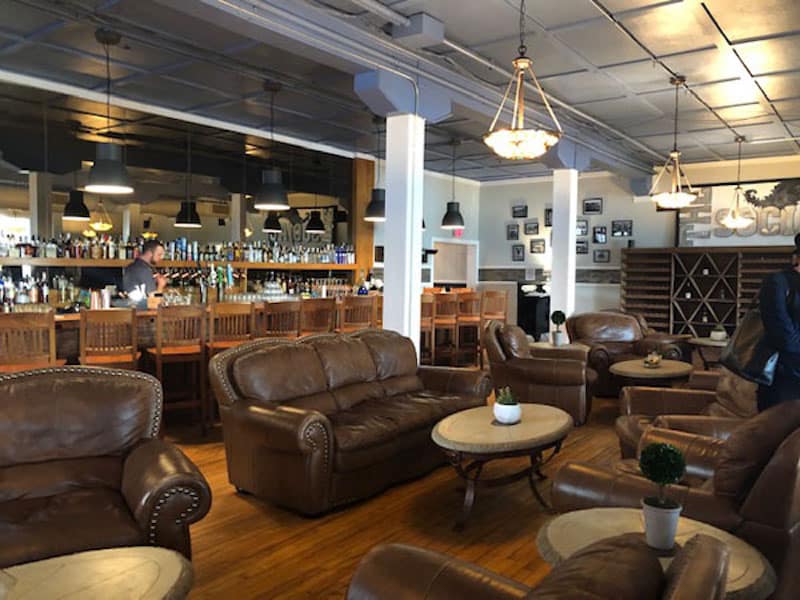 Siebkens Resort
On first glance, Siebkens Resort has a rustic, camp vibe, but don't be fooled: Its new Lakeview Condominium Hotel offers modern conveniences in deluxe hotel rooms and one- to three-bedroom condos that are available for rent, while two original hotel buildings house 30 eclectically decorated guest rooms.
Siebkens has a private beach on the lake, an outdoor pool, a coffee-and-ice cream shop and two dining options: The historic Stop-Inn Tavern (known for its pub food and live entertainment) and the Main Dining Room. The resort, which first opened in 1916, was recently purchased and is being renovated by Wendy and Rob Orth, a Houston couple who grew up in Wisconsin.
Other must-sees in Elkhart Lake
Two Fish Gallery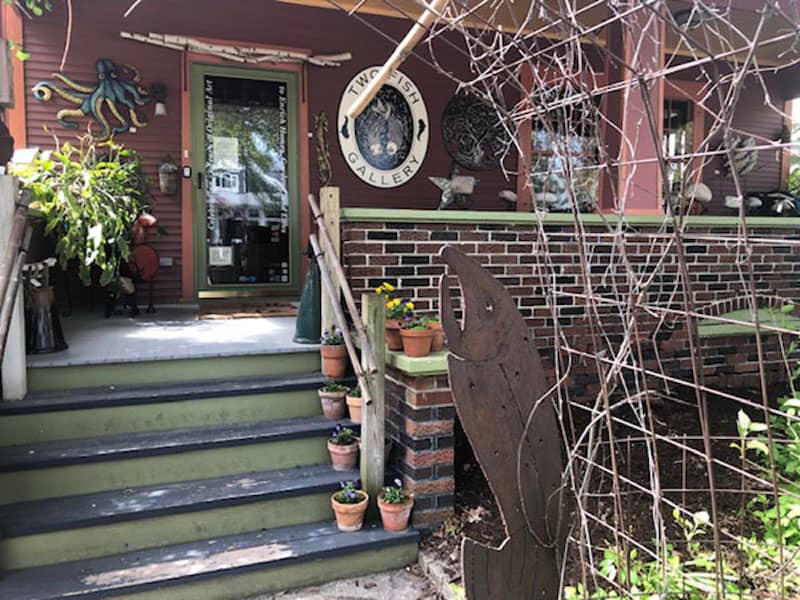 I felt like I was transported into a magical secret garden when I stepped through the gate at the colorful Two Fish Gallery on one of Elkhart Lake's two main streets. An early 20th century Arts and Crafts-style bungalow surrounded by a riot of colorful flowers and delightful garden sculptures, the gallery not only sells a variety of Fair Trade handmade crafts and gift items but also holds special exhibitions and runs classes.
Vintage Elkhart Lake Wine Shop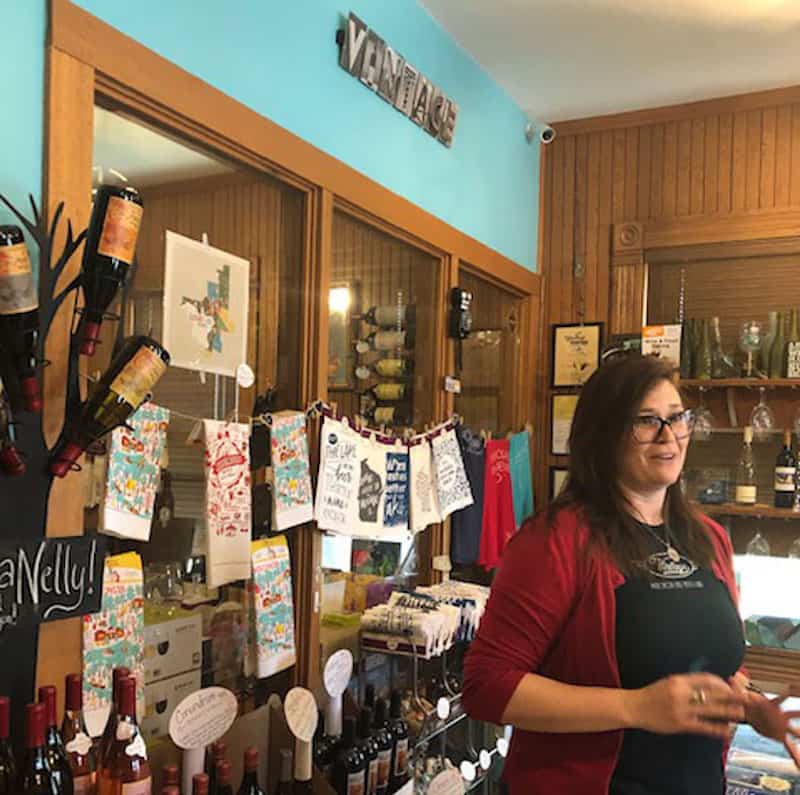 Just a few doors away on E. Rhine Street, certified sommelier Jaclyn Stuart, co-author of the Idiot's Guide to Wine & Food Pairings, has created a delightful wine and fine foods shop, Vintage Elkhart Lake Wine Shop, that is easy for even occasional wine drinkers (like me) to navigate.
Stuart only sells wine she personally selects. At the tasting bar, you can try wines by the glass and sample cheese, potato chips and other bites that pair well with the vintage in question. The shop is also available for special events and classes.
Road America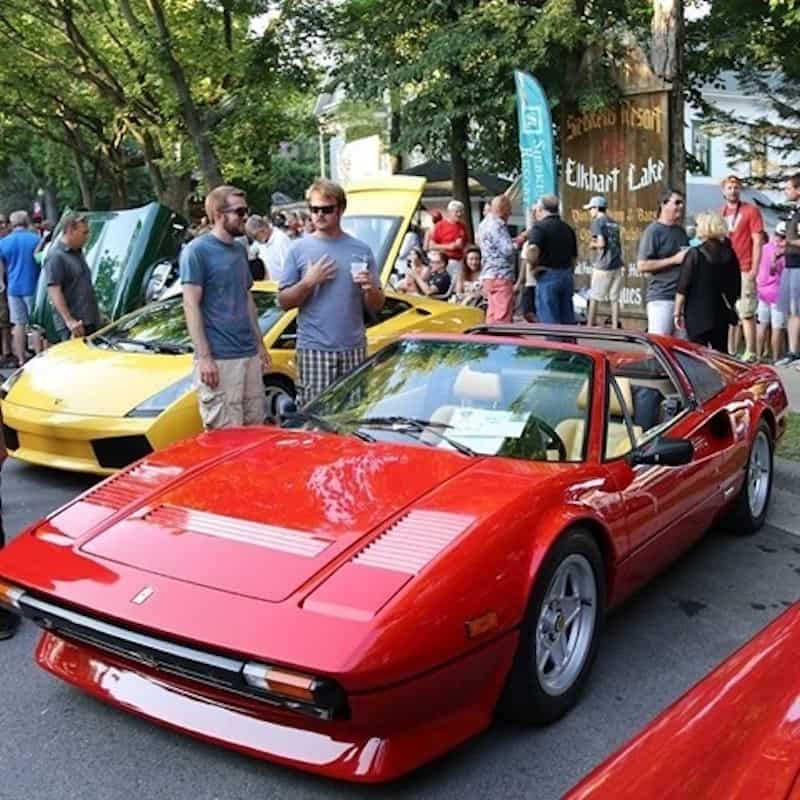 Elkhart Lake may be best known, perhaps, because of its longs history as the home of Road America. Racing used to be allowed on the streets of the town but was banned in 1955. The tradition continues, however, at Road America, an internationally known motorsports complex; it has one of the country's longest road-racing circuits at four miles and attracts over 800,000 visitors a year. The facility hosts numerous activities year-round for road-racing enthusiasts, including pro and amateur races, driving and motorcycle schools and unique activities.
---
IF YOU GO
---
*Guest contributor Nancy Monson is a freelance writer and artist, as well as a health coach. Her articles on travel, spas, lifestyle, health, nutrition, crafts, creativity, pets and entertainment have been published in numerous magazines, such as AARP The Magazine, Costco Connection, Family Circle, USA Today Go Escape, Woman's Day and Women's Health. She is also the author of three books.
Disclosure: Nancy Monson was a guest of the town of Elkhart Lake, but any opinions expressed in this post are her own.
---
Save to Pinterest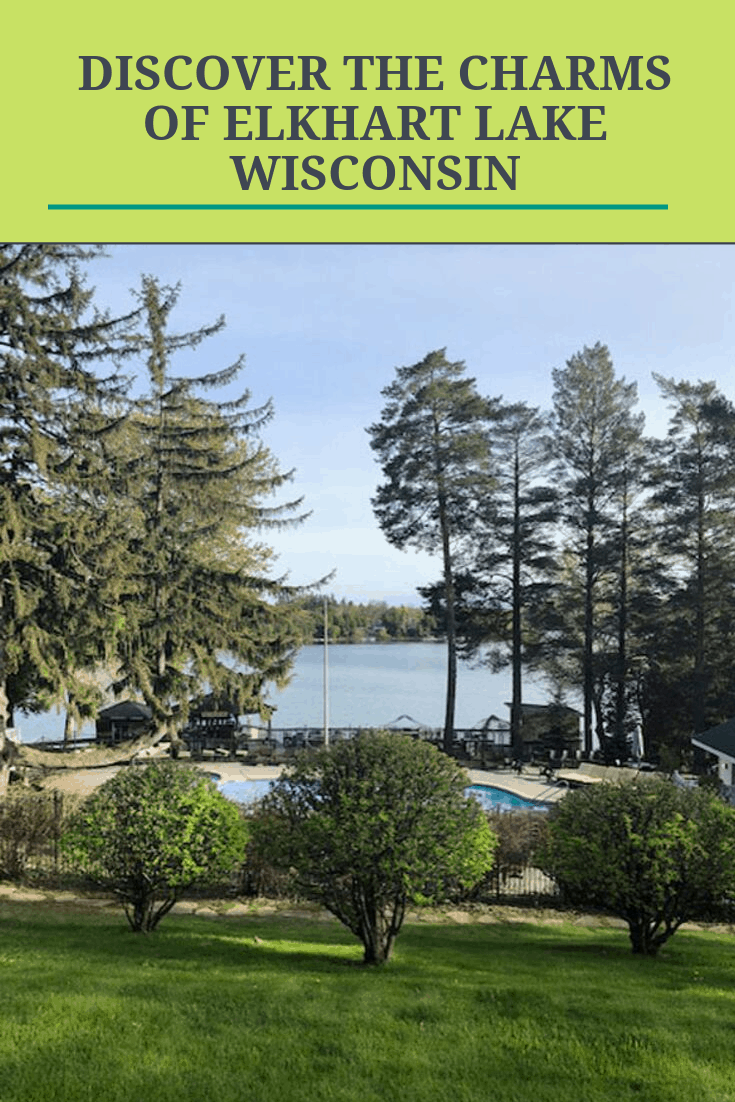 ---
---