Blue Hill at Stone Barns: 13 Things You Should Know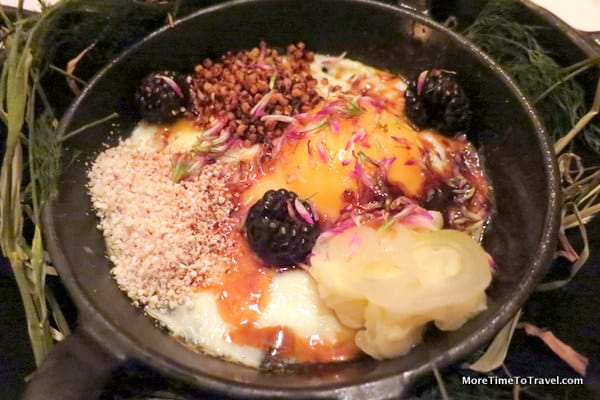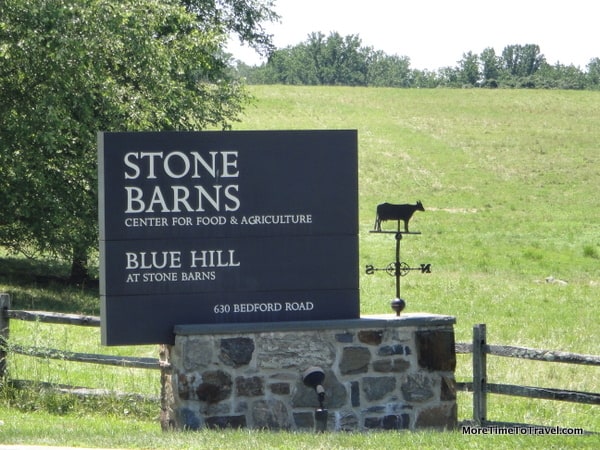 Dining at Blue Hill at Stone Barns in Pocantico Hills (Westchester County), New York is a unique culinary experience: The meal is unconventional, creative, irreverent…and delightfully unpredictable. While some elements are reminiscent of meals at other fine restaurants, taken as a whole Blue Hill at Stone Barns has no equal.
The pictures interspersed below capture some of the dishes served during our most recent meal. Bear in mind, we missed taking some photos, others weren't good enough to publish, and we may have inadvertently confused the order—but we hope this montage of 27 different presentations offers a glimpse of an extraordinary meal.
Ready to take the plunge and make a reservation? We have listed 13 defining characteristics of dining at Blue Hill that you should know before you go:
1- The menu is seasonally driven, emphasizing foods that are fresh and local.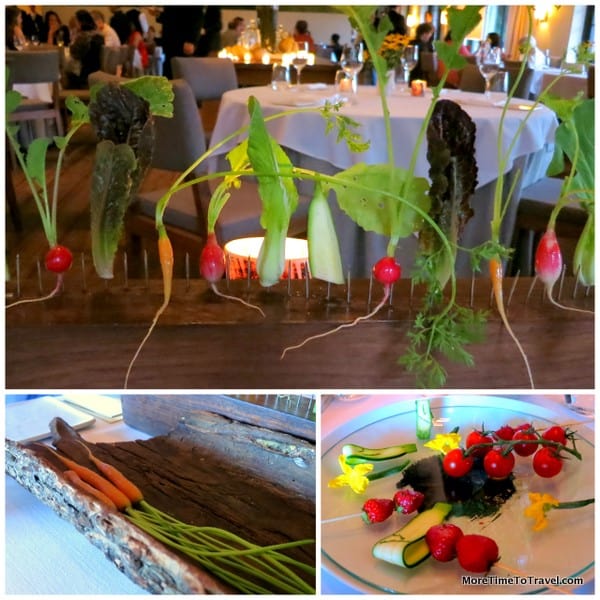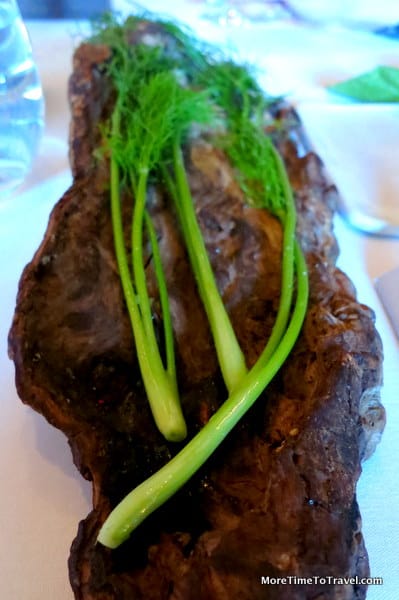 2- There is no written menu, per se. Instead, each guest receives a small journal identifying the foods harvested every month categorized by their source: from the field, pasture and forest, greenhouse, Blue Hill Farm (the Barber family farm in the Berkshires) and cellar.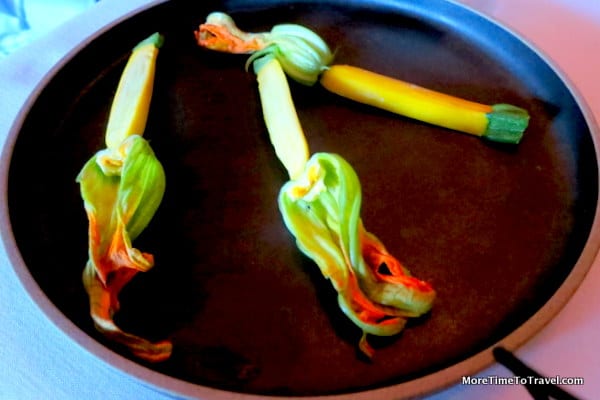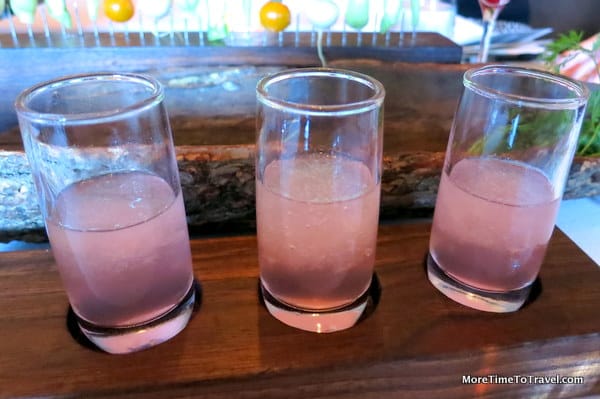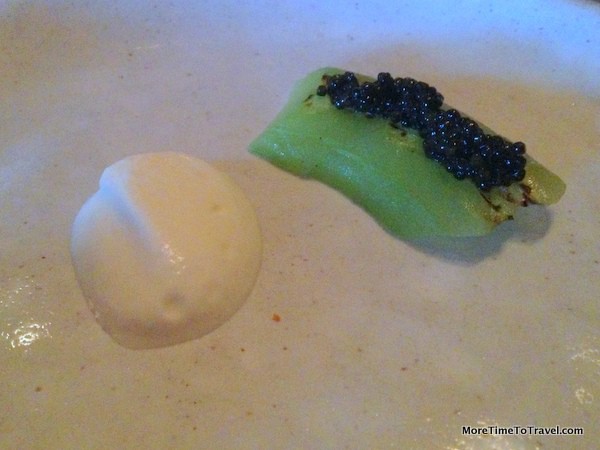 3- Diners aren't asked what they want—only if they have allergies, insensitivities or food aversions. Yet, the meal is highly personalized and you can trust that Chef Dan Barber and his team will make the right choices for you. Wine pairings are optional.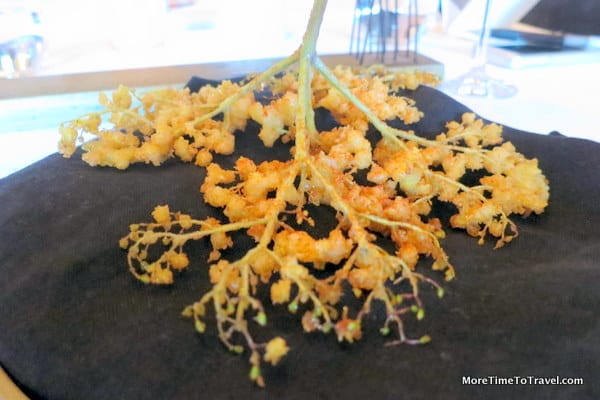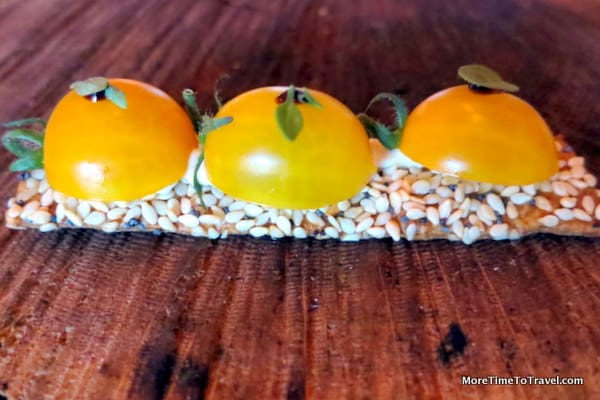 4- The scenic views from the dining room (a former barn) are constant reminders that the restaurant sits on a working farm. The fragrances of the first-picked fruits and vegetables of the season are intoxicating.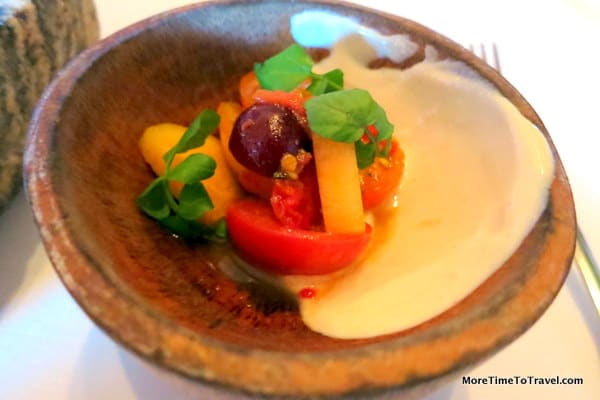 5- There is no set number of courses. Even on the same evening, the number varies from table to table. Despite having a camera, and pencil and pad in hand, it was impossible to count or keep track of everything we tasted.
6- Most dishes are vegetable-centric rather than meat-heavy, a healthier more sustainable way to eat. Bread is served later in the meal, as a course, rather than at the beginning.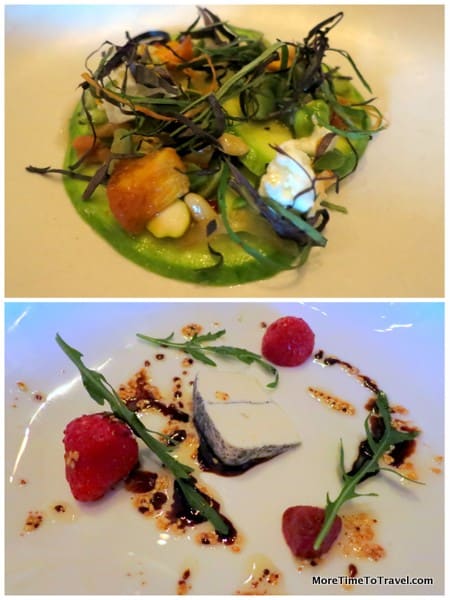 7- Presentation is raised to an art form. Multiple dishes appear around a common theme. The serving pieces themselves are visual reminders that food is connected to the earth. For example, the tomato dish in one of the collages at the beginning of this post whimsically uses soil-as-a-doily underneath its glass plate. The one below features a pullet egg surrounded by the foods (seeds and berries) eaten by its producer, a Rhode Island Red chicken.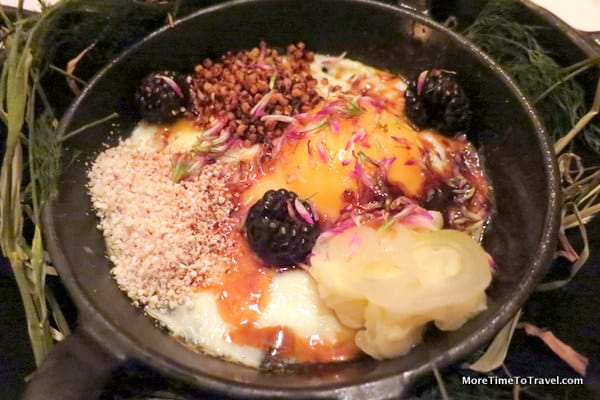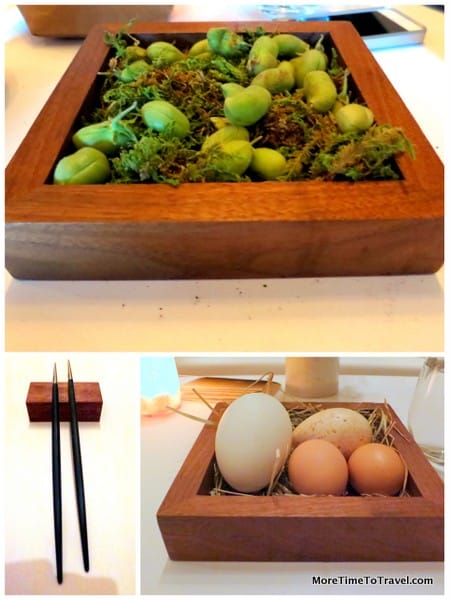 8- Like fine art is carefully framed, utensils and serving dishes complement the foods. Some are eaten with fingers rather than utensils; thankfully, the wait staff offers guidance.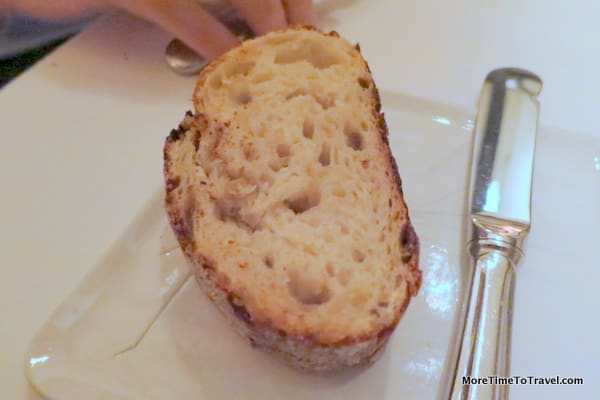 9- During the meal, it's not unusual to be invited to eat one or more courses outdoors on the patio before you return to your table for your next course.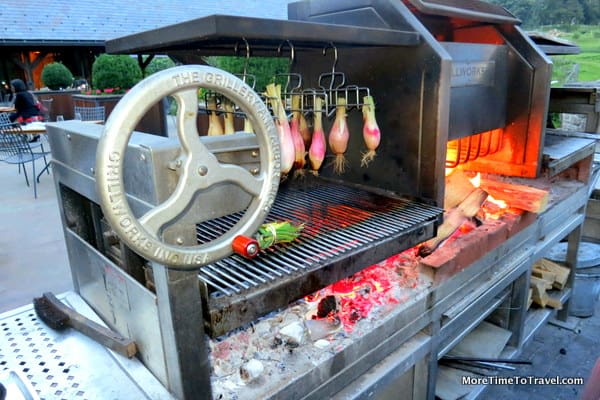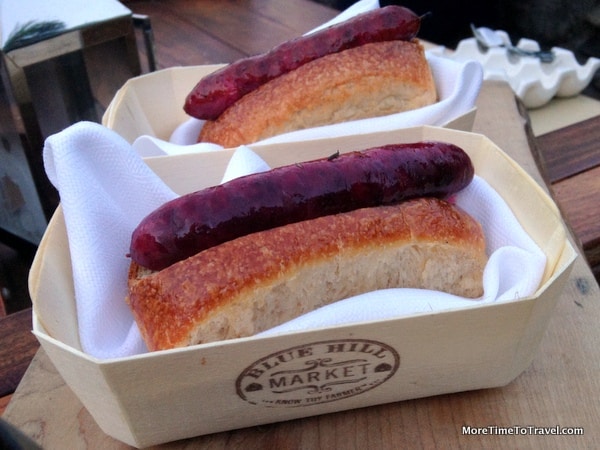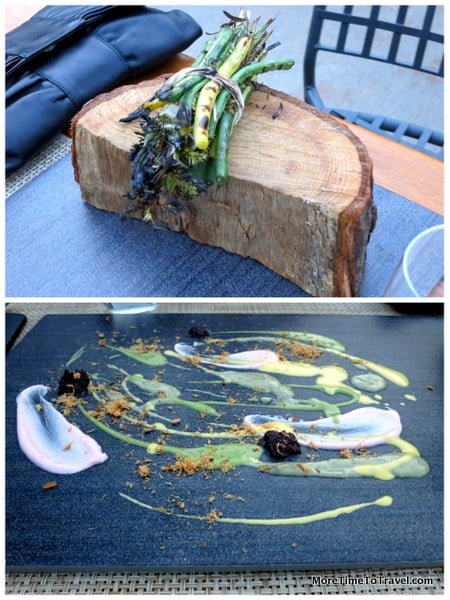 10- Portion size is modest but sufficient for savoring the delectable food on your plate. You'll feel satiated without feeling stuffed.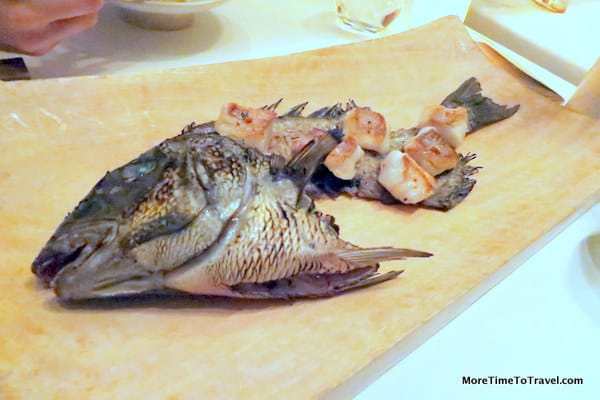 11- The meal is leisurely and relaxed. Time becomes irrelevant to both servers and guests. Although the dining room is limited to 75 seats, it's not uncommon for a meal to last as long as four hours.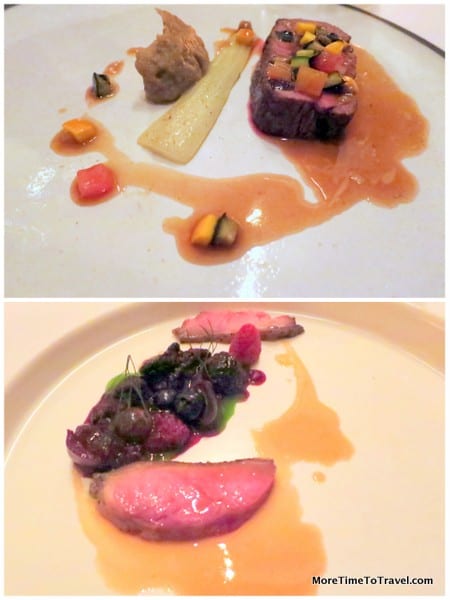 12- Staff are extremely knowledgeable and well-trained about farming, sourcing and food preparation. They function as tableside educators, patiently explaining your meal and answering questions.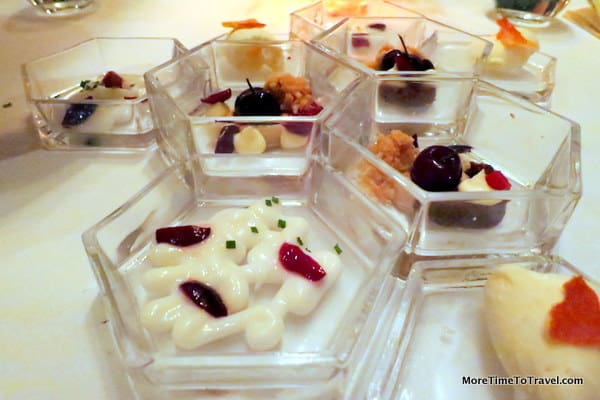 13- The ambiance is sophisticated but informal. Service is attentive but unobtrusive. Highly professional wait staff buzz around the room like dancers on a stage anticipating your every need.
To appreciate an unforgettable experience like this, you need to be a serious food-lover and come prepared with an appetite for education and entertainment.
---
IF YOU GO
Reservations can be made on Open Table.
The prix fixe Grazing, Pecking and Rooting Menu is $198 per person.
---
Prior stories on More Time To Travel about Blue Hill at Stone Barns:
Other reviews of Blue Hill at Stone Barns worth reading:
To read more about food activist and chef Dan Barber's vision for the future of food, see his new book, The Third Plate, available in print and Kindle editions at booksellers and on Amazon.