Pandemic Fare: Dinner With A Roman Chef
We gathered around our kitchen island and after a warm benvenuto, Roman Chef Andrea asked, "Do you know how Italians start a meal?"
Of course, we do. "With an aperitivo," we responded.
And with that, my husband, Jerry, and I filled two flutes with Mionetto (one of our favorite Italian Proseccos) and raised them to toast the Roman chef and our dinner to come: cin cin.
Getting prepped
As lovers of Italian cuisine and culture, we signed up for an online, in-home cooking class offered by Cuiline, one of a series of virtual culinary experiences recently launched by Access Culinary Trips. Access ordinarily arranges bespoke culinary adventures at destinations around the globe. But pandemic times aren't ordinary.
From the traveler/consumer side, we've not left the house since the spread of the virus was declared a pandemic in mid-March and have missed the joys of travel immensely, especially traveling to Italy. From the industry side, travel companies have had to find creative ways to stay afloat financially and retain staff until borders open up and travel restrictions lighten up. Online classes offer a synergistic benefit for both.
When we first signed on to Zoom on our laptop, Shoni, a Cuiline Virtual Kitchen Assistant based in Boston, was there to greet us. His role entails making sure the technical aspects of the class run smoothly. He suggested we adjust the location and angle of our laptop so the chef could observe our progress while we were cooking, and made sure we had a solid internet connection.
Then he introduced Chef Andrea Consoli, who was standing over the stovetop in his own home kitchen in Rome, more than 4000 miles away.
Chef Consoli lives and works in the trendy Trastevere neighborhood of Rome, where he has been successfully running cooking classes for locals and travelers for the past 13 years. A devotee of farm-to-table, authentic regional fare, he's also been involved with four restaurants operated by his family in Rome.
In preparation for the class, we received a "Goodie Box" from Cuiline with recipe cards and pre-measured, harder-to-find, non-perishable ingredients, which had been delivered to our doorstep several days earlier. Now they were spread all over our island. There were even suggested wine pairings to complement the meal: Frascati (White) and/or Cesanese (Red).
Beside them were some of the fresh ingredients we had ordered from a local market based on the shopping list sent to us in advance. I had also retrieved some of the kitchen tools we would need for the class: a wooden spoon, cutting board, mixing bowls, pots and pans, double-boiler, hand mixer, mallet, tongs, strainer, grater, chef's knife and measuring cups and spoons.
The joy of cooking
As the hands-on class was about to begin, Chef Consoli went over the menu for the three-course "simple meal" we would be preparing, a typical Roman dinner.
The

primo

or first course would be

Spaghetti Carbonara

, made with eggs, pancetta, and pecorino romano cheese.
The

secondo

, or second course, would be

Veal Saltimbocca

, made with thinly sliced veal cutlets, prosciutto, sage leaves, and white flour, white wine and olive oil.
And since a traditional Italian meal ends with a

dolce,

our last course would be

Souffle al Cioccolato

, made with dark chocolate, butter, confectioners sugar, flour and eggs.
"I call myself an 'old soul' who loves tradition, so I like to stick close to classic recipes," Chef Consoli writes on the Cuiline website. "Carbonara and saltimbocca are two very Roman dishes that visitors always want to try. Add a chocolate lava cake for good measure, and you can impress your friends with a simple, delicious and very traditional meal!"
The chef began preparing the meal as we followed along. And when our virgin efforts didn't quite match his, he patiently suggested some tweaks.
We learned interesting cooking trivia that will stay with us forever: That the risk of contamination from salmonella is greater from touching the shell of the egg rather than touching its insides. That pecorino cheese is generally more zesty than Parmigiano-Reggiano. That different recipes call for different pastas, and dry pasta should always be used for Carbonara. That melted chocolate and butter make a ganache and if your meringue, made of egg whites and sugar, isn't forming peaks, just keep on mixing.
He explained that in Italy, Spaghetti Carbonara is customarily eaten at restaurants rather than prepared at home. That the Roman tradition of quinto quarto encourages the use of all the parts of an animal, including the pancetta (belly). That we should always reserve a cup of pasta water to add texture and flavor to a sauce. And he showed us how to masterfully twirl the spaghetti around a large fork to elegantly plate the pasta in the shape of a nest (which we are still practicing).
And, of course, that wine enhances not only the dining experience but also that of cooking. So both the Chef and we sipped as we cooked together.
The takeaways from our Roman Chef experience
Although our class was scheduled for 5PM EDT (11PM in Rome), "Energizer" Chef Andrea was lively, enthusiastic and patient throughout, as willing to answer questions about cooking as to chat about the impact of the pandemic. Even his fluent English never deteriorated during the late hour. In the background, out of the sight of his camera, his wife helped clean up behind him while his two children, also out of sight, were hopefully asleep.
At the end, our kitchen was strewn with more dirty pots and dishes than it had seen in quite some time. The meaning of "simple" must have been lost in translation: Simple to the chef wasn't exactly simple to us. In our humble kitchen, it approached ambitious.
Yes, we loved the learning experience. The chef expanded our cooking repertoire and knowledge of Italian cooking techniques and traditions—but most of all enhanced our self-confidence. The delicious meal we sat down to enjoy afterwards was a bonus—in addition to all the fond memories we have of the Roman chef who had a seat at our table.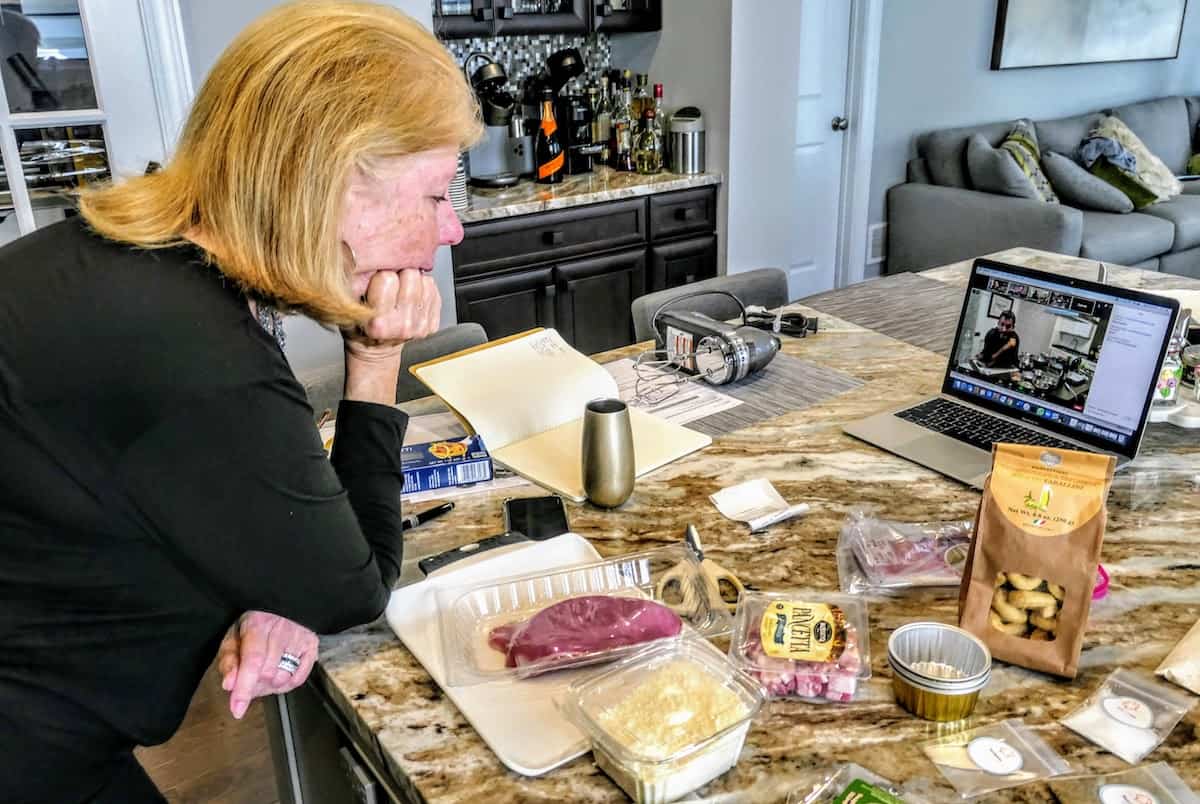 ---
All photo credits Jerome Levine, except for lead photo and unless otherwise noted.
---
Chef Andrea Consoli's Souffle al Cioccolato (courtesy Cuiline)
Chef Andrea Consoli's Souffle al Cioccolato offers a deliciously sweet ending to an Italian dinner. Most of the recipe can be prepared before dinner.
Ingredients
15 ½ oz Unsalted butter
15 ½ oz High-quality dark chocolate (75%)
1 cup Confectioners sugar
¼ cup All-purpose flour (sifted)
3 Egg yolks
2 Egg whites
Instructions
Preheat oven to 350 degrees.Grease ramekins (Chef Andrea bakes in 4" by 1.5" ramekins but almost any size will work.)

Melt the chocolate with the butter in a double boiler or large bowl set over a pot of boiling water (bottom of bowl should not touch the water), whisking until smooth. Remove from heat and set aside to cool.

Beat the egg whites with 1/2 cup of sugar in a stand mixer or with an electric hand mixer until stiff peaks form. Set aside.4

In another bowl, beat the yolks with the remaining 1/2 cup sugar until thick and creamy. Using a wooden spoon, add the chocolate mixture to the egg yolk mixture and stir until smooth. Fold in the egg whites and mix until fluffy. Gently fold in the flour.5

Pour the batter into ramekins, Fill to just below the top and refrigerate until you are ready to bake. (This recipe fits into two 10 ounce ramekins. One ramekin is enough for 2 people or more.)6

Bake at 350 degrees for 10-15 minutes, depending on the width of your ramekins. Souffle should still be gooey and partially undone in the center.7

Allow to cool slightly.If desired, sprinkle confectioners sugar over the top.Note: Unbaked souffle will last in the refrigerator, covered for up to 2 weeks.
---
Disclosure: Our dinner was hosted at the invitation of Cuiline; any opinions expressed in this post are our own.
---
Information about Cuiline:
See the calendar of course offerings which includes lessons Italian, French, Spanish, Irish, Greek, Moroccan, Japanese, Thai, Vietnamese, Indian, Argentinian, Peruvian, Cajun/Creole

and others

.
Classes can be arranged privately or for groups, and make a great pandemic gift.