Cranwell Resort: A hotel with history in the Berkshires
The Cranwell Reso­­rt is located on a hillside in Lenox, Massachusetts, a quaint village in the Berkshire Mountains just over two hours away from New York or Boston. Unlike other accommodations in the area which tend to be small hotels or B&Bs, it is a complete resort with 114-rooms and suites housed in several buildings, three restaurants, a full-service spa, and stately grounds that include an 18-hole golf course.
A hotel with history
Around the turn of the twentieth century (called the Gilded Age), millionaires began buying properties and building sprawling residences for entertaining during "Berkshire Season," which extended from late summer to fall.
One of those millionaires, John Sloane, a friend of the Vanderbilts and the co-owner of the iconic W & J Sloane Furniture Company, purchased land and built a Tudor-style mansion there in 1894, naming it Wyndhurst. That land now houses the 380-acre Cranwell resort, which is listed on the National Register of Historic Places and is a member of the National Trust Historic Hotels of America.
The old oak-paneled mansion with intricate carvings and 15 fireplaces has been lovingly restored over the years by a series of owners and still retains it original splendor.
A peek inside
The fine dining restaurant at the resort, called the Wyndhurst, is located in the old Mansion. The windowed room with 11 tables is cozy and elegant with a floral carpet, and pastel upholstered chairs set against antique white walls. The Blue Room in the White House was modeled after the ceiling in this room.
Built in 1882 in a Queen-Anne style, the shingled, three-story Beecher's Cottage is the oldest building on the property.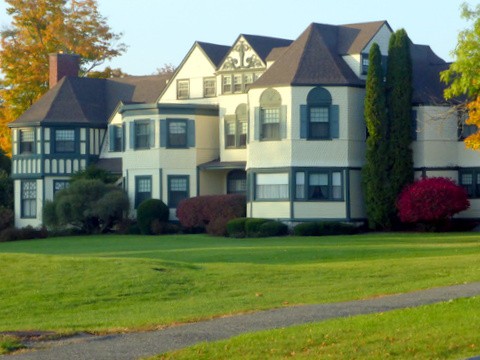 Depending on which building you stay in, rooms at the property can vary greatly in terms of location, size and amenities. We opted to stay in the newest building, the Carriage House, which was built in 2012 after the previous wooden structure was destroyed by fire. Room 313 was spacious with two-double beds and a sitting area under a gabled roof. The modern tiled bathroom had double-sinks. While it was completely comfortable, clean, quiet and functional, our building had less charm.
Something for everyone
Because we only stayed overnight, we just were able to take a peek at the 35,000 square foot spa that is connected to several of the buildings through a series of heated covered walkways, which are probably very appreciated during winter. The spa features a fitness center, saunas, steam rooms, and a beautiful 60-foot indoor pool with mountain views. It offers nail and salon services, and over 50 treatments in 16 treatment rooms. With such an impressive spa, it's not surprising that Cranwell is a popular destination for girlfriend getaways.
We're not golfers but the place seemed like a golfer's paradise with a driving range and 60-acre championship course that extends over two sides of Route 20.
What really called out to us, however, were the inviting grounds that beg city dwellers to stop and relax. The original gardens were designed by Frederick Law Olmstead, who designed New York City's Central Park. One working gardener I spoke to at the resort told me that she was one of three full-timers who take care of plantings and seasonal decorations (separate from the lawn crew). The landscaping and lovely walking paths were picture-perfect, no matter where you looked, always framed by panoramic mountain views. For active visitors, hiking, skiing, and mountain bike trails are nearby.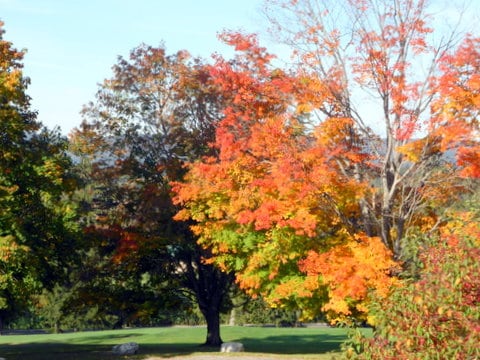 I can imagine how each season has its unique charms at Cranwell, all of them only enhanced by the patina of age. If you are history buff, you'll especially enjoy looking at the vintage photographs hanging in many of the rooms, which show the early days of the property and tell about its history and notable visitors over the years.
---
IF YOU GO:
---
Disclosure: I won a complementary two-night stay at Cranwell as a prize for an award-winning article submitted last year to the North American Travel Journalist Association (NATJA). I only stayed one night but hope to return again.