Colomba Easter Bread: A Sweet Indulgence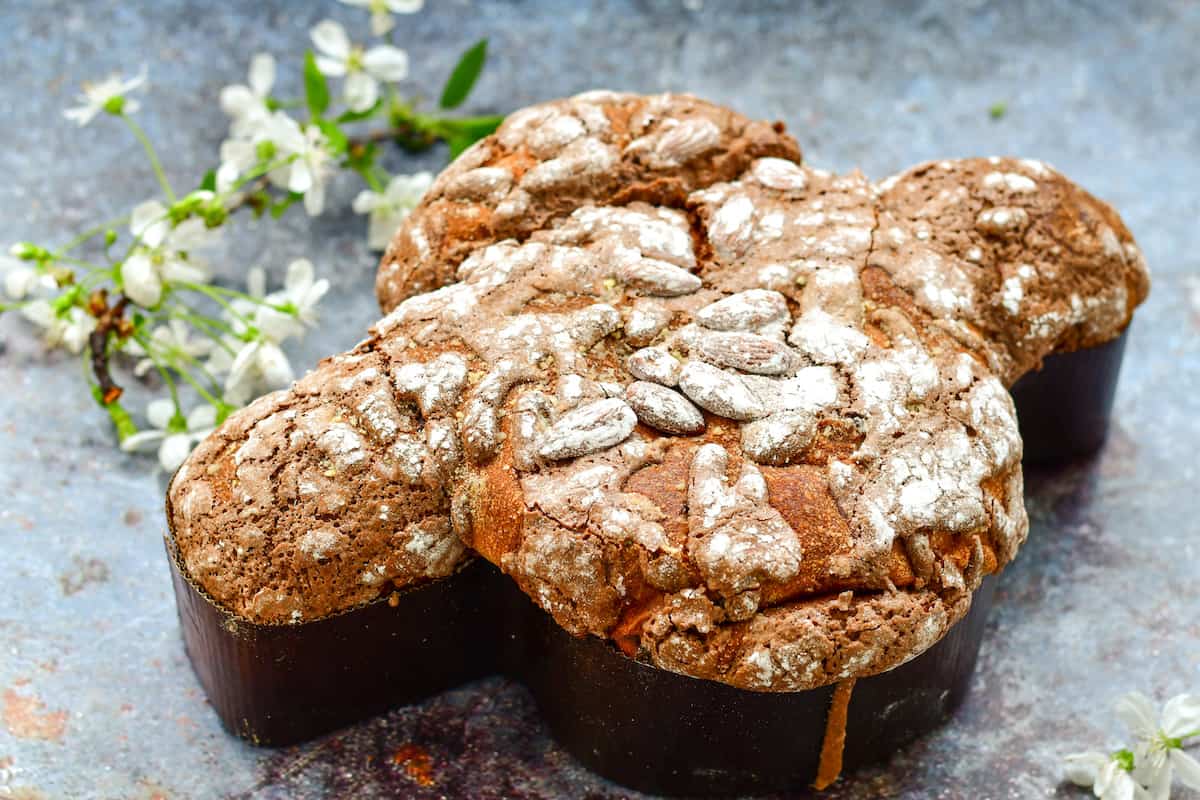 On Easter Day, you'll likely find Colomba Easter Bread (Pane di Pasqua) at dinner tables all over Italy, from north to south.
The bread is one of the first signs that spring has arrived. And despite most offices and retail shops closing up for the public holiday, bakeries remain open on Easter morning in Italy so customers can purchase this Italian Easter tradition to take home for dinner. Along with large, elegantly-wrapped chocolate eggs, the bread is also a favorite gift for good friends and relatives.
Although less well-known than its Christmas cousins (Panettone and Pandoro), both holiday treats are made from a similar dough of flour, eggs, sugar, butter, and natural yeast. Because this dough is sweet, soft, fluffy, and cake-like, Colomba is sometimes called Easter cake. The dough is often laced with candied fruit.
Differences between Colomba and Panettone
However, there are differences between Colomba and Panettone besides the seasonal one. The most apparent difference is shape: While Panettone is round, Colomba is baked in the shape of a dove, symbolizing the Easter message of hope.
Also, the raisins used in the classic Panettone are replaced with candied orange peel in the classic Colomba. In addition, Colomba is usually covered with a glaze made of almonds and sugar pearls.
While Panettone has become a Christmas favorite worldwide, Colomba is a bit less popular in the U.S. but seems to be making inroads on the Easter holiday dessert circuit.
What is the history of Colomba Easter bread?
No one is quite certain, there are multiple explanations of how Colomba came to be.
Delicious Magazine suggests the tradition may date back to 1176 AD when two doves were spotted at the end of a battle in Lombardy. Another legend suggests the bread may have been a peace offering after a Lombardian king captured the city of Pavia. But all Italians don't even agree on its region of origin.
Milanese baker and businessman Angelo Motta commercialized the bread as an Easter specialty.
Variations on a theme
In Italy, foods and breads tend to differ from region to region and even from town to town. The same holds for Colomba. Different bakers put an innovative spin on the traditional bread, often by adding or substituting regional ingredients and cream fillings.
The varieties of Colomba are endless, also varying from baker to baker. You can find Colomba made with hazelnuts from Piedmont, Amarena cherries from Emilia Romagna, pistachio cream from Sicily, lemons from Sorrento, or balsamic vinegar from Modena. Some bakers use Protected Designation of Origin (PDO) products in their recipes, foods that are tied to a specific geographic area.
Many bakers add chocolate chips or Nutella to the batter to appease sweet tooths. Easter breads come in different sizes with creative packaging, ranging from fancy fabric wraps to hat boxes.
A versatile bread
Typically, the bread is served as a dessert at the end of Easter lunch, often accompanied by a glass of sweet wine or Prosecco. It also pairs well with berries, honey, fruit jams and preserves, hazelnut spreads, or whipped cream.
On the Easter table, the bread is often served flanked by eggs representing the Resurrection of Christ.
If left in a plastic bag, the bread is likely to last a few days in most homes. Bakers caution against refrigerating Colomba.
After Easter, the bread is often enjoyed with a cup of cappuccino at breakfast or as an afternoon snack with tea. Like Panettone, Colomba, past its prime, makes an excellent base for French toast.
Since most of us aren't used to cutting dove-shaped breads, check out this helpful video on how to cut and serve Colomba from Loison Pasticceria, fourth-generation pastry makers from Vicenza.
The video also suggests that Colomba is best served warm or at room temperature.
How to cut and serve Colomba Easter Bread
---
This post may contain affiliate links. This means that I may receive compensation if you click a link, at no additional cost to you. For more information, please read my privacy and disclosure policies at the end of this page.
---
Where to find Colomba Easter Bread online in the U.S.
Even most Italians typically purchase Colomba from bakeries because baking the bread is time-consuming (estimated to take 30 hours) and requires skill and patience.
Olivieri 1882 Colomba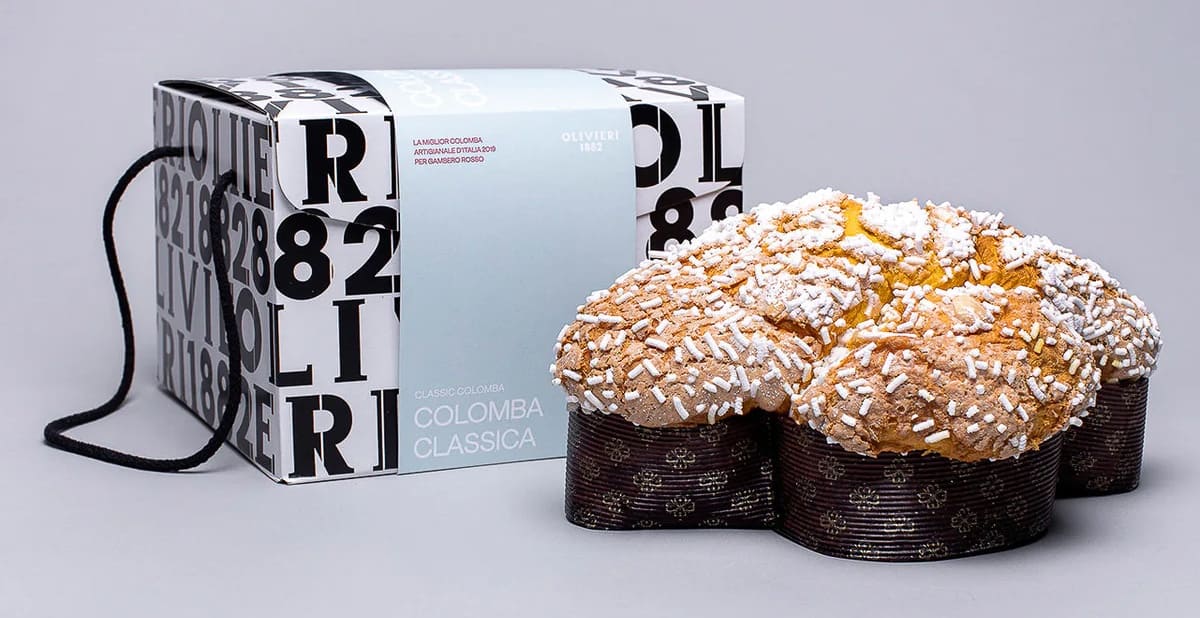 Olivieri 1882 has been recognized for its quality by Gambero Rosso, one of Italy's most important food and wine magazines. Based in Arzignano, in the Veneto region, this artisanal Italian baker has been making breads and cakes for more than 130 years.
Their Colomba includes the classic version (topped with a sugar glaze and sliced almonds) and variations with chocolate, lemon and vanilla, peach and others.
---
Loison Columba Cakes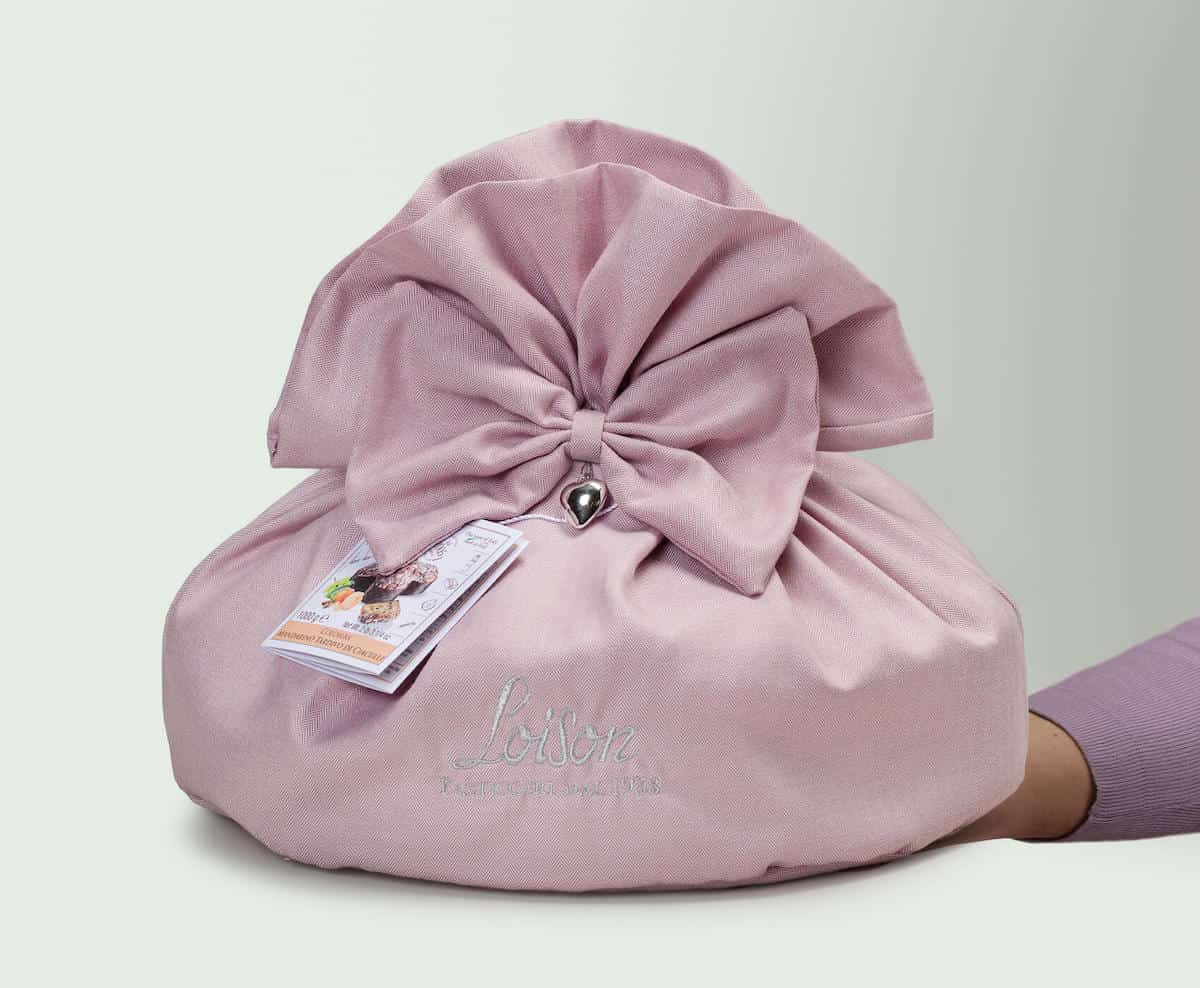 Based in Costabissara, Veneto, this three-generation family business produces a full line of Colombe. The varieties include cakes using such aromatics as mandarin from Ciaculli, figs from Calabria, and single-origin chocolate from South America.
---
Sant Ambroeus Classic Columba
The Sant Ambroeus brand dates back to 1936 when two pastry chefs opened a cafe in Milan, steps from La Scala. Since then, the firm has become an international hospitality group with cafes/boutiques in New York City, Southampton, and Palm Beach.
Sant Ambroeus Columba has been made by the same family for over three generations. This classic version is enriched with fruits and candied orange peel and covered in hazelnut glaze, with sugar grains and whole almonds.
---
Giuseppe Giusti Colomba
One of the most unique and thoroughly modern versions of this classic delicacy, Giusti Colomba, comes from a partnership between two innovative Italian food producers, both with long family legacies: Giusti, the oldest olive oil maker in Italy and legendary baker, Thomas Muzzi.
Raisins soaked in balsamic vinegar from Modena are added to the dough as a cream filling. Then, the entire bread is drizzled with a dark chocolate glaze, making it a delectable Easter dessert.
---
Muzzi Classic Colomba in Gift Box
The Tomasso Muzzi pastry shop first opened in Foligno, in the region of Umbria, in 1795. Since that time, the company has continued to bake high-quality Italian pastries, cookies, cakes, and special holiday breads, like Colomba.
We love the classic gift box that comes with this one.
---
Bonifanti Chocolate Chip Columba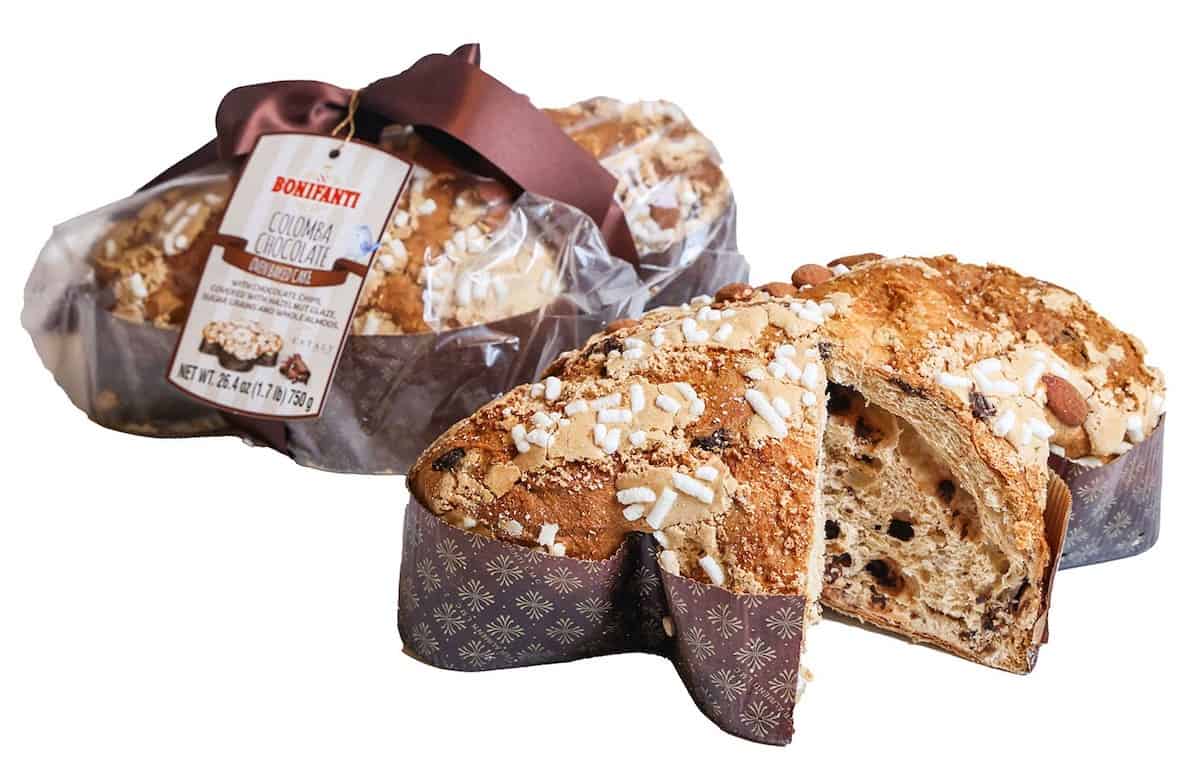 Vincenz Bonifanti has been creating Colombe since 1932. The bakery is in a shop in the center of Villafranca, a small town in Piedmont.
This Easter cake has delicious local chocolate chips that add even more sweetness to the treat.
---
Pagnotta Pasquale
Sarasina is a tiny village in the Appenine Mountains near Cesena in Emilia Romagna. On the two Sundays preceding Easter, the town celebrates a Sagra della Pagnotta Pasquale (Easter Loaf Festival).
For centuries, Pagnotta Pasquale (Easter loaf) has been the traditional dessert, served after a meal of salsiccia matta (crazy sausage) and rustic guscioni (stuffed piadina bread). The ancient Easter loaf recipe handed down over generations still remains popular tradition today. Now you can taste it at home.
---
Read my article on Forbes to learn more about the creation of Giusti Colomba, the Easter bread laced with balsamic vinegar from Modena.
---
Save to Pinterest!!