Carolina Cider Company: Halfway Between Charleston and Savannah
Carolina Cider Company is a quirky roadside stand, the perfect spot to stretch your legs when traveling between these two great Southern belles.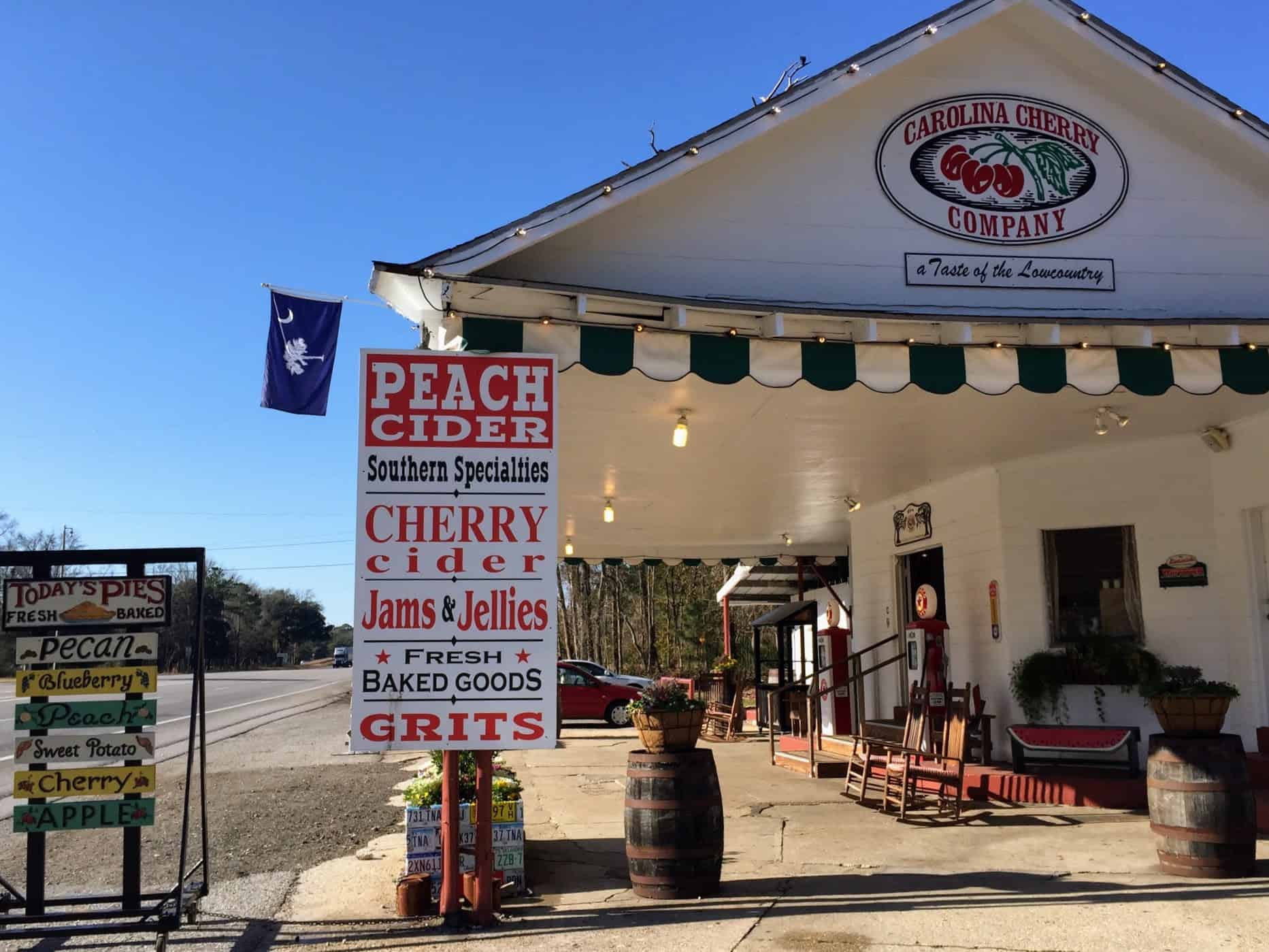 The drive between Charleston, South Carolina and Savannah, Georgia, is just over two hours, mostly on a divided highway, U.S. Route 17. It's an easy drive with little to see except miles and miles of trees and grasses.
Heading south, the Carolina Cider Company in Beaufort is one of the few interesting options for stopping midway between the two cities. Friends had told us about the "pie place" along the way but it turned out to be more than that. It's really a gourmet grocery store.
The huge billboard on the side of the road that warned we were approaching the Carolina Cider Company for a "taste of the low country" didn't overpromise. (Admittedly, we were confused at first because the sign on the door read Carolina Cherry Company but whatever…they were one and the same.)
The building exterior looks like an old-fashioned general store with some high-backed wooden rocking chairs outside and a retro feel reminiscent of road trips from the past.
Even the prices on the old Texaco gas pumps are frozen in time at 42 cents a gallon.
Carolina Cider Company: Grab and Go
Inside, you can grab a cup of coffee with one of the shop's famous pies, either a tartlet (for one) or a regular-size pie to take home. When we stopped, the fresh homemade pies available for purchase that day included pecan, blueberry, peach, sweet potato, cherry and apple.
Another specialty is the peach and cherry ciders, all made with natural flavors and no sugar or preservatives. Having been in the area for several weeks, southern delicacies now seemed more familiar.
Some of the regional food specialties for sale at Carolina Cider include Benne wafers, hushpuppy batter mix, grits, fruit jams and jellies, barbecue sauces, pickled vegetables, Hoppin' John, and Cajun deep-fried peanuts you can eat with the shells.
Low-Country Favorites
Everything is served up with a big dose of Southern hospitality. Both the sales clerk—and open jars with spoons beside them—encourage customers to sample the products.
Although all the foods were regional specialties of the low country, these types of products are akin to the small-batch food delicacies we have found in shops in New York, like Dean & DeLuca or Eataly.
Branding is everything, so some of the syrups at Carolina Cider were tagged as one of "Oprah's Favorite Things," and packages of nuts said they were favorites of NBC weatherman Al Roker.
One of the many \uvirtues of a road trip is that there are no TSA 3-3-1 rules. Because we could take bottles and liquids home with us, we were able to purchase pretty jars of peach and fig fruit preserves as gifts.
If you miss the turn-off
The Carolina Cider Company surely felt like a one-of-a-kind roadstand.
Until we realized, upon returning to Charleston, that a clone of the Carolina Cider Company was on the other side of the road just in case, someone missed it on the way going.
Of course, we loved our terrific day trip because there were so many things to do in Savannah, the oldest city in Georgia.
---
Guess we weren't the only ones on the road from Charleston to Savannah
---
All photo credits: Jerome Levine
---
IF YOU GO
Carolina Cider Company, 81 Charleston Highway (Route 17), Yemassee, South Carolina
If Savannah is your final destination, here are some unique places to stay in Savannah GA.
---
Save to Pinterest!!