Aloha Nights! Georgia O'Keeffe's Hawaii at the New York Botanical Garden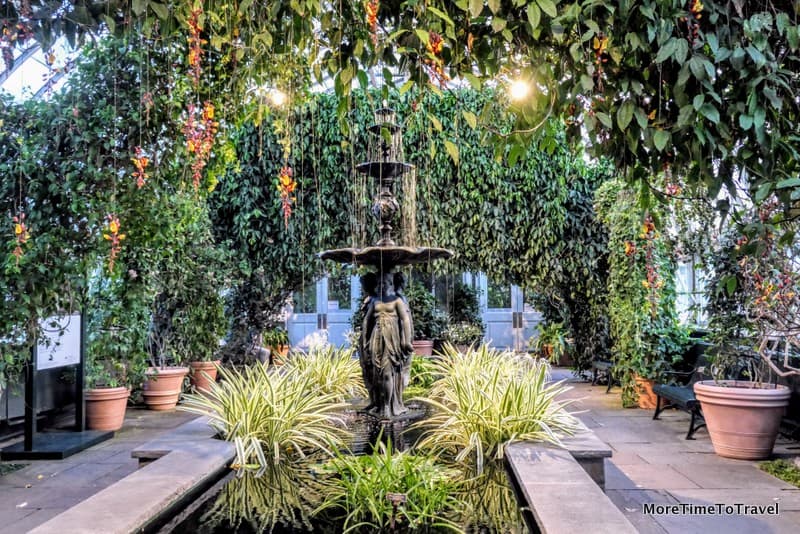 From May 19 through October 28, 2018, visitors to the New York Botanical Garden (NYBG) in the Bronx can witness the beauty that inspired iconic artist Georgia O'Keeffe—and that was captured by her artwork after a visit to the Hawaiian Islands. This ambitious exhibit, called Georgia O'Keeffe: Visions of Hawai'i, includes a variety of day, evening and weekend events.
The 250-acre New York Botanical Garden (NYBG) in the Bronx is a virtual museum without walls—one whose permanent and temporary exhibitions change with the seasons. Some of the most anticipated events are those held spring and summer evenings when the crowds are fewer; evening breezes cool the air; and incredible tales come alive, woven through curated exhibits. Aloha Nights offers one of these special opportunities.
The backstory: An advertising gig
In 1939, an advertising company invited Georgia O'Keeffe to travel from New York City to Hawaii to produce paintings that could be used to promote the Hawaiian Pineapple Company (which later became the Dole Food Company).
O'Keeffe studied the tropical landscapes and plants she found on the Hawaiian Islands and produced more than 20 paintings and sketches. After her return in 1940, these works were exhibited at An American Place, Alfred Stieglitz's New York Gallery.
O'Keeffe's work received critical acclaim for capturing the sense of place of the Hawaiian Islands. Two of the paintings she produced were eventually used in advertisements, one of a heliconia and the other of a pineapple bud.
The exhibit
Georgia O'Keeffe: Visions of Hawai'i at the NYBG has four major components inspired by the iconic artist's nine-week, 1939 visit:
The stunning Enid A. Haupt Conservatory houses an installation of the tropical plants that inspired the artist's work in Hawaii. The variety of flora displayed showcase the biological diversity of the Hawaiian Islands.
The LuEsther T. Mertz Library Art Gallery holds an extraordinary exhibition of 17 O'Keeffe paintings, borrowed from private and museum collections, that haven't been seen as a group since their 1940 New York debut. Also on display (although they pale in comparison to the spectacular paintings) are manuscripts, maps and other artifacts from the same time as the artist's stay in Hawaii.
Along the winding paths lush with greenery and flowers, visitors will find contemporary lanterns and sculptures by Mark Chai, which were also inspired by the plants of Hawaii.
Finally, an exhibit called "A Closer Look" offers art and science activities for children and youth.
Aloha Nights
Aloha Nights are held on select Saturday evenings (June 23 & 30, July 7 &21 and August 4-18. From 6:30-10:30 PM), music fills the evening air, helping set the tropical mood with live, interactive hula dancing demonstrations on the lawn beside the Conservatory.
During our visit, the dancing instructor prefaced his lesson by explaining that Aloha means hello, goodbye and "I Love You."
Guests are encouraged to wander through the grounds at their own pace, stopping at the Conservatory and the Library.
At an outdoor lei-making booth, a native Hawaiian explains how to make the traditional necklaces with fresh orchids that are so closely associated with Hawaiian hospitality.
A "Poke" food truck adds to the ambiance with Hawaiian fare and cocktails for purchase.
An interactive Media Guide with free Wi-Fi, used via your smartphone, offers details to help visitors better understand the scope of what they are seeing and experiencing.
Bottom line
Whether your interests are focused on art, plants, travel and/or culture, Georgia O'Keeffe: Visions of Hawai'i at the New York Botanical Garden is a tightly-focused but memorable New York experience, held in an exquisite setting—especially on Aloha Nights.
---
Disclosure: The author was a guest of the New York Botanical Garden at an event sponsored by the Society of American Travel Writers.
---
IF YOU GO
Information about Aloha Nights and O'Keeffe After Hours (held in October)
Take note
*NYBG has partnered with the Grand Hyatt New York and Metro-North to offer visitors a special package with a discounted hotel rate, admission to the exhibition and round-trip rail tickets from Grand Central Terminal.
---
Additional information on the O'Keeffe Exhibit from the NYBG Curator
---