Abruzzo Food: Authentic Tastes of Less-Touristed Italy
Italians are wed to the sanctity of using local, seasonal products. And whether it's bread, pasta, or anything else, the best foods (and wines) in Italy tend to be regional—unless they're more local than that.
Part of the joy of traveling across the Italian "boot" is tasting some of the specialty foods and unique dishes of different regions. In fact, food often helps tell the story of the history, geography, and culture of a people and place.
While Abruzzo food is not as well known as that of regions considered food capitals (e.g. Tuscany, Emilia Romagna, or Sicily), Abruzzo can rightfully boast about its own unique tastes and flavors.
Because of its geography, Abruzzo has been isolated and less touched by foreign influences than many other regions. Some say that because of this, the cuisine here is also the most authentic.
Abruzzo cuisine also offers great variety. "Its cuisine mirrors the varied landscapes of the region, from the coastal fish-based dishes to the heartier fare of the mountain towns," says Genny Nevoso, Executive Director of the Italy-American Chamber of Commerce West (IACCW).
"The traditional recipes tell the story of resilient people who have managed to protect nature while leveraging its bountiful gifts for survival," she adds.
If you are traveling to Italy or simply want to learn more about Italian regional cuisine, this post offers a short list of specialty foods of Abruzzo and traditional dishes/recipes.
---
Specialty Foods of Abruzzo
While Genny's work is aimed at promoting trade between Italy and the U.S., her connection to the Abruzzo region is also personal: It is where she was born and bred before moving to the United States. We asked her to list some of the unique specialty foods of Abruzzo. Her examples are just a few of many that run the gamut from cheese to meats, seafood, desserts, and more.
These include:
Navelli Saffron PDO
The PDO designation (protected designation of origin) recognizes food products that are unique to a specific geographic area and that are processed according to certain standards to assure their quality and authenticity.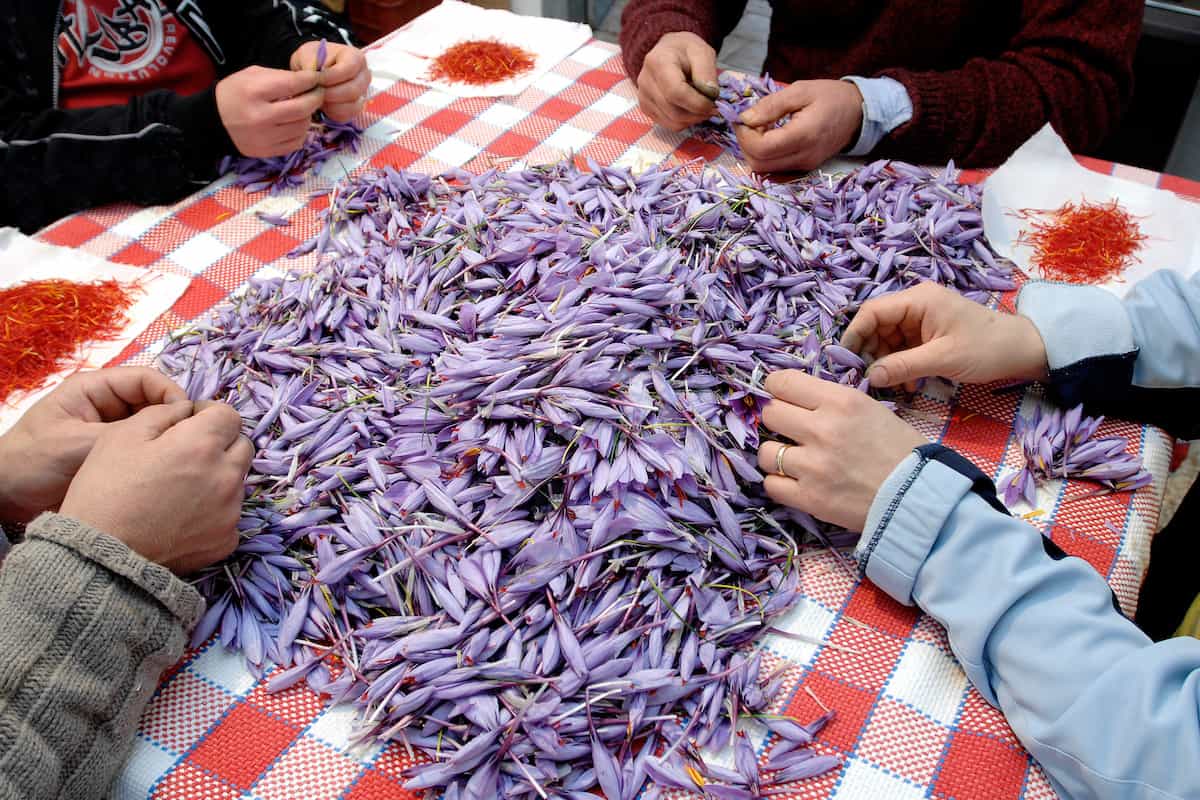 Navelli Saffron is one of eight PDO products from Abruzzo. This saffron is grown in 13 municipalities in the Navelli Plateau in L'Aquila (the capital of Abruzzo). Often called the most expensive spice in the world, it is hand-harvested, a labor-intensive practice that drives up cost. Considered Italy's best, Navelli Saffron PDO is an ingredient used in Risotto allo Zafferano, made in Abruzzo, also in some meats and desserts.
Pecorino d'Abruzzo cheese
This pecorino cheese produced in Abruzzo is made from whole ewe's milk, rennet from sheep or goats, and salt. It can be hard or semi-hard with slight eyes and is aged up to a year. Because the sheep graze in any of the region's three national parks and or the regional one, the cheese has a subtle, grassy aroma and flavor.
Campotosto Mortadella
This Slow Food Presidium cured meat derives its name from Campotosto, a town located within the Gran Sasso and Monti della Lago National Park. Locally, Campotosto Mortadella is called "mule's balls" because the salami, made from cuts of pork, is typically sold in pairs that are tied together with string. Cured for three months, the ground meat is wrapped around a chunk of fat, giving it a deep red color with a white inside.
Farindola Pecorino cheese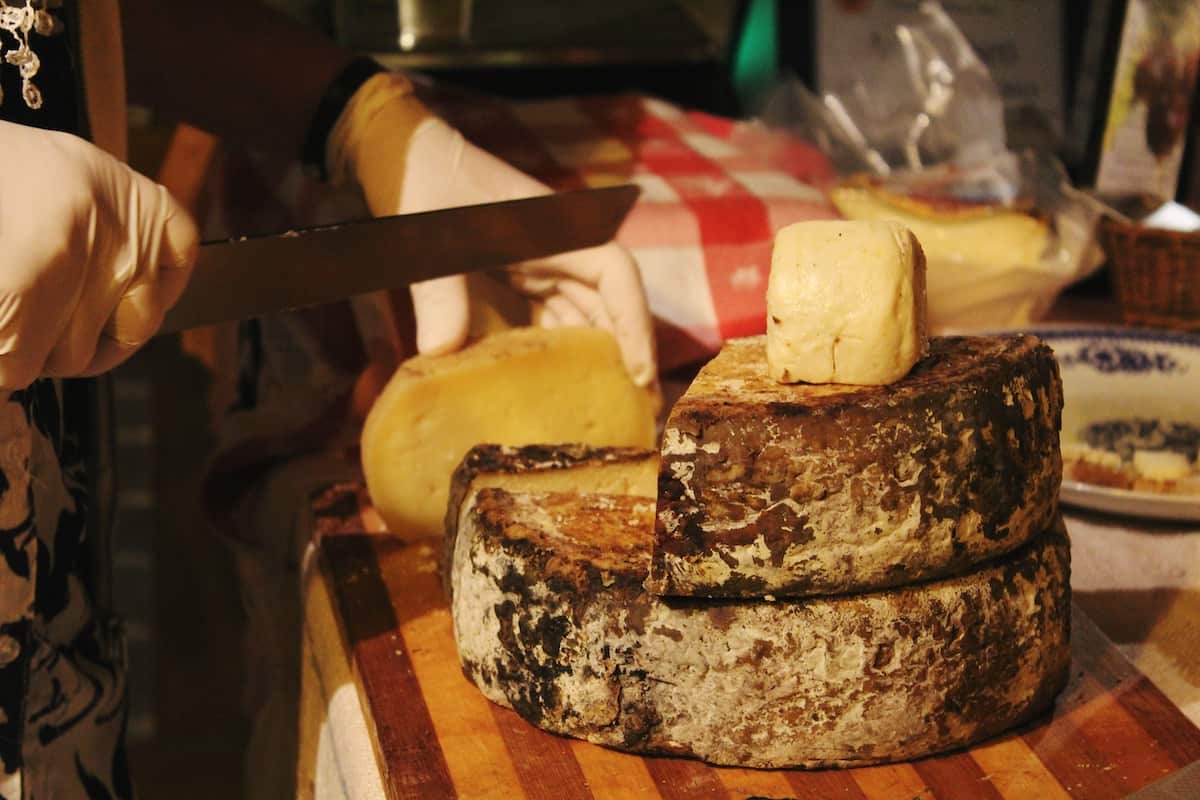 Another Slow Food Presidium product, this pecorino cheese is distinctive in taste and aroma because it is made with pig's rennet. With a recipe that is handed down from one generation to another, it is produced in small quantities in Farindola and other nearby towns in the provinces of Pescara and Teramo.
Ventricina
The taste of this zesty pork sausage, produced predominantly in the city of Teramo and the area of Vasto, includes spices such as garlic, salt, ground pepper, hot and bell peppers, orange peel, rosemary, and fennel seeds. It is often eaten as a spread on bread or as one of the ingredients of a Ventricina Ragu sauce.
For more information on specialty foods of Abruzzo:
The Abruzzo Tourism and the Terramo Tourism websites describes these and other specialty products, including cheeses like Sprisciocca (Abruzzo cow's milk cheese), Caprino Abruzzese (goat cheese), Abruzzo Scamorza cheese, and Atri Pecorino Cheese; meats like Abruzzo salami, Aquila salami, and Annoia salamil; Millefiori di Montagna honey and truffles. Each of these specialty foods is tied to a specific place of production.
---
Abruzzo Food: Traditional Recipes
If you are wondering what to eat in Abruzzo, these are dishes that shouldn't be missed at the source!
The website Great Italian Chefs characterizes the recipes of Abruzzo as "rustic, simple and delicious." In describing this regional cuisine, it notes, "The food might look simple, but using the very best ingredients means you don't need unnecessary extras."
Here are a few examples of the most popular traditional recipes of Abruzzo:
Pallotte Cace e Ove
Sheryl Ness, author of Love in a Tuscan Kitchen, learned about Abruzzo food first-hand through marriage. Her husband, Vincenzo, grew up there. Working in the kitchen beside his grandmother and mother, Concetta, inspired him to become a chef.
"I remember walking into my mother-in-law's kitchen. She was standing over her little stovetop making Pallotte Cace e Ove, roughly translated as 'little balls of cheese and egg.' The local cheese was mixed with the slightest hint of garlic and parsley and then fried. She served it in her simple tomato sauce."
Ness learned that the dish she enjoyed so much is very traditional in rural areas of Abruzzo, where farms are still common. Local cheese is abundant and often shared among neighbors who still have cows and produce their own cheese. "The dish is so special and revered that it is often found on local restaurant menus," she adds.
Recipe for Conetta's Fried Cheese Balls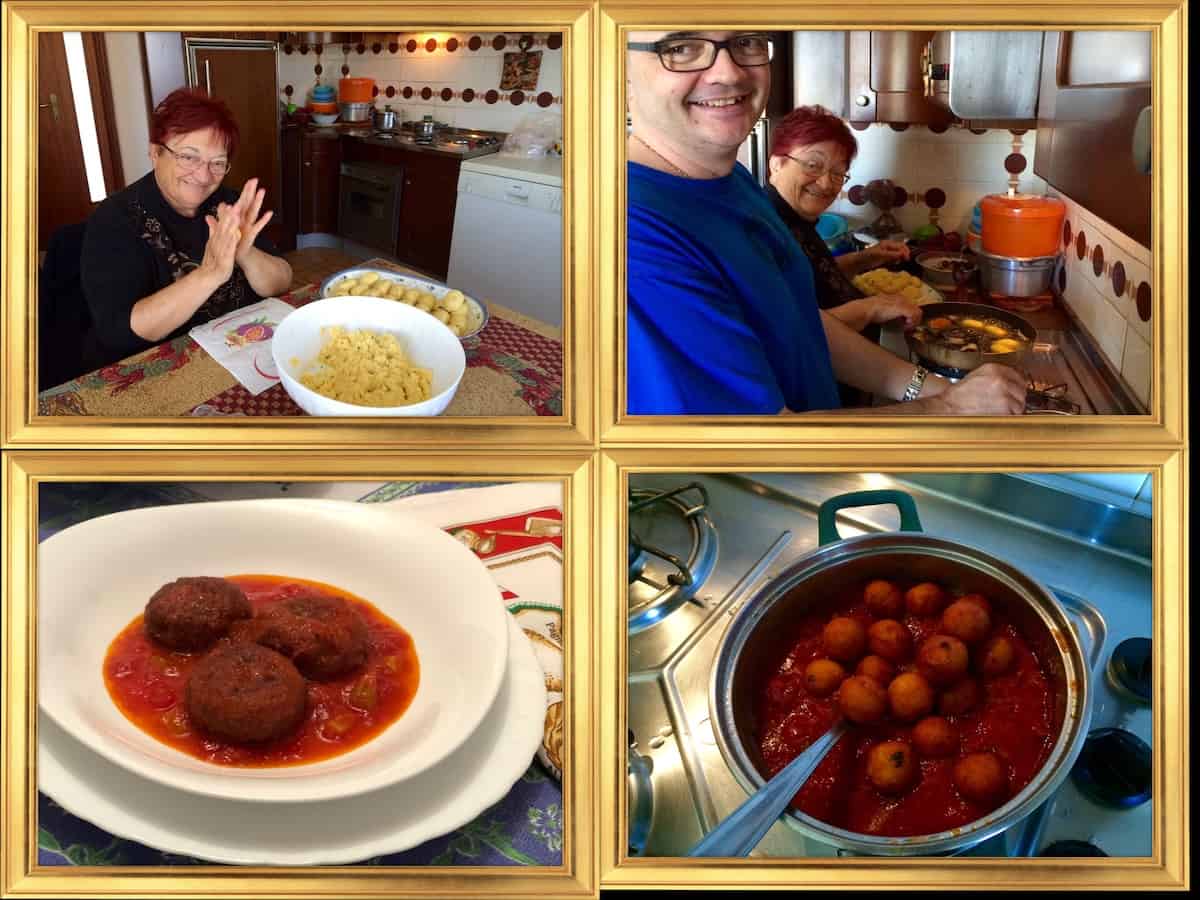 Yield: 4-6 servings
Concetta's Pallotte Cace e Ove (Fried Cheese Balls)
This is the recipe for Pallotte Cace e Over, a regional dish popular in home kitchens and restaurants in Abruzzo.
Ingredients
2.5 pounds white cheddar cheese curds (Cheese curds are the closest type of cow's milk cheese we can find in the States to make this recipe taste like it did in Italy.)
4 large eggs
1 clove garlic (minced)
1/8 cup parsley (chopped)
¼ cup breadcrumbs (use stale bread or Panko)
Olive oil for frying (you will need about 35 ounces or 1 liter). Use light olive oil for this.
Instructions
Place the cheese curds into a food processor and chop until the cheese is broken down into very small pieces.
Place in a medium mixing bowl. Next add the eggs, minced garlic, parsley, and breadcrumbs and mix well.
Using your hands, form the cheese mixture into 1-inch round balls, pack them as tight as possible.
Place them on a sheet pan until you have used all of the cheese mixture.
Next, place a very heavy frying pan with deep sides (cast iron is perfect, but others will work as well) on the stove. Add the olive oil and start to heat over medium-high heat.
You will need a large platter or baking sheet covered with paper towels and a slotted spoon or small wire spider to retrieve the balls when they are done frying as well.
After 2 minutes, test the oil by placing one of the smaller cheese balls in to see if the oil is ready for frying. It should immediately start to bubble and fry. If it doesn't, wait another minute and try again,
Place 6-8 of the cheese balls in the oil at a time and fry until a deep, golden brown. Turn the cheese balls every few seconds to make sure all sides are fried well. This may take 4-5 minutes.
Once the cheese balls are golden brown in color, remove from oil and place on paper towels to cool.
Serve the cheese balls alongside a tomato sauce for dipping, or eat the traditional way, by placing the cheese balls into Concetta's tomato sauce and let them bubble around in the sauce for 5-6 minutes.
Notes
This recipe can be doubled. That is how Concetta makes it. The cheese balls store well in the freezer as well. Cool them well after frying and place 8-10 in a freezer bag. Thaw well before using and place into tomato sauce for 8-10 minutes to warm before serving.
Spaghetti alla Chitarra
This flat thin noodle is possibly the region's best-known pasta, says Genny Nevoso. It is handmade using a tool resembling a string instrument which, in the local dialect is called a carratur. In the Teramo province of Abruzzo, the pasta is often served with a tomato sauce topped with miniature meatballs. "As a child, this was the ever-present celebratory dish my family loved and still make to this day," says Genny.
Timballo all Termana
Also called Abruzzese lasagna, families often enjoy this festive dish on special occasions. Many Americans may have seen the dish in Stanley Tucci's 1996 blockbuster movie, Big Night, where it played a starring role. Although the dish is popular in many regions of Italy, the specific ingredients vary by locale. Typically made with pasta baked with cheese, meat and vegetables, in Abruzzo, the recipe calls for local pecorino cheese.
Brodetto di Pesce
This seafood stew is popular in Abruzzo and other locations along the Adriatic, where shellfish is plentiful. The Abruzzo-style dish has a bit of zing because it's spiked with hot peppers.
Tacchino alla Canzanese
According to the official website of the province of Teramo, Teramo Turismo, this turkey dish might be considered the symbol of Teramo gastronomy because "It had the honor of being among the food supplies carried on the first expedition to the moon and to have been ordered by Armstrong because of its nutritional values, its tastiness and long conservation."
Scrippelle
This dish, originally from Terramo, is reminiscent of French crepes. In fact, the recipe is said to have roots from the Alps where it originated. Prepared on a very hot pan, with a batter of flour, water and eggs, the mixture is enjoyed on its own. It is also used in the preparation of other savory dishes, including Scrippelle 'mbusse, Timballo di scrippelle, and Scrippelle in forno.
Arrosticini
Above all, mutton skewers, known as arrosticini, is a recipe that taps into the region's deeply rooted sheep farming tradition, says Genny. "During the transumanza, shepherds used to lead their flocks all the way to neighboring regions such as Puglia. Their flocks were their security, providing them with meat, milk, and wool."
"Growing up in a family-run restaurant in the beach town of Tortoreto Lido, regional cuisine was always served with great pride. I still daydream about the intoxicating aroma flowing up from a grill full of arrosticini," she says.
Soffioni Abbruzzesi
These delicious, little cupcake-like pastries from Abruzzo are filled with fluffy cream made from ricotta cheese (made from sheep) and a hint of lemon.
---
Wines of Abruzzo: The perfect pairing with Abruzzo Food
Any discussion of Italian regional cuisine has to include local wines. Abruzzo's wine roots date back to the 4th century. Over many years, the wines of Abruzzo were considered mostly table wines, known more for quantity rather than quality.
But innovative winemakers have raised the bar. Now Montepulciano D'Abruzzo wines—produced in four provinces, L'Aquila, Chieti, Pescara and Teramo—have attained DOC and DOCG status.
Montepulciano d'Abruzzo DOC alone represents approximately 80% of the region's wine, followed by Trebbiano d'Abruzzo, Pecorino and Cerasuolo, Abruzzo's rosé.
Additionally, there are small productions of indigenous white grape varietals such as Cococciola, Passerina, and Montonico within the Abruzzo DOC area, the sparkling Villamagna, a relatively new DOC.
---
Read about the Masciarelli Winery in Abruzzo
---
IF YOU GO
This is Genny's "insider list" of not-to-be-missed destinations for the best Abruzzo food and wine:
Not-To-Be-Missed Destinations in Abruzzo for Food & Wine Lovers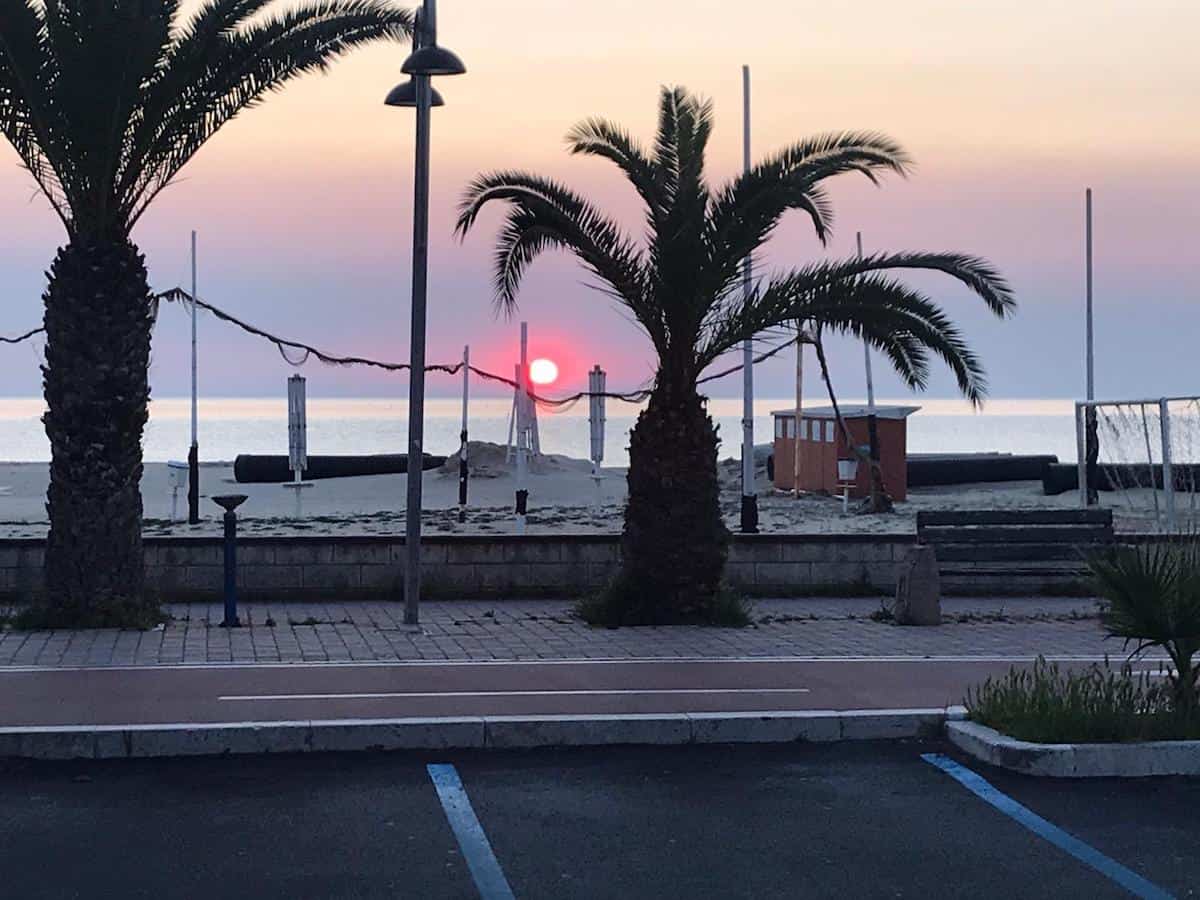 Santo Stefano di Sessanio
Best known for Sextantio, the stylish albergo diffuso—a scattered hotel with rooms located in individual homes within the village—Santo Stefano di Sessanio ranks as one of Italy's most beautiful Medieval hamlets. It is located within the Gran Sasso and Monti della Laga national park, about an hour and a half drive from Rome. Local lentils are one of 18 Slow Food Presidia in the region.
Castel del Monte
Another not-to-be-missed medieval mountain hamlet is Castel del Monte. Nestled in the center of the Gran Sasso National Park, it offers breathtaking views of the Gran Sasso, Majella, and Sirente-Velino massifs as well as the storybook castle of Rocca di Calascio.
This area is brimming full of traditional bites. Try the calcioni, the culatello di maiale nero, the Pecorino Canestrato di Castel del Monte, a local cheese made from raw sheep's milk, also a Slow Food Presidio. Arrosticini (here known as "rustell") tastes even more delicious with a view of the heavenly Campo Imperatore plateau known as Abruzzo's Little Tibet.
Castel di Sangro
For a 3 Michelin-star culinary experience and impeccable hospitality, chef Nico Romito's Reale is a must-visit. The ever-evolving self-taught chef explores the crossroad between haute cuisine and local products.
Loreto Aprutino
This micro area is known for excellent wines and EVOO. Check out Cantine Ciavolich and Masseria Ciavolich for an immersive hospitality experience.
From Tortoreto Lido to Torano Nuovo
I might be biased as I was born and raised there, but I most definitely recommend spending a day chilling in Tortoreto Lido. Enjoy the fine sand golden beaches, the miles-long palm tree flanking bike lanes and the tranquil Adriatic waters.
Within a short drive is Torano Nuovo, a small hilltop town where Agriturismo Emidio Pepe is located. Once the birthplace of the legendary winemaker, it offers an extraordinary, environmentally friendly escape for food and wine lovers, complete with accommodations, wine tastings, and a farm-to-fork restaurant.
Costa dei Trabocchi
Heading South along the fabled Adriatic coast, expect to be mesmerized by this gorgeous stretch of coastline between San Salvo and Ortona. The drive offers an exceptional opportunity to discover these wooden constructions once used by fishermen. Take in the views from the Punta Aderci Nature Reserve and the Punta Penna Lighthouse. Plan to dine at one of the restaurants on the Trabocchi, lulled by the sea while enjoying the cotton candy sky.
---
READ MORE
---
The products below contain affiliate links. This means that I may receive compensation if you click a link, at no additional cost to you. For more information, please read my privacy and disclosure policies at the end of this page.
---
Abruzzo Food Inspiration
Whether you want to dabble in Abruzzese-style cooking or are looking for a memorable gift for a friend or relative, here are several options!
Book with 350 classic recipes from author and teacher Anna Teresa Callen, who grew up in Abruzzo and understands its regional specialties. Here is simple cooking at its best, with flavors kept fresh and clean. 
Authentic pasta Abruzzese from semola di grano duro, made by a family-run pastificio in Abruzzo
Authentic Saffron powder from prized variety from Abruzzo, D.O.P. certified, produced by Cooperativa Agricola Navelli
Photo Credit: yummybazaar.com
Pan Ducale Abruzzo Style Cake is a traditional Italian cake made according to the recipe from 1352! Widely enjoyed in the Abruzzo region of Italy, this simple cake is a combination of almonds, eggs, and flour. 
Photo Credit: Wine.com
A white Pecorino wine from Abruzzo
Photo Credit: www.wine.com
A perfect wine for those who want to savor all the fruit and joyfulness of Montepulciano d'Abruzzo.
Photo Credit: igourmet.com
This certified organic product from Abruzzo is made in the traditional way in Fara San Martino, Abruzzo.
Photo Credit: igourmet.com
This Made in Abruzzo product, a winner at the Fancy Food Show,  can be drizzled over aged sheep or cow's milk cheeses to highlight lemony sea salt notes, or over fresh seafood, such as plump shrimp or calamari. 
---
Save to Pinterest!!