A visit to the Jewish Museum of Ferrara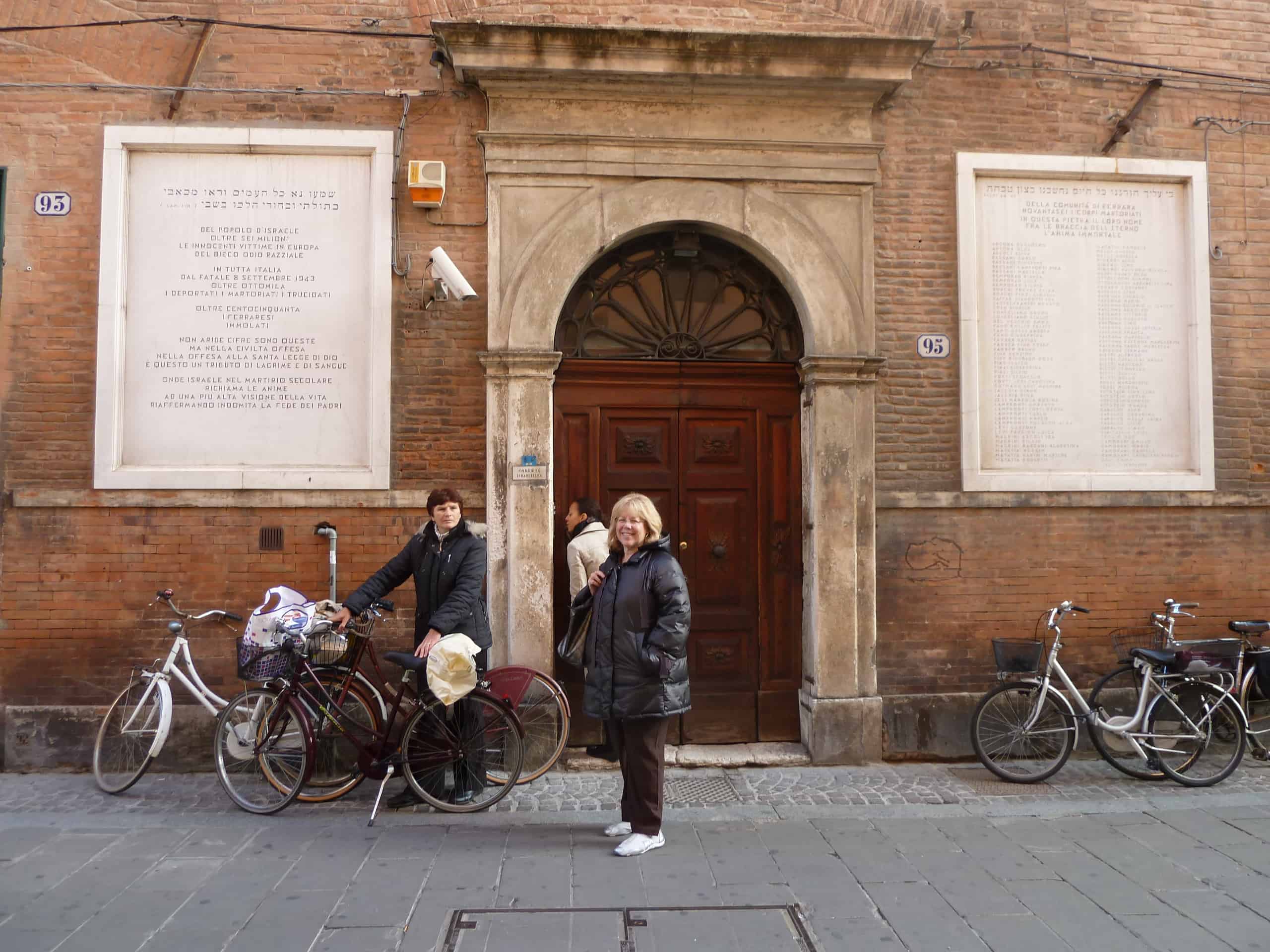 The entrance to the ancient palazzo that houses The Synagogue and Jewish Museum of Ferrara (Sinagoghe e Museo Ebraico) is tucked amongst a mix of residences and shops on a busy pedestrian street. It's a few blocks away from the large cathedral (Basilica Cattedrale di San Giorgio) and red brick Castle Estense that dominate the medieval center of Ferrara, a walled city of about 133,000 people in the Emilia-Romagna region of northern Italy.
Between 1627 and 1859, this same street, then called Via Sabbioni, served as the main thoroughfare of Ferrara's large Jewish ghetto. By the mid 1500s, the city had become a haven for Jews escaping from Spain, Germany and Rome. The Este dynasty invited Jews there and allowed them to prosper as farmers, merchants, doctors, and rabbinic scholars. As a result, there were once ten synagogues and as many as 2000 Jewish people in Ferrara.
By 1626, conditions worsened when the Este family moved to Modena. The papal government seized real property from Jews, closed all but three synagogues, and confined Jews to a ghetto under lock and key. When Italy was later unified, they were granted freedom again but the Holocaust took another toll, with some 200 Jewish citizens sent to extermination camps.
Donated by a Roman banker and built in 1485, there are actually three synagogues at Via Mazzini 95 (German, Spanish and Italian), two of which remain open to visitors. An upstairs museum, housed in four rooms, is filled with religious artifacts and historic documents that document Jewish life in Ferrara. The collection includes the original keys used to open the five gates of the Jewish ghetto at sunrise each morning and close them at sunset. Two large stone tablets flank the entrance, one listing the names of Holocaust victims from Ferrara.
Wandering through the winding streets, yards and passages of this ghetto area that remains largely intact structurally, the visitor will find historical markers on buildings now housing boutiques and restaurants, including one called Balabuste Ristorante (which means good homemaker in Yiddish).
There are fewer than 80 Jewish residents left in Ferrara and only a traveling rabbi but the synagogue building still remains as a center of Jewish life. Supported by city, provincial and regional authorities and the Bank of Ferrara, it is a symbol of tolerance. It is the oldest Jewish house of prayer in Italy still operating at its original site.
---
IF YOU GO
Via Mazzini, 95 – 44100 Ferrara
Open for guided visits only from Sunday thru Thursday at 10, 11 and 12 AM
For more information: Travel Emilia Romagna
---
[A version of this article was published in the travel section of the Chicago Tribune on March 19, 2013.]
---
2018 Update: Sadly, the Ferrara synagogue and museum are now closed due to structural damage from the 2016 earthquake that struck central Italy but a new Museum of Italian Judaism opened in Ferrara in December 2017.
---