A Perfect Day in Perugia: Capital of Umbria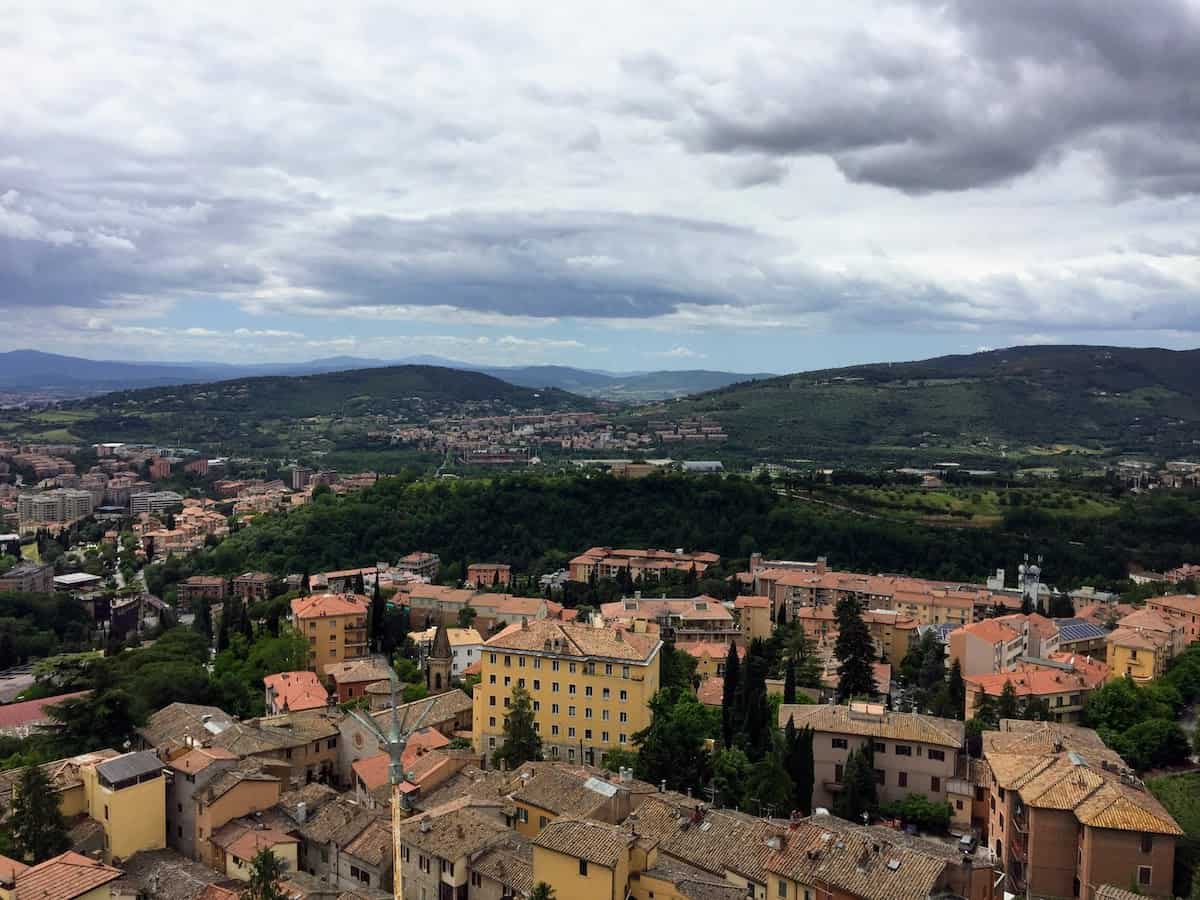 No, Perugia is not a "one-day city." But here's how to spend a perfect day in Perugia, Italy—if you only have a day.
During a trip to Italy with two other couples, we rented a VRBO villa in Tuscany for the first week of our stay.
Our house, Cappella Di Pancole, was located in the hill town of Castelnuovo Berardenga, about 50 miles from Florence and 10 miles from Siena.
After touring both anchoring cities and exploring the bucolic towns and villages around Castelnuovo Berardenga, we wanted to dip our toes into the nearby region of Umbria.
The six of us gathered around the farmhouse table in the villa the next evening. And we pinpointed the location of our villa on Google Maps and drew a circle to narrow our search. Over a bottle of Chianti, we looked forward to spending a day in Perugia.
Creating an itinerary when traveling with a group always entails a process of negotiation that can feel daunting. One person's been there; another has no interest in going; and another has the very same destination at the top of their bucket list.
---
This post may contain affiliate links. This means that I may receive compensation if you click a link at no additional cost to you. For more information, please read my privacy and disclosure policies at the end of this page.
---
Perugia: The City of Chocolate
But this time, there was no dissent. Perugia is the capital city of Umbria. The university town is known for its spectacular art and culture but also as the birthplace of Baci Perugina chocolates.
Bound together by a shared love of Italian chocolates, we were excited to visit the "City of Chocolate," only an hour away.
Planning a perfect day in Perugia
Grasping the rhythms of any destination, and understanding the customs and lifestyle of its people, is quite difficult—if not impossible—in one day.
This is especially true in cities that teem with layers of art, history, and culture. Any one-day itinerary only allows you to skim the surface and, perhaps, convince yourself to return. But the right expert can help curate your day and arrange logistics that save time and enhance your experience.
A friend in the travel industry had given us the name of a family-owned company that arranges bespoke experiences throughout Italy, enabling individuals and groups to discover a slice of Italy based on their personal passions.
We contacted Matteo Della Frazia and his wife, Dianela Mencarelli, owners of Fuoritinerario: Discover Your Italy, who helped us plan what turned out to be a perfect day in Perugia.
Matteo asked where we were staying and whether we needed transportation and then threw out some ideas to gauge the interests of our group (beyond chocolate).
An exhaustive list of choices included meeting with local cheese producers; visiting a workshop that makes stained glass windows for churches; and taking a boat ride on Lake Trasimeno, the largest lake in Central Italy.
We chose three experiences for our visit (although Matteo surprised us with four).
Hitting the road
We piled into our rental van to meet Matteo and Daniela at a halfway point between the villa and Perugia, the convenient-to-park-at Valdichiana Outlet Village. Matteo suggested we arrive by 9 am, before the onslaught of bargain hunters.
During the ride from the outlet mall to Perugia in his comfortable, air-conditioned van, Matteo briefed us on the history of the city and its Etruscan roots, proudly telling us about the university founded here in 1308, and pointing out the rich agricultural bounty beyond the highway.
My fashionista girlfriends were impressed to hear that iconic Italian companies, like Luisa Spagnoli, Brunello Cucinelli, and Ellesse, were founded here, too.
Stop 1 – Weaving our way through Perugia
Before we knew it, Matteo was pulling into a parking spot beside Perugia's first Franciscan church, the Church of San Francesco delle Donne. It was established in 1212, more than 800 years ago.
Matteo showed us the demarcation on the medieval church walls that separated the portion of the structure that dated to the Etruscan period.
Marta Cucchia, the jocular woman who runs the Museo-Laboratorio di Tessitura a Mano Giuditta Brozzetti greeted us inside the monastery and showed us around. In this hybrid workshop/museum, artisans use century-old techniques on antique wooden looms to create elaborately patterned textiles. The oldest loom in the space had been in use since the 18th century.
We learned that Umbrian textiles come in over two hundred intricate patterns; it takes 20 days to complete a tablecloth for 12. The fabrics are so magnificent that they are displayed in the National Art Gallery of Umbria.
Sadly though, we were told that this time-honored craft is a dying tradition. Marta's grandmother, Giuditta Brozzetti, once managed a crew of 20-30 weavers; Now, only a few older women still work the looms.
"I am the last one," said Marta.
Stop 2 – Up close with some of Perugia's art treasures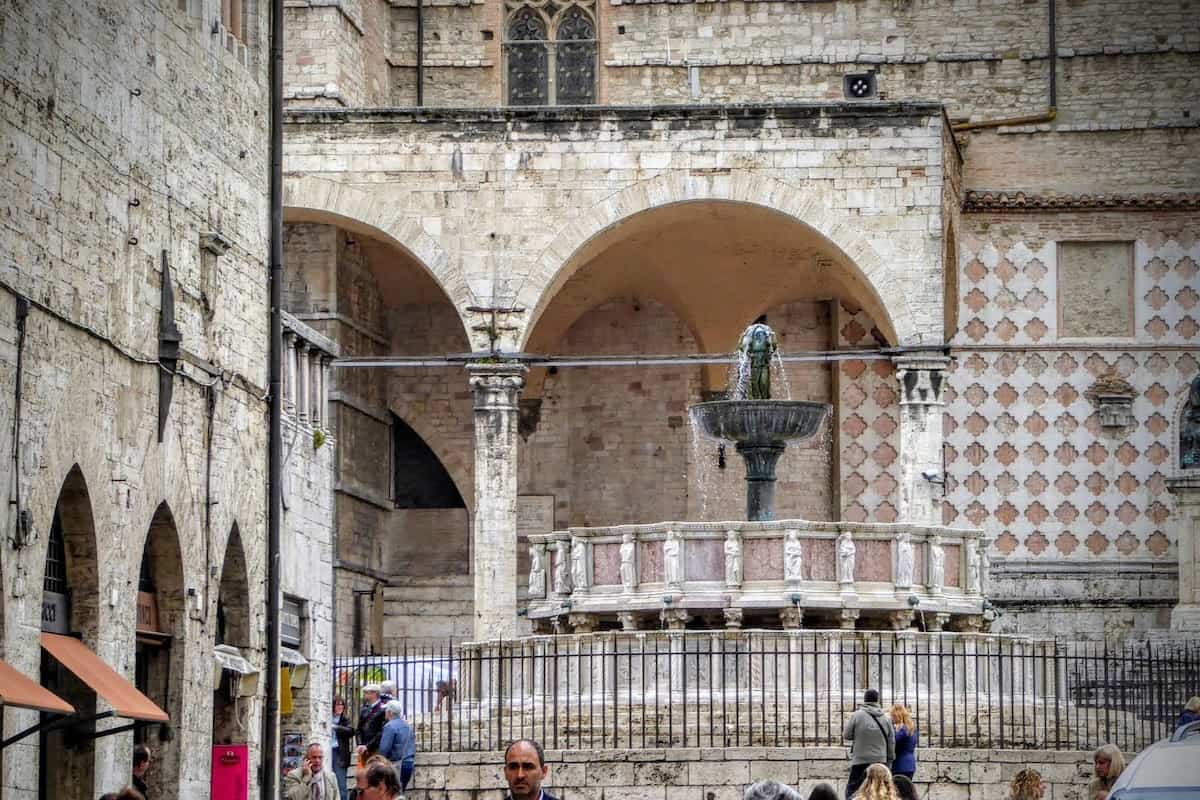 We've visited museums around the world in New York and while traveling, sometimes with guides or audio tours. But this time, Matteo raised the bar.
He told us that he had arranged a private tour of the National Art Gallery for our group with Marco Pierini, its new director. Patiently, Director Pierini walked us through the beautifully displayed installations explaining his favorites.
These included frescoes, crucifixes, and altarpieces (some dating back to the 13th century) and the museum's "newer" acquisitions, paintings of Italian masters of the medieval and Renaissance periods (including Perugino and Fra Angelico).
Granted, the collection isn't as impressive as that of the Uffizi Gallery in Florence but the experience was far more personal and without the crowds and queues.
Stop 3 – Scaling the Sciri Tower
There were once 70 towers in Perugia, a symbol of the city's strength and status. Now only the 13th-century Sciri Tower (Torre degli Sciri) remains. Undergoing renovation since 2011, it still wasn't open to the public when we visited.
Somehow, Matteo had the connections to wrangle the keys to the tower. Following him and a colleague, we scaled the dark narrow steps to the top single file, wondering if it would be worth the effort. We weren't disappointed. From this perch, we saw expansive views of Perugia and the surrounding countryside.
After we slowly descended, another surprise awaited us: At the church at the bottom, proud locals had set up a light lunch with wines for Matteo's visitors.
Stop 4 – Perugina: Sweet desserts at the chocolate factory
Many Americans (and some Italians, too) know Perugia as the home of Perugina®, maker of Baci® (which, in Italian, means kiss) chocolates. These are highly addictive chocolate truffles laced with hazelnuts, wrapped in silver and blue, with a love note inside. Perugia also hosts a chocolate festival every October.
At our last stop, Perugina Casa del Cioccolato (the famous chocolate factory in Perugia), we were able to "skip the line" because Matteo had prearranged entry.
Tempting smells of chocolate wafted through the air as we watched an introductory video, took a guided tour of the museum and factory, and were treated to long-awaited, unlimited samples of different varieties of Baci® chocolates. We even stuffed a few in our pockets for the ride back to the Valdichiana Outlet Village.
Every time we eat a Baci now, we reminisce about our visit to Perugia and our new-found friends, Matteo and Daniela. With their help, we achieved our goal of a perfect day in Perugia, eager to return.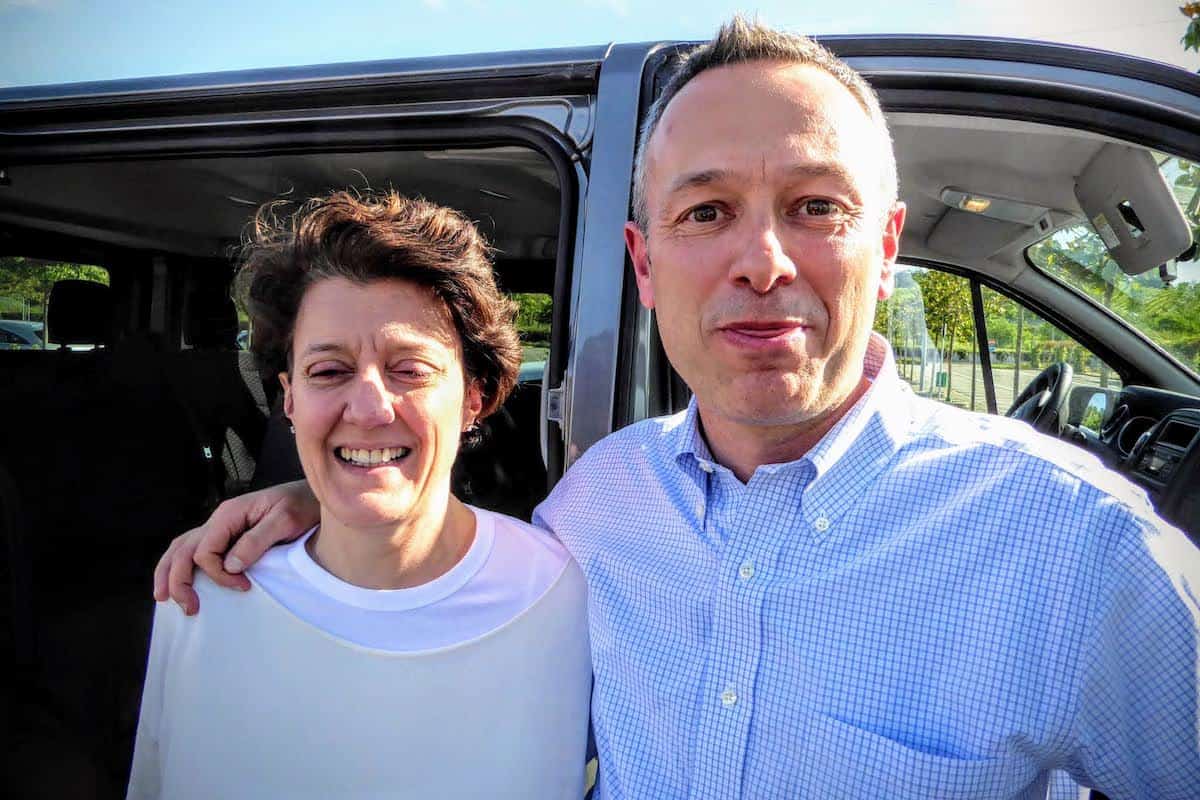 ---
What's appealing to the over-50 luxury traveler?
It's nice to place yourself in the hands of a business that is Italian-owned with a network of local contacts across the country.
Good communication (including fluent English) makes it easier to travel, especially in areas that aren't as popular with tourists.
We loved the interactive approach to booking our day in Perugia, being able to shape the day in a way we wanted with expert input.
At our age, we have no time to waste! We loved the stress-free efficiency of not having to deal with the hassle of logistics and being able to go at our own pace.
The literal translation of Fuoritinerario is "off the beaten path." Matteo made us feel like "insiders" rather than tourists.
Take note
The tower climb isn't for the faint-hearted. Climbing the 150-foot tower is far more daunting than climbing the stairs to Anne Frank's hiding space in Amsterdam.
Although exhilarating, long days of touring can also be exhausting. Be sure to get a good night's sleep the night before and wear comfortable shoes.
When booking a bespoke tour, make sure you are clear about your budget and time constraints.
Travel & Leisure named Matteo and Daniela as one of the world's best European travel agents.
---
All photo credits: Jerome Levine
---
Disclosure: The author's tour of Perugia was hosted by Fuoritinerario: Discover Your Italy.
There is a wonderful biopic streaming that tells the life story of Luisa Spagnoli and the story of Perugina chocolates. See my post: TV Biopic Brings Luisa Spagnoli Story to Life.
An earlier version of this post was published on GettingOnTravel.
---
READ MORE
---
IF YOU GO
---
Save to Pinterest!!