5 Reasons Why We Love Breakfast at Hampton by Hilton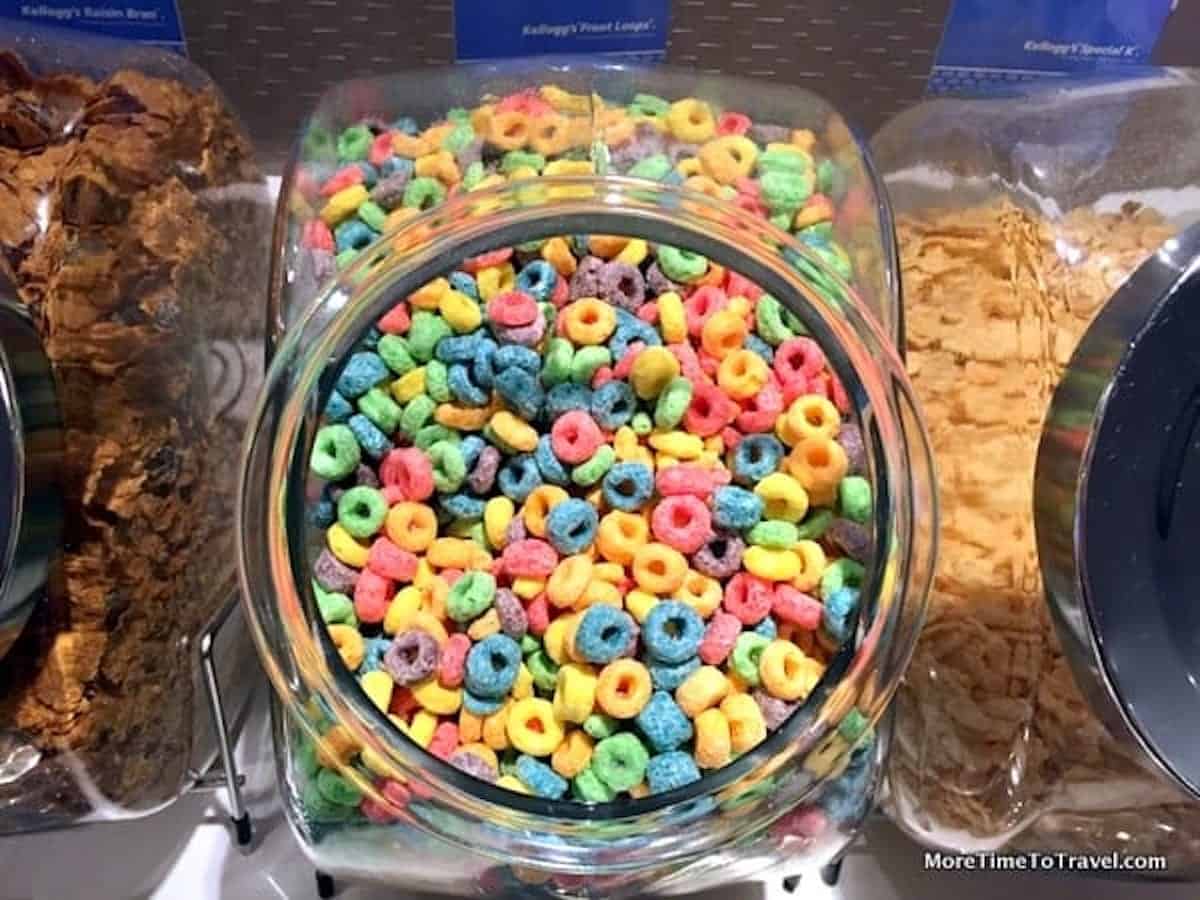 Hampton by Hilton was the first midscale hotel brand to offer a free hot breakfast menu at its more than 2,250 properties. At. most locations, the complimentary breakfast is offered from 6AM to 10AM.
One of the unexpected pleasures of our stay at the Hampton by Hilton in Milpitas, California was the terrific breakfast spread, similar to those available at its sister properties.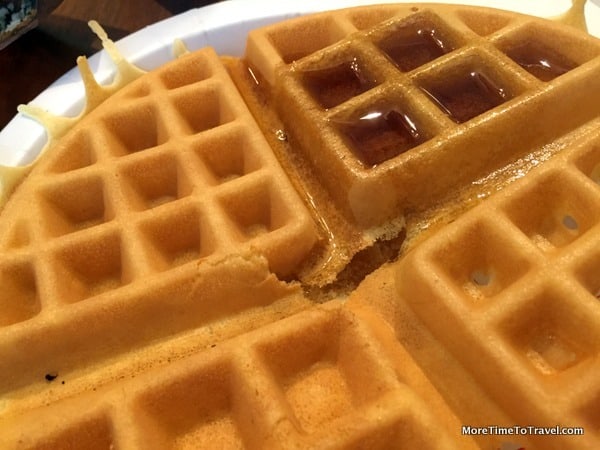 Akin to the feel of waking up at a cozy B&B, we enjoyed a free, hot breakfast (Breakfast On the House™) each day.
Whether we awoke early or late, breakfast was available whenever we wanted between the hours of 6AM-10AM. Let me recount the reasons why we loved it:
1) The welcoming breakfast space
Most of the spacious lobby (dead space in many hotels) has been transformed into a warm, welcoming breakfast area with comfortable seating.
The tables (and the continually replenished buffet station) are well maintained so you never sit down to someone else's leftovers.
Long tables are great when you're traveling alone or with a group: A long table in the center of the room allows strangers to become fast friends. Two large flat-screen TVs at opposite sides of the room allow guests to tune into local and national news and weather.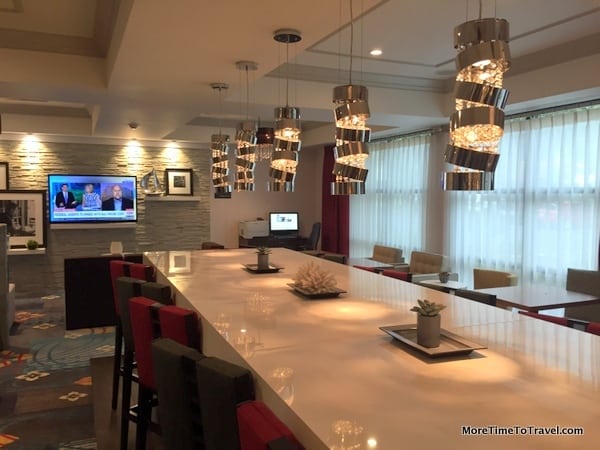 2) Abundant food options
Depending on your mood—and whether your tastes include sweet, savory or both—you can either go healthy or decadent.
The expansive buffet counter offers a choice of white and whole grain breads, bagels and muffins, hot and hearty oatmeal, multiple cold cereals, fresh fruit and berries, yogurt and cheese omelets (with sausages and potatoes on the side).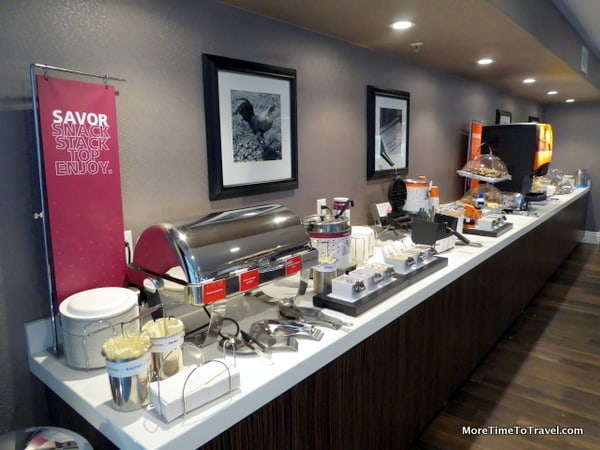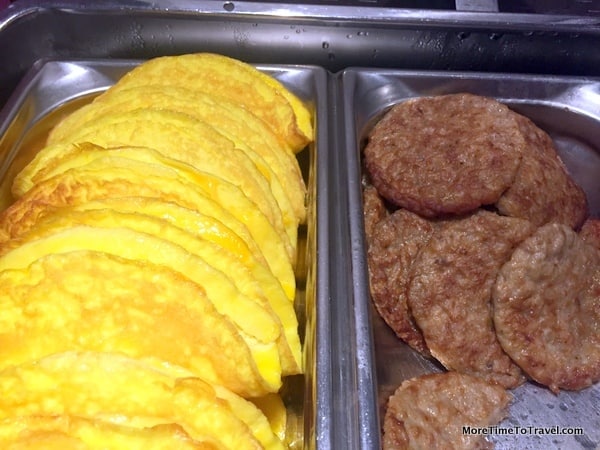 The make-your-own waffle machine is fun for kids (and adults). You fill a cup with batter from an automatic dispenser, pour the batter onto the waffle maker, and presto! Two minutes later you have a delicious waffle that you can top with maple or fruit syrups.
For those who like to indulge in dessert for breakfast, there's chocolate and caramel sauces and whipped cream toppings.
I thought I knew how to operate the machine but wound up having a minor mishap. (Thankfully, a lovely employee was there to clean up the mess and make me a new waffle afterwards.)
My minor mishap on YouTube:
3) Hampton by Hilton hot beverage choices to start the day
No two people agree on how they like their morning Joe. After you've had your glass of OJ from the buffet, there's a choice of fresh hot decaf, robust or regular coffee, tea or hot chocolate.
Addicted to Coffee-Mate? In addition to milk, and half and half, you can add either French vanilla or regular Coffee-Mate to the brew from the perky dispensers.
The free coffee and tea bar remains available to guests 24/7.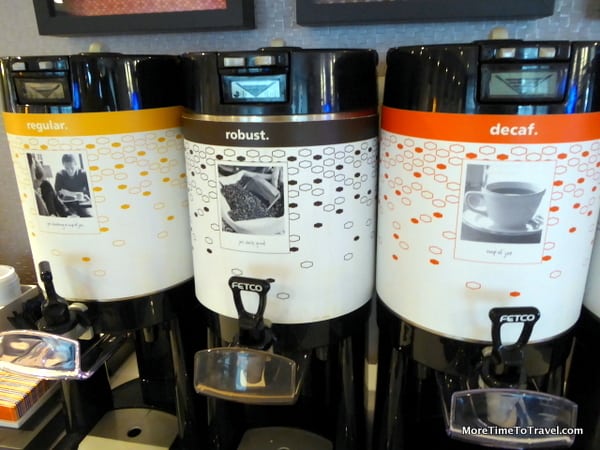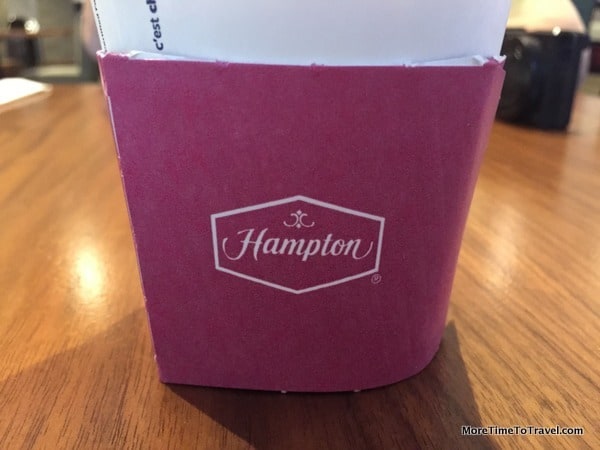 4) Truly family-friendly setting
Whether you are traveling with a tribe of girlfriends or a family with kids, there's room for everyone at the breakfast table. There are plenty of highchairs as well as quiet spaces to read a newspaper or work.
Happy kids make happy parents. Kids will find the colorful scoop-yourself Fruit Loops irresistible (placed next to the more grownup Raisin Bran, sugared Mini-Wheats and Special K).
They also love all the help-yourself/serve-yourself dispensers including the orange juice dispenser.
5) Acceptance of diehard workaholics
If you're the kind of Seekender who is tethered to electronics, you'll be happy to learn that free Wi-Fi privileges extend to Hampton by Hilton breakfast in the lobby. It offers plenty of table space to work, read or relax. The business center (with a computer and printer) is also conveniently located in one corner of the area.
By the way, if you're headed out for sightseeing and there's no time for breakfast, don't forget to pick up one of the Hampton on the Run™ breakfast bags at the front desk so you'll be able to stay hydrated and well-fed on the road or on your way back to the airport.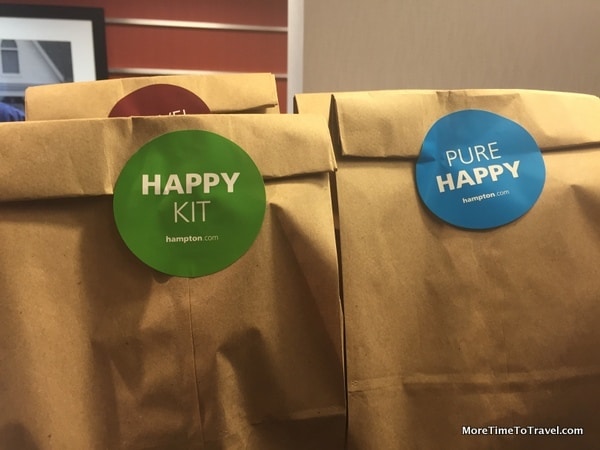 ---
READ MORE
---
Disclosure: As a member of the Ultimate Seekender team (the only empty nester Seekender), our weekend getaway to the Silicon Valley was sponsored by Hampton by Hilton but all opinions expressed in this post are our own.
---
Save to Pinterest!!
---