Visitors love San Miguel de Allende, often at first sight
Located in central Mexico (in the eastern part of the state of Guanajuato), San Miguel de Allende has no beaches or blue waters like the Mexican resorts of Cancun, Cozumel, or Los Cabos. The closest beach, Zihuatanejo on the Pacific coast, is some seven hours away.
And it isn't easy to get to directly from many U.S. or Canadian cities. You might have to book a connecting flight in Houston or Mexico City. 
Yet, once tourists visit, they love San Miguel de Allende, this magical city in central Mexico. First-time visitors become repeaters; others go home and pack their bags to return, permanently.
Travel + Leisure reports that San Miguel de Allende is a favorite among travelers, repeatedly ranking near the top of the magazine's annual Worlds Best Awards survey. In 2021, it was voted the best city in the world; this year, San Miguel de Allende made the list at #2.
Almost twenty percent of people living in San Miguel de Allende are expatriates. One estimate suggests that the estimated 10,000 ex-pats represent 63 different nationalities. English is widely spoken, so it's easy to get by with just a rudimentary knowledge of Spanish.
---
This post may contain affiliate links. This means that I may receive compensation if you click a link, at no additional cost to you. For more information, please read my privacy and disclosure policies at the end of this page.
---
Why They Come and Stay in San Miguel de Allende
Here are ten reasons why they come and stay:
1) History
Listed as a UNESCO World Heritage Site in 2008, San Miguel de Allende is named after General Ignacio Allende, a prominent figure in Mexico's War of Independence. The city's rich history dates back to 1542 when it played an important role as a hub in the silver trade.
The UNESCO recognition notes: San Miguel de Allende acted as a melting pot where Spaniards, Creoles and Amerindians exchanged cultural influences. 
2) Architecture
San Miguel de Allende is known for its well-preserved (and very photogenic) Colonial and Spanish architecture. Many religious and civic buildings were built in the style of Mexican Baroque.
The tallest building in the city, with a façade of pink limestone, is the Parroquia de San Miguel Archangel. The façade for this local parish church was inspired by Gothic cathedrals in Europe. According to legend, its architect, Zeferino Gutierrez used picture postcards for inspiration..
3) Eclectic shops
The shops in San Miguel de Allende are a mix of art and sculpture galleries, furniture shops, artisanal souvenir emporiums, modern boutiques, and old stores like this pharmacy (Botica De Santa Teresita) that has doled out inexpensive homeopathic remedies for centuries.
The Handicraft Market, located only a few blocks away from El Jardin, the main square, showcases the crafts of some 45 vendors.  
4) Cultural mix
With a temperate climate, vibrant arts scene, and moderate cost-of-living, San Miguel de Allende is not only rich in Mexican culture but attracts foreign retirees, artists and writers, predominantly from the U.S. and Canada. With the economic downturn, more tourists are coming from other cities in Mexico and other countries.
The city offers many weekend festivals that celebrate the music and dance of other cultures.
5) Food & dining 
Another reason why visitors love San Miguel de Allende is its abundance of eclectic foodie destinations, from street foods to gourmet restaurants. The Restaurant, overseen by celebrity chef Donnie Masterton, is a popular choice with visitors. Housed in a colonial courtyard, this chef dishes up "global comfort food," with both contemporary and traditional Mexican dishes on the menu.
The municipal market, Mercado Ignacio Ramirez, is another do-not-miss destination to learn about the culture and foods of the region. It offers local food products, clothes, and a variety of items and even has a sit-down eatery.
Another reason to love San Miguel de Allende: The area has been gaining popularity as a wine-growing region, with a small La Ruta del Vino (Wine Route) located not far from the city center. 
Examples of San Miguel de Allende food tours offered by Viator, a Tripadvisor company:
6) Rooftops 
With temperate weather and wonderful light, described by some as "eternal spring," many of San Miguel de Allende's restaurants and bars are located on rooftops, offering beautiful city views, especially at night. This is Luna Rooftop Tapas Bar at the Rosewood Resort, perfect for a drink before or after dinner.
7) Art 
After World War II, many soldiers took advantage of the GI bill and enrolled in art schools in San Miguel, the first of which opened here in 1938. There is still a very vibrant arts community with more than 100 studios and galleries with working artists and artisans whose works range from indigenous to contemporary.
Just outside town, the Sanctuary of Jesus Nazarene of Atotonilco was included in the UNESCO World Heritage designation for its decoration and architecture, including 300-year-old frescoes.
A more modern addition to the artistic riches: The Fabrica La Aurora is a center of art and design center housed in a former textile factory where you can watch artists at work. It's centrally located, only a 15-minute walk from the Main Garden (on-site parking is also available.) Additionally, the streets are lined with inviting shops selling all kinds of one-of-a-kind crafts.
8) Walkability
The historic center of San Miguel de Allende encompasses 24 blocks of narrow streets, alleys, and paths without any traffic lights. Although the city is quite walkable in terms of distances, the uneven cobblestone streets can be perilous, especially for someone wearing the wrong shoes. (Do as I say not as I do! Don't depend on flip-flops or loose sandals.)
9) Jacaranda Trees 
Blossoming lavender-colored jacaranda trees are native to tropical and subtropical regions of Central America, South America, Mexico and the Caribbean.
If you're lucky to visit between March and April, you'll see these beautiful trees are in full bloom in San Miguel de Allende.
10) Dramatic sunrises and sunsets 
Because of the light and changing colors of the foothills of the Sierra Madre, sunrises and sunsets in San Miguel de Allende can be quite dramatic.
---
11) Another reason to love San Miguel de Allende: Wineries on the Guanajuato Wine Route
The state of Guanajuato is the fourth largest wine producer in Mexico attracting more wine lovers each year. The region produces some 700 thousand bottles annually with 135 labels. The most commonly used grapes to make these wines include shiraz, cabernet sauvignon, tempranillo, and malbec.
Thirty of the 43 vineyards are open to the public for visits, tastings and special events; some offer restaurants that pair these delicious wines with regional dishes. There is also a wine museum (El Museo del Vino), one of only two in Mexico, located in the historic center of Dolores Hidalgo. Visitors can take tours and participate in tastings.
---
IF YOU GO
Where is San Miguel de Allende?
San Miguel de Allende is located in the state of Guanajuato, in the Bajio region of Central Mexico, about 170 miles from Mexico City.
> 
Getting there
Visitors can choose from one of two regional airports. The town is about 60 miles (a 90-minute drive)from Leon/Bajio Airport(BJX) in Leon. The airport in Queretaro is another option (a drive of approximately 75 minutes). 
Another option is to fly to the international airport in Mexico City, which is about three hours away. 
Official tourism information about San Miguel de Allende
For further information about San Miguel de Allende, see the official website of Guanajuato Tourism. (San Miguel de Allende is located in the state of Guanajuato).
---
Where to stay in San Miguel de Allende
San Miguel de Allende is rich in history and sophisticated in terms of its cuisine and culture. Fun to explore by foot, there are beautiful 5-star luxury accommodations close to town, including:
Open in 2022
Open since 2020:
Open since 2019:
-Other noteworthy accommodations in San Miguel de Allende:
This award-winning, boutique property has five suites, all with AC, Wi-Fi, flat screen TVs, fireplaces, balconies and bath amenities hand crafted by local organic artisans.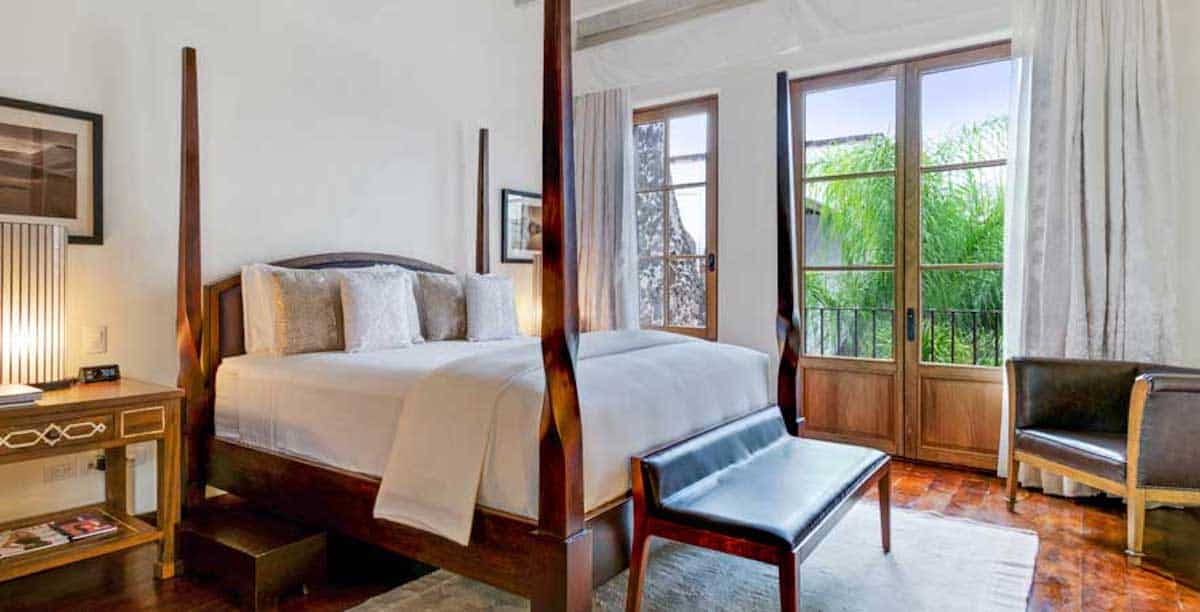 A signature suite in Casa Blanca 7The ten guest suites in this luxury boutique hotel are set in a historic building that is three centuries old. located in the heart of the historic center.
Those planning lengthier stays may want to consider a vacation rental property. Check out:
A recent article in the industry publication Travel Weekly previewed new openings to come:
A five-star Chatwal San Miguel with 44 villas and 125 branded residences is slated to open this year.
As part of its Unbound Collection, Hyatt is planning a new 44-unit hotel.
Casa 1810, plans to open a second boutique property in the city, Casa 1810 Parque, in September.  
Other things to know about San Miguel de Allende
-Time zone
-Best time to visit
The most temperate weather is between November and April.
-Currency
---
People also ask: Does San Miguel de Allende have a beach?
No! If you are looking for a beach resort, San Miguel de Allende is not a great destination for you. Located in central Mexico, it is landlocked without access to the sea.
The nearest beaches, such as Zihuatanejo and Ixtapa, are some 6-9 hours away by car, too far for a day trip. If you're desperate for a beach day, one option is to book a direct flight to Puerto Vallarta from one of the two closest airports to San Miguel de Allende, located in Leon or Queretaro. The nonstop flight is about 1-1/2 hours. But, of course, you have to make the trek to the airport.
However, many hotels and resorts in San Miguel de Allende have lovely pools with relaxing decks. For example, check out the courtyard pool at the 5-star Hotel Matilda, the bi-level pool behind the five-star Rosewood San Miguel de Allende, and others.
---
Is San Miguel de Allende safe to visit?
San Miguel de Allende is located in the Mexican state of Guanajuato. While there have been recent reports of cartel violence in Guanajuato, it usually doesn't involve tourists. To assess risk, travelers are generally advised to follow the updated precautions of the U.S. Department of State.
As of October 5, 2022, Guanajuato was under a Level 3 Travel Advisory (Reconsider travel due to crime and kidnapping)
-San Miguel de Allende COVID – 19 Update
San Miguel de Allende
To reduce the risk of COVID-19, San Miguel de Allende was closed to non-residents from March to June 2020. On May 25, 2020, the city launched its "Health First" certification, which entailed local health and safety officials evaluating each location and certifying compliance with sanitary protocols for reopening. 
COVID-19 testing is available at a number of medical facilities and at some hotels in San Miguel de Allende.
Since COVID-19 infection rates are fluid and prone to rapid change so before you go, check the respective websites or call properties to find out about specific health and safety protocols in place, other travel restrictions, and COVID-19 testing capabilities.
**We couldn't find updated COVID-19 information on the Guanajuato Tourism Board website. If you are planning a trip, we advise you to contact the tourism board directly and also check with the hotel where you will be staying. A Guanajuato government website (only available in Spanish) indicates that the state is currently a yellow zone.
Mexico
As of June 12, 2022, the U.S. CDC no longer require air passengers traveling from a foreign country (including Mexico) to the United States to show a negative COVID-19 viral test or documentation of recovery from COVID-19 before they board their flight. 
Most hotels and resorts have instituted strict protocols to protect the health and safety of their guests. Be sure to check the respective website of any property you intend to visit and call the front desk if you have questions or concerns. You'll find that many upscale resorts offer transportation services to and from the airport.
---
-What is the legal drinking age in San Miguel de Allende?
Traveling with underage family members? Read my post about the Legal Drinking Age in Mexico
---
Watch this wonderful video about the beauty of San Miguel de Allende by Jack Alterman, someone in love with San Miguel de Allende.
---
Save to Pinterest!!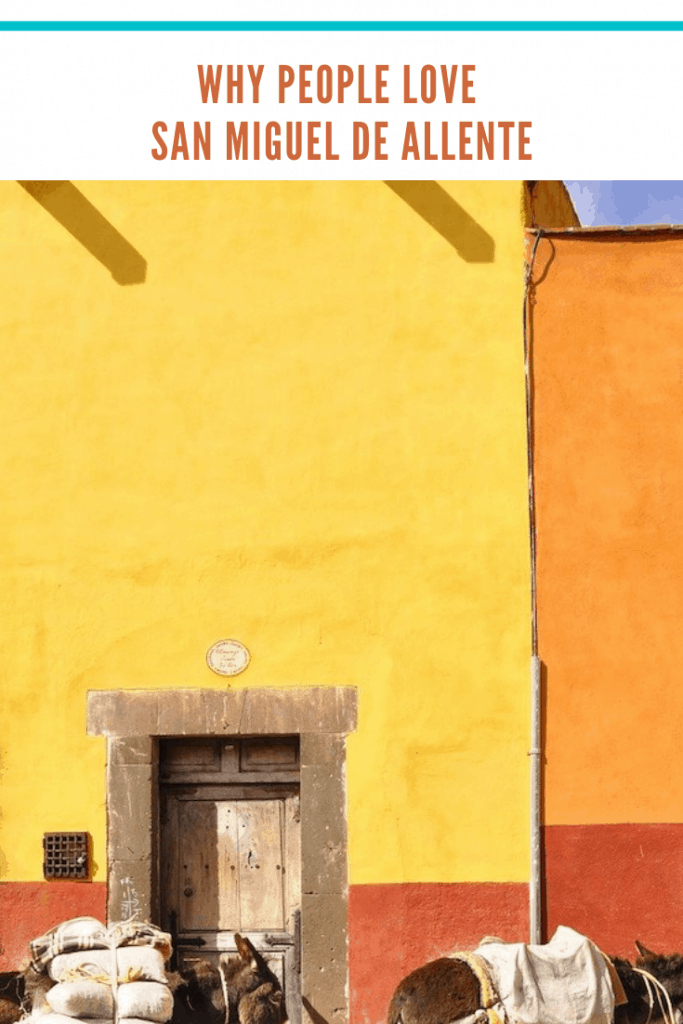 ---